Felix Muhrhofer, Interview: Nina Prehofer
Felix Muhrhofer is an interior designer and artist working on projects around the world, and for him, terrazzo is more than simply a material. The stones he uses shape his work and turn each piece into a one-of-a-kind article. They also leave a trace of a memory in the finished items that is retrievable with merely a glance.
How did terrazzo come into your life?
Felix Muhrhofer: It was during my studies at a time when I was living in a shared apartment. We urgently needed to replace the flooring and decided to make our own terrazzo, with the help of a book. Historically, terrazzo is considered a use for waste material – even the Romans and the Etruscans employed it.
The material itself is not expensive, but it requires a lot of time and effort. For us as students, it was perfect. After the floor, there was a very professional kitchen, which I poured myself. That's how I got to know the pitfalls of the material, and over the years I've built a wonderful relationship with it.
What's more, I still feel like I haven't yet exhausted all of its possibilities.
I can appreciate Alberto Giacometti spending his entire life working with concrete, as my fascination with terrazzo continues to this day, even though as a designer I do of course work with other materials as well.
The most important ingredient for making terrazzo is the stones, which you collect yourself. Where do you get them from?
Felix Muhrhofer: I collect them all over the world, even if it's only a handful that I can take home with me, for example from the Cape of Good Hope, the Berlin Wall or Central Park in New York.
It's about the meaning of the place and the fact that I've been there myself, often with my family.
Aside from that, I'll take as much as I can fit into my car. I've built a stone library out of what I've collected, so in my workshop in Nußdorf, I have large chutes containing around 100 different types of stone from various places. The most important thing is that you have the stones you want, as only around one per cent of stone types are actually available to buy.
What qualities does a stone need to have to make it interesting?
Felix Muhrhofer: I'm really only interested in the aesthetics of it. Sometimes I look for particularly round and flat stones because they fulfil several technical requirements that I like.
A stone is a carrier of memories, and I put them to use and give them an additional function.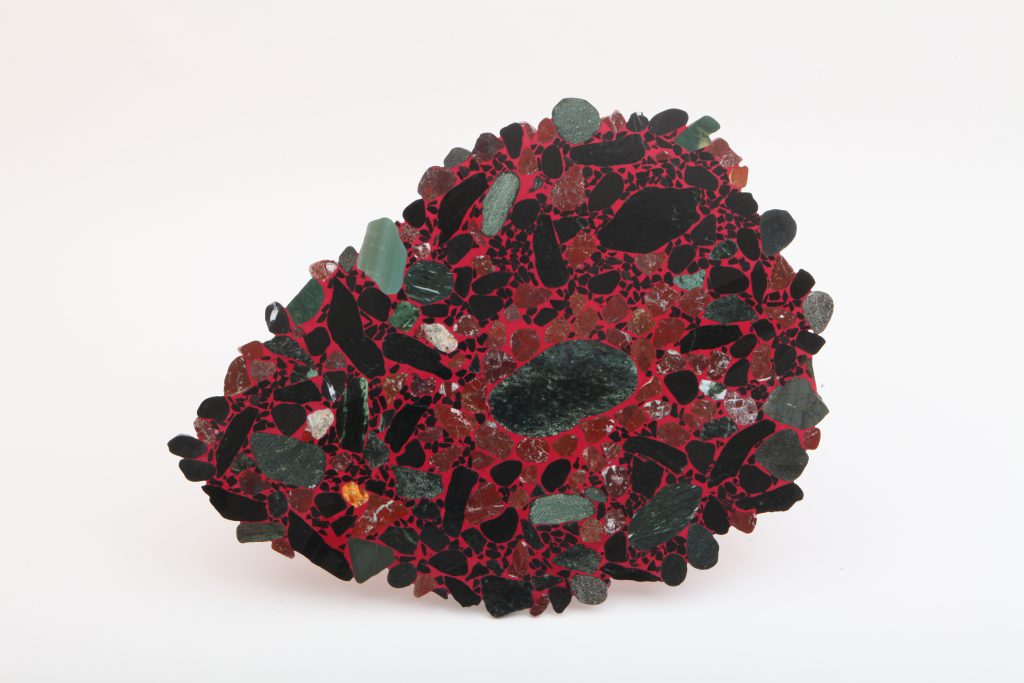 It's a blend of something emotional and something functional. Our family dining table is made out of stones that we have collected together on our travels, so it has a lot of history and evokes many memories. I'm also an amateur geologist, as I think it's great to consider a topic from as many angles as possible.
But it's not just the stones you use that make your pieces unique.
Felix Muhrhofer: No, because I sit myself at the bending machine and bend the iron for as long as I feel like it. The development process of a piece comprises many stages. There is a deliberately long stage of design and concept, then after that I make a model and a prototype.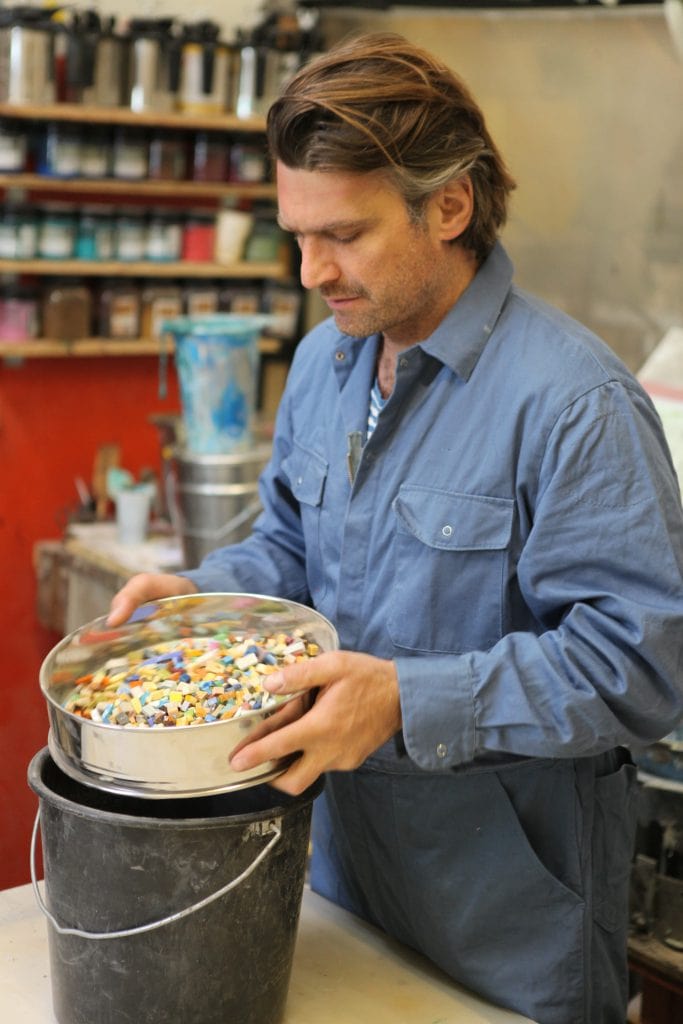 When I then come to make the actual piece, there's the process of inserting the terrazzo. That part is very spontaneous and intuitive, as you only have a certain amount of time in which to insert the stones into the wet material.
That's what I love about it, even when part of it goes wrong.
After that it's calm for a while, then it's on to the grinding and polishing. It's a bit like developing photographs – as you're grinding, the bigger picture starts to emerge and you see whether your idea of how to lay out the stones has worked.
It's really wonderful.
You did the interior design for the popular R&Bar in Vienna, recently designed a hotel bar and restaurant in Bali, have created extraordinarily beautiful kitchens for private homes and set up Magic Wall. How important are kitchens and eating to you?
Felix Muhrhofer: Very! I also founded Vienna's first cooking club! That's still running. The kitchen, the flames, coming together in one place that's at the heart of the community – that's something I'll never let go of. For me, having a meal together is a little haven of analogue communication. At a party, I'd rather stand behind the bar making the drinks. Every celebration needs a bar.
What makes the perfect bar?
You have to lose your sense of space and time.

Felix Muhrhofer
The present is stretched and you're only in the here and now. Until you stumble and realise that the sun's come up.
What are you currently working on?
Felix Muhrhofer: Aside from constantly developing new models, I'm working on the concept for an exhibition this autumn in Los Angeles. Interior designer Kelly Wearstler invited me to exhibit in her gallery because she likes my work so much. She's already bought a piece for herself!
It will be a cross-section of my work and we will probably develop something new together. In any case, I'll take a bar with me, as that was a big hit at my exhibition in New York and sold out straight away.
Your passion is obvious when you speak, and of course whenever someone sees one of your pieces. Where does that come from?
Felix Muhrhofer: I've often wondered why I like making it so much. I have absolutely no problem motivating myself to go to the workshop. I think I've discovered a special part of my brain that my work speaks to.
I get joy from the shapes, colours and surfaces of things.
It's beauty, an absolutely personal experience. I get even more joy when people contact me because they have one of my pieces at home and they say how much they love what I do.
People can sense what I'm feeling when I make the pieces, and that's a wonderful reaction.
---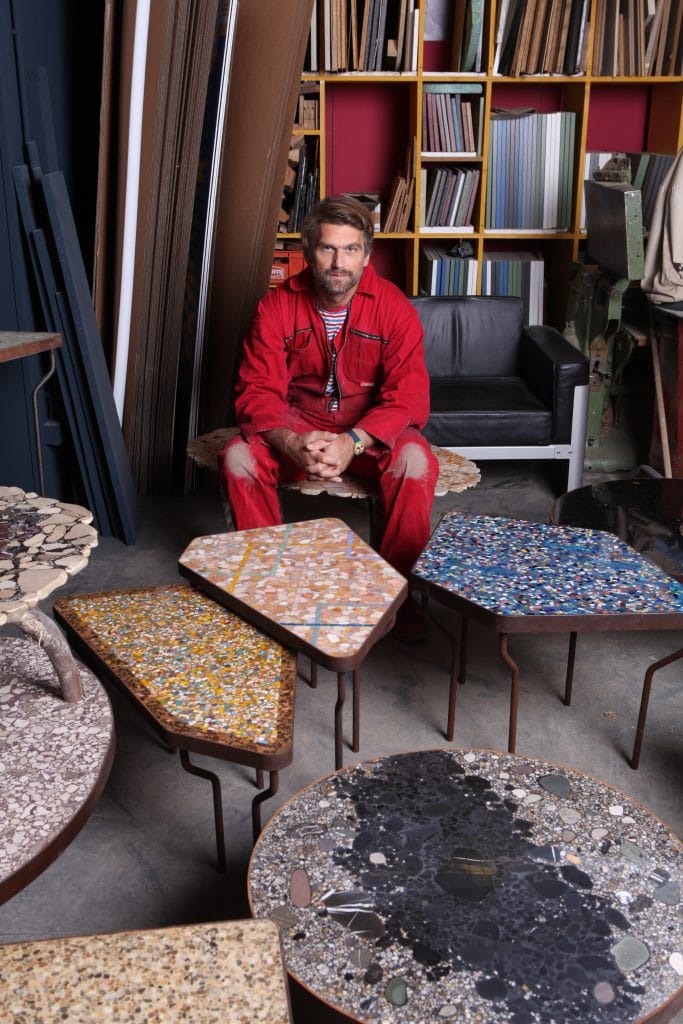 About the designer
Felix Muhrhofer, born in 1975, studied industrial and interior design in his home town at the University of Applied Arts, as well as at the ELISAVA in Barcelona. After finishing his studies he set up his first workshop in the garage of the summer house of one of his close friends. From the very beginning, this space gave him the opportunity to demonstrate his designs in terms of haptics, aesthetics and their ease of manufacture. Step by step, he perfected this analogue and complex method of working by studying and developing different crafting techniques. The result is designs that create harmony between a strong feeling of formality and the profitability of a hand-crafted production process. His passion for design allows him to branch out to different projects, like developing the stage design for the opening ceremony of the concert hall of the famous Vienna boys' choir, the interior of the internationally renowned R&Bar in Vienna and much more besides.
Felix Muhrhofer in the studio, Photo: Elisa Seydel