Residing alongside five kilometers of pristine Mexican coastline is the 36,000-acre Chamela-Cuixmala Biosphere Reserve; within this oasis sits Cuixmala, recognized as being at the forefront of eco-luxury travel. Here the boundaries separating guests from nature are dissolved, whilst being one of the most luxurious places to stay in the world.
HISTORY
Created by Sir James Goldsmith, knighted for his services to ecology, Cuixmala was originally established as his private estate. He purchased the initial piece of land for Cuixmala in 1987, and by 1989 he completed his house – Casa Cuixmala, and the guest bungalows. In 1990, Sir James announced the "active business chapter" of his carreer was closed and directed his considerable energy towards furthering debates on environmental and humanitarian issues.
Sir James was able to put maniy of his environmental conservation theories into practice at Cuixmala, piece by piece constructing what has now grown to a 36,000+ acre private reserve, protecting what remains of Mexico´s dry tropical forest and the endangered species that survive within. Sir James donated the land for the Chamela-Cuixmala Biosphere Reserve, a foundation set up with the National Autonomous University of Mexico. A project that has been carried on by his doughter Alix and her husband Goffredo Macaccini to this day.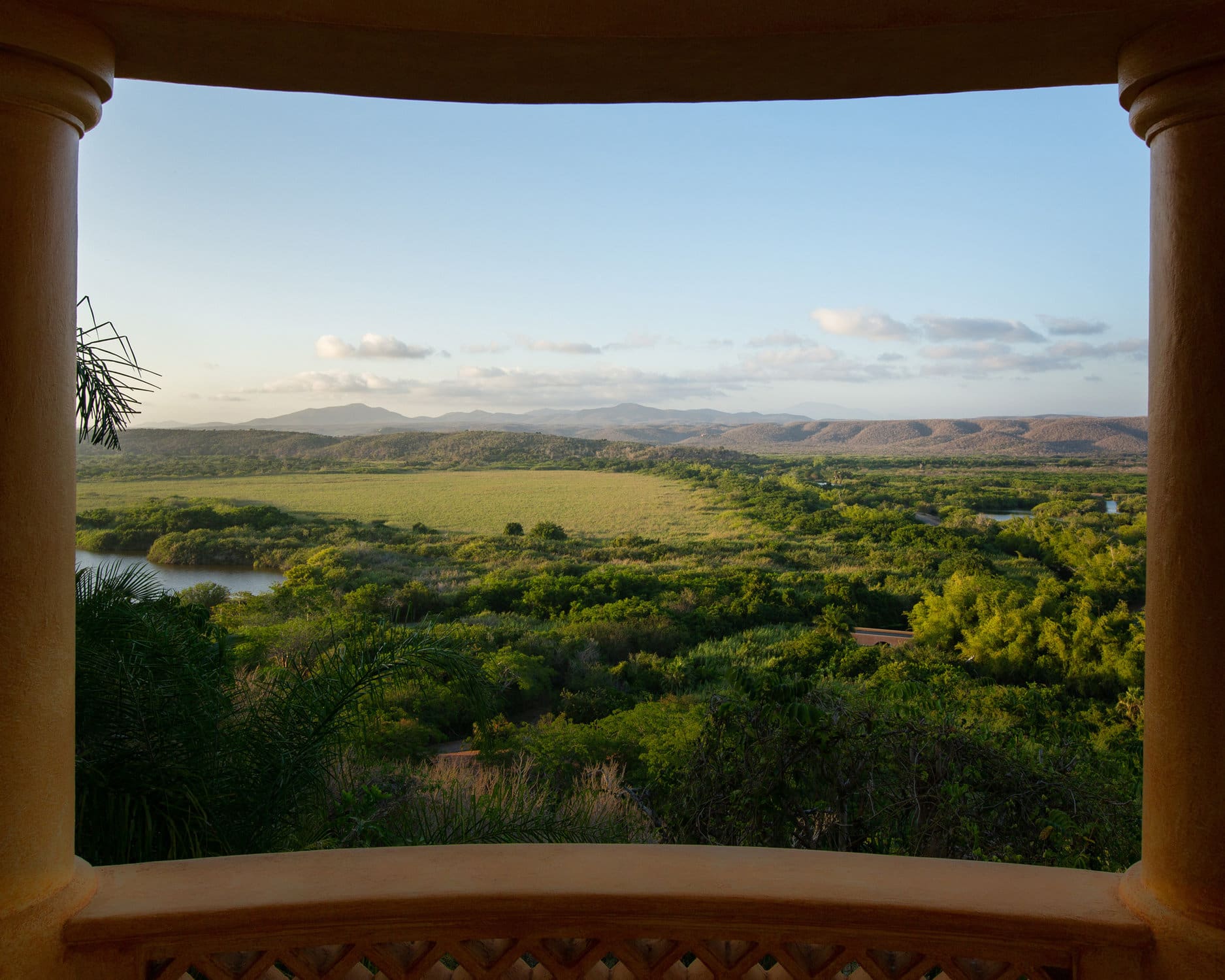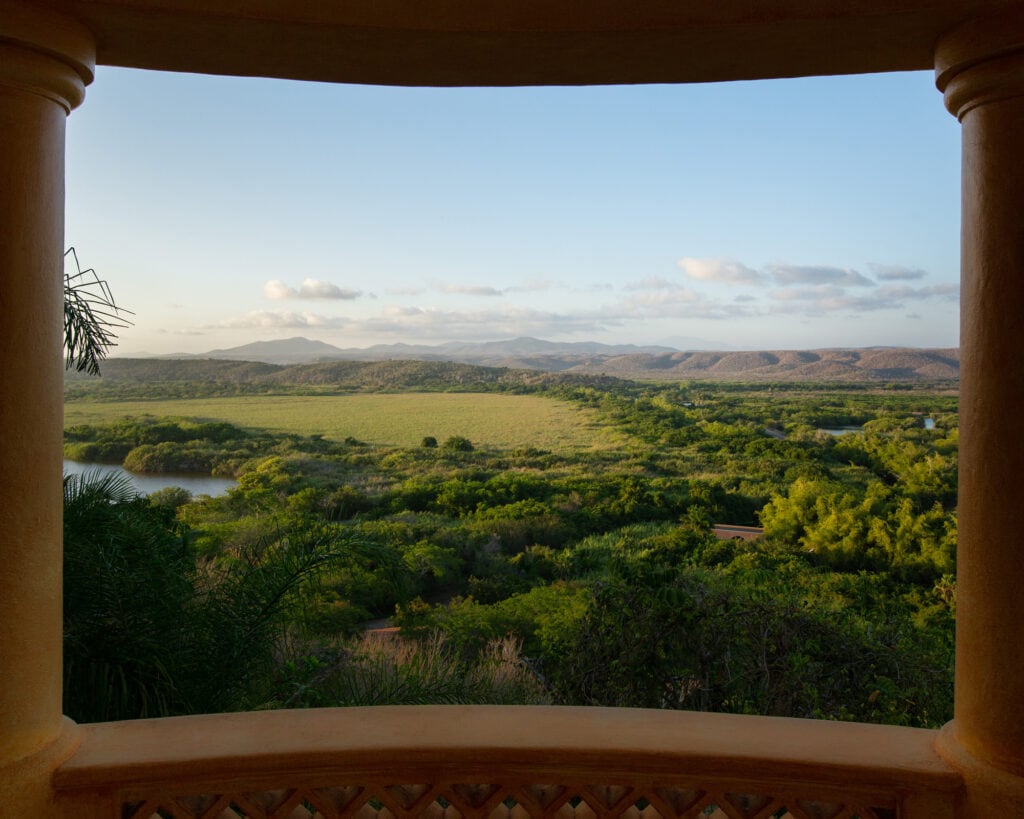 THE ESTATE
Located on Mexico´s breathtaking Pacific Coast, in the state of Jalisco. Rio Cuixmala courses along the estate´s southern border, from the northern boudary, vast hills look out over the coconut plantation towards the Pacific Ocean, and tot he east, bamboo groves and mango trees number in their thousands.
The centerpiece is Casa Cuixmala, a sprawling villa modeled after the Hagia Sophia, with an iconic blue-and-yellow tiled dome crowning the house´s ornate and vibrant architecture. Inside, four suites and various palatial living areas are adorned with Oriental rugs, handcrafted furniture, mashrabiya windows and sumptuous silks. An incredible assemblage of international beauty, but the views from the three palapa-covered terraces and the saltwater pool are pure Mexican Pacific. Additionally, six freestanding bungalows, adjacent tot he main house, bring the Casa Cuixmala area´s bedroom total to ten.
On a smaller scale three private villas are dispersed throughout the property, but the aesthetics certainly do not diminish. Each has ist own unique character, and all feature full service staff, a private pool, sprawling gardens, and communal living and dining areas, as well as four or five whitewashed guest rooms, brightend further with colorful textiles. Simpler still are the ten casitas, varying from one to three bedrooms.
ACCOMMODATIONS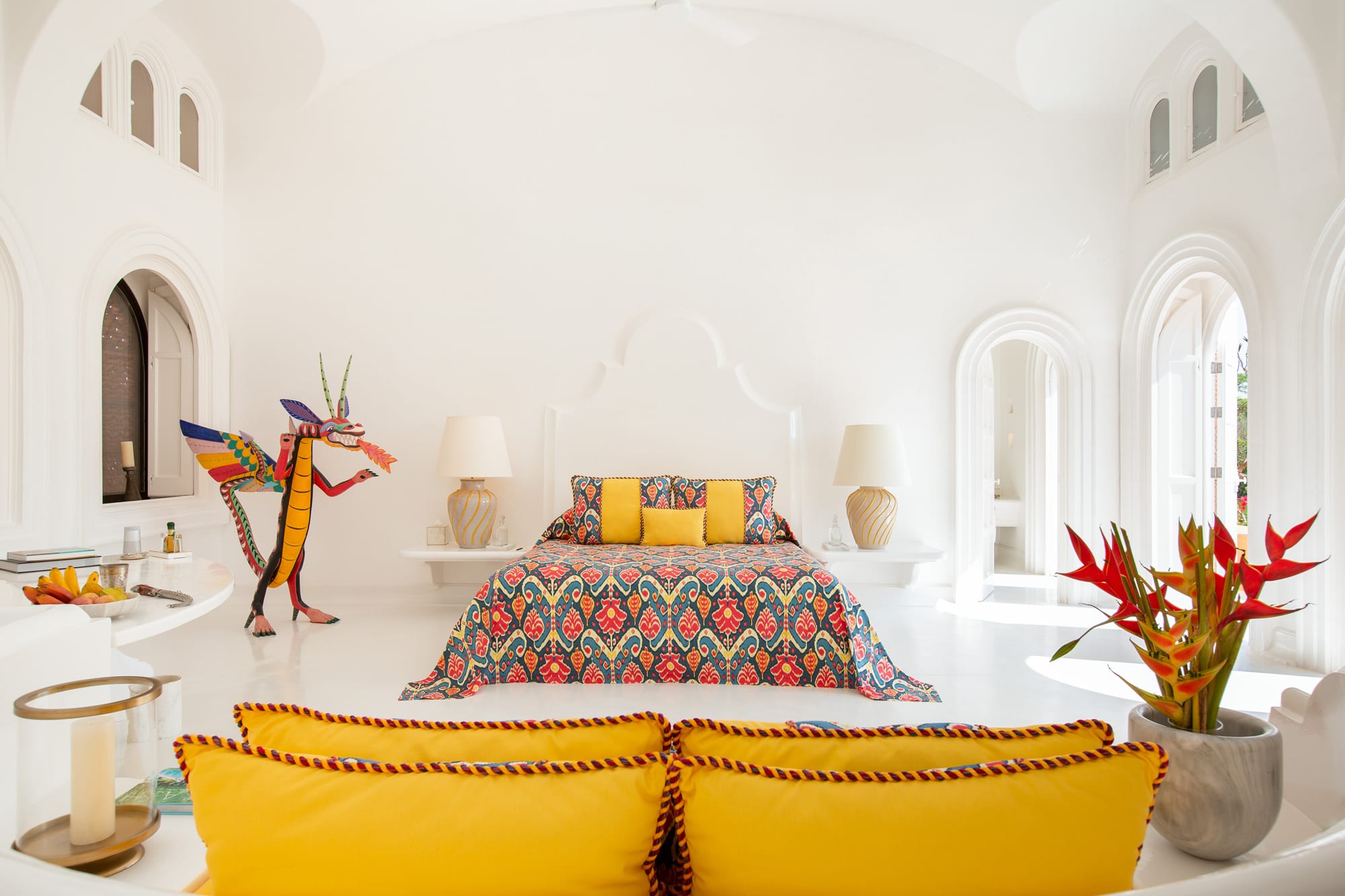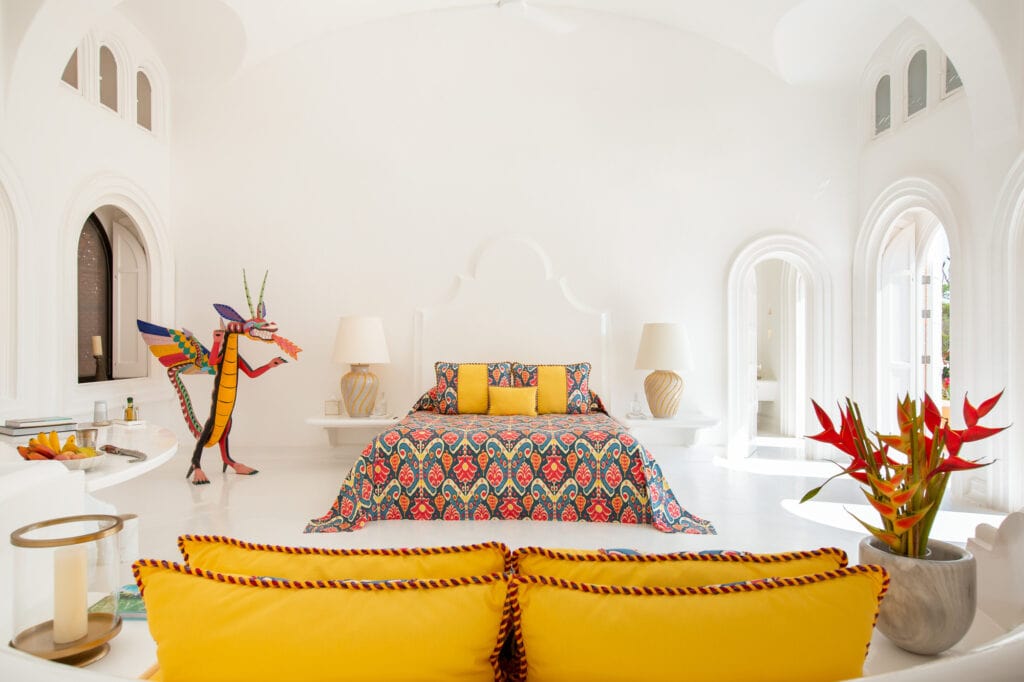 Casa Cuixmala
Indoor-outdoor living reigns supreme at Casa Cuixmala's Suites and Bungalows, with a private pool and relaxation area spilling onto the beach.
Villas
The ultimate in privacy and seclusion, the three villas embrace large, open-air spaces and Mexico's authenticity in design and decoration.
Casitas
Ten charming Casitas of 1, 2 and 3 bedrooms, arranged around a large swimming pool, offer endless views across the coconut plantation.
GUEST EXPERIENCE
The coastline affords a variety of rich landscape at Cuixmala. There is an array of beaches, from picture-postcard tranquility to rocky bluffs jutting out into the powerful Pacific. The inland landscape ranges from lush jungle, coconut palm groves and lagoons, to sweeping savannah and grasslands. With each new day guests embark from their accommodations, integrated with respect into these different environments, to find endless new adventures awaiting them.
Whether simply lounging on a beach, or enjoying one of many recreational past times, from rinding horseback through zebra herds, snorkeling off Playa Caleta Blanca, releasing Seaturtle hatchlings on Playa Cuixmala or visiting the biodynamic farm, guests can be confident their stay will be as action packed or completely relaxed as they wish.
" All human beings need spiritual commitment. Otherwise they become counting machines and believe that every aspect of nature is no more than an instrument that can be operated, mended or replaced."

– SIR JAMES GOLDSMITH
DINING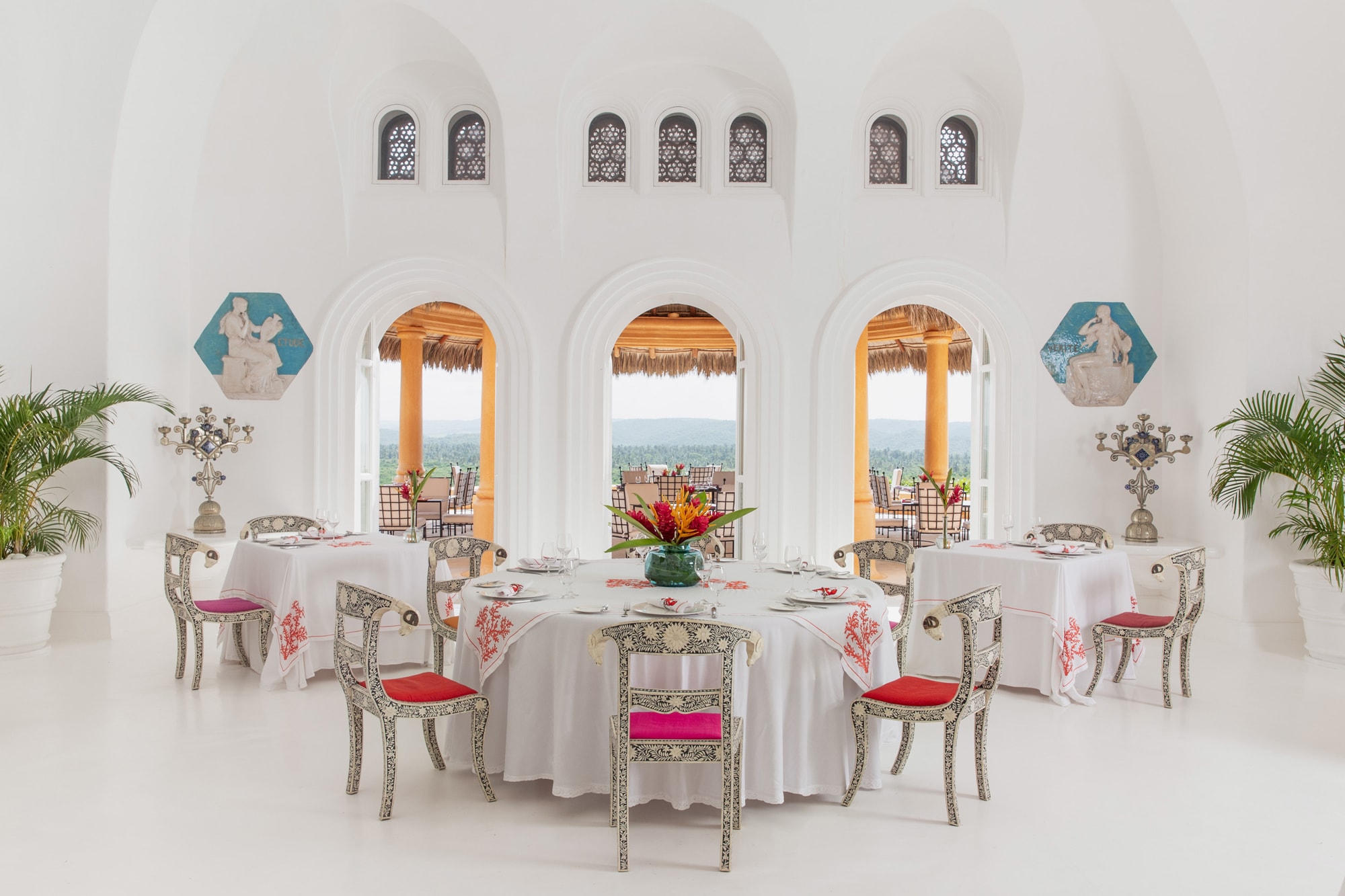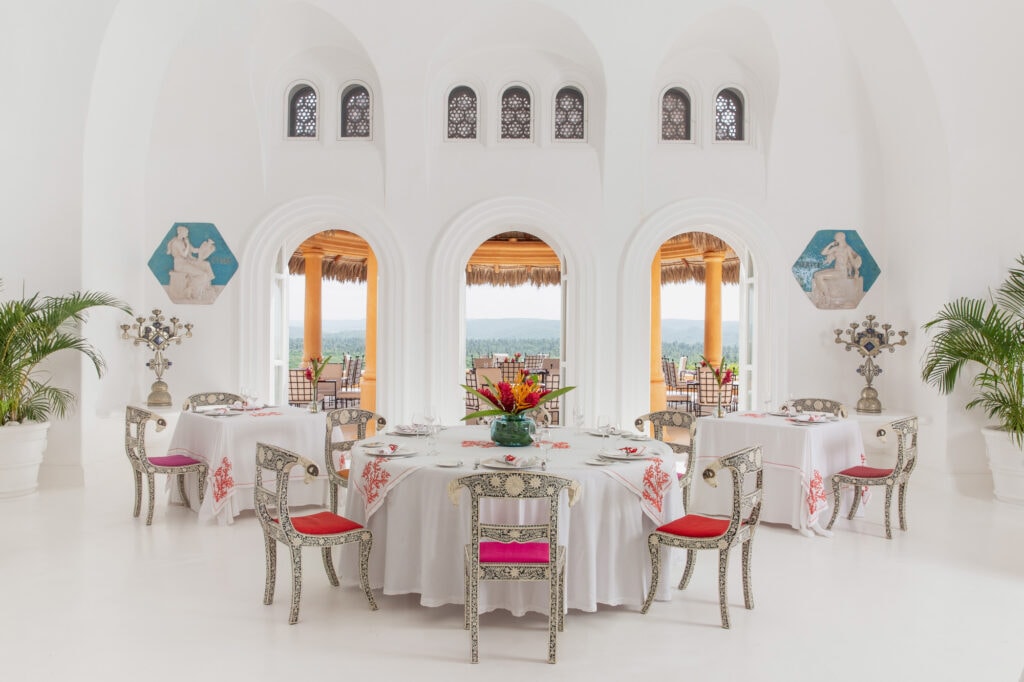 La Loma Restaurant
Located in Casa Cuixmala, a surreal space of snow white interiors and panoramic ocean views.
An exceptional team of servers and Cuixmala chefs provide attentive service to all guests of both the suites and the adjacent bungalows. Internationally inspired fine dining, prepared with the freshest ingredients sourced daily from the farms, paired with the unmistakable white vaulted interiors or the sweeping vistas from the outdoor dining palapa make for simply unforgettable dining experiences.
Casa Gomez
Serves as the restaurant and main social hub for all guests staying in Cuixmala's Casitas.
An indoor lounge and bar see lively games of pool, a chic source of Cuixmala signature cocktails, boardgames for little ones and an overall relaxed atmosphere for fellow travelers to mingle. The restaurant and outdoor terrace enjoy a panoramic view looking west over Cuixmala, along with a light breeze and sounds of nature all around as the always perfect compliment to traditional Mexican-inspired cuisine on offer for breakfast, lunch and dinner.
THE BEACHES
The vast stretches of Cuixmala's coastline provide three private beaches each with their own unique qualities. They offer the full array from luxury to rugged and wild experiences for all types of traveler. One thing is certain the Costa Alegre, translating to- the cheerful coast, certainly lives up to its name via these breathtaking playas.
Playa Cuixmala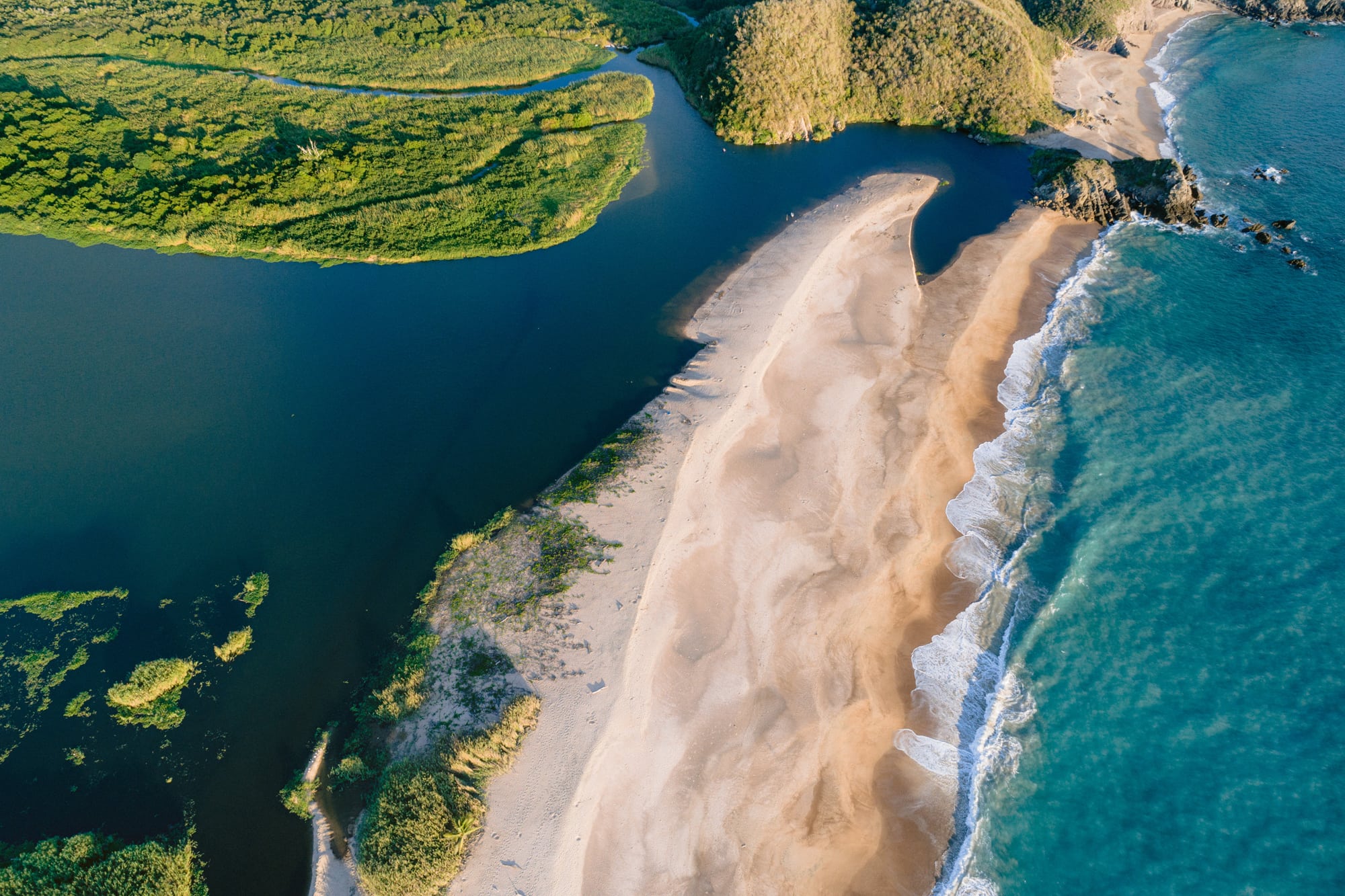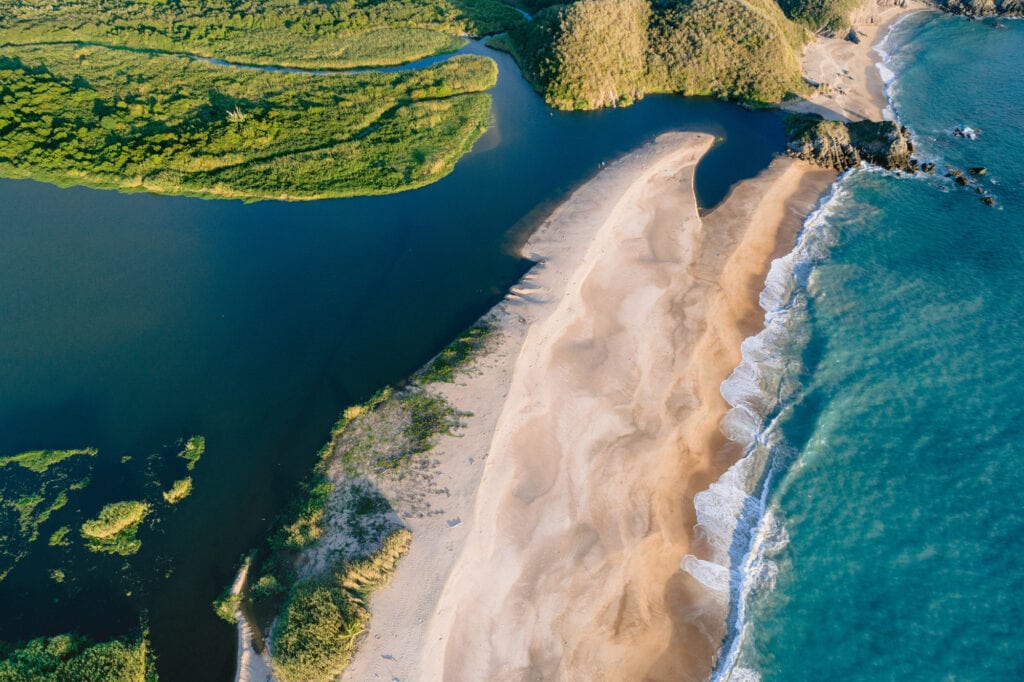 Over 3km long, Playa Cuixmala is a powerful sight to behold. This beach provides a surreal location to appreciate sunrise walks, runs and meditation. In addition, horse rides typically end along these undisturbed shores, where guests can gallop in rhythm to the thundering waves, and from any vantage spectacular sunsets are framed by the incredible expanse of Cuixmala's main coastline.
Playa Caleta Blanca
The most tranquil of the three playas, Caleta Blanca is Cuixmala's picture postcard beach with full service, oceanfront daybeds, a main palapa dining & lounge area and bamboo bar.
Caleta Blanca and its surrounding waters are ideal for paddle boarding, kayaking, snorkeling and fishing or whale watching excursions; also from here, boat trips embark to the neighboring Isla Cocinas, or Kitchen Islands, a protected home to the exotic Bobo bird. Once back at the beach, by request, massages and spa services can also be arranged here in the private treatment palapa, tucked back amongst the palms yet still in sight of the water's edge.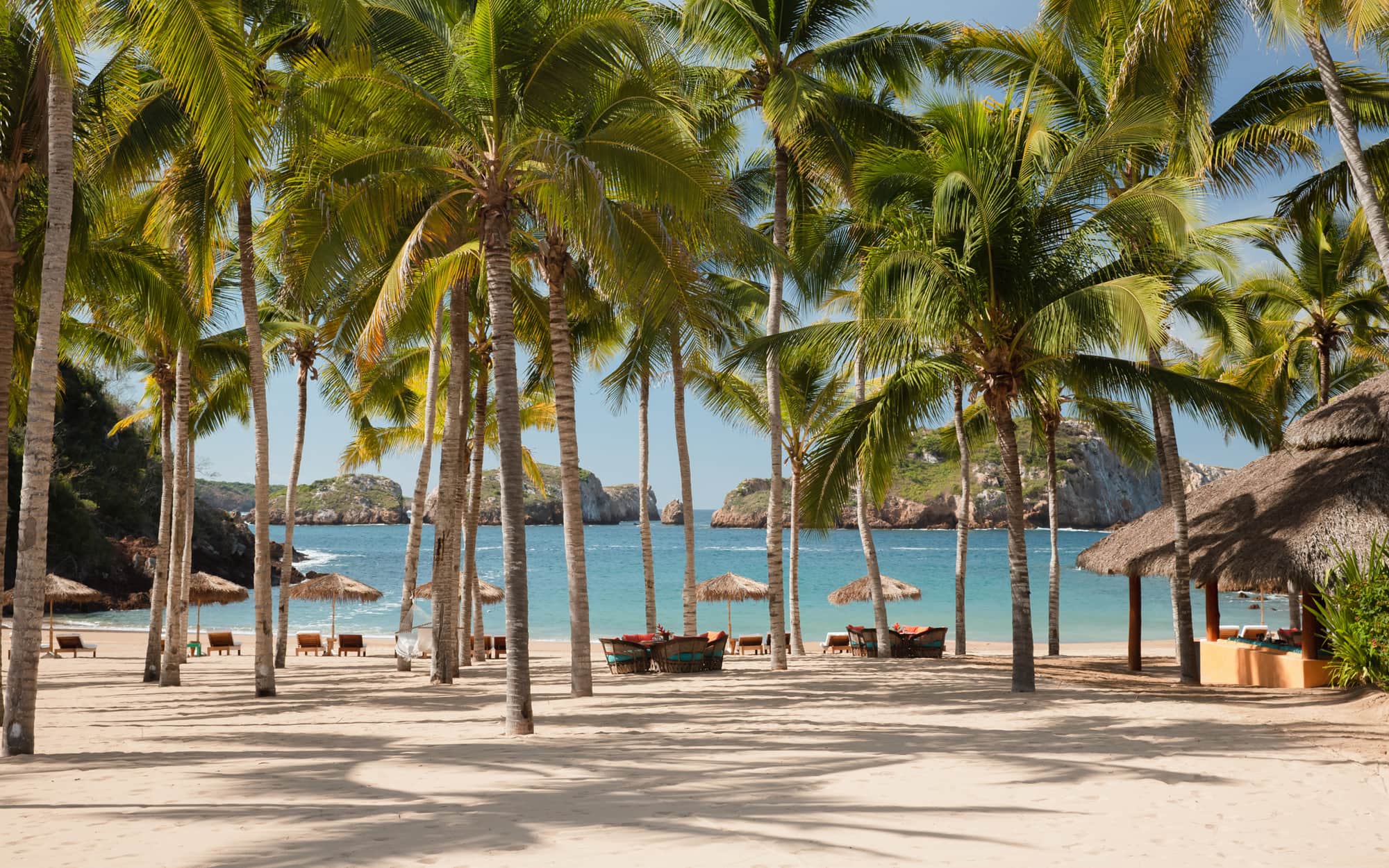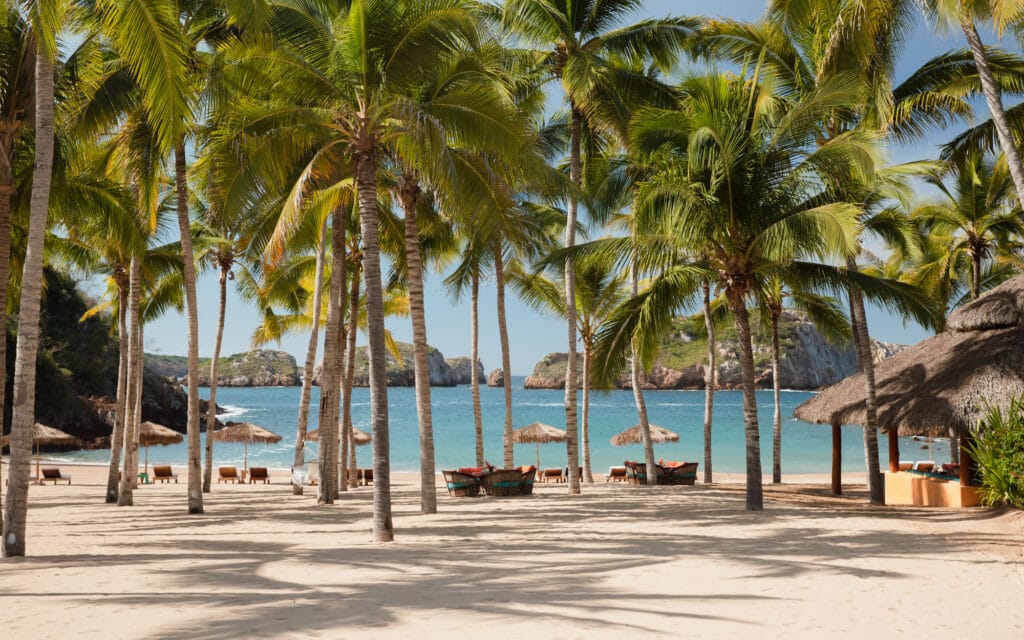 Playa Escondido
The more rugged nature of Escondida is suited for those who want to swim with waves, scramble over and explore a seemingly final unmapped portion of the Mexico Coast all while enjoying ultimate privacy. This untamed counterpart to Caleta Blanca is perfect for extravagant picnics, running wild amongst the surf and collapsing onto daybeds beneath thatched roof shades.
Cuixmala Ecological Foundation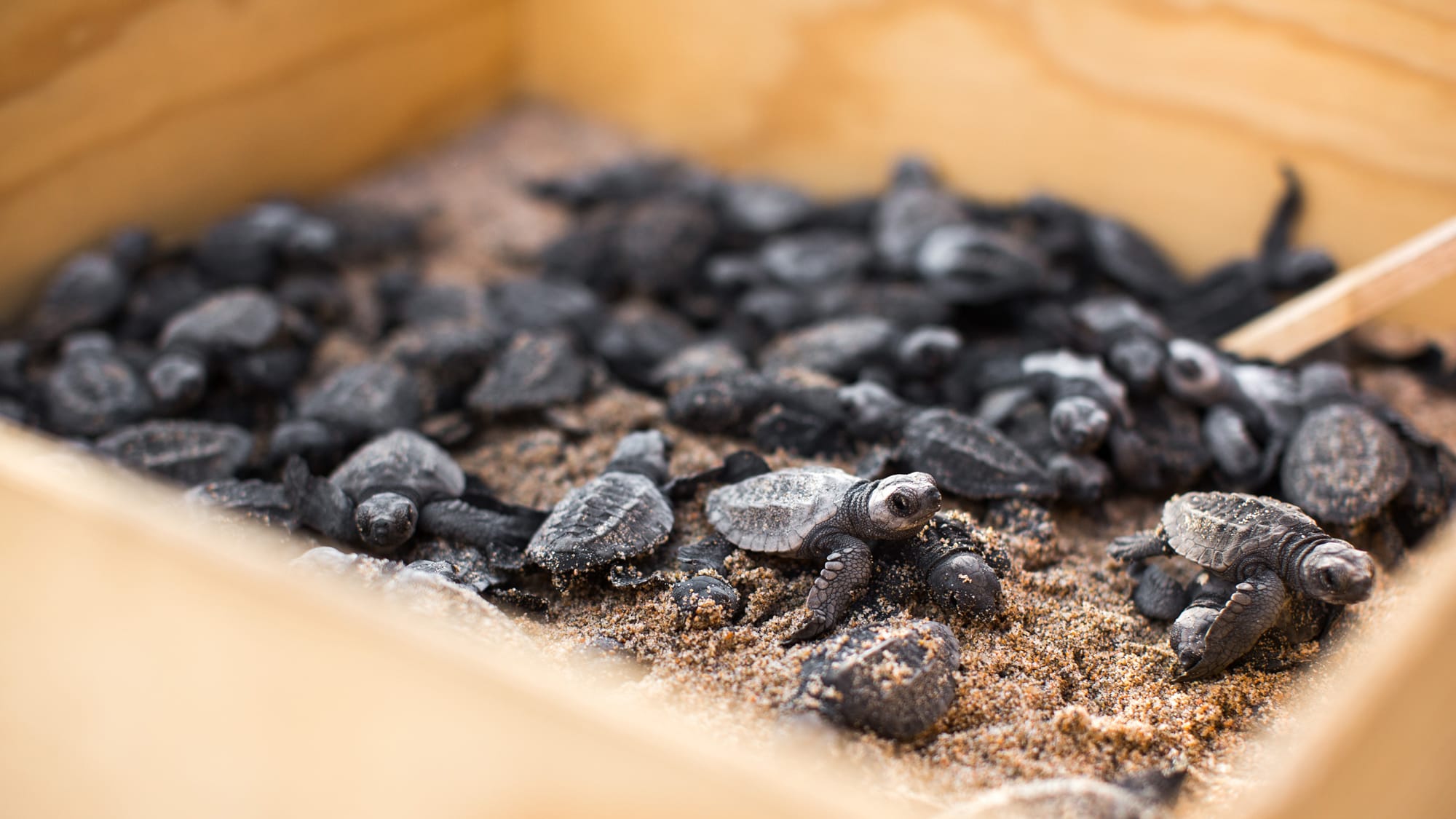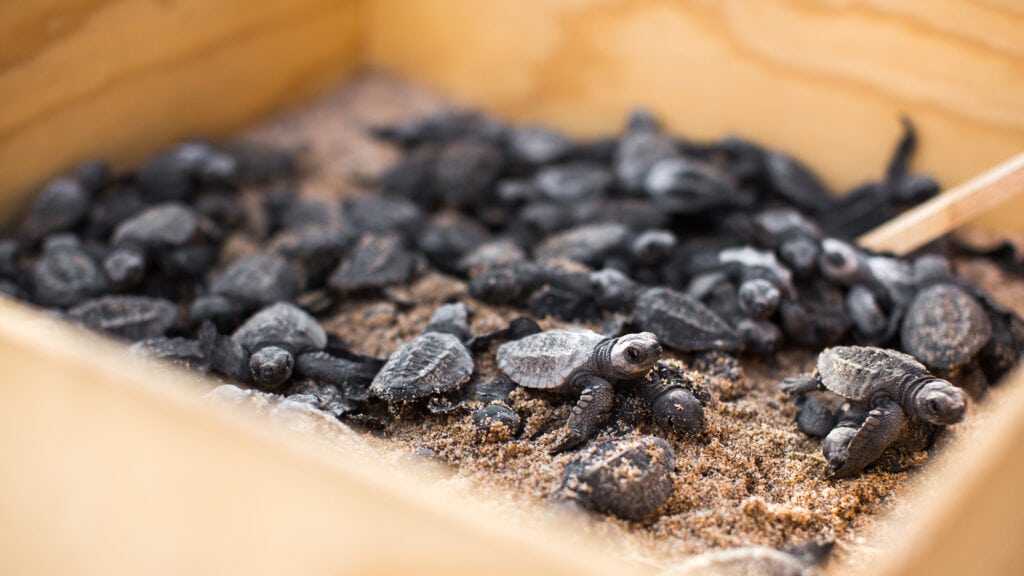 The Cuixmala Ecological Foundation is committed to the conservation of nature. It is of the utmost importance for us to contribute to the conservation and restoration of biodiversity in the region. Of particular concern is the conservation of species, ecosystems, and ecological processes which occur in the Chamela-Cuixmala Reserve, as well as promoting the rational and sustainable use of natural resources through effective medium and long-term strategies.