In the small, practical and resealable shot bottle, it is the perfect companion and energy kick at any time of day – the COLD BREW Shot by LIFE & COFFEE. Pure or as a fresh caffeine kick in the form of unusual creations. Whether in the mini-bar, hotel bar, restaurants or as a natural caffeine booster for in-between.
Handmade in Germany
After more than 3 years of development, the award-winning roasting company LIFE & COFFEE® from Baden-Baden has managed to pack its idea and recipe into a small bottle. Available everywhere and the solution for quick energy in many areas. And made from 100 % natural ingredients. Vegan, lactose-free, no sugar and no unpleasant bitter substances and acids – just vitalised water and coffee. A caffeine booster with maximum taste and minimal additives.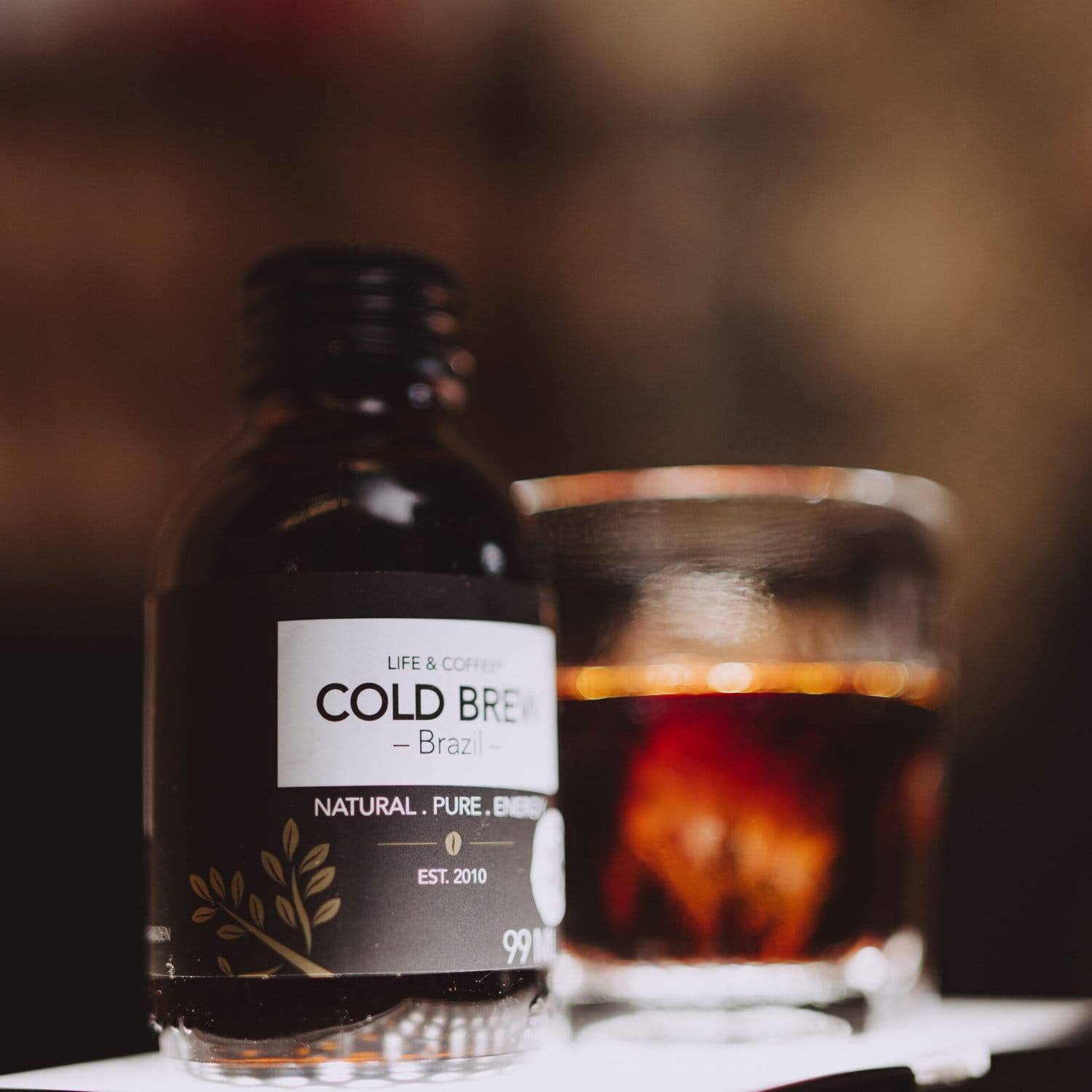 Regional. Vegan. Sustainable
The coffee beans for the COLD BREW Shot are sourced directly from coffee farmers in Brazil, gently roasted and produced by hand in a special, time-consuming and artisanal process.
In an elaborate 24-hour process, only vitalised water is added to the roasted coffee, gently and without heat.
With this fair way of coffee trading, the company not only focuses on social and ecological aspects, but also consciously advocates personal contact and exchange with the coffee farmers. When it comes to quality, they are the allies, just like the small coffee roasters and green coffee importers with whom the company cooperates in a small but select network.
New moments of pleasure in every bar
The 100 % cold-extracted speciality coffee in the stylish 99ml shot bottles is particularly suitable for use in minibars and is also a special ingredient for outstanding moments of enjoyment in any hotel bar and/or restaurant.
The power of espresso
Ice-cold and straight to the table. The pure energy kick without any additives! Whether on summery days, during a conference break, a long car journey, in the hotel or restaurant… a 100% natural energy source with the power of up to 5 espressi from the first sip!
Photos: LIFE & COFFEE®, Timon Claus