Wine as an investment?, Text: Nina Prehofer, Photos: May Wines: Anna Stöcher
What do you think of wine as an investment? Does it make sense? THE Stylemate asked two wine merchants in Vienna who were bound to know. They explained to us why wine is first and foremost a passion and treated with awe and humility, and why all roads lead to Burgundy.
PART 1
May Wines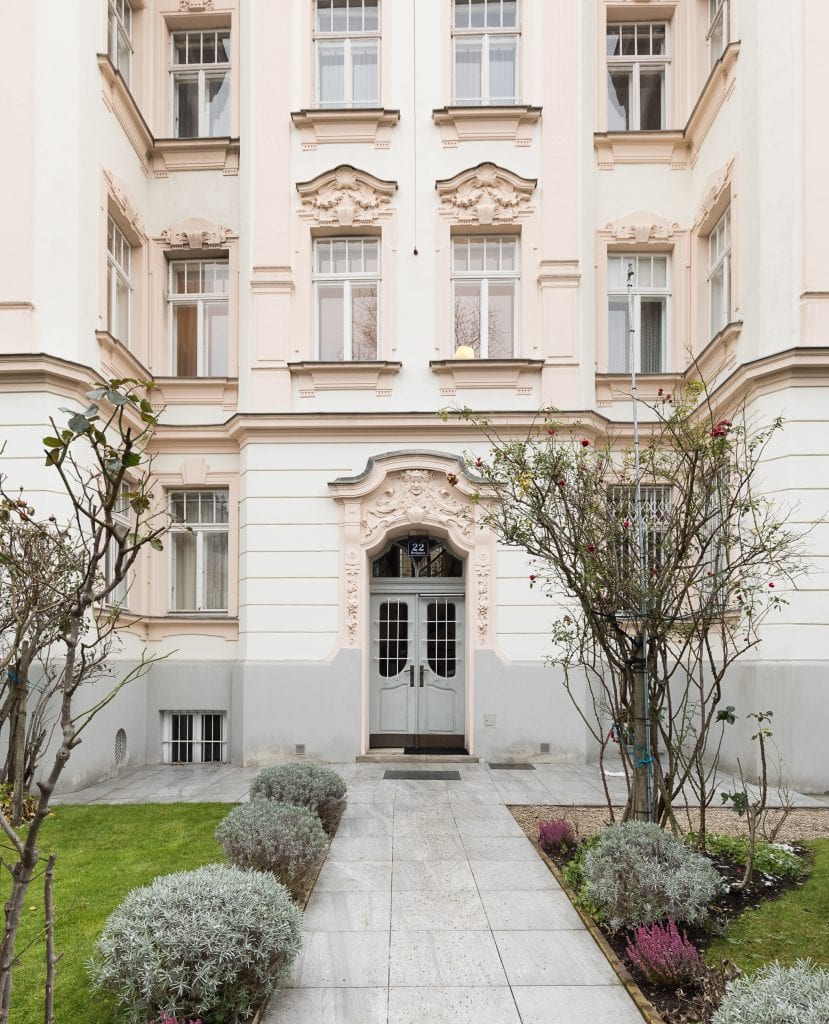 It's another beautiful summer's day when I arrive at the mansion in the leafy Hietzing district of Vienna. The perspective is just as I had expected: an inspiring and passionate conversation about wine and its value. The mansion is home to Berndt and Andrea May, who a few years ago established the exclusive wine merchant May Wines, a company that sells the top wines from the most renowned wine regions around the world. The welcome from both of them is warm, and in light of the current situation, it is of course distanced. We are by the open windows in the lounge, a spot that also serves as the venue for the regular MasterClasses that see wine buffs gathering to enjoy tastings.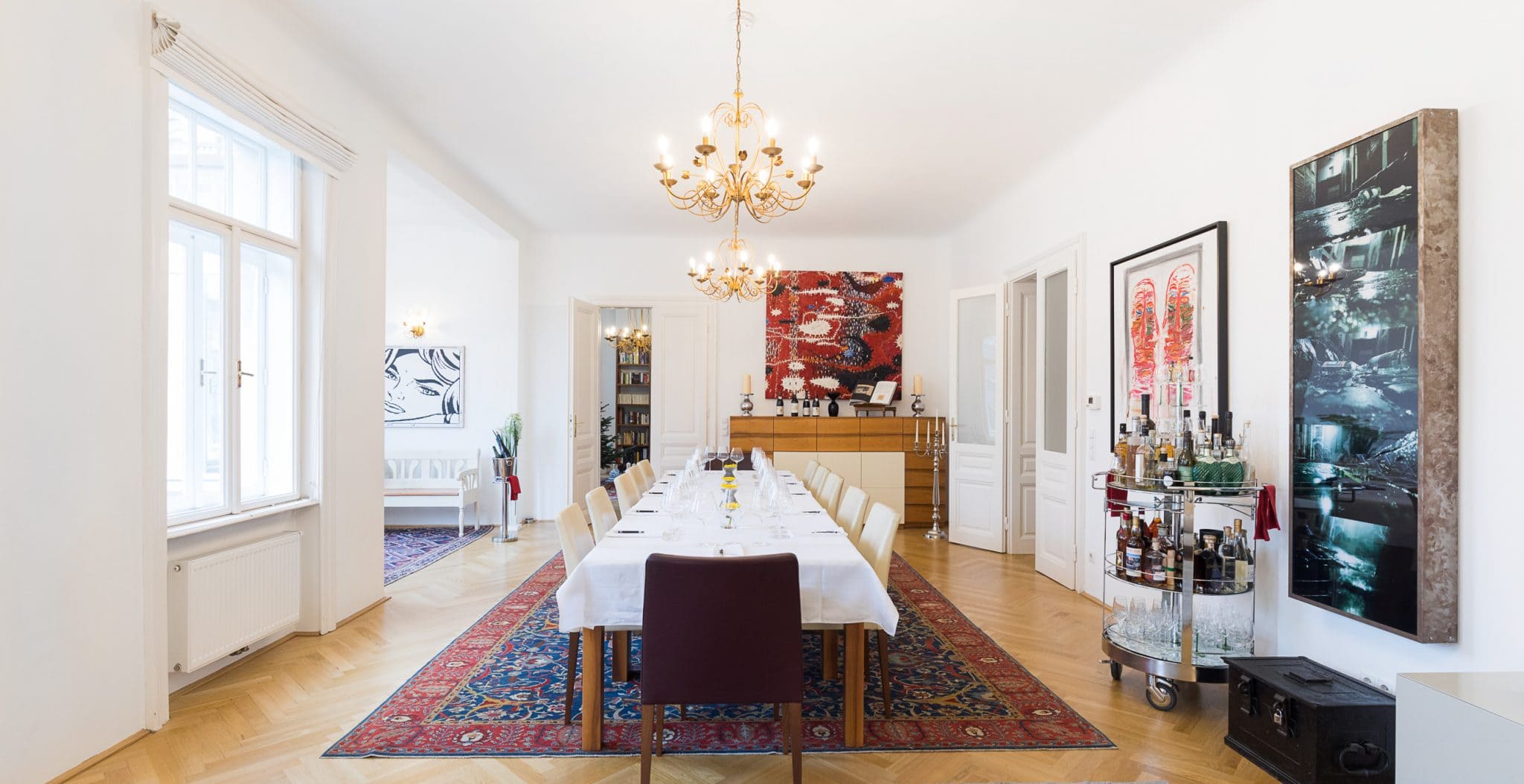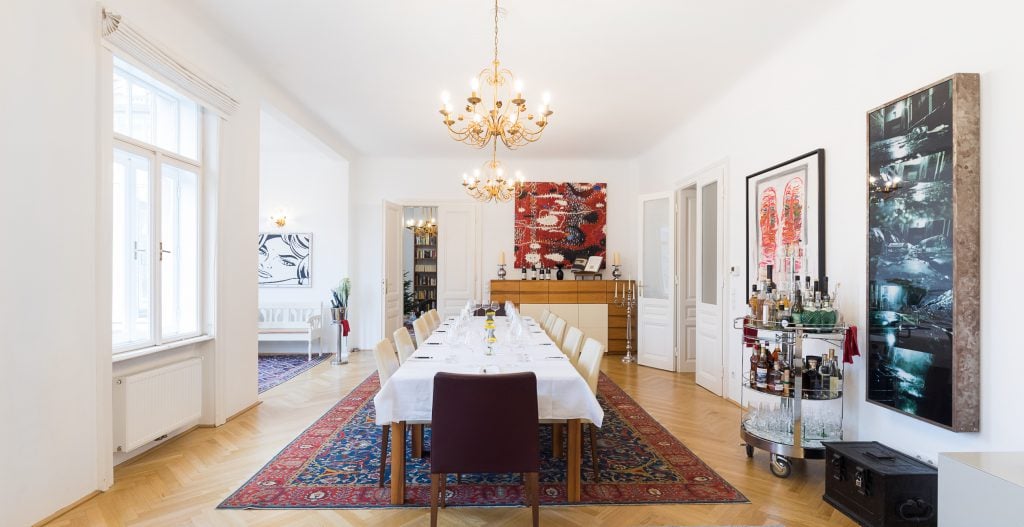 Before Berndt May devoted himself entirely to wine, he was a finance manager. Because of this, my first question is about investing in wine, and whether it makes sense to invest in more expensive wines during times of crisis. "Generally speaking, it makes sense to spread your assets when it comes to investments. In terms of "real assets" there are things like art, vintage pieces of furniture and musical instruments, and even special wines."
But not every wine is an investment, and investing in wine isn't actually that easy,

he explains.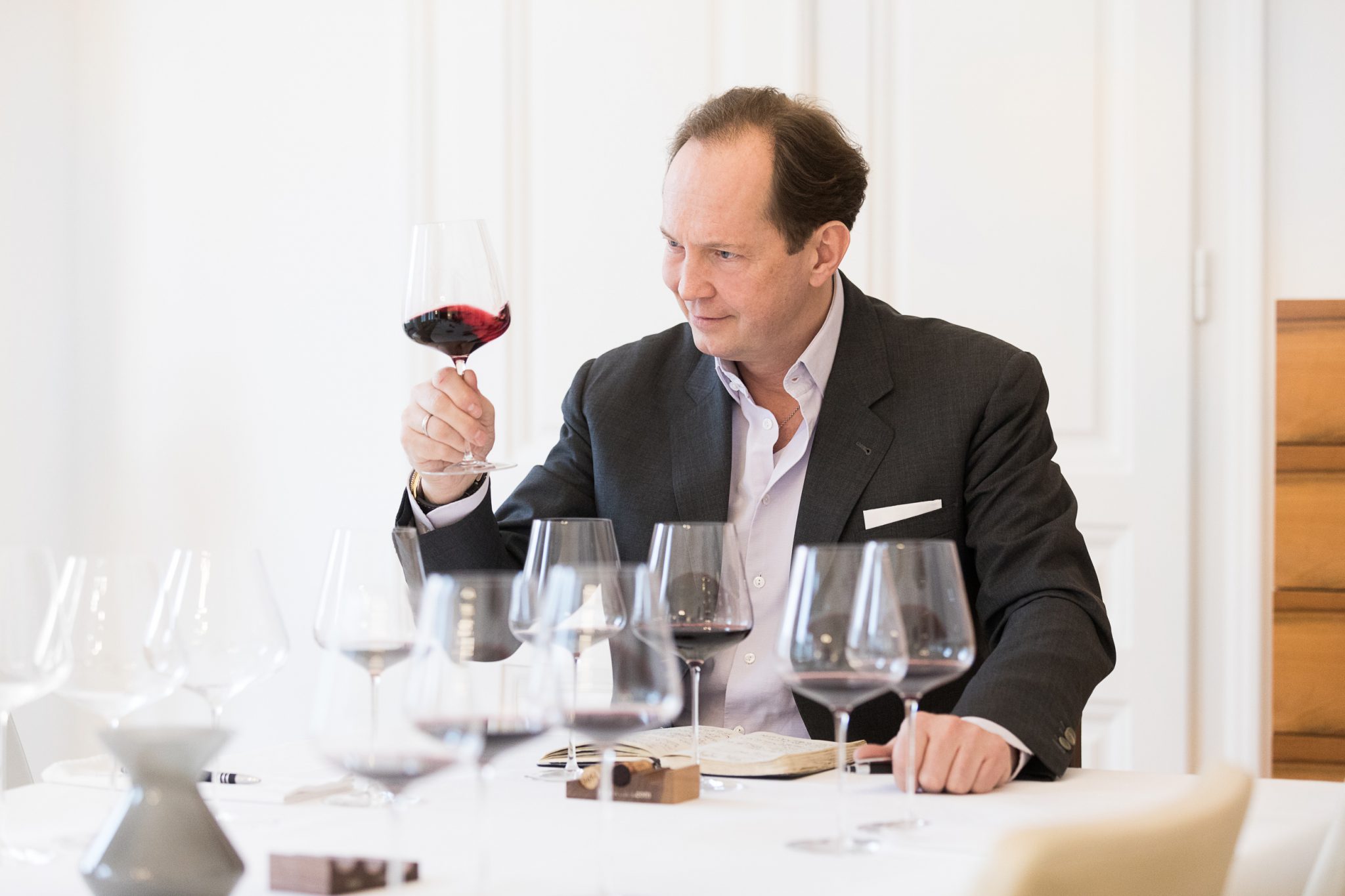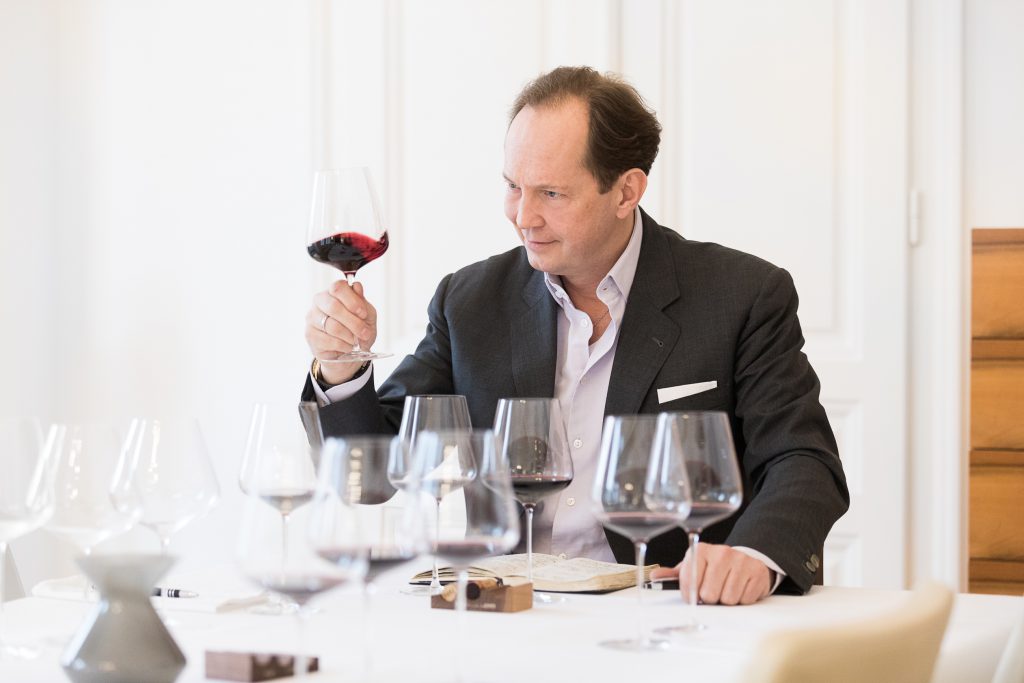 He goes on to say that investing in wine is rather demanding, as you need a place where you can store it properly, and you must also be able to determine, to know, what you're buying and have the ability to make purchases based on reasonable conditions. If you buy a wine that you need to drink in the next two years, that's not an investment in the traditional sense, it's more about investing in enjoyment. "My experience with friends and clients is that very few wines are bought as an investment – most of them are for pleasure. And because a wine connoisseur is usually also a collector, they buy more than they can drink at once. At some point they discover that they have several thousand bottles in the cellar, start doing the calculations and realise that they've built up quite an asset."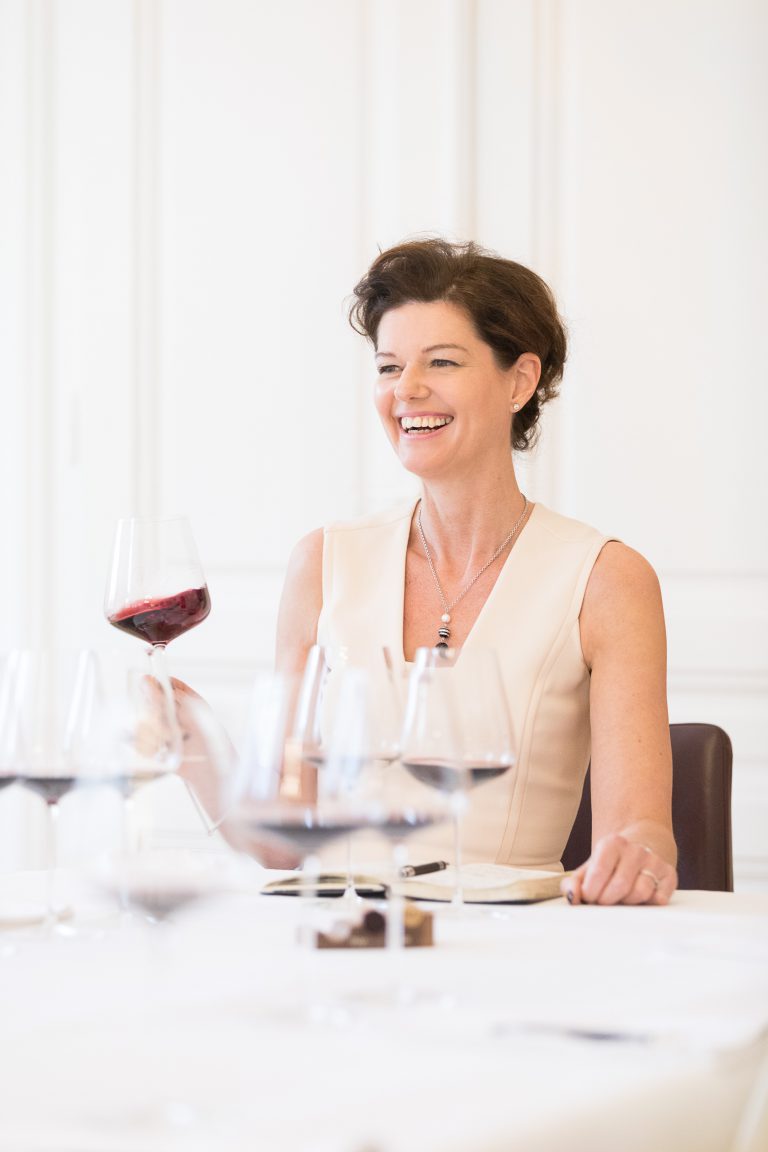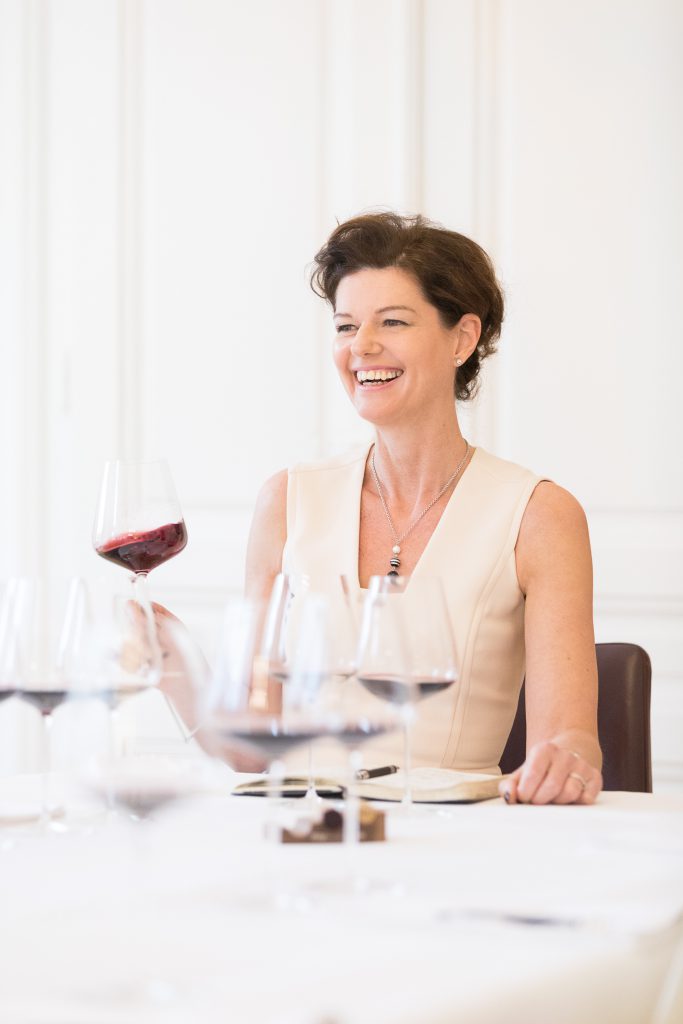 The worlds of pleasure and investment meet when it comes to wine.
Only the best is good enough as an investment, which mostly means French wines from Bordeaux and Burgundy, as it has long been proven that wines age extremely well in these regions. They have a long history and everyone likes them – an important factor considering where there's no demand, there's no possibility of making a profit. These regions introduced a universal classification system at a very early stage, therefore making it possible to compare one wine with another. The wines were also classified very highly early on. In order to really make an investment, you'll ideally need to buy a case of 6 or 12 bottles and have an air-conditioned cellar, or a natural cellar that's very deep underground. The fill level of the bottles also has to be right – the warmer and drier the place where they're stored, the greater the danger that the fill level will go down. The more humid the location, the better the conditions for the wine, but all the worse for the label: at 80% humidity, the label starts to suffer, but of course collectors and investors want a nice-looking label.
It's not that simple at all.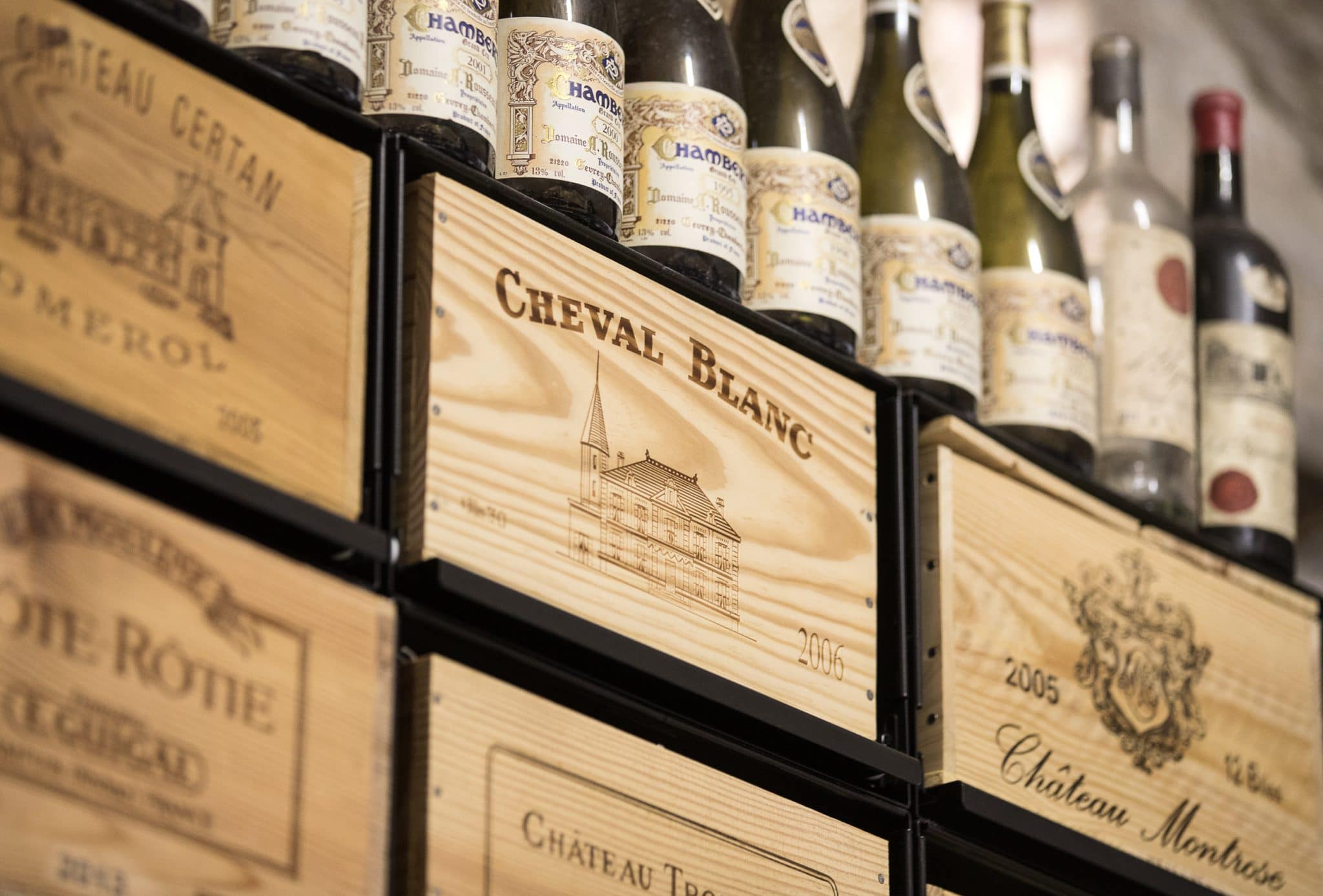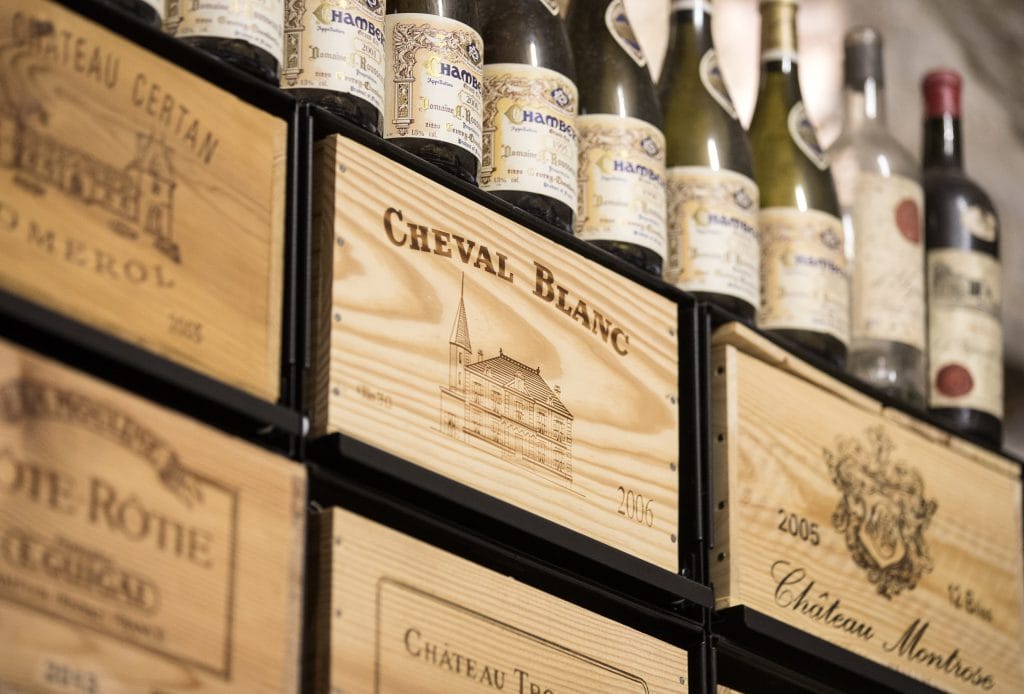 You sometimes also get valuable wines that have a bizarre story behind them
Like the 2008 Château Lafite, for example. When it became known that the renowned winery had engraved the number "8" onto the bottles, which incidentally is the Chinese number of good fortune, the value of the wine went up by 20%. Another example is the 1945 Mouton, which is still recognised and enjoyed today as an exquisite wine. The combination of a great wine in the bottle and the exogenic factor of the end of the war made it a highly sought-after rarity. A bottle these days will cost you between 8,000 and 10,000 euros. You must never take your eye off the market when investing in wine – just because critics agree that a particular wine is "great" doesn't mean it has to be that expensive, and in turn that doesn't make it a good investment.
Great wine
So what does make a wine great? According to May, there are various answers to this question. "A wine producer would say it's the terroir – the ground, the right vines, the sun and the coldness, the microclimate and old vines. I would mostly say it's the opposite, as the wines from the 60s and 70s that we now regard as good came from vines that weren't that old at the time, although in general, I can of course understand that an old, deep-rooted vine brings interesting things to the plant. The wine producer would therefore conclude that it's mostly down to what happens in the vineyard. As a wine merchant, I would say that a great wine is one that sells well. As a wine connoisseur, I would say that a great wine is one that gives me goosebumps when I smell the flavour in the glass and brings a "wow" to my lips."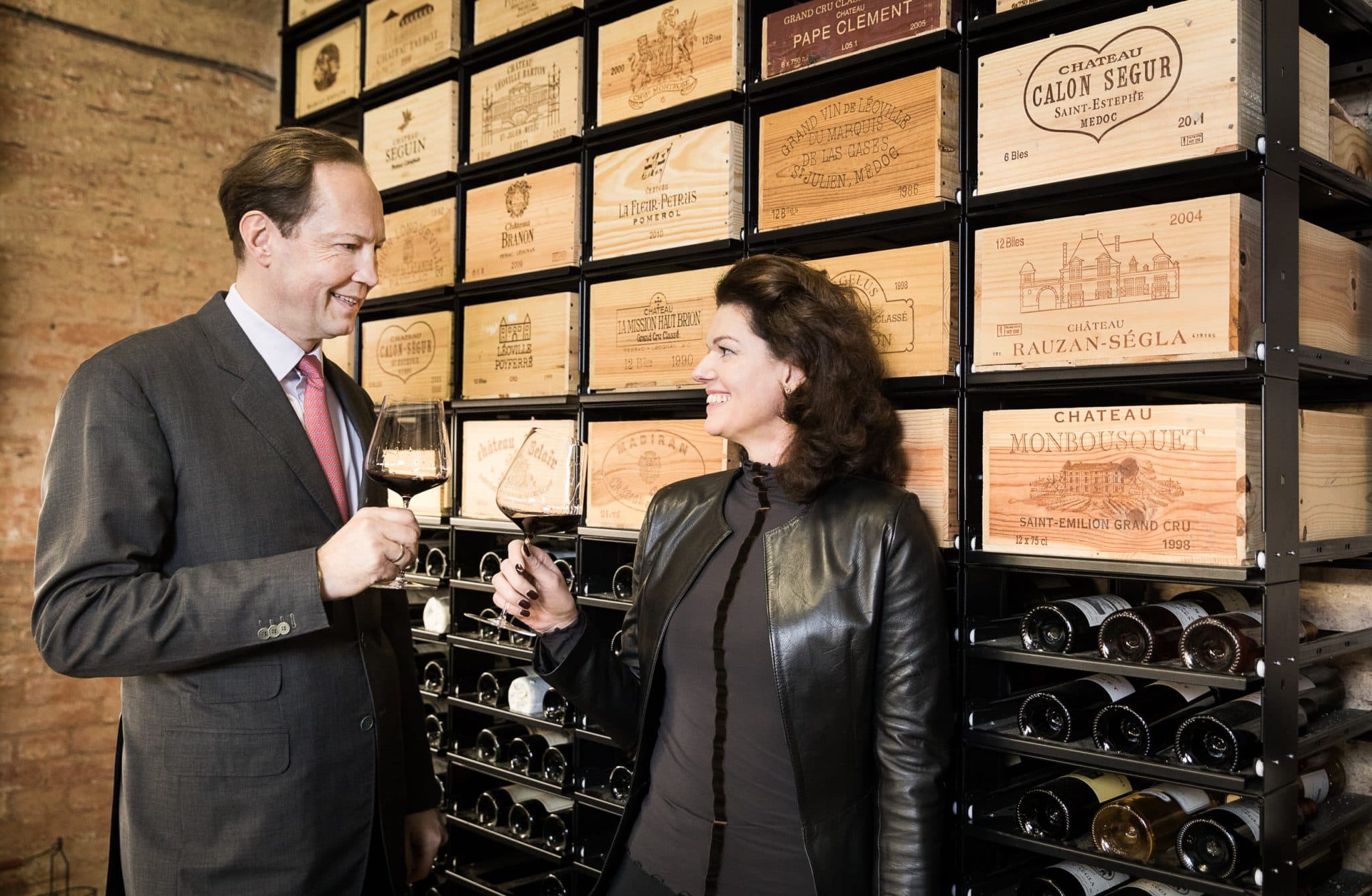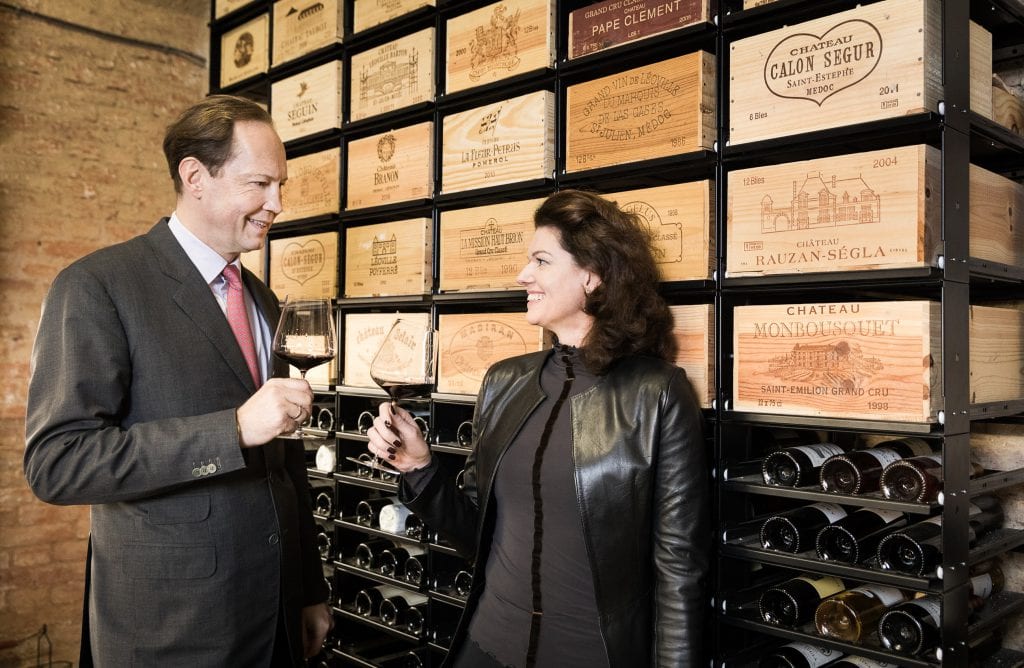 During their tastings, Andrea and Berndt May serve many such great wines. "There are very clear criteria: the range of aromas, the complexity of a wine – how long it stays on the palate, whether it has depth and body – and whether the acidity adds structure and makes the wine elegant and crisp," adds Andrea May. It's on the basis of these criteria that they value wine. Quality is the primary focus during their tastings, but it is even more important in their business of selling wine. May compares it to his time as a banker, where the biggest risk was considered to be that to your reputation. When a wine is offered for sale, everything has to be right: the cellar, the provenance, the fill level, the cork and the label. Customers mustn't be allowed to be in any way disappointed – a May bottle must represent the utmost quality.
The Mays' current personal favourite wine is a Haut-Brion from 1989, which commands a price of around 1,500 euros.
Searching for a hobby
It all started with Andrea and Berndt May looking for a joint hobby. They thought they were still too young for golf, and they couldn't find another sport that they agreed on. But the couple were extremely good hosts, so they decided to get to grips with wine, and did so with the utmost diligence. Together, they did blind tastings, tested each other, read a lot, and above all tasted a lot.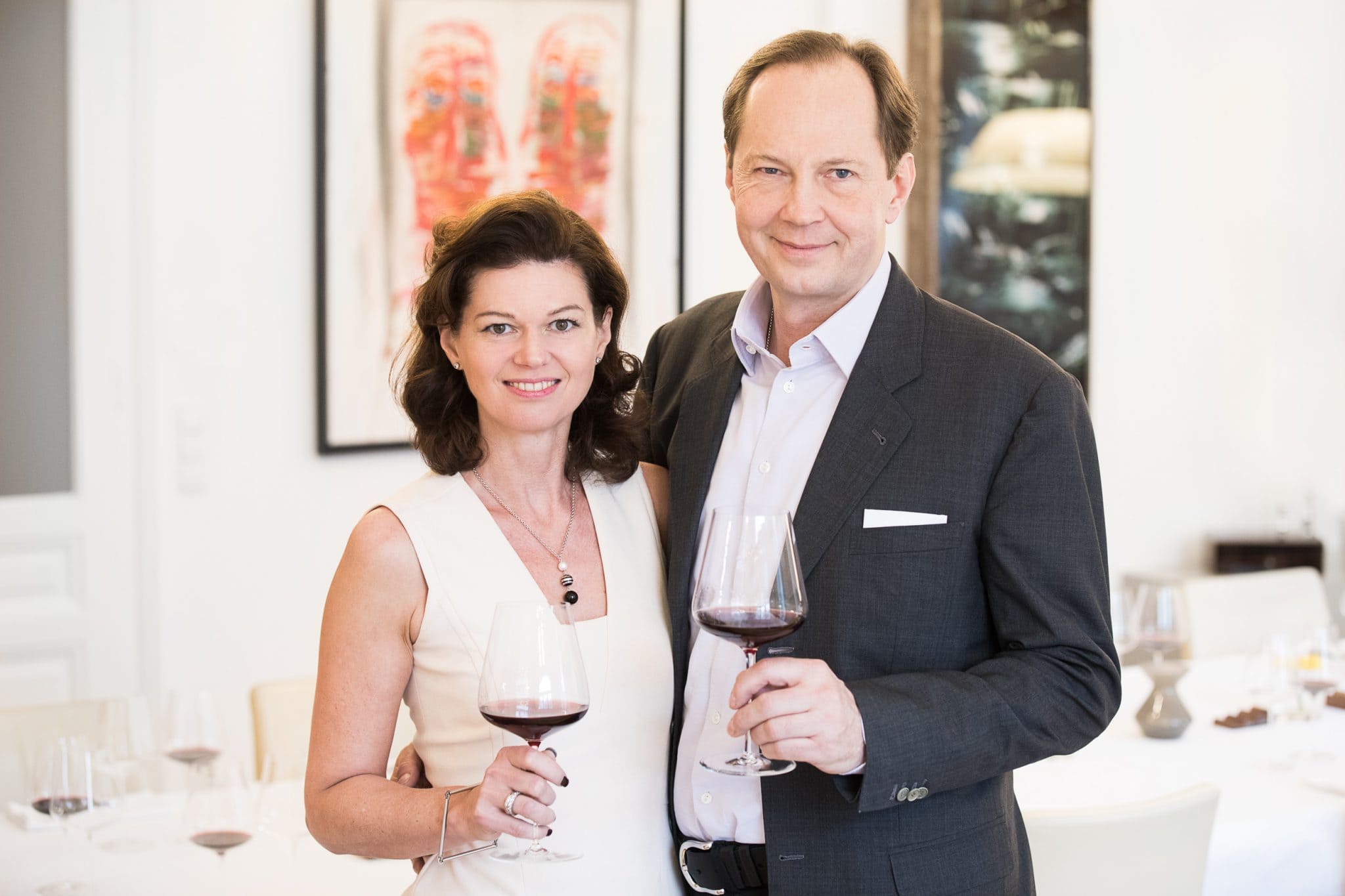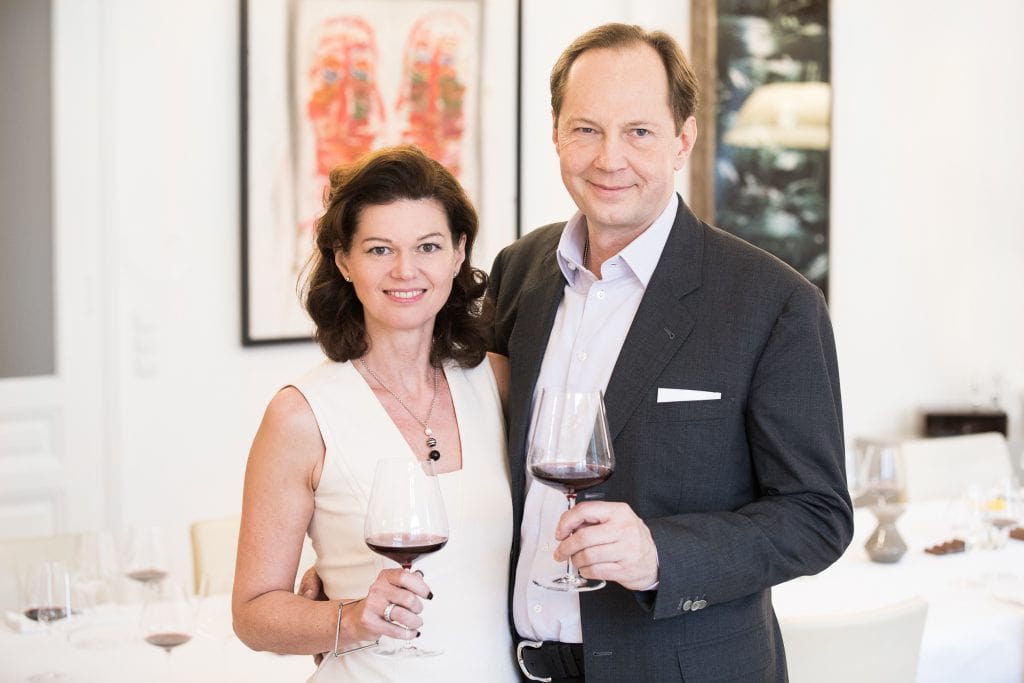 "The objects of our desire are French wines, mainly those from Bordeaux and Burgundy. They're also the wines that we sell the most of because we can contribute our experience. We know the right vintages, the vineyards and the conditions, as well as the time period in which you should buy and then drink a wine," says Andrea May. And they never get bored of it.
We constantly drink the same wines, but we're still able to talk about them for hours on end.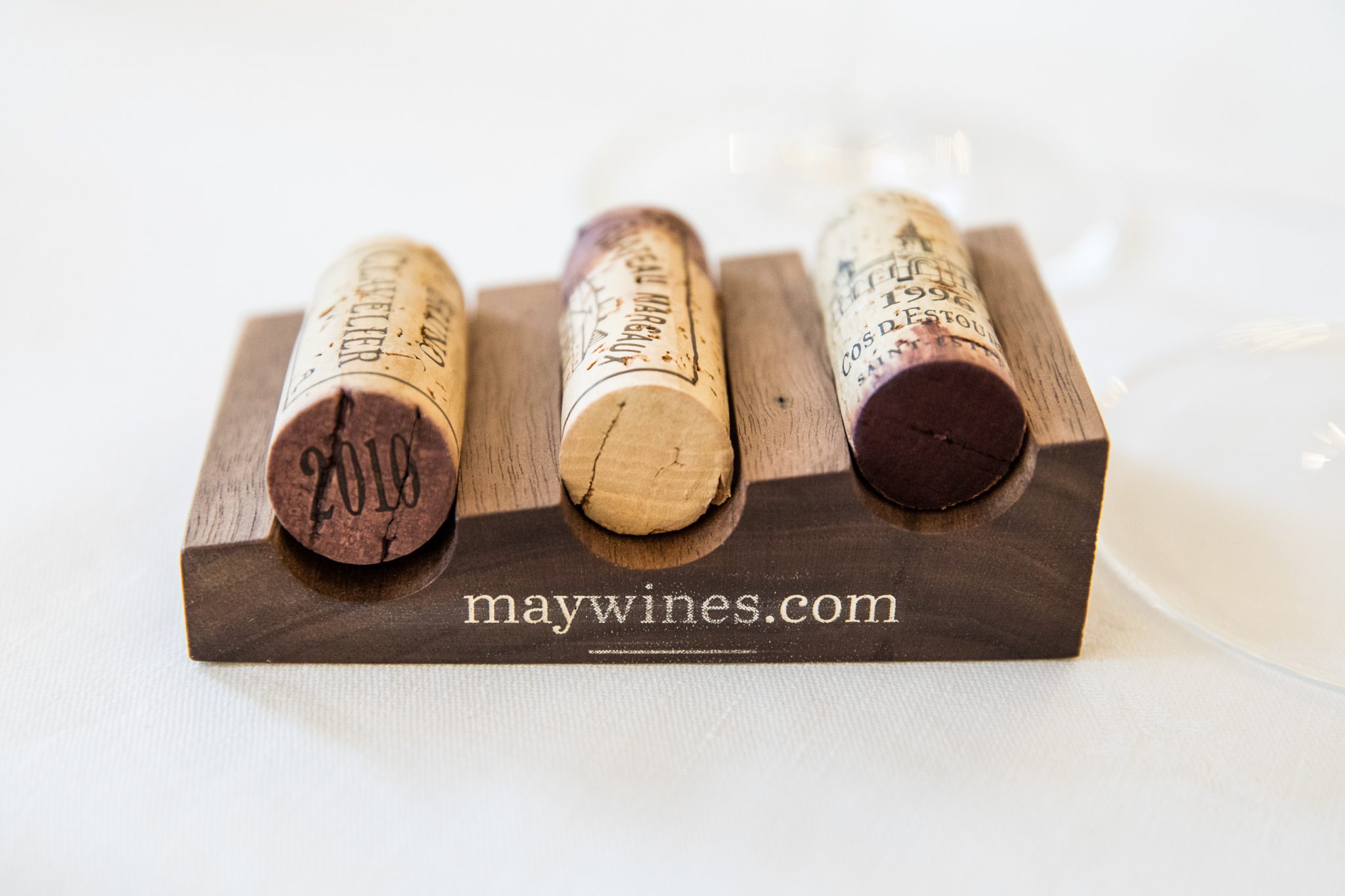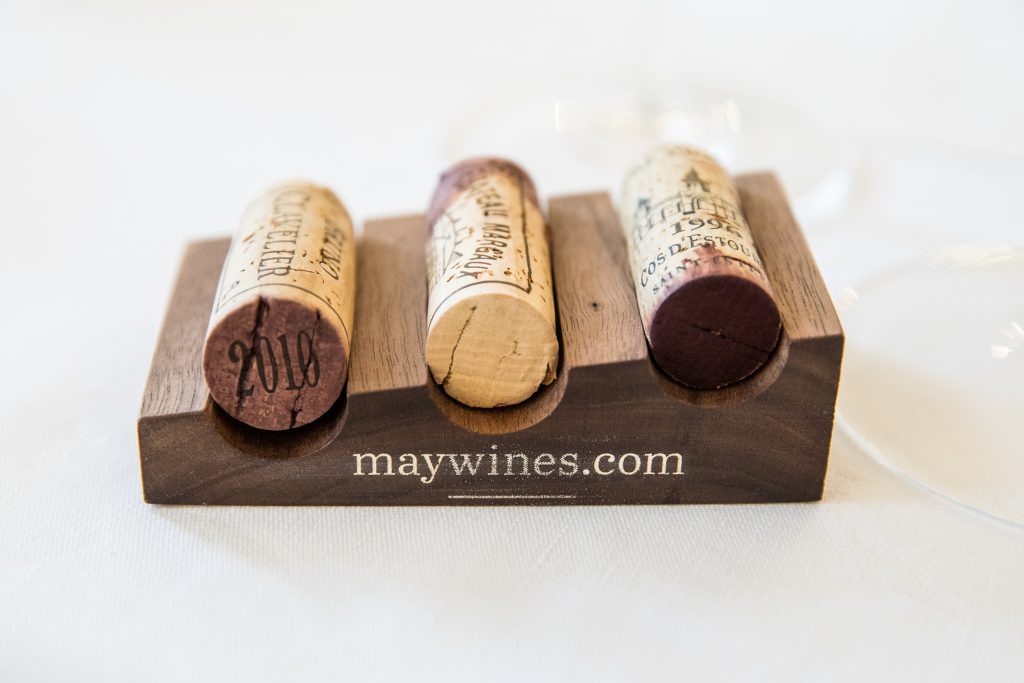 However, it's not just the wines that the pair are able to enthuse about, but also their guests. "Most of the people we meet here in our home who have a passion for wine are always generally interesting people as well. We really love being hosts – that's why we do the masterclasses at our home. After only a short time it's no longer possible to tell who are our friends and who we've only just met. With wine, everyone meets on the same level."
In order to get to know their customers even better, May Wines has recently opened a collection point where you can pick up the wines you ordered online by appointment. This allows the opportunity for personal contact, which the Mays find "especially great". As an aside, they would never open a bottle of their current favourite wine just for the two of them – "only ever with friends, as it's more fun that way."
---
May Wines is an exclusive wine merchants that specialises in top vintage wines from the most renowned wine regions around the world. The brain behind it all is Berndt May, who at 53 made the leap from finance manager to wine merchant. Together with his wife Andrea, Berndt has spent the past 20 years accumulating comprehensive wine expertise and a unique wine cellar, and the distinguished drops can be purchased via the online shop. When it comes to the mature vintages, May takes great care to verify the top condition of the wine and to keep it that way. As passionate hosts, Berndt and Andrea also offer regular masterclasses in their private tasting lounge in the Hietzing district of Vienna.