21 – Eau de Parfum is a harmony of the purest elements that melt to create one strong and energetic character. Like a poem that needs for reflection in order to be fully understood and experienced emotionally. A play between intellect and imagination.
Soft and enveloping like a cashmere sweater, 21 is the perfect scent to wear during cold winter days. It's a must-have garment: extremely pure and candid, it reveals a truly unexpected warmth.
10 APRIL – CONTEST DAY OVER!
Win the unique fragrance Eau de Parfum 21 by CoSTUME NATIONAL.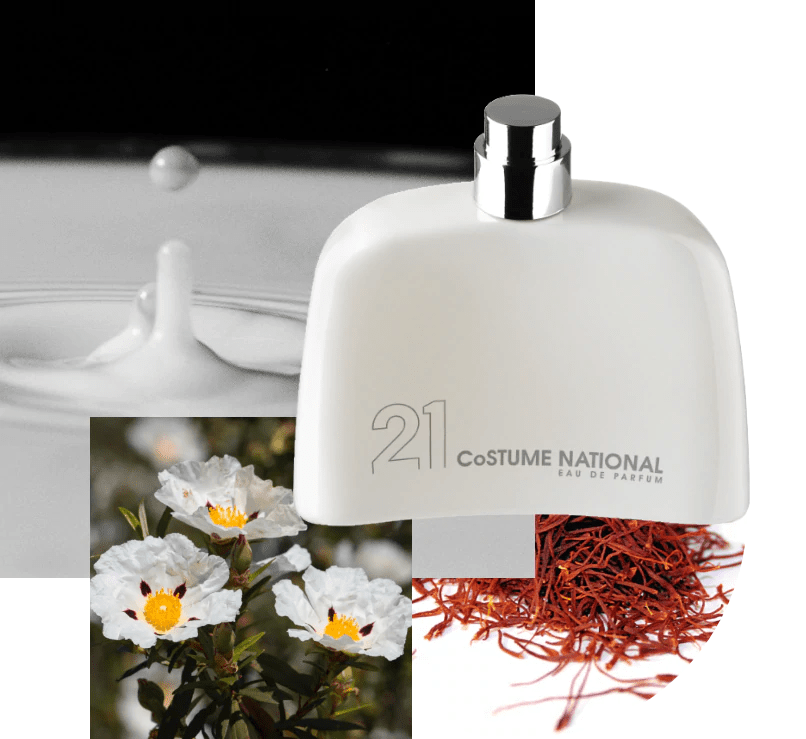 PURE – MYSTERIOUS – SENSUAL
21 precious ingredients that, artfully blended together, create a unique fragrance. Starting with a base of pure white milk and the lightness of the orange blossom, the fragrance goes towards the most intense and mysterious notes of saffron, cashmere wood, amber and musk. A timeless perfume expression of the perfect balance between the purity of white and the deepest mystery.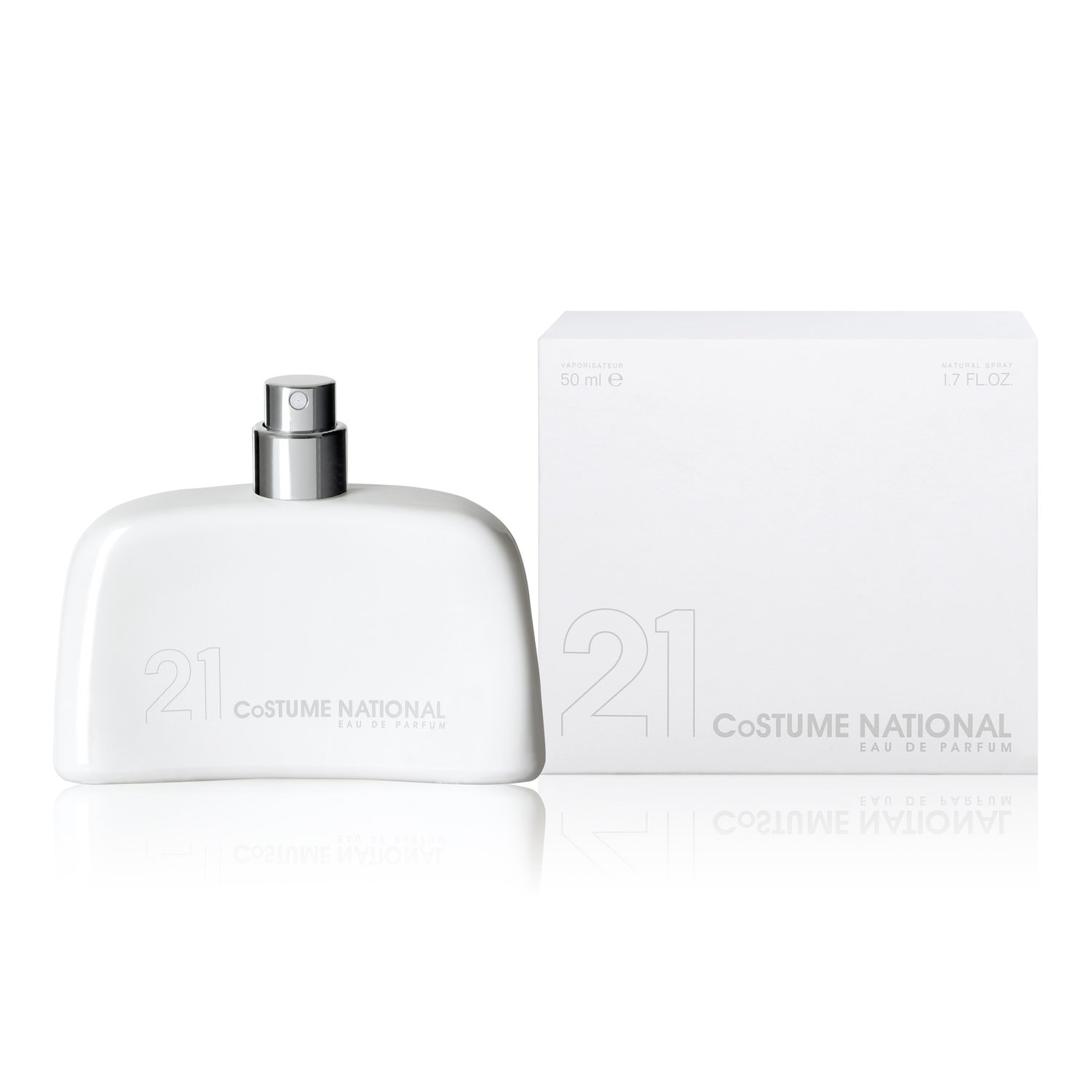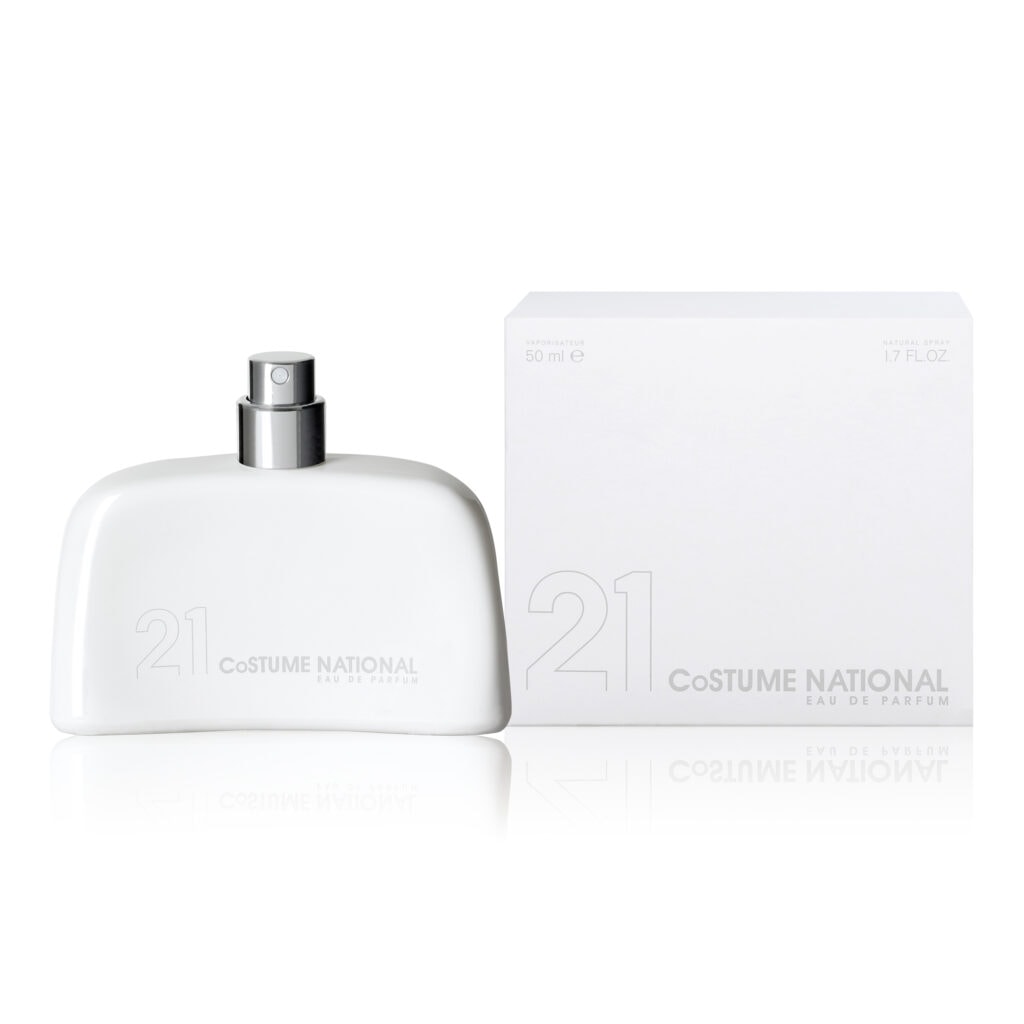 Olfactory family: woody floral musk
Top note: Milk, saffron, orange flower, bergamot
Heart note: Gelee royale, cumin, olibanum, moss, black pepper, clary sage
Base note: Amber wood, cashmere wood, sandalwood, musk, oud wood, labdanum, tonka bean, vanilla, vetiver, cedar wood, patchouli
Perfumer: Juliette Karagueuzoglou
Signature note: SAFFRON
Smell: aromatic, spicy
Origin: saffron is a plant originary from Crete's Island. About 20 cm tall, it develops flowers with 6 heart-shaped petals. The yellow stylus, rising from the bulb through the base of the flower, dividing itself into 3 orange stigmas, better known as saffron. The spice is grown in few small local farms all around the world. Used by Persian in ancient times for its medical power and nowadays in kitchen and perfumery, saffron is the most expensive spice in the world.
"I used my sense of smell more than any other one; since I was a child I knew I would become a perfumer".

Juliette Karagueuzoglo, perfumer
About CoSTUME NATIONAL
Founded by Italian designer Ennio Capasa in 1986, the fashion house CoSTUME NATIONAL owes its name to a French book of military uniforms. Strongly influenced by his studies at the Brera Academy of Art in Milan and his important experience in Japan at Johji Yamamoto's atelier, Ennio Capasa combined minimal geometric shapes with Italian tailoring style.
As a result, CoSTUME NATIONAL is the expression of a timeless style, representing an independent approach to luxury. Fabrics and raw materials of the highest quality are crafted to give life to minimal geometric shapes, with a sartorial approach where technology and tradition merge to create something unique and innovative.
The fusion of an urban avant-garde style and a refined easy chic elegance leads to pure and graphic lines. The olfactive identity of the Brand is expressed through a collection of structured and sensual fragrances with a unique modern soul. Rather than imposing themselves, these perfumes change and evolve according to individual skin, complementing with elegance every clothing style.
Reinterpreting the noblest ingredients of perfumery – amber, sandalwood, saffron, jasmine, ylang ylang, patchouli – 100% made in Italy – COSTUME NATIONAL creations enhance the essence of each personality adding a sensual touch and edgy rock 'n' roll facets.
Quality with no compromise: COSTUME NATIONAL Scents represents the epitome of luxury and artistic fragrances in high-end perfumery. All COSTUME NATIONALfragrances are highly concentrated and built around the most exquisite raw materials. All scents are the result of an artistic inspiration, regardless of the main olfactive trends. The one-of-a-kind, pure and essential bottles are a true piece of art: they are sculptures by designer Ennio Capasa.
About balduin – the olfactory store
The balduin online-shop is a love letter to individuality, personality and extraordinary olfactory experiences. Its aim is to find brands, which are insider tips, specialties, rarities and peculiarities, created by people who work with outstanding excellence and a lot of love and passion like the Eau de Parfum 21 by CoSTUME NATIONAL .
---
In cooperation with: