Anna Riess, Interview: Nina Prehofer, Photos: Maria Ritsch
The objects by artist Anna Riess contain many thoughts. Nature and sustainability, the consequences of our presence on the planet, the role of women and, not least, human vulnerability, fragility and transience accompany her in her work with ceramics, metal and textiles.
What do you think about when working on a new piece?
Anna Riess: Every process is different. I'm always in a different mood when I go into my workshop. When I'm working on an order, I have to stick to specific guidelines, everything is very results-oriented and focused. The preparation determines the result. Porcelain requires the right consistency in order to then be cast into shape. It takes me several hours and I have to feel relaxed. When working with clay, I don't feel like I think, it's more like my hands keep going until I'm satisfied. It's like my hands are undertaking a search. With jewellery, it's usually a shape or function that comes to me first, then I trace it onto the silver in the studio. I follow these lines with the saw, but I always allow myself the freedom to spontaneously do something different. So it's more of a process-oriented approach where I often still decide and optimise in the moment. The sawn line leaves behind a shape that I can continue working on. I often finish off earrings with a naturally grown Keshi pearl.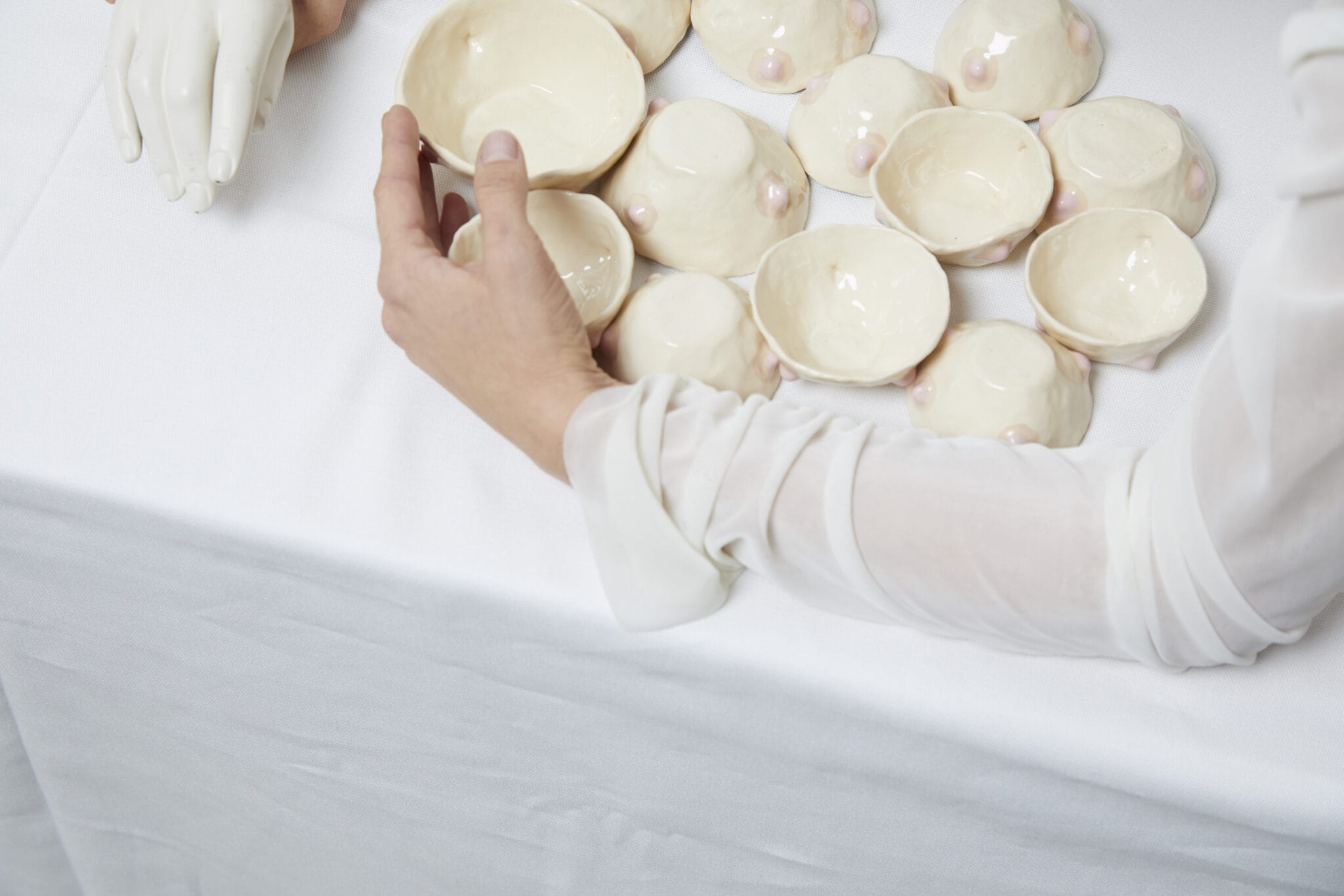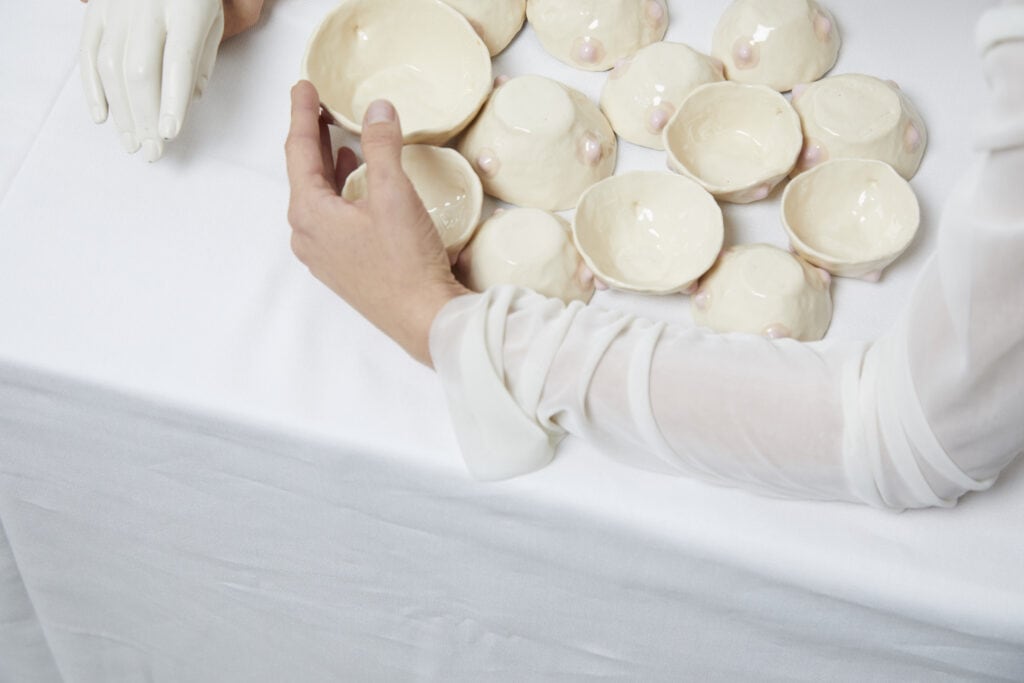 Is there a thought that's always with you while you're working?
Anna Riess: I have lots of ideas, and when I get to the point where I can bring them to life, I think less and focus more on shape, setting the tone, sawing silver, filing, drilling or soldering. But I would probably only associate the term "work" with the actual doing. I actually can't clearly separate my work from my thoughts. What does occupy my thoughts is the urge to focus on the female form, because it doesn't get enough attention in society. I think it's a necessity to address all facets of the subject of the role of women and their requirements. Human vulnerability, fragility and transience are thoughts that accompany my work with ceramics.
What do you deal with as an artist when you think about society and the environment, people and nature?
Anna Riess: I see the fragility and transience I already mentioned in direct relation to my body. My presence on this planet doesn't last long. Just recently I was walking through Venice with a rubbish bag that seagulls had previously got stuck into and I was looking for somewhere to get rid of it. But as people, we can't get rid of our rubbish. It can't decompose. Instead, it requires a global solution for how to handle plastic and our CO₂ emissions. The pandemic has shown that we're capable of having a rethink, but we've got to the point where we need a pandemic to force us into it. It pains me physically to see animals perish in plastic, knowing that we humans are responsible. It's not about blame for me, it's about laws that adopt environmental protection as their main priority.
What's important to you during production?
Anna Riess: I work with clay, metal and textiles. The materials I use all come from nature. It's important for me to avoid using any materials that put a strain on the ecosystem. I also make any journeys that I can't make by bike in an electric rental car. I bought my kiln second-hand, and when I fire it up I make sure it's as full as possible. During production, it's also important to be self-sufficient so I can be as transparent with my customers as possible.
Which materials interest you and why?
Anna Riess: I like the contrast between ceramic and metal. There's something archaic and rustic about working with soft clay. It's the same when you work with what starts off as solid metal, which can be reshaped by hammering and soldering, and expose it to different temperatures. I find it exciting to think about what the material can do, and what I can do. Dialogue with the material often creates space for the unexpected. I often use pearls that have been grown naturally and aren't perfect. The appeal of this lies in the imperfection and the shimmer, because they're never going to be perfect. Then there are the breast pieces made out of organic cotton and filled with lavender and cellulose. I like making those because they provide comfort, or have a calming effect because of the lavender filling. It's important for the transition that the desire to create remains. Depending on the idea and the concept of a project, I work with one of these three materials. Lately, I've also been working with porcelain, which opens up even more production possibilities.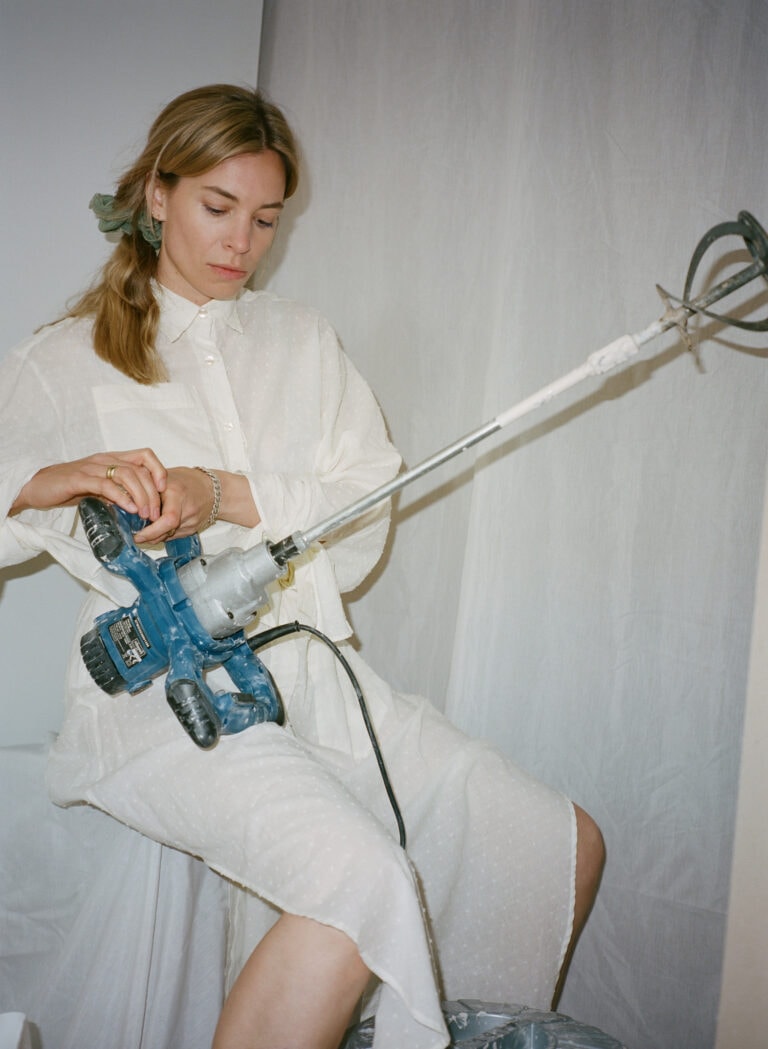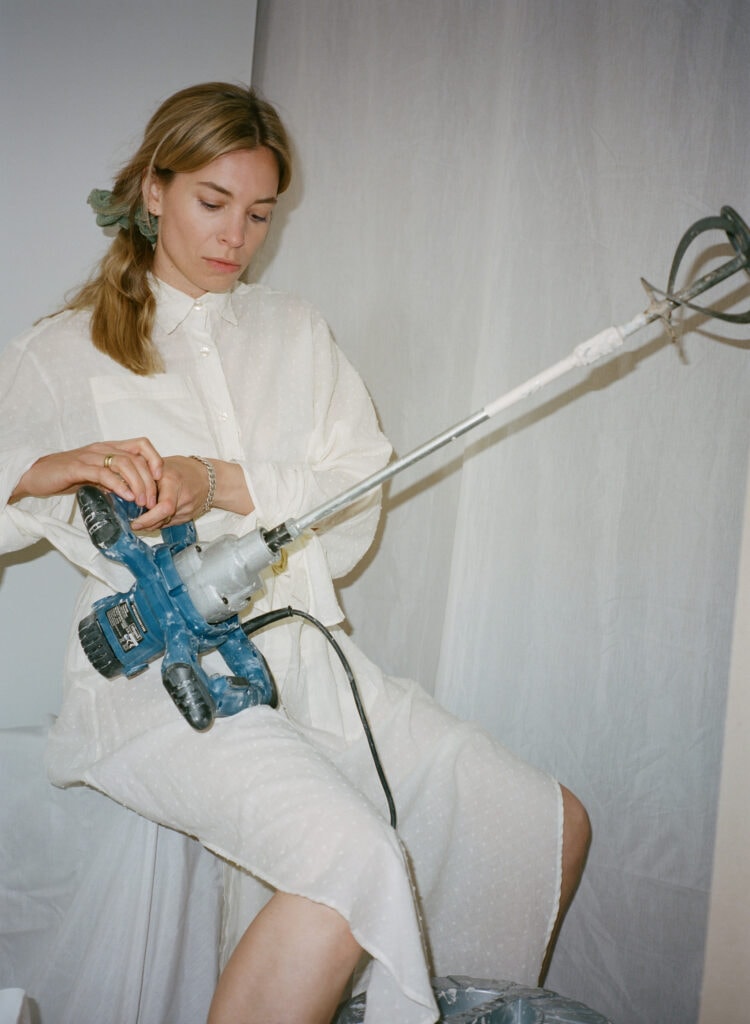 What is our world lacking? What would make it better?
Anna Riess: Time to try things out, time to fail. Fewer patriarchal structures. Ethics lessons at school. Less of the jet-setting, more holidays on farms. Green spaces in cities rather than sealing up the earth. More time at the Aldi checkout. Yoga in schools for teachers and students. Empathy.
---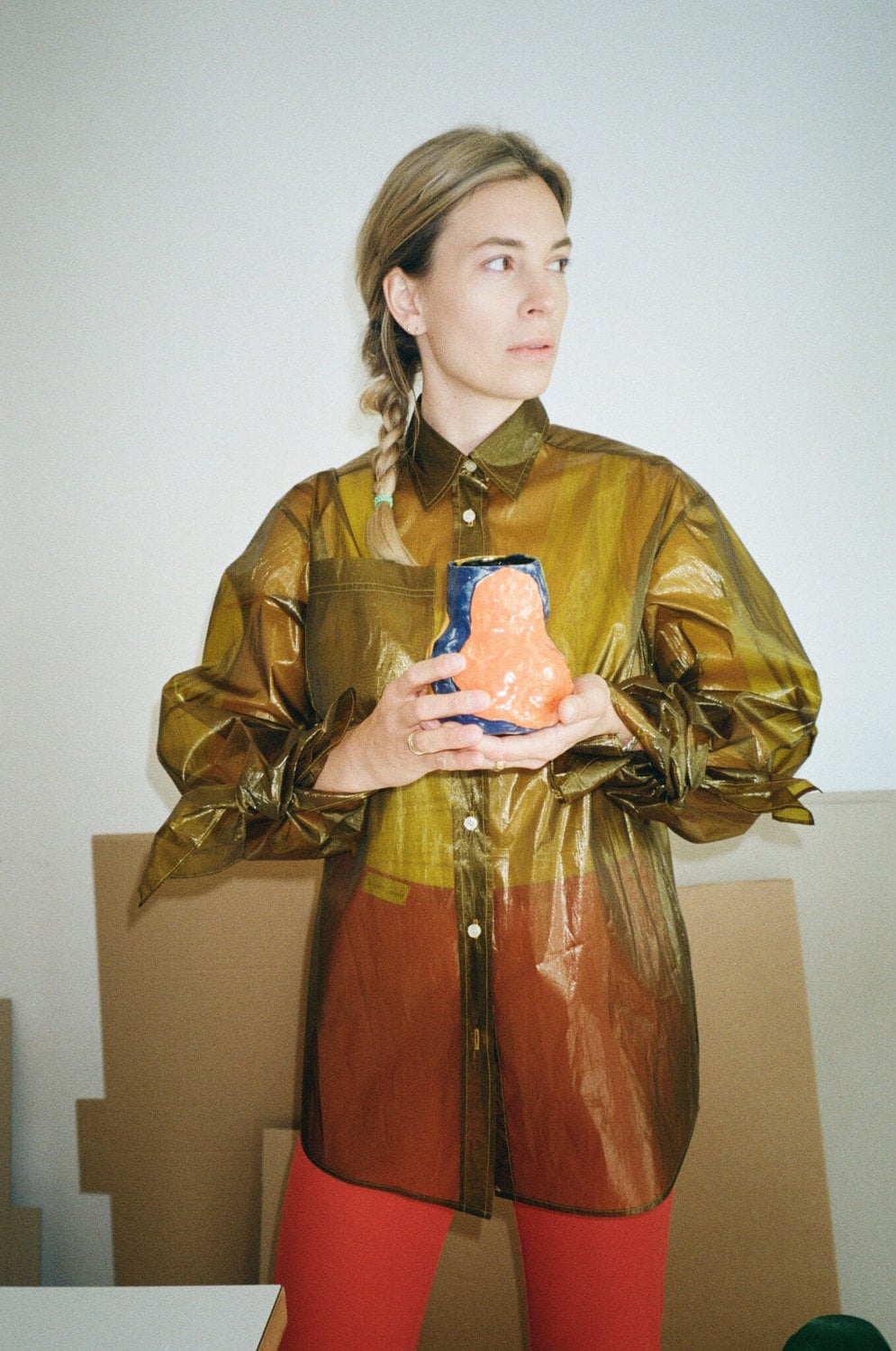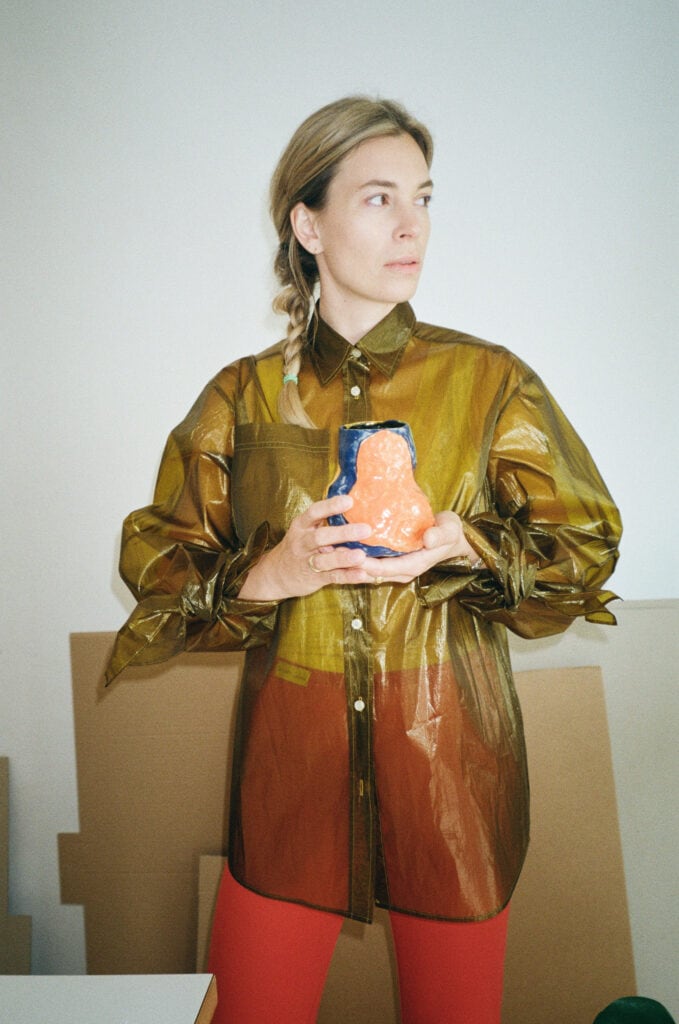 ANNA RIESS
lives and works as an artist in Vienna. All of her creations are made in her small workshop near the famous Prater amusement park and the Danube. After a brief time studying architecture, followed by a master's in cultural anthropology in 2012, Anna focused on her true joy of creating things with her hands. During a three-year course in contemporary jewellery design, Anna learned how to explore and express her criticism of society by shaping objects in close relation to the human body.
Photo: Maria Ritsch