AirBubble, Interview: Nora Palzenberger
Get out into the fresh air! 93% of children around the world breathe polluted air, according to information from the World Health Organization (WHO). That gave Claudia Pasquero and Marco Poletto from the London architecture and innovation agency ecoLogicStudio the ideal excuse to bring the world's first biotechnological playground to life: in the AirBubble in central Warsaw, children play beneath a bubble of air that's been purified by microalgae.
Q&A | Claudia Pasquero and Marco Poletto
Q — You are both architects specialising in biotech design. When did you become aware of the fact that with your work you could not only impact the form and function of buildings, but also the health and hence the future of people?
Claudia Pasquero and Marco Poletto: I would say since ecoLogicStudio was founded in 2005. Our name is a reference to the book written by Gregory Bateson, Steps to an Ecology of Mind, in which the author speaks of ecology as the interconnection of various human and non-human systems through languages that are both logical and meta-logical. This perspective sets architecture free from the dichotomy of form versus function and towards architectural morphogenesis. Architects, in other words, should engage with the relationship between form, energy and the vital processes that shape life, and its evolution.
Q — Your new project, AirBubble, merges architecture, biotechnology and urban design. How did you manage to connect these disciplines?
Architecture for us is a framework to embed nature-based solutions in the built environment. They are the best hope we have to solve the challenges that industrial technologies have created. It is therefore an illusion to think that biotech can be the solution without the framework provided by architecture. The challenge is to clarify this distinction to key industry stakeholders, to make them realise the added value we can all get by embedding technological innovation in a social and spatial framework.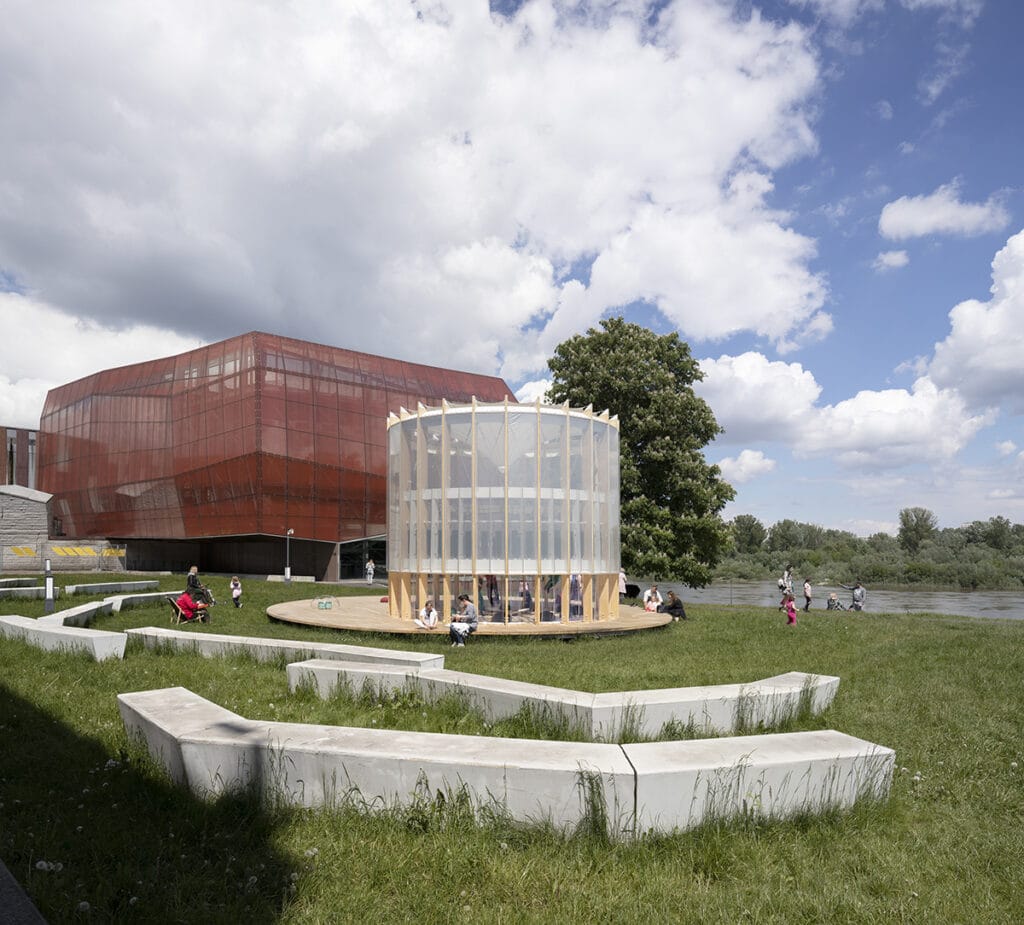 Q — Please tell us about the moment when you envisioned AirBubble for the first time. Why did you particularly choose a playground?
Play affords a unique way to learn, going back to Bateson, through meta-logical processes. And kids are best placed to deploy meta-language to understand and transform their surroundings. Kids are also the most affected by urban air pollution since their respiratory apparatus is still evolving and their breathing is very intense while they play.
So a playground was a very good typology to address all these issues at once and turn them into opportunities for change.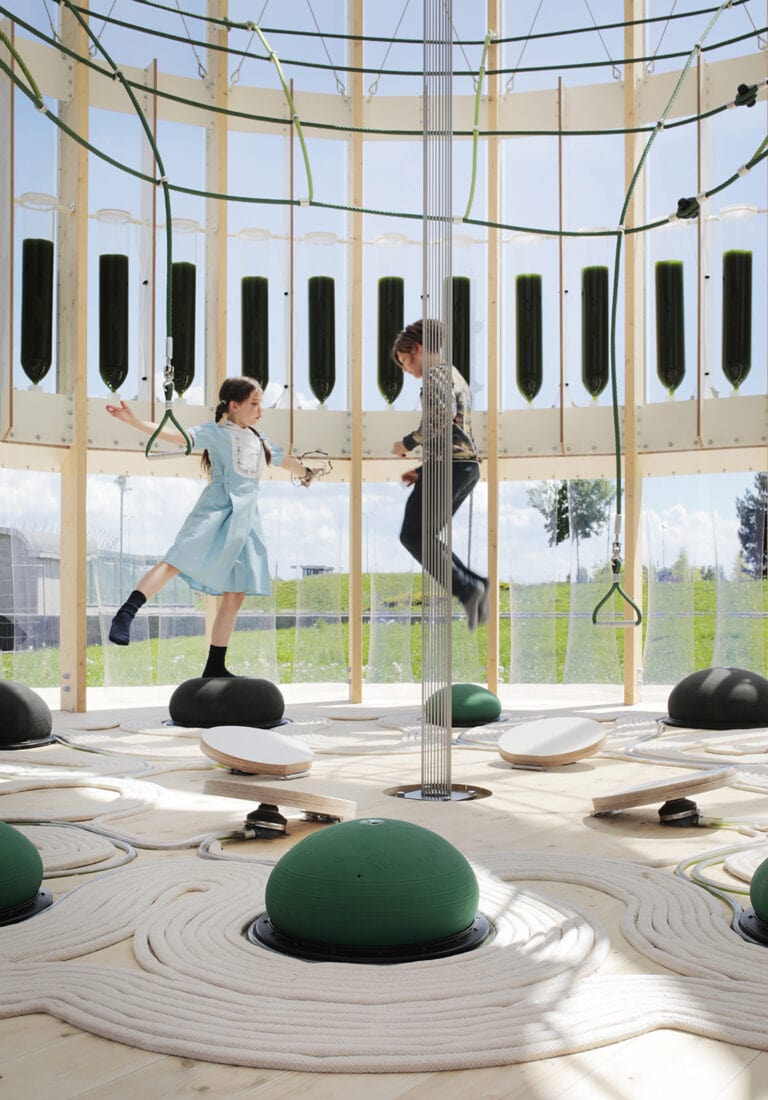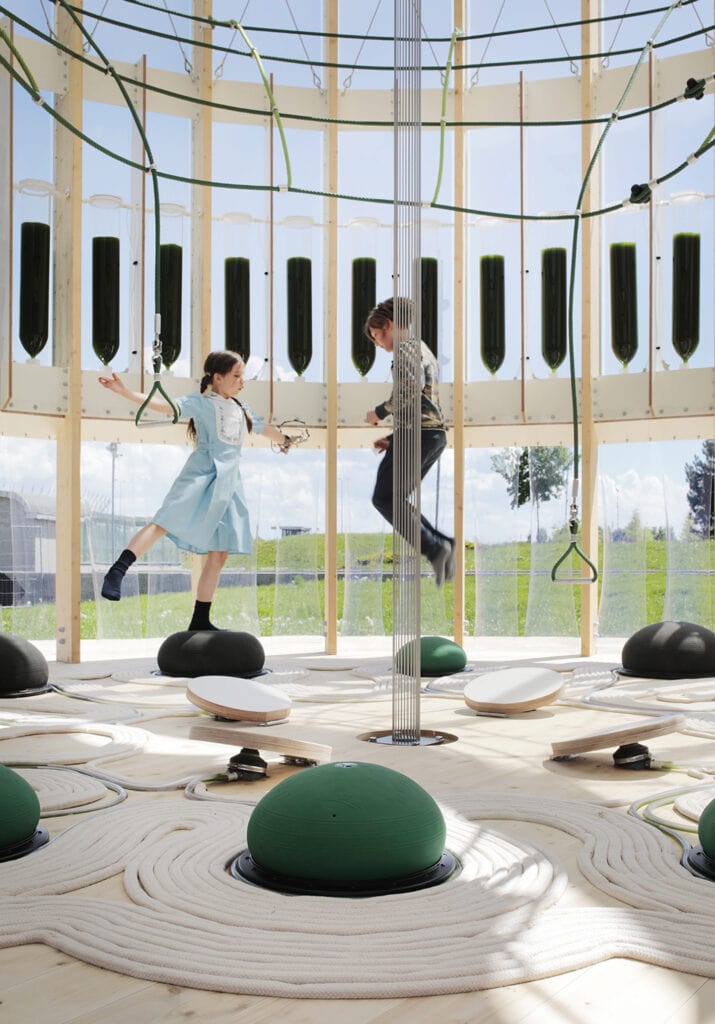 Q — How do you explain the idea behind AirBubble to a child in three sentences?
AirBubble needs two sources of power: solar energy and your instinctive drive to explore and to play. These constitute the inexhaustible and renewable fuels of the AirBubble that can be obtained effortlessly. The AirBubble is the trigger of a process that can only grow and multiply its beneficial effects towards future generations. It's all in your hands – you are responsible for our health and climate.
Q — What is it that you want children to have learnt after having visited AirBubble?
We hope kids can learn through experience and interaction the benefits of transforming the quality of the air they breathe with nature-based solutions, and in this case with the power of microalgae. They will also experience how this process can lead to delightful new urban environments.
Q — What is your favourite playing area within the bubble?
Certainly the hanging ropes combined with the bouncy bubbles. Kids invent unique ways to balance themselves while interacting with each other over it. There is never a final static state, it is a constant process of negotiation and dynamic interaction.
Q — What immediately apparent effect does AirBubble have on its visitors?
Certainly curiosity and, for the kids, rather wild playfulness, which was great to see. However, our main objective was to ensure that kids would want to come back and play regularly in the AirBubble, in order to be able to observe and experience the patterns of change and evolution over time, of both microclimate and algae cultures.
Q — At the moment, AirBubble is a test bed of applied biotechnology. When do you know your project is ready for the mass market?
AirBubble is already fully functional, it is a real biotechnological architecture. There will certainly be other locations in the future but we do not want to consider it as a product for the mass market.
We see AirBubble to be always customised to the specific context of application.
To the local microclimate, building regulations, local algae species and social norms. That is why we have designed it using cutting-edge digital design and fabrication technologies and why we have embedded a real-time monitoring system in it that feeds us with data on pollution reduction and algae culture resilience. These systems enable a continuous learning and optimising process. It is not just the algae that are alive, the whole project is an evolving architectural system.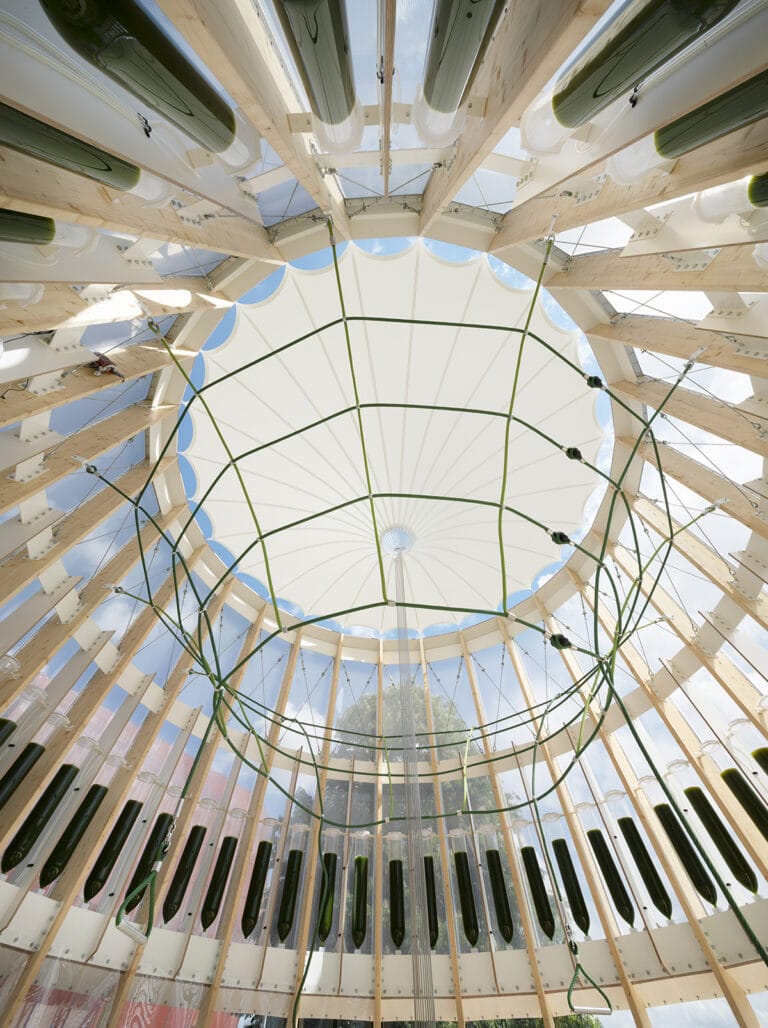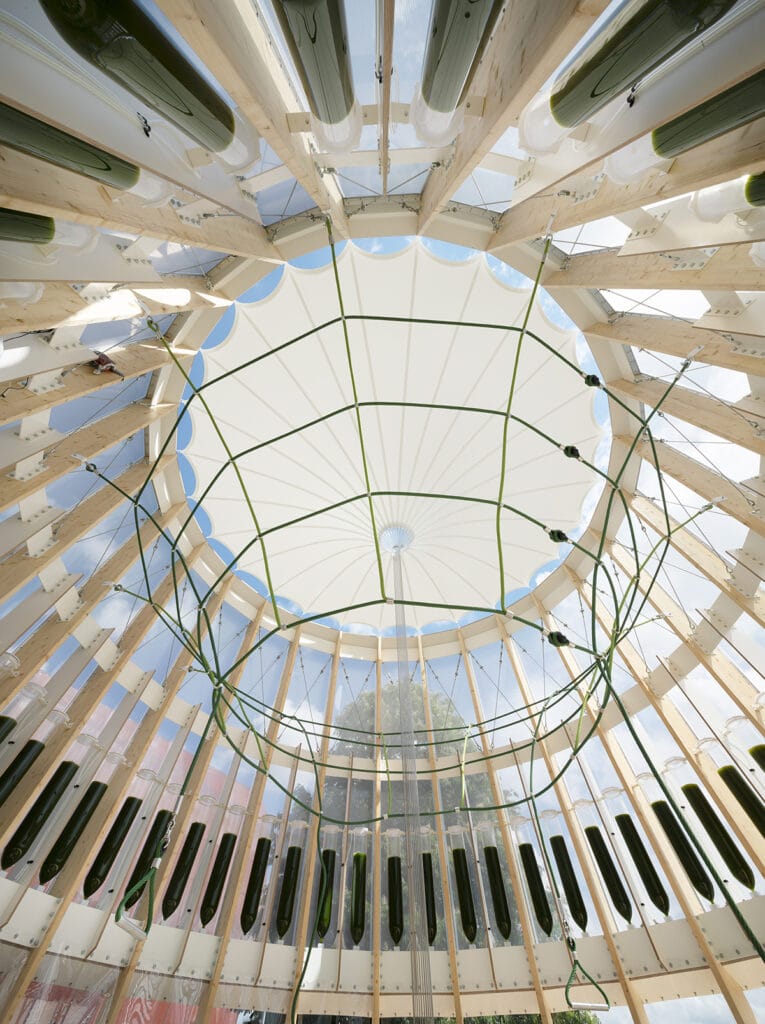 Q — What would you love to put in a bubble of clean air next?
The next version of AirBubble should be a factory, or bio-factory. A factory shaped by the circularity of its processes of production, where emissions become raw materials for new products. A factory that is part lab, part greenhouse and part production facility. A factory that welcomes citizens in the processes of production and consumption and becomes participatory. We are already working on two pilot schemes, for the food and pharmaceutical industry.
---
The project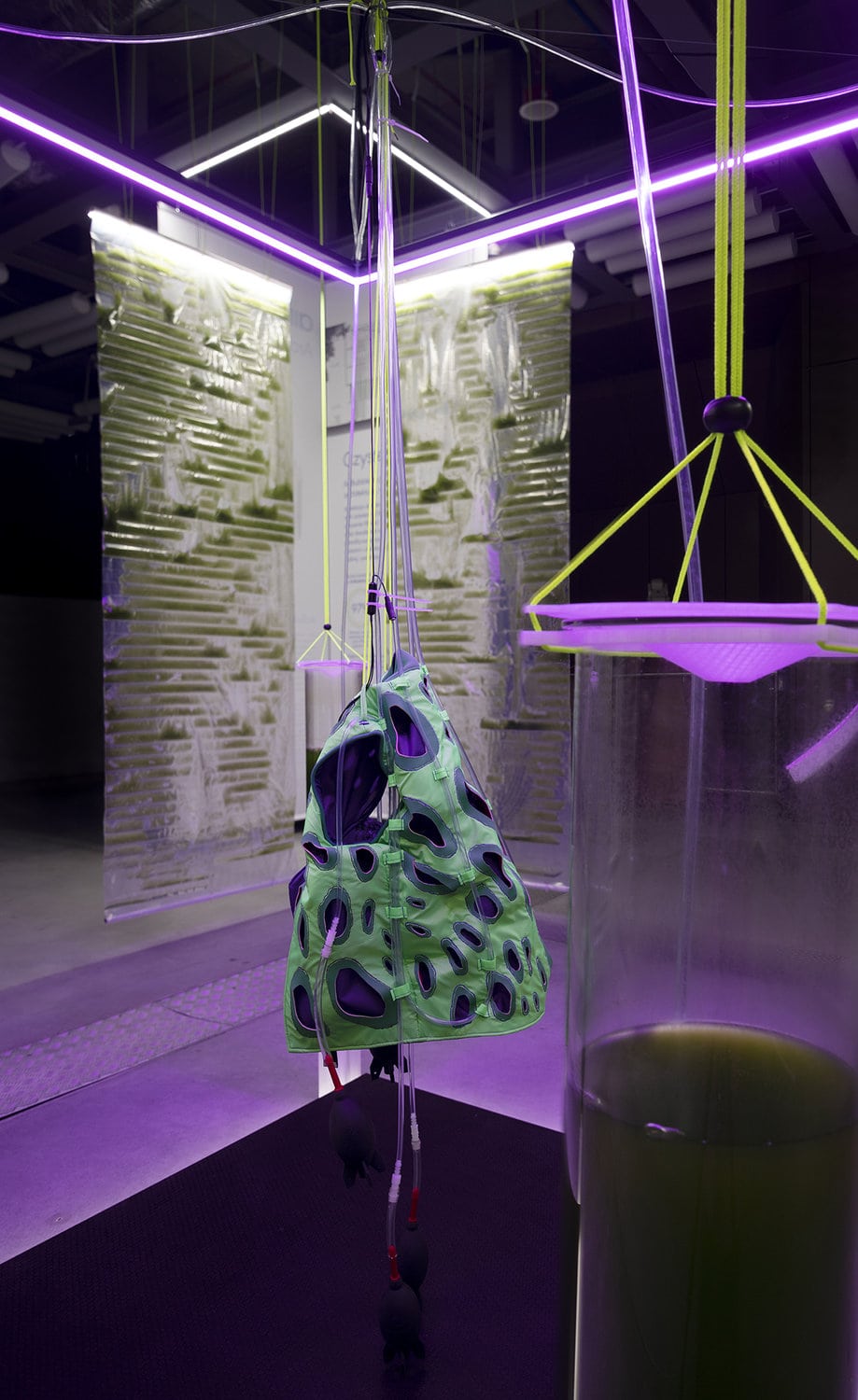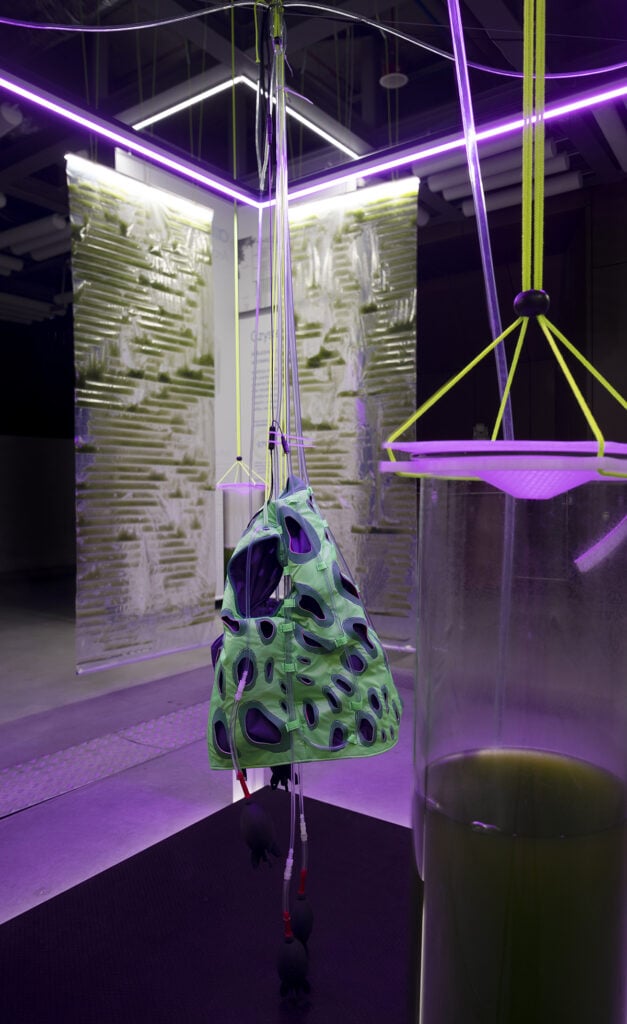 AirBubble is located within the public green space outside of the Copernicus Science Centre (Centrum Nauki Kopernik) in Warsaw, which also hosts a dedicated exhibition illustrating the design innovation behind the invention. The Polish capital is one of the most polluted cities in Europe. The project integrates photosynthesis into the built environment and in doing so invents a new architectural typology: a real urban algae greenhouse. The cylindrical timber structure inside is wrapped in an ETFE membrane – an evolution of the PhotoSynthetica urban curtain system – that protects 52 glass algae reactors. They contain 520 litres of living green Chlorella sp algae cultures that can filter a flow of polluted air of 200 litres a minute. The purifying process is powered by solar energy and children's playfulness. The playground is equipped with ropes, foot pumps and bouncy balls, the bubbling sound of the algae garden system creates a relaxing atmosphere.
The architects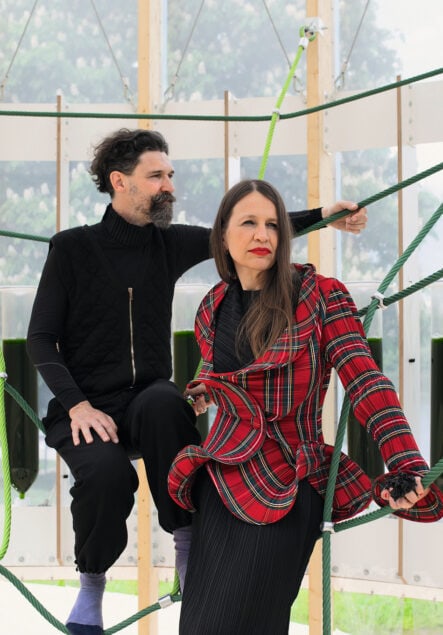 Claudia Pasquero and Marco Poletto studied engineering at the Polytechnic University of Turin and attended London's Architectural Association School of Architecture before founding ecoLogicStudio in 2005. Based in London, the architecture and design innovation firm specialises in environmental design, urban self-sufficiency and biophilic sculptures. Their portfolio of nature-based design solutions, through which the architect couple want to have a direct positive impact on climate change, includes the project BIT.BIO.BOT presented at the Venice Biennale that aims to improve the indoor climate via algae-based living façades. Their Deep Green project, which is funded by the United Nations Development Program, uses artificial and biological intelligence to create new green ecosystems on the urban landscape.
Photos: Maja Wirkus