With Ganymede, French fashion designer Marc-Antoine Barrois pays homage to the eponymous moon of the planet Jupiter, whose discoverer was none other than Galileo Galilei, that universal Italian genius whose findings shaped the natural sciences of the Renaissance.
B683 and Ganymede. Two enigmatic words, two names of perfumes which open to imaginary worlds. In a few letters transcended into scented trails, the two fragments of the universe telling the inspirations and aspirations of two creative minds, the perfumer Quentin Bisch's and the couturier Marc-Antoine Barrois.
PLAY NOW!
instagram contest
B683, the first perfume of Maison MARC-ANTOINE BARROIS launched in 2016, was an invitation to discover the French couturier's creative universe and his imaginary planet. The authentic elegance was stamped with souvenirs such as the sweet and intense leather of a beautiful attaché-case and a desk pad marked by the patina of time, or the warm and woody smell of welcoming homes and family walks in nature.
For this new opus, the destination is elsewhere. Creating an elegant and unexpected harmony around a quartet of mandarin, violet, immortelle and suede, the two fellow artists have dreamt of this new planet: Ganymede, the rocky satellite of Jupiter discovered in 1610 by Galileo, is both luminous and covered with salt-water oceans. It acquired its name from Greek mythology : a young man, Ganymede, was kidnapped by gods who had been so enthralled by his beauty that he was offered immortality.
Ganymede – Eau de Parfum
Composed by perfumer Quentin Bisch, Ganymede once again makes use of the suede-leathery notes that had made B683 a beautiful classic. This time though, the artists emancipated from traditional codes to take us somewhere else, towards a luminous and fluid elegance. Those leather notes become softer, gaining lightness and gentleness in contact with the fragrance of violet. The mandarin smell brings its full vivacity and its acidic essence. The latter gives the tone and verticality of the fragrance from the very start. Yet opposing it, the immortelle is its counterpoint and raises the scented harmony with its double-sided fragrance, at times mineral, at other times salty.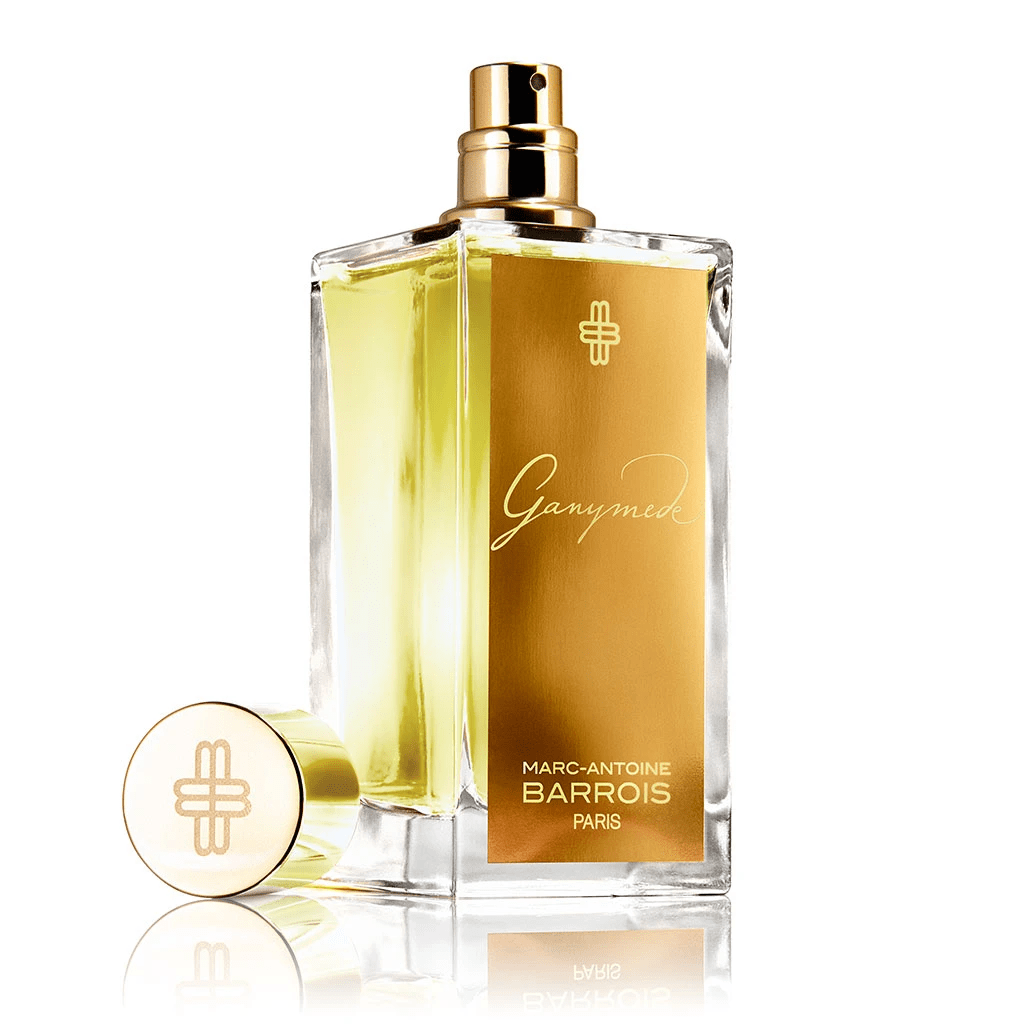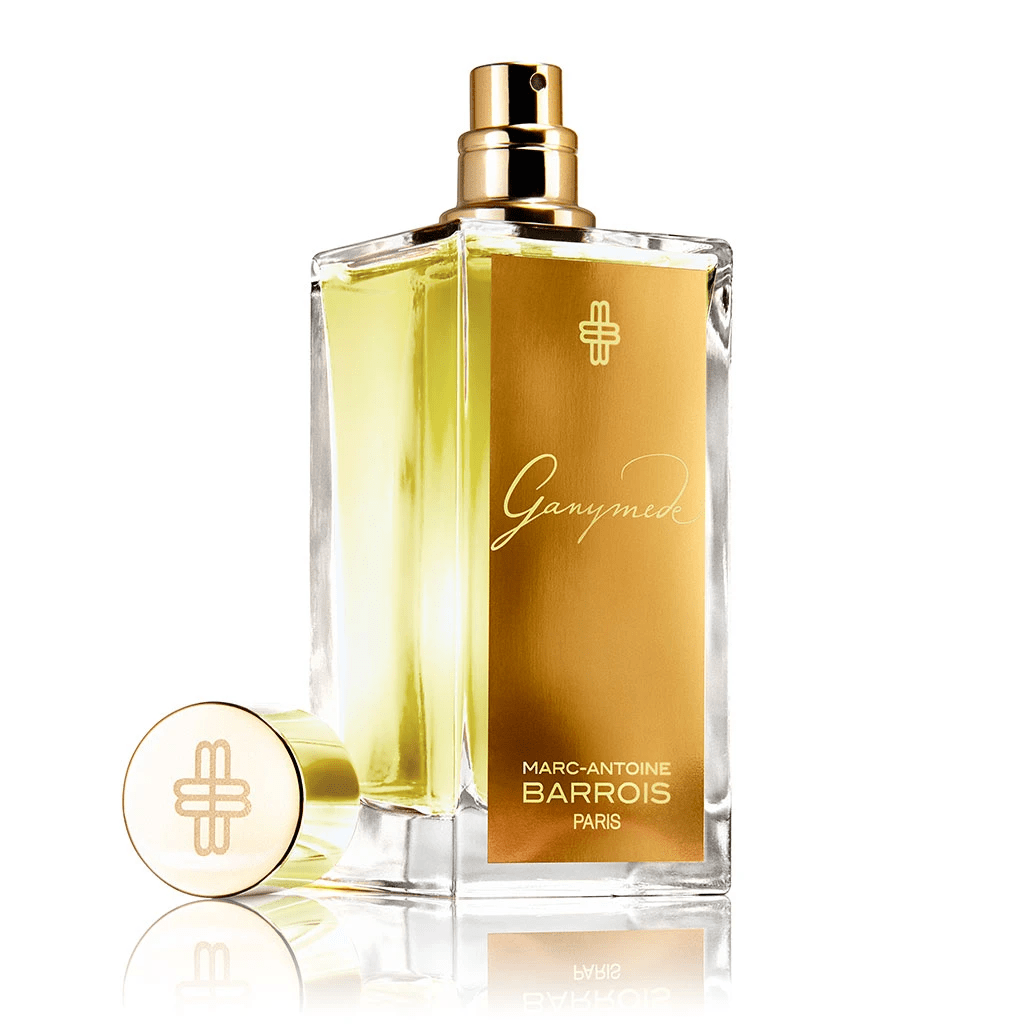 Olfactory family: Woody Spicy
Head note: offer a joyful explosion of freshness mainly made of: Mandarina from Italy essence heart Orpur, Saffron
Heart note: Soft leathery-suede heart brings a seducing refinement thanks to notes of: Violet, Chinese osmanthus absolute Orpur
Base note: creates the fluid and timeless signature of the perfume with woody and mineral harmonies: Akigalawood, Immortelle absolute (Helichrysum Italicum)
Perfumer: Quentin Bisch
Masculine. Available at balduin – the olfactory store.
If B683 was inspired by a souvenir, Ganymede comes from a fantasy, a fantasy of a new elegance, timeless and fluid.

Quentin Bisch, Parfumeur
Contrasts and oppositions.
The entire composition plays with contrasts and oppositions. The notes answer one another in a permanent conversation drawing a new olfactory map on the skin, on the revers of a cashmere jacket, or even right there, next to the buttons of the sleeves, on the wrist. If it could be summed up into one single image, it would be a compass: north for the zested liveliness of the mandarin to which the south would answer with the everlasting flower and to highlight this olfactory frame, the density of suede notes on the west would balance the subtle and delicate florality of the violet on the east. Those are four directions for a perfumed journey to a new imaginary world and new codes of elegance.


Ganymede is not only a perfume with a good smell, which lasts on the skin and offers an intriguing trail. It is also a good perfume. Indeed, its natural stability has allowed us to avoid butylated hydroxytoluene. BHT has often been criticized but is still very often used as a preservative for perfumes and cosmetics. The choice of many of the natural essences and the decision to bring the perfume concentration to 25% gave it a beautiful light gold hue. The color may evolve over the time but has needed no colorant nor UV protection filters. As we are concerned about helping to reduce our exposure to chemical compounds that are suspected of disrupting our health, the composition have been simplified of this second perfume to use only perfumed concentrate in denatured alcohol.
About Marc-Antoine Barrois
Marc-Antoine Barrois is a French couturier born from a northern French family who had made name for themselves in the textile industry. From a very early age he was fascinated by his grandfather's elegance that drove him to seek the art of simple luxury without ostentation but assuredly with finesse. After learning patterns, cutting and sewing as he was studying textile engineering, he designed his first collection in Lille in 2006. This success then led Marc-Antoine Barrois to work with Dominique Sirop, Jean-Paul Gaultier and Jean-Claude Jitrois before creating his own Maison de Couture for men. Offering men what women have already in Haute Couture, Marc-Antoine Barrois designs unique suits, tuxedos and jackets for confidential clients seeking exclusivity.
About Quentin Bisch
Quentin Bisch had a revelation that perfumes were going to be part of his life, when smelling Opium on his school teacher, at the age of 11. But his artistic and creative itinerary first started with music and theater. He lead for 5 years a theatrical group of professionals. When composing music, Quentin soon realized he was not using his meant-to-be instrument. He left everything behind and moved to Grasse to learn perfumery. A year later Jean Guichard recognized his inner talent and integrates him to the Perfumery School at Givaudan. In 2011, he finally joined the creative team of Givaudan Fine Fragrance in Paris, as a perfumer. From then he has created many perfumes …
Quentin Bisch, likes more than anything to "create emotion, surprise, take people to journeys".
---
In Kooperation mit: