By revisiting and experimenting with the existing form of BuzziPleat, a new edition has been developed in the 13&9 Design atelier together with fashion designer Sabrina Stadlober. Once again, a band of felt transforms through gathering and pleating into a long sculptural structure. The felt folds, one loop after the other, into a framework that relies on the tension of its own fabrication. This iconic, handcrafted acoustic solution has become a signature example of using ancient knowledge to transform recycled fabrics into a sustainable design application – using hand crafts for a better future! The new extended version and addition to the BuzziPleat collection, BuzziPleat Edel Long was launched during NeoCon 2022 in Chicago. Since then, the collection already got a lot of recognition – it has been Interior Design's Best of Year 2022 Awards Nominee and 2022 Architizer A+Product Awards Finalist.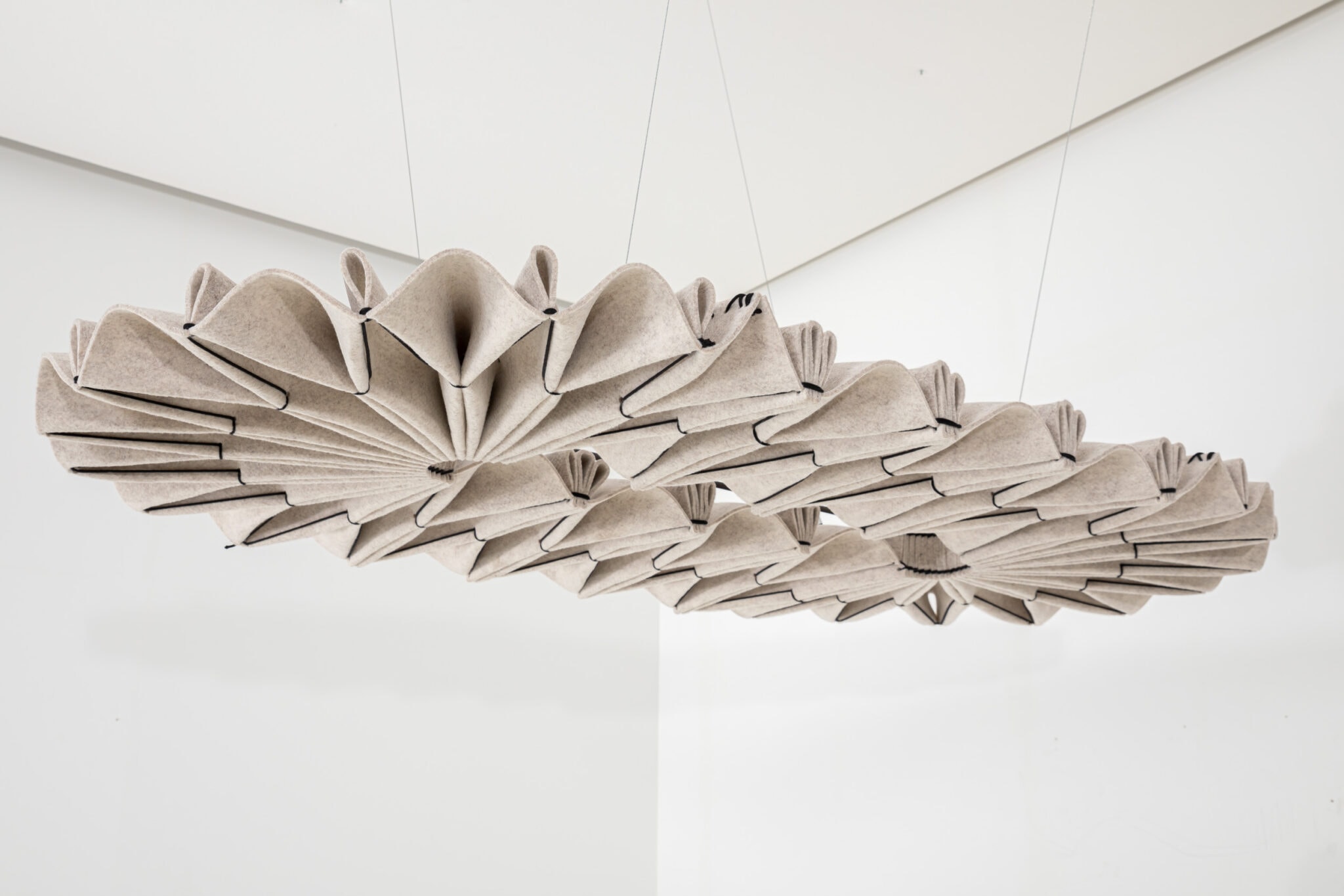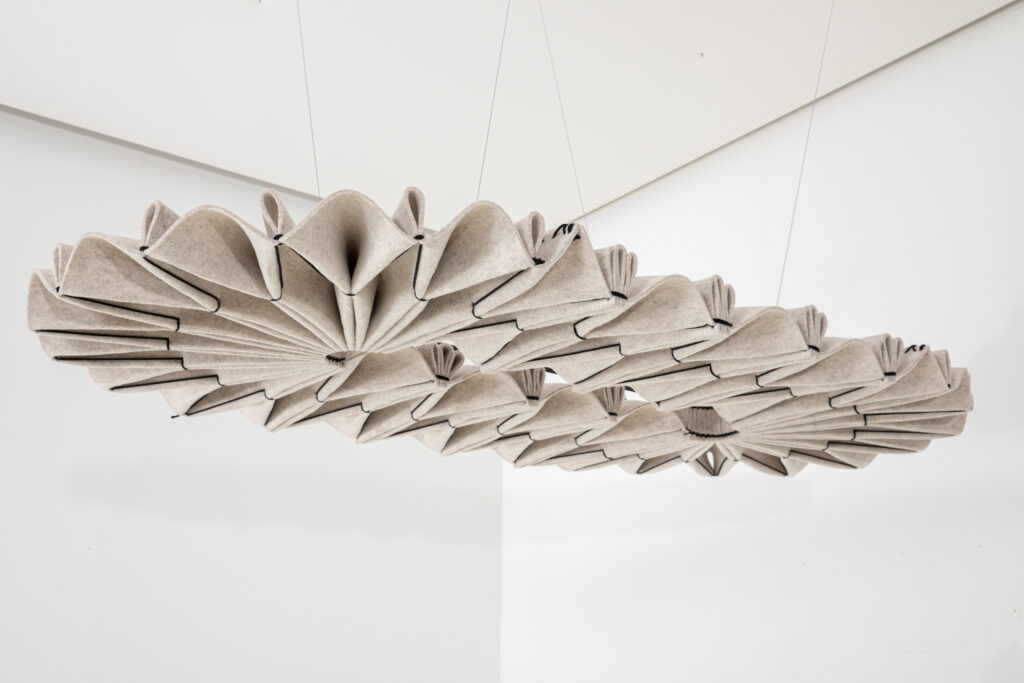 CRAFTSMANSHIP
Rural examples of craft have always inspired us to re-think and re-design. The designers and manufacturers see great potential in learning from previous knowledge in crafting and fashion by reinterpreting prior techniques to build something innovative. Fashion has long adopted the method of pleating and smocking to create neat, yet flexible forms. This type of application brings an organic quality to the BuzziFelt, an otherwise synthetic material. Through extensive research and a prototyping phase, long-established knowledge can be transformed into an unconventional design solution supported by strong ethical values. Each year, over 1,000 products are hand pleated and laced to perfection at BuzziSpace's production space in Belgium. This unique video shows the construction of a model that takes over 2 hours alone.
Designer Sabrina Stadlober believes: "Hand crafting and traditional working methods will become even more important in the future. My vision for fashion and textiles is a transition into a kind of hybrid system supported by old and new knowledge, designed and manufactured into unconventional solutions that follow significant moral principles."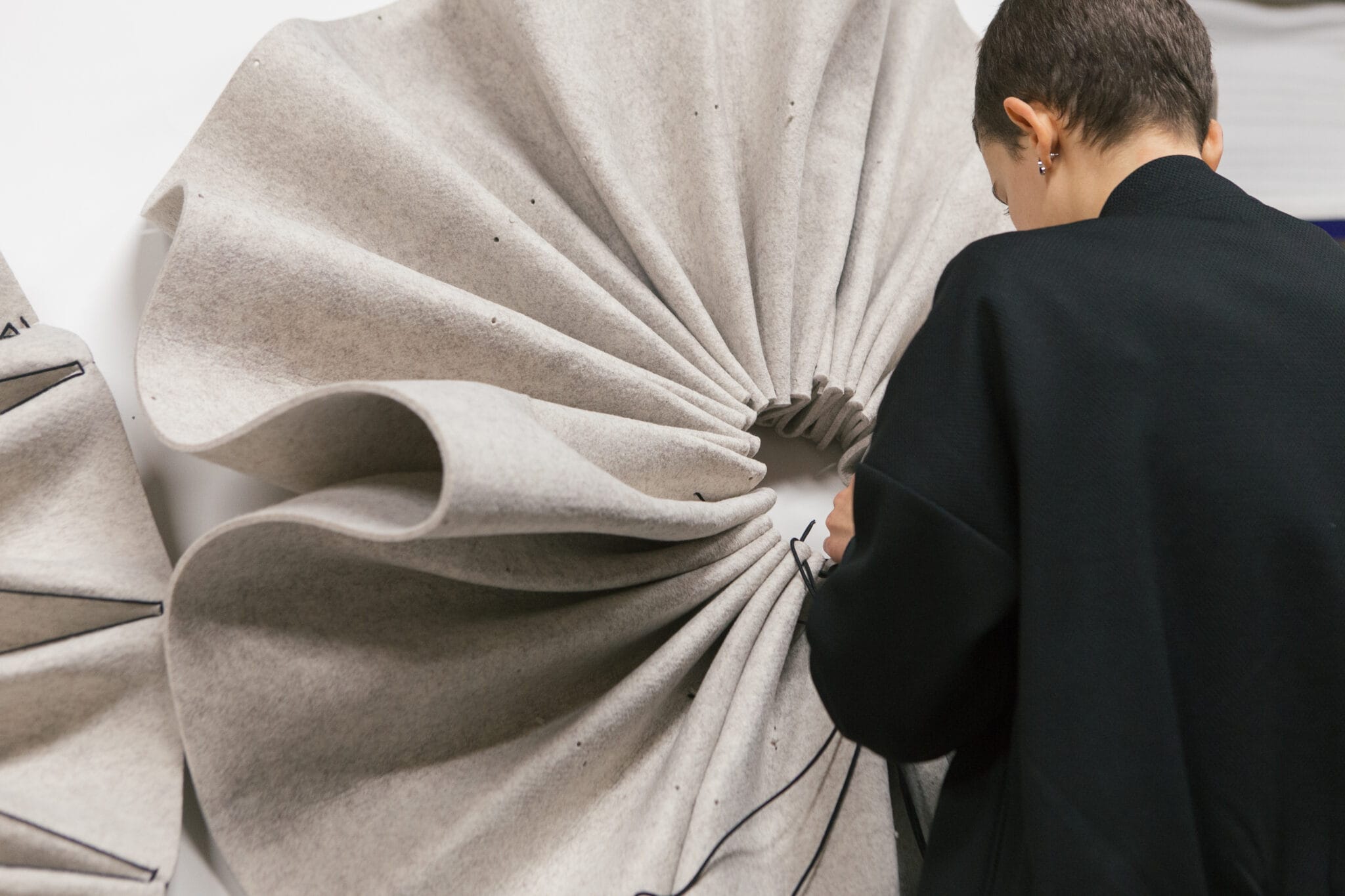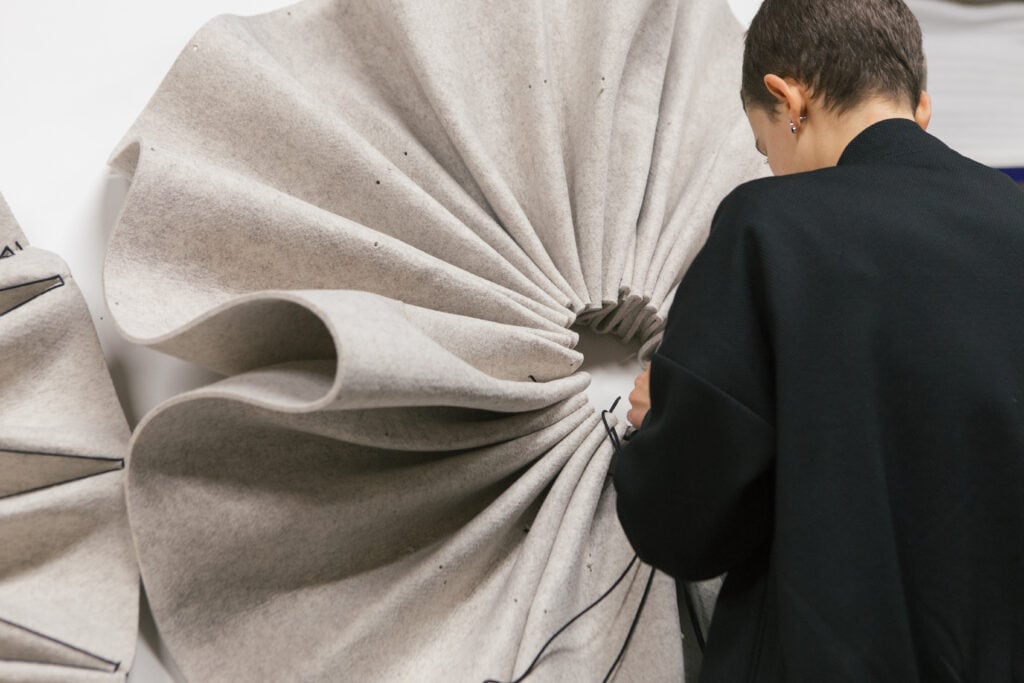 BIOPHILIA AND ACOUSTICS
The term biophilia means "love of life or living systems" and describes the innate need to seek contact with nature as well as to learn from nature. In today's world, surrounded by technology and built environments, humans are increasingly losing their connection to nature. In response, the design team implemented transdisciplinary strategies through the creation of biophilic designs informed by the art and science of organic aesthetics. For the BuzziPleat, they analyzed the forms of flowers and mushrooms, focusing on their repetitive proportions, similar qualities and volumes, which inspired the gathering of the felt into noise canceling pleats.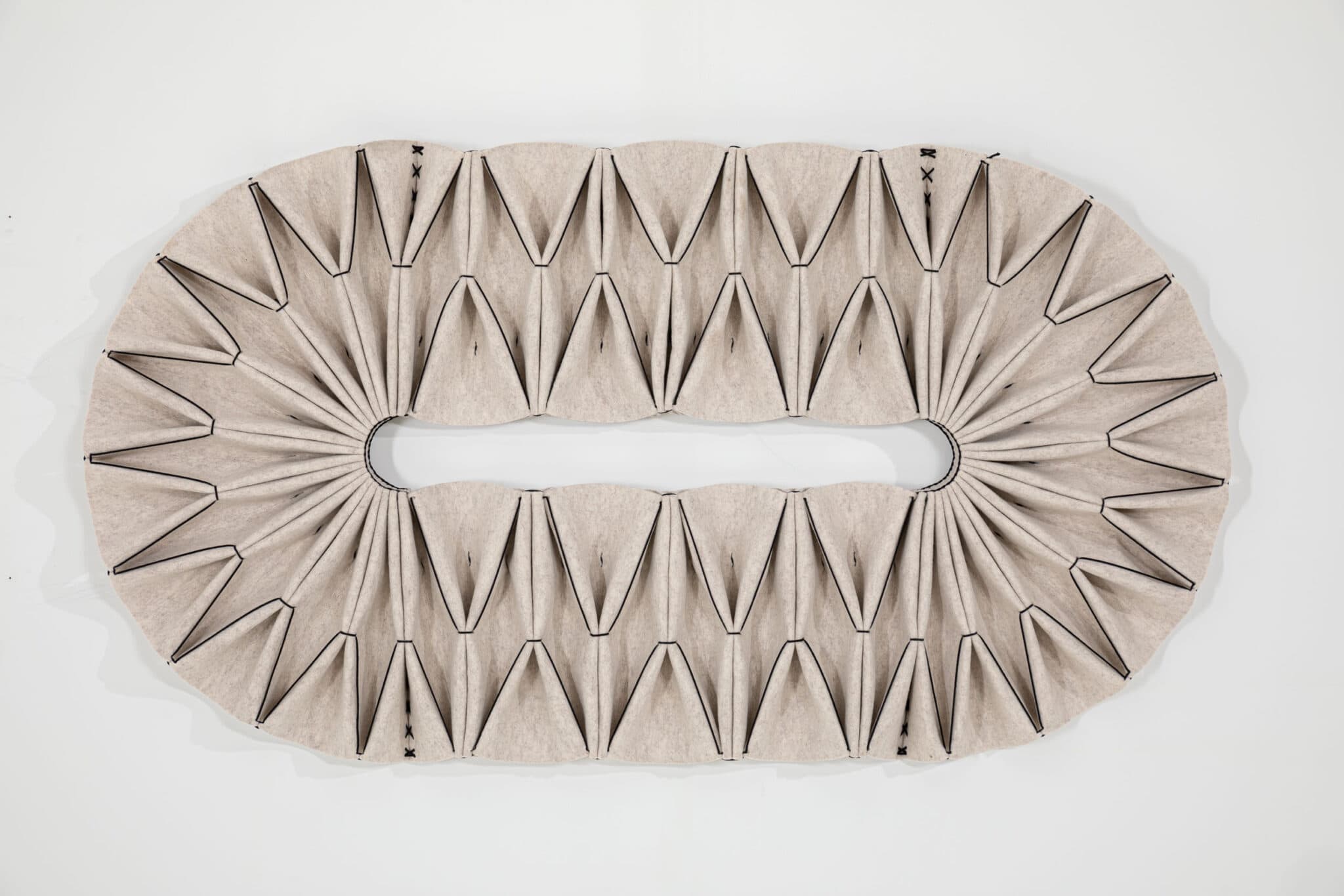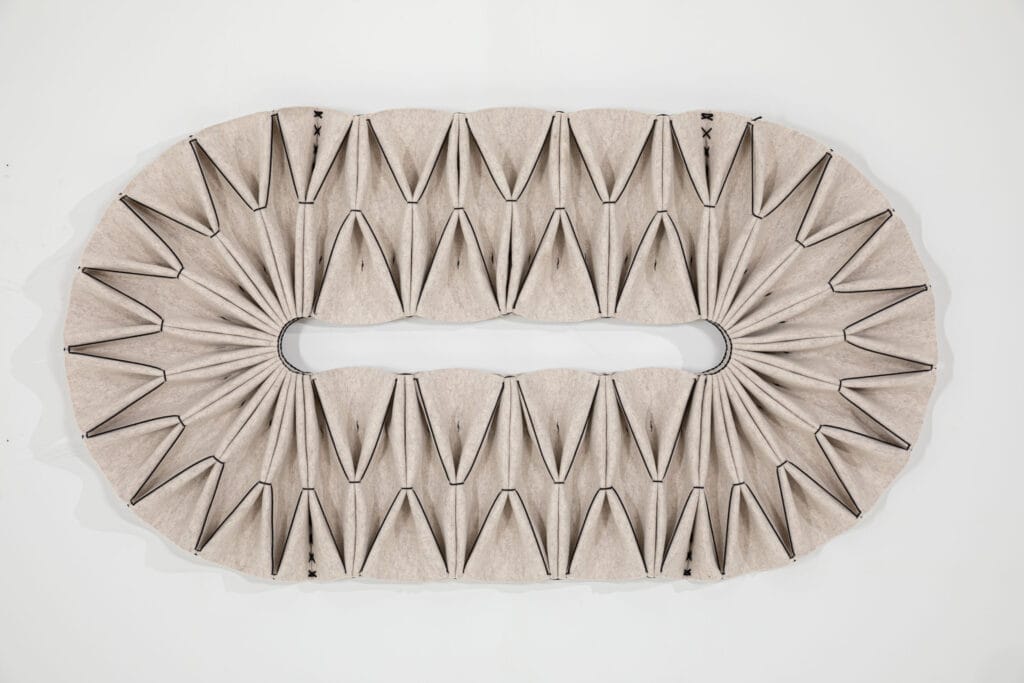 "BuzziPleat Edel Long is a perfect balance between a biophilic piece of art and a powerful acoustic performer. The product's architectural folds maximize surface area, delivering excellent acoustic performance; they trap mid and low tones to prevent sound waves from bouncing back and forth between hard surfaces", add Anastasija and Martin Lesjak from 13&9 Design.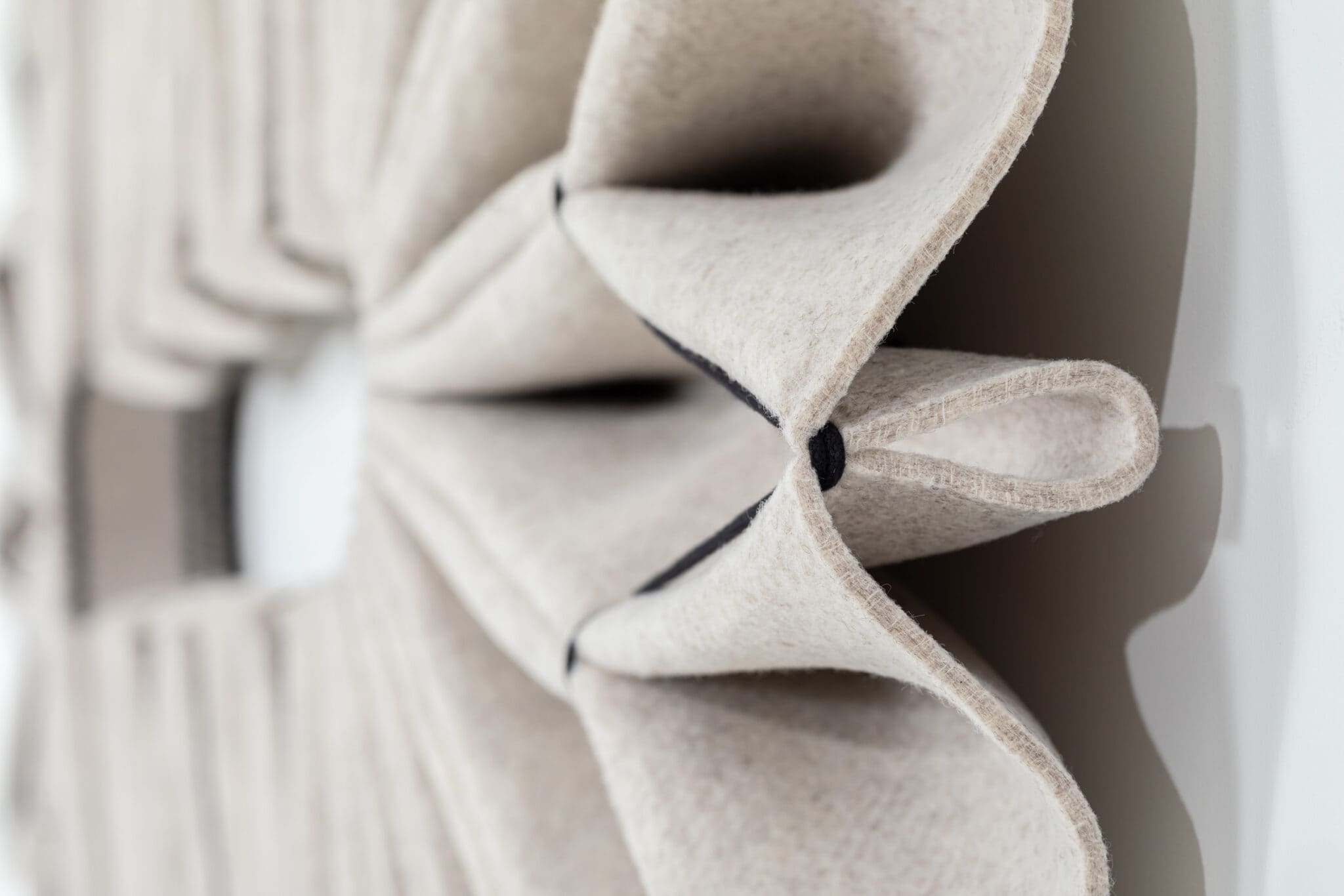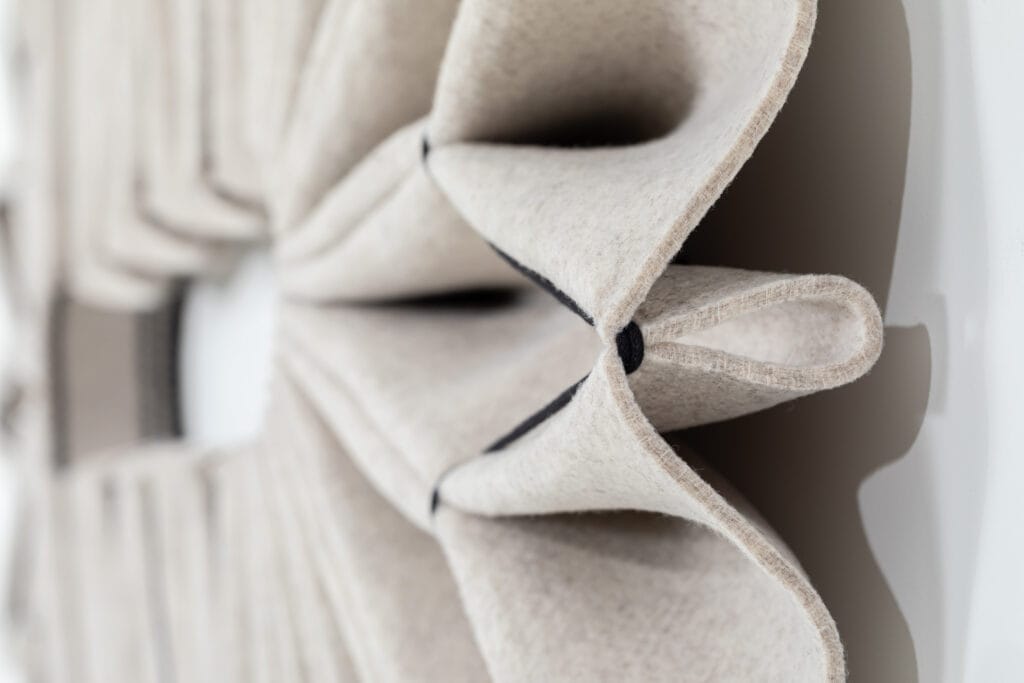 SHELTER AND LIGHT
Historically, humans have built shelters against the exposure of nature. Our current living and working area is moving more and more towards the virtual world. Physical spaces, designed with a holistic approach that are focused on humans' health and well-being, are important aspects in the working environment. Consequently, just like a roof gives shelter to its users, so does the BuzziPleat Edel Long, hovering above the workspace suspended from the ceiling.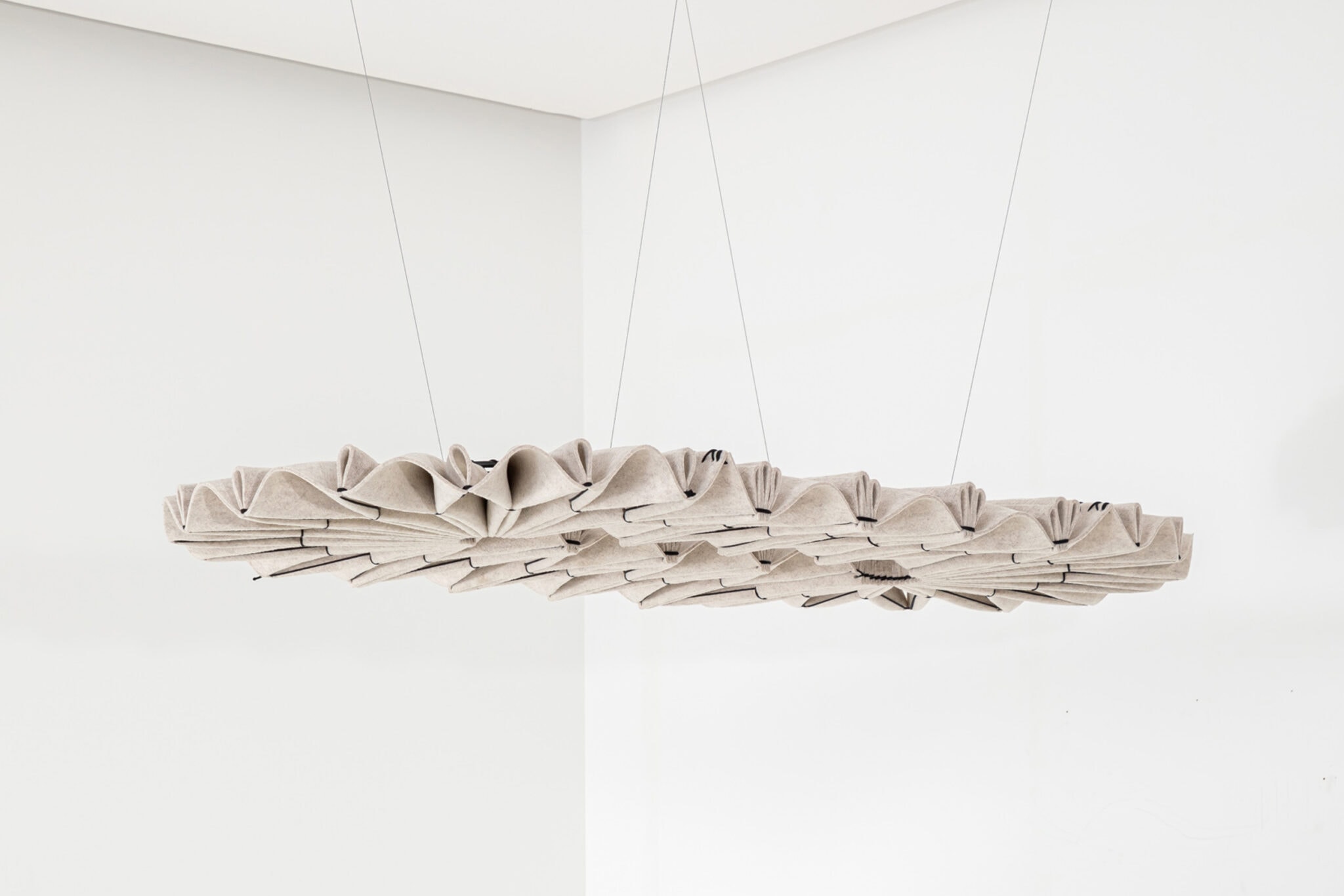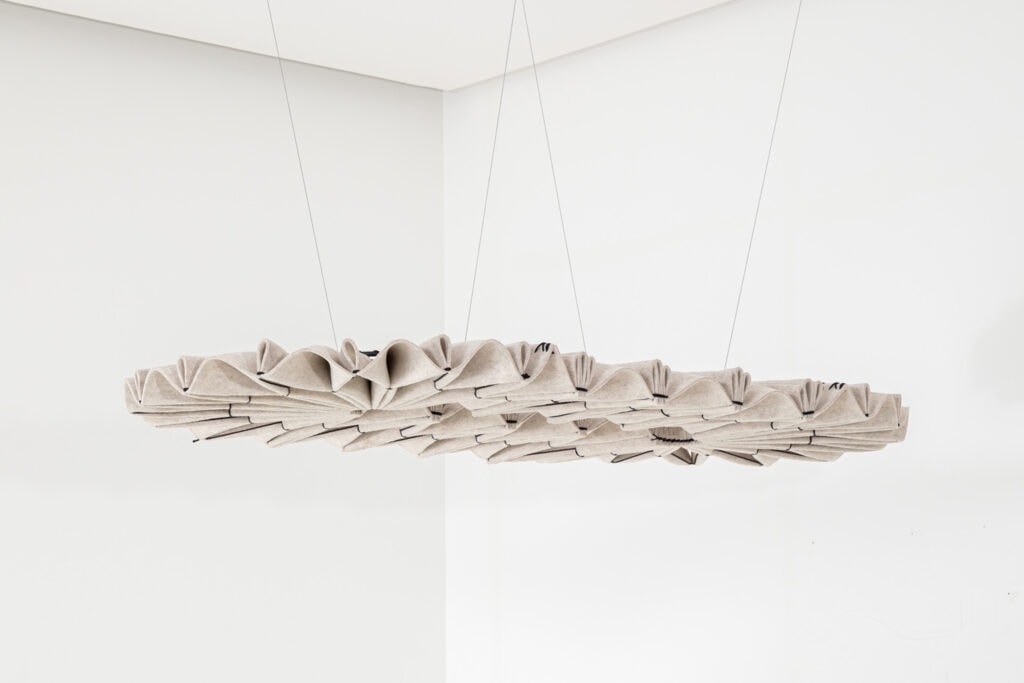 Thanks to its extended oval shape, it improves the quality of a space through better acoustics and pleasant zoning of any large areas, available with an optional efficient light source. The hanging acoustic pendants can be combined with BuzziSol Trio or BuzziSol Ouintet in either both a Globe or Spot iteration to marry sound control and illumination into one multi-purpose product.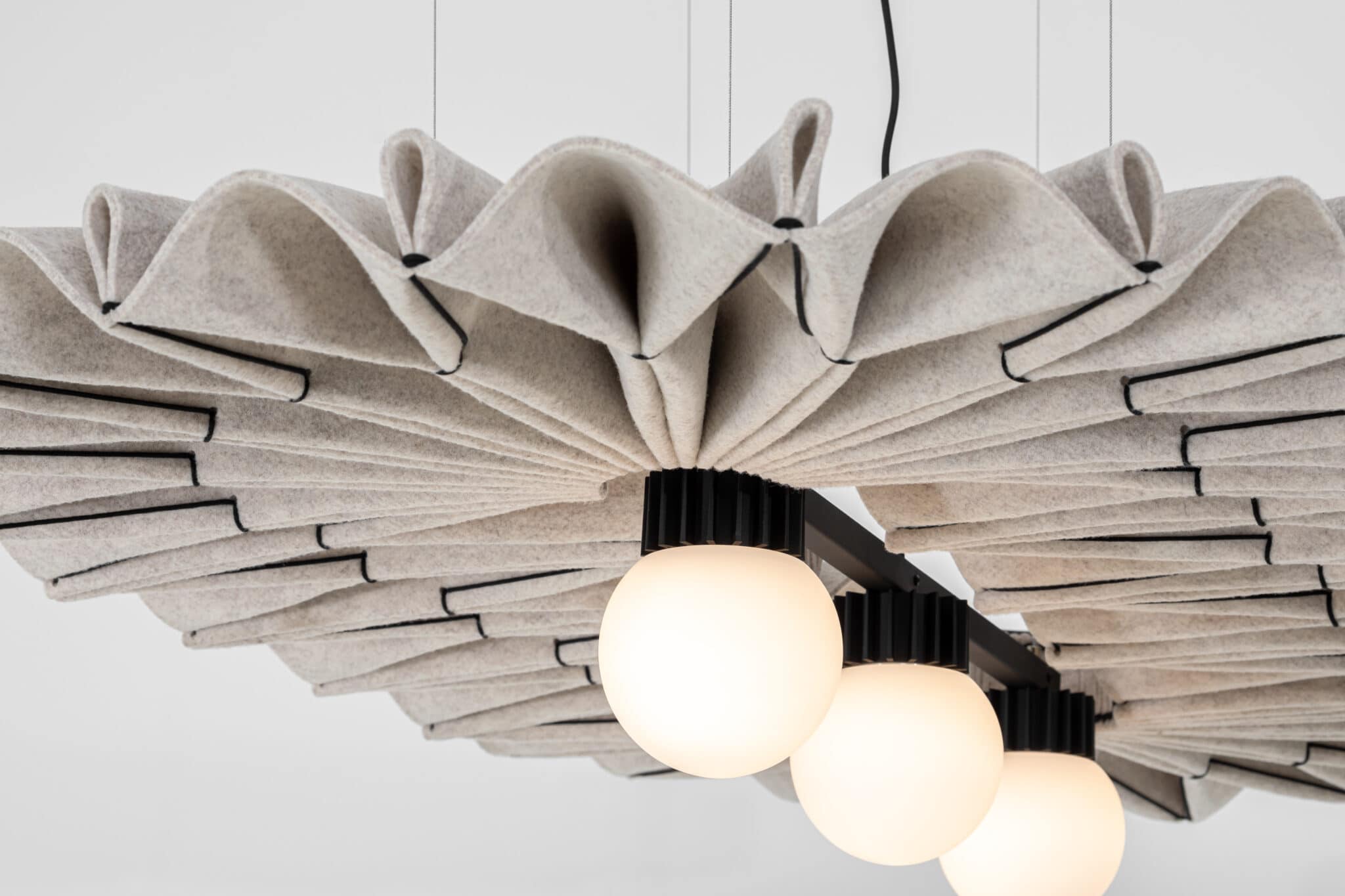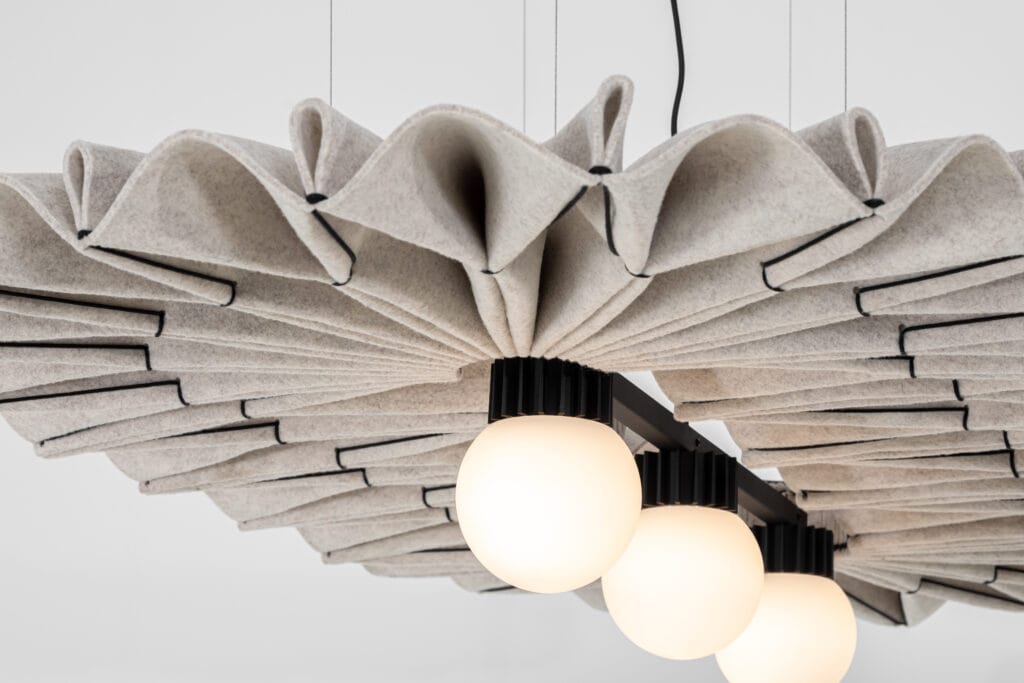 MODULARITY
The BuzziPleat collection consists of 3 different models: the already existing round forms and the new extended version that is either mounted to the wall as an eye-catching display or suspended from the ceiling at various heights.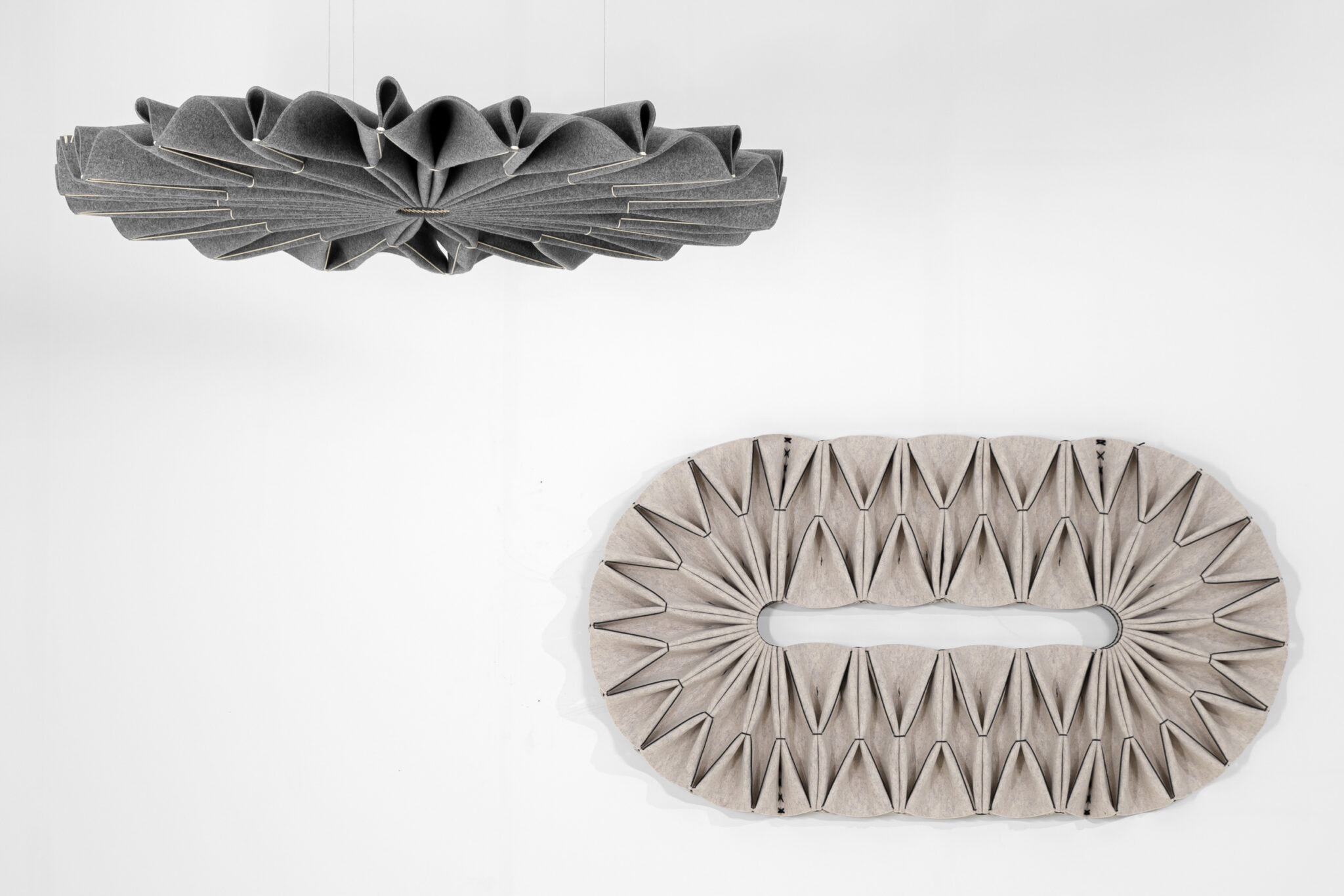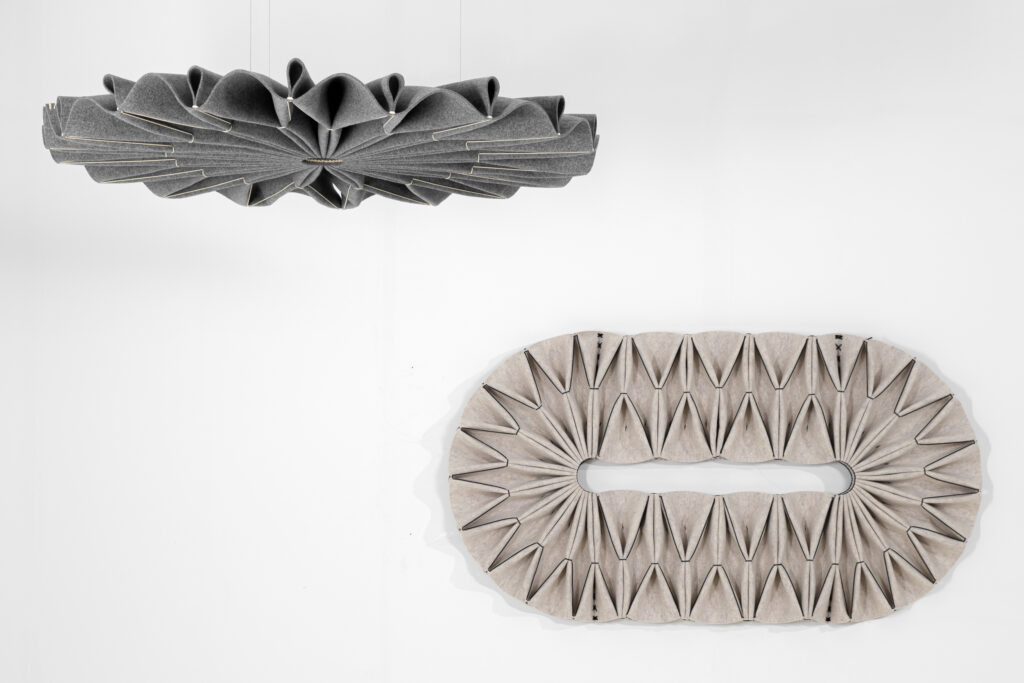 All of them can be combined to create a dynamic, one-of-a-kind formation, all while absorbing excessive noise. The different designs are available in various BuzziFelt colors, ranging from neutral to bold and bright hues. Since the first launch of the BuzziPleat at NeoCon 2017 the product has already been applied in various creative combinations at many international projects.
Clockwise: © Paul Ott, © BuzziSpace, © BuzziSpace, © Paul Ott