The Coffee Table Book "Vital Voices: 100 Women Using Their Power to Empower" is an unprecedented book and companion art exhibition celebrating 100 global women leaders who are redefining power.
Edited by Alyse Nelson, with a foreword by National Youth Poet Laureate Amanda Gorman and paintings by Gayle Kabaker, the book and exhibition feature a selection of original portraits, accompanied by thought-provoking excerpts of first-person narratives from some of the most influential and insightful women in the world, including: Justice Ruth Bader Ginsberg, Hillary Rodham Clinton, Malala Yousafzai, Bozoma Saint John, Jacinda Ardern, Donna Langley, Menaka Guruswamy and Arundhati Katju, Joy Buolamwini, Megan Rapinoe and so many more.
Women belong in all places where decisions are being made … It shouldn't be that women are the exception.

Justice Ruth Bader Ginsburg
Candid and compelling, each leader shares personal stories, wisdom and ideas, showing us that women lead differently and that this difference is sorely needed in our world today.
While each woman is path-breaking in her own right, it's together that these 100 voices illustrate the transformative power of women's leadership across cultures, sectors and generations.
2020 has laid bare the critical value of leadership at every level; from heads of state to community healthcare workers and racial justice activists, we have witnessed remarkable courage and compassion in the face of historic challenge. Global crises have shown us that the solutions we seek already exist, so often being championed by women leaders like those featured in this book.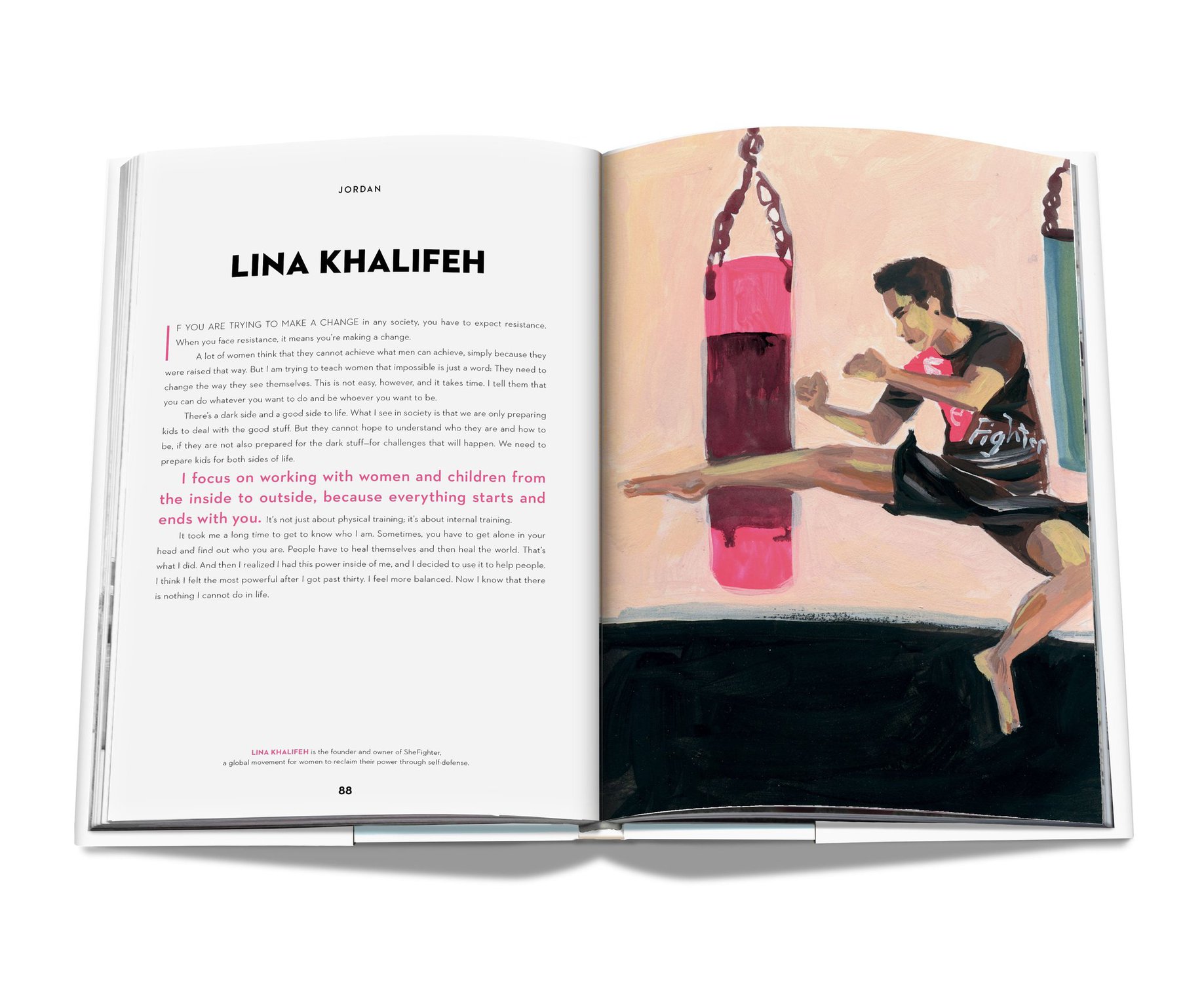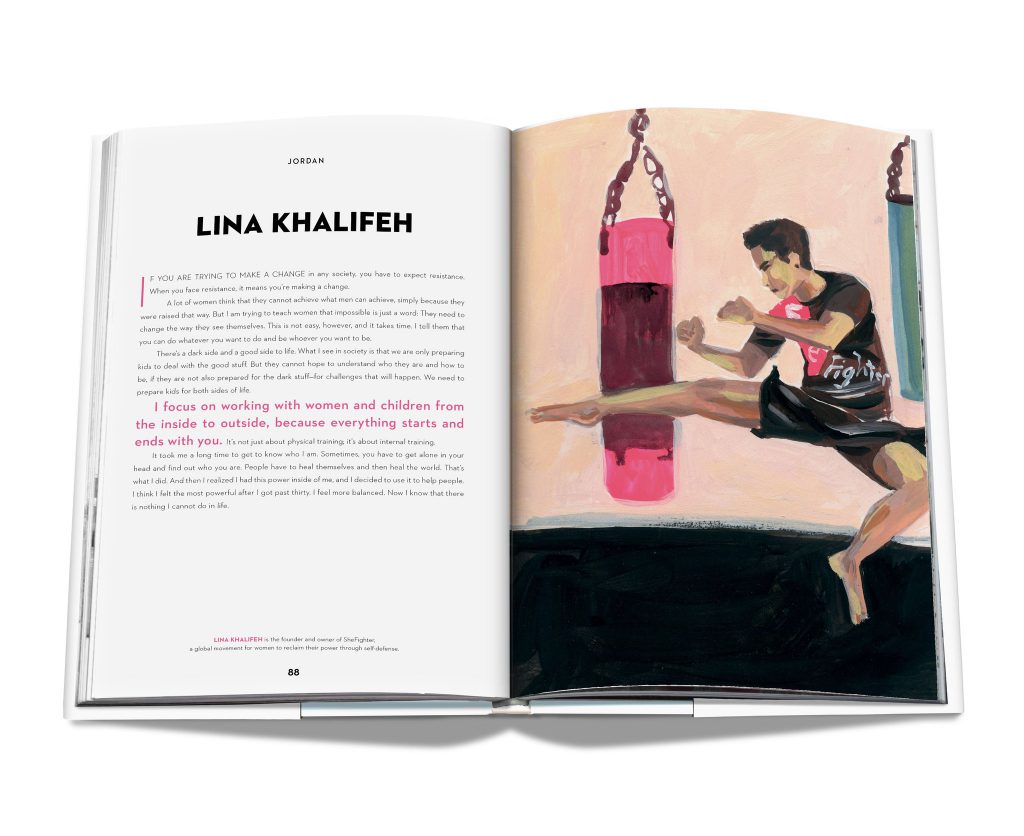 This year we also commemorate the 25-year anniversary of the historic United Nations Fourth World Conference on Women, which sparked a new wave of activism in pursuit of gender equality. As we look to the future, and the great unfinished business that remains, we turn to 100 of the most daring and creative leaders of our time, who share their vision and solutions in Vital Voices: 100 Women Using Their Power to Empower.
Editors: Alyse Nelson, Gayle Kabaker, Amanda Gorman & Assouline
Release date: September 2020
Format: W 7.5 x L 11 x D 1 in, 3.1 lb
Features: Hardcover, English language, 220 pages, 100 illustrationen
ISBN: 9781614289784
About the author
Alyse Nelson is President and CEO of Vital Voices Global Partnership, an organization that invests in women leaders solving the world's greatest challenges. A co-founder of Vital Voices, she has worked with the organization for more than two decades.
Gayle Kabaker is an award-winning illustrator, writer and visual storyteller living in Ashfield, Massachusetts. She has had five New Yorker magazine covers, beginning in 2012 with "June Brides," celebrating the legalization of marriage equality.
Buy the book >> online at Asssouline
---
About Assouline
The illustrated market has become integral to the worlds of luxury, fashion and design. Assouline has actively contributed to this growth by creating the highest quality book-objects whose distinctive graphic identity and editorial savoir-faire have captured imaginations, addressing new themes in a contemporary manner.
The brand, with its style and vision, is a true pioneer. Beginning in the mid-90s, Assouline brought the illustrated book market to life with products that were modern, luxurious and creative.
"We created this company to be the first luxury brand on culture. We love and believe in books more than everything else and so we wanted to supply everything for a contemporary library."

says Prosper & Martine Assouline
Today, the luxury book market has become an indispensable tool for luxury brands. Because of decreased visibility in print publications whose distribution has dramatically plummeted and the rise of digital media and "influencers," luxury brands need a "tangible" product to define their DNA and position themselves in the marketplace. This presents an opportunity for brands to describe their heritage, define their style and bring their creations to life for their international clientele as well as the business world.
"Our digital world goes faster than ever and nothing remains of it, but books are the solid part of our past and present. They also are beauty. For us, books are a matter of intellect and emotion, of heritage and innovation."

so Prosper & Martine Assouline
Beyond beautiful books Assouline is invested in the promotion of culture. It has created the "first brand of luxury culture" by opening boutiques where one can discover a world of good taste, excitement and intellect, a place where "culture can be acquired" within a luxurious environment. One can purchase complete book collections as well as objects that belong in contemporary libraries such as perfumed candles and "cabinets of curiosities."
More about Assouline >> online