Long known for visionary sustainable projects, 3deluxe is currently working on its next fascinating project: Kalba Beach sets an enchanting urban beach oasis on the coast east of Dubai. Built from rammed earth and wood. And environmentally friendly all around.
When people think of Dubai, they usually have the skyscraper wonderland of Dubai City in mind. After all, the largest city in the United Arab Emirates (UAE) boasts the most buildings in the world with a height of over 300 meters.On the east coast of the UAE, however, things are different. This is because it is visibly transforming itself into a green, sustainable tourist destination. Kalba Beach is being built right there, east of Dubai City. A particularly beautiful urban beach oasis built of rammed earth and wood. It shares its name with the coastline on which it sits. And its eco-friendly design comes from the visionary Wiesbaden-based 3deluxe office.
Sustainable pleasure meeting place
The sustainable facility will extend for just over one and a half kilometers of coastline. With 15 buildings for restaurants, cafes, kiosks, public services and administration. Kalba Beach will also have a nearby parking lot. All thoughtfully planned and geared toward electromobility.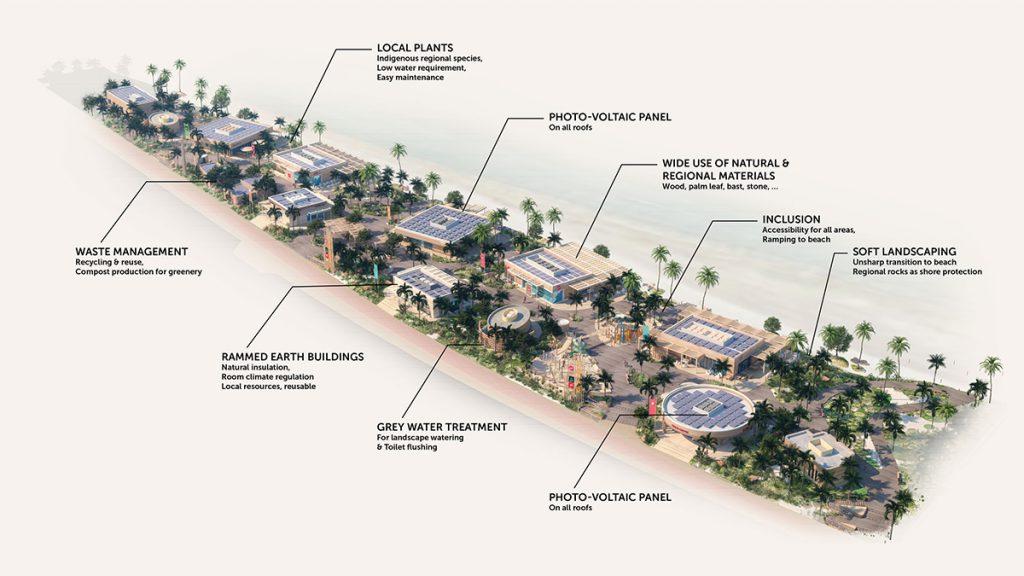 What 3deluxe has designed creates a new biotope with subtropical vegetation. One that focuses on environmental and climate protection in both construction and operation. What immediately catches the eye is the main feature of the exciting building project: the rammed earth construction.
A place that erases borders
The architectural concept of Kalba Beach allows for casual interaction between visitors and the natural environment. Open facades and spacious outdoor terraces with shady roofs made of natural rope structures cleverly connect the beach oasis with the natural surroundings. The ambience radiates peaceful tranquility and seems almost like a friendly invitation to a relaxed communicative stay.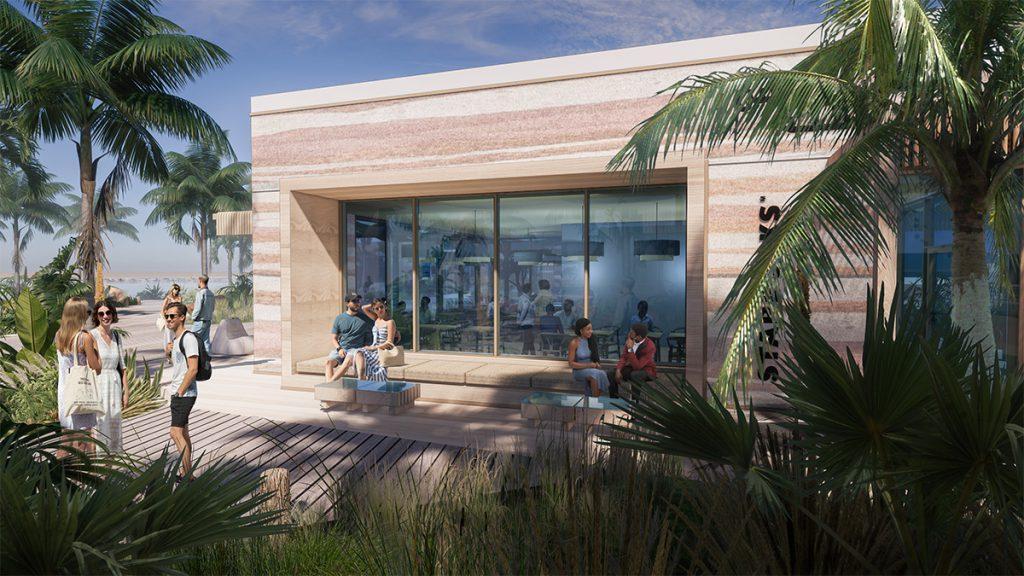 In the 3deluxe team's design, architecture and landscape are not static and isolated concepts. Rather, they become a congenial turbo of social interaction that promotes diversity and coexistence of different cultures.
Kalba Beach is intended as a meeting place for expats, tourists and locals. Established and young, new café and restaurant concepts in line with the project's sustainable aspirations are to create an ideal mix here: A colorful, attractive "Culinary District" that attracts and brings together people of diverse preferences.
Old material with great potential
The fact that the walls of the Kalba Beach buildings are constructed mainly from rammed earth components has many advantages. The environmentally friendly, stable material is not only highly aesthetic. It also offers enormous future potential because it is particularly low-carbon. But this is by no means everything.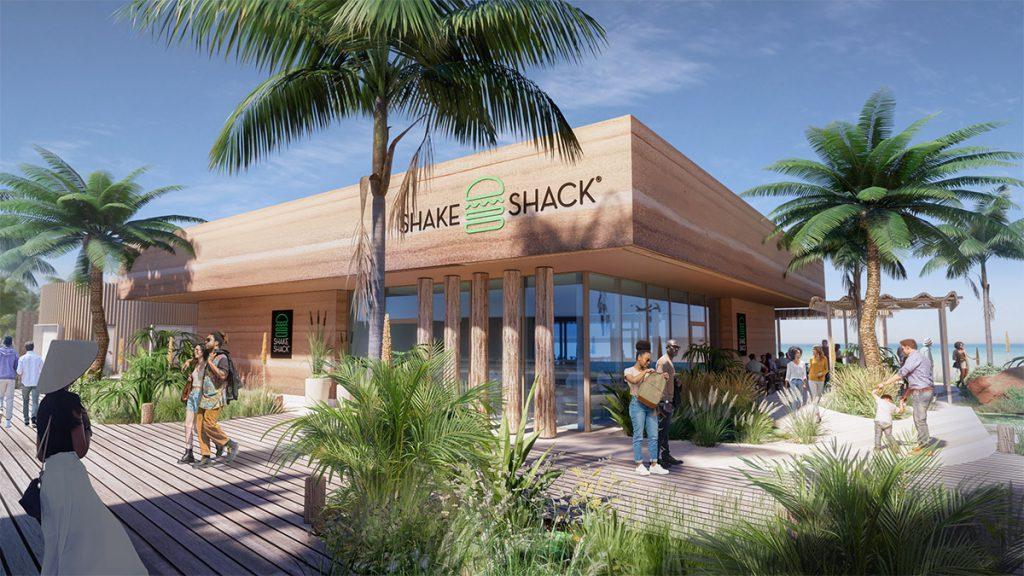 Rammed earth structures consist of compacted layers of local materials such as sand, gravel, clay and a stabilizer. This guarantees low energy consumption, reduces the amount of waste to a minimum and ensures extensive recyclability.
Rammed clay does the trick
On top of that, rammed earth impresses with a kind of archaic expressiveness, making it suitable for use as an exciting contrast to modern surfaces or concrete. And that's not all: the porous surface improves room acoustics and natural ventilation and ensures a stable, balanced temperature level. It acts as a thermal storage mass and regulates room humidity. This and more has made rammed earth visibly popular with environmentally conscious architects in recent years: expertise on its use in the construction industry is growing rapidly.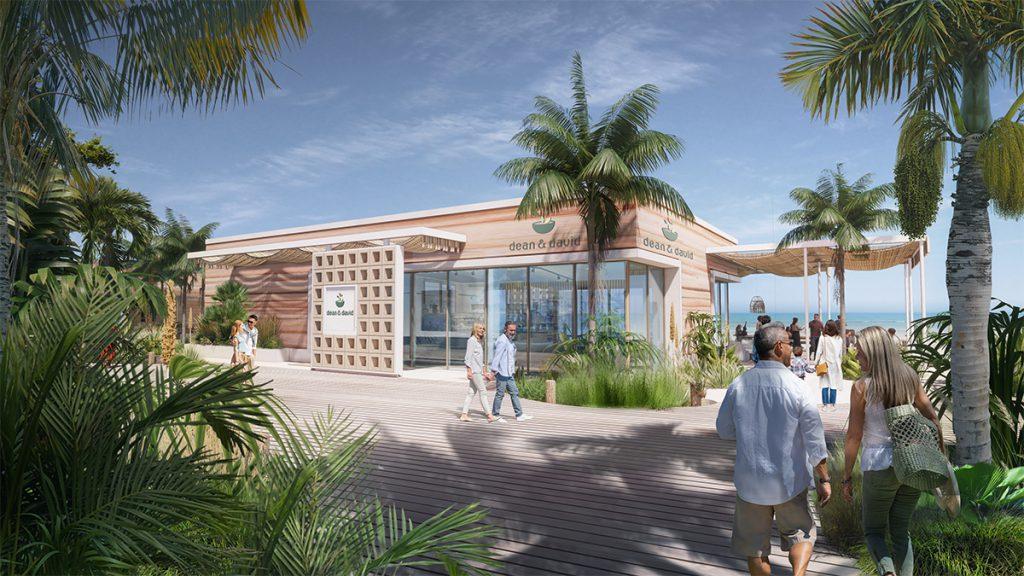 All service and administrative buildings in the Kalba Beach development will have sustainable wood facades. All sidewalks and squares will be made of wooden planks to reduce soil sealing as much as possible. And all available roof surfaces will be equipped with photovoltaic systems, which will cover a significant part of the energy demand.
Green model Kalba Beach
According to the plan, Kalba Beach's irrigation system is operated with gray water.The concept of 3deluxe aims at the highest possible efficiency. The plants selected for the project come mainly from the region and help to reduce the need for water. For the facility's waste management, the architects rely on composting, which also serves to maintain the green areas.

By using rammed earth and traditional construction methods, 3deluxe "conjures" a special new aesthetic for Kalba Beach: the layering of different earth tones in the compacted walls creates a look that is each unique, interesting and never monotonous. This opens the possibility of exploring new combinations with contemporary materials and techniques that give a strong and modern appeal to the roughness of traditional materials.
Refreshing design
Filigree details such as wooden elements, concrete frames and perforated wall cladding provide exciting contrasts in the Kalba Beach project. In this way, the 3deluxe team gives the buildings a refreshingly modern appearance.

The buildings nevertheless remain minimalist, simple and partly raw. A design trick that pleases the eye and elegantly combines features from different design eras. Or, as the architects themselves describe it: "Palm Springs Mid-Century flair meets modern low-tech style."
Hope for the future Kalba Beach
The urban beach oasis is being developed by the Sharjah Investment and Development Authority (Shurooq). According to the authority, it is pursuing a clear goal: the Kalba Beach project is intended to promote local entrepreneurship by creating new business opportunities, especially for the region's youth.
An approach that fits well with the work of 3deluxe architects. After all, this is primarily aimed at ensuring a good, livable tomorrow for both the environment and nature, as well as for the human inhabitants of the planet.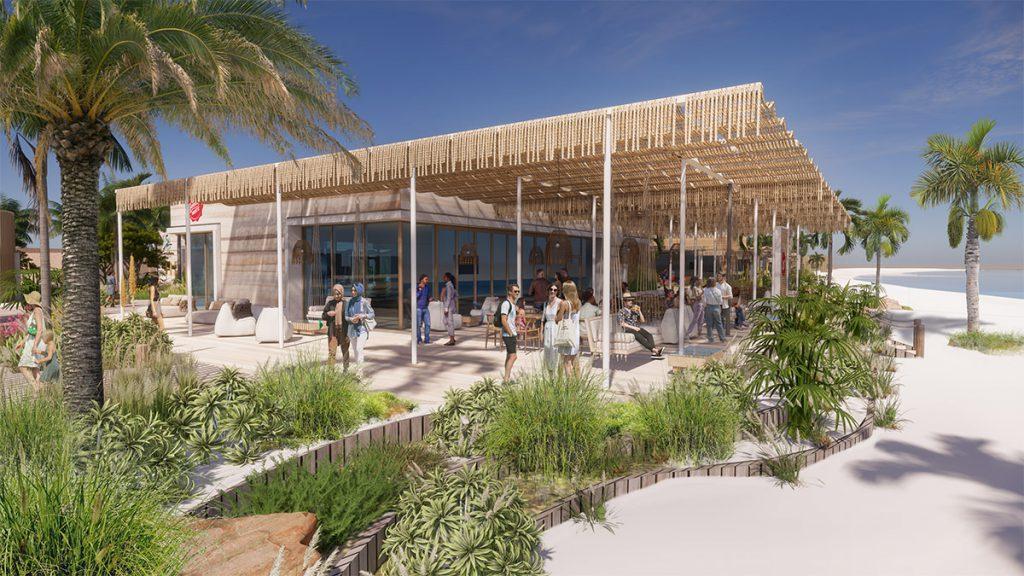 Whether with clever reuse of old stock, forced green roofs, a high-rise in wood hybrid construction or the visionary concept of a floating campus in the name of environmental protection: The fact that the Wiesbaden-based, multidisciplinary design office thinks beyond already known boundaries in matters of sustainability has long since brought 3deluxe international renown.
It is not for nothing that the globally active environmental organization "We the Planet" likes to rely on the creative Germans, who are currently implementing projects in Dubai, Lithuania, Finland, Italy, the USA and Germany.
Award-winning previous projects
Kalba Beach is not the first project with which 3deluxe has made a splash in the United Arab Emirates. The already completed projects Al Noor Island, Butterfly Pavilion and Al Heera Beach are award-winning. And more are planned.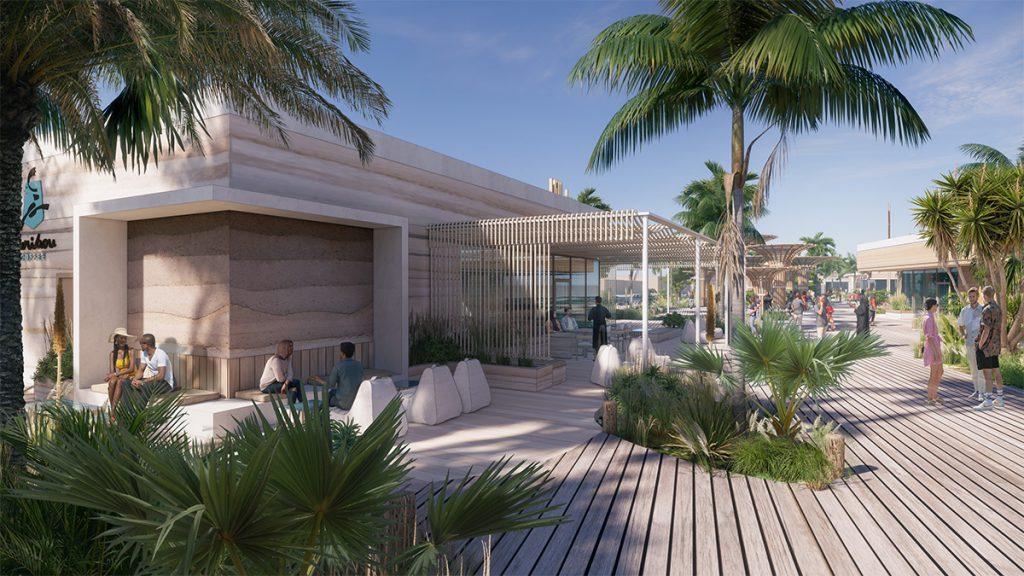 In any case, construction work on the new beach oasis Kalba Beach will begin in summer 2023. Everything should be ready for opening by mid-2024. And the east coast of the UAE will thus be enriched by a magically relaxed, green, and sustainable meeting place – in contrast to the skyscraper-dense hustle and bustle of Dubai City.
Text: Elisabeth Schneyder
Bilder: 3deluxe