Sweden. The land of cinnamon buns, moose and idyllic red summer cottages on crystal-clear lakes. As well as the homeland of Scandinavian design, which has conquered the world from there with its clear shapes, functionality and friendly colors. Anyone whose heart beats for the popular design movement should definitely stay at the two Scandic Hotels in Munich and Frankfurt. And, by the way, get inspired for your own home.
So open your eyes and take a closer look at Scandic München Macherei and Scandic Frankfurt Hafenpark. Because even individual accessories and certain color combinations bring a piece of Scandi feeling into your own four walls. We'll now reveal exactly what they are and where you can get them.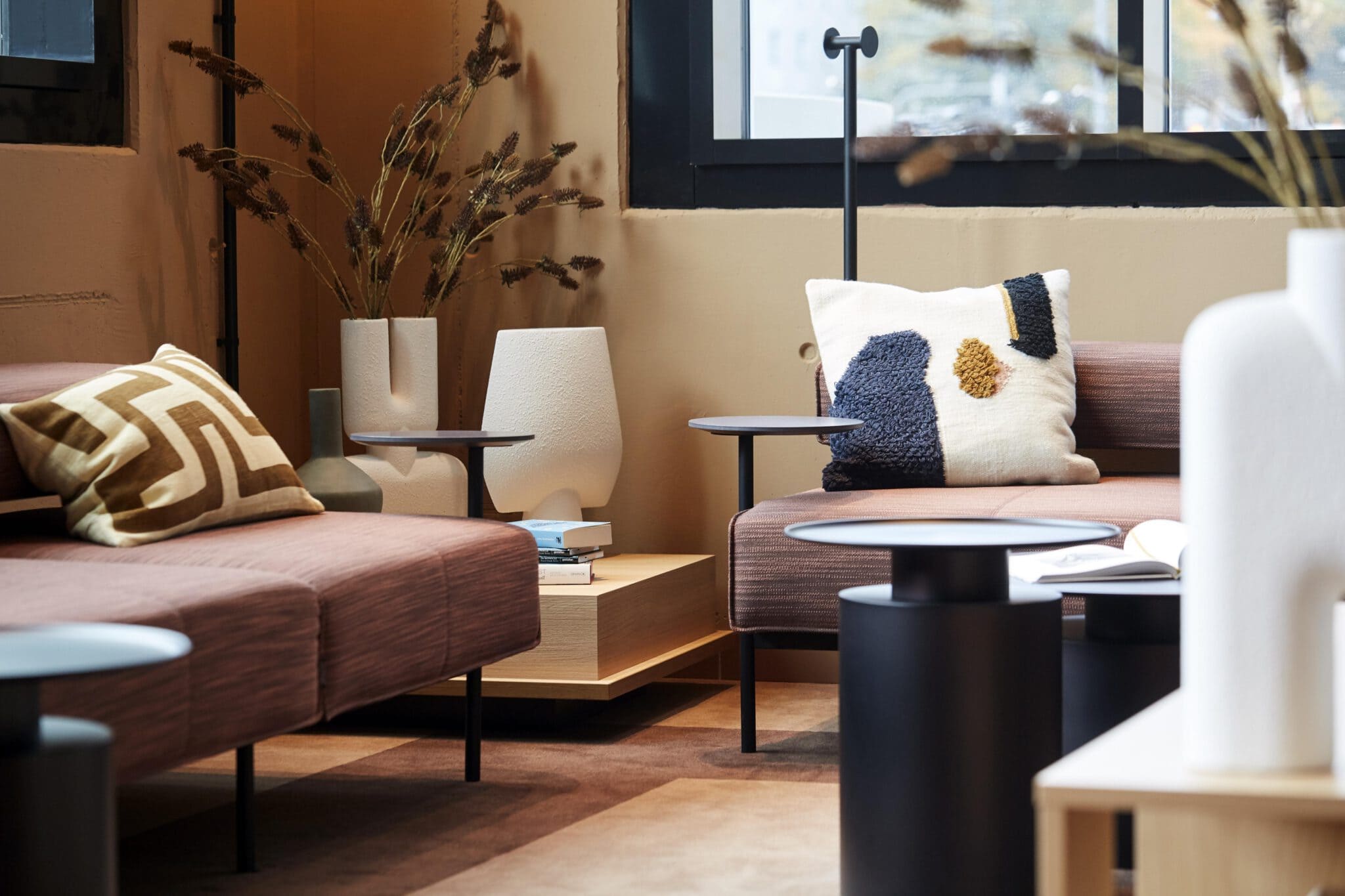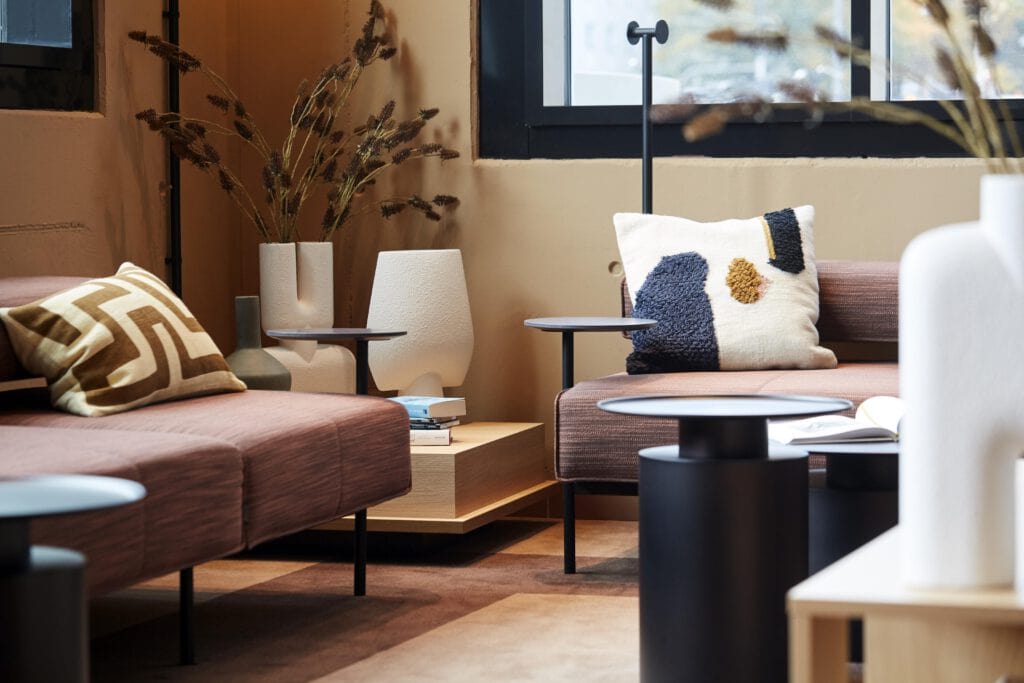 FORM MEETS COLOUR
Bright and hygge, yet always functional and colorful – that describes the Interior design of the Scandic Munich Macherei in a nutshell. The idea of combining Scandinavian coziness with Nordic design comes from the Stockholm-based architecture firm koncept. The entire concept, from the furniture to the accessories, is dominated by rust and beige tones and earthy colors.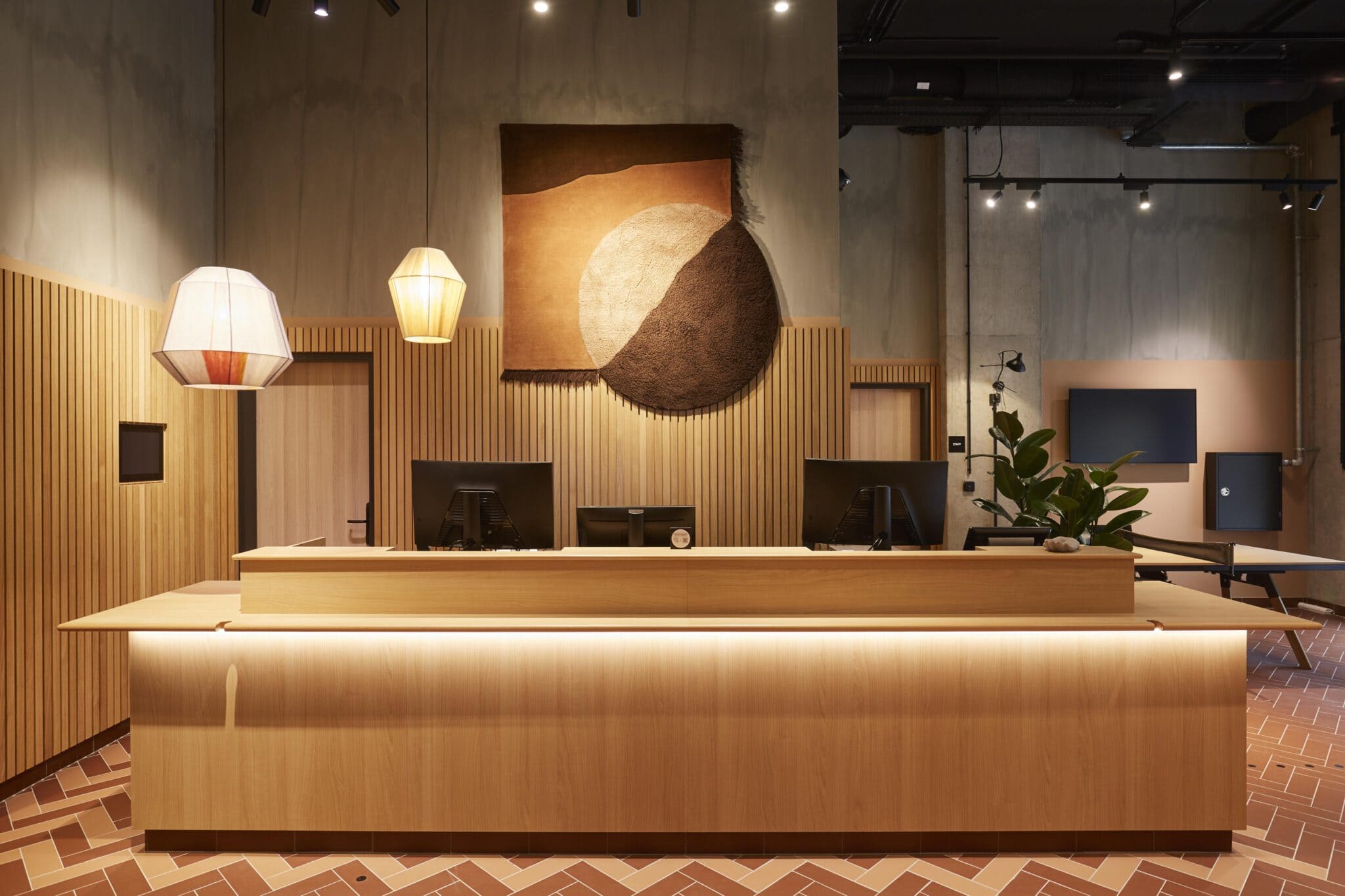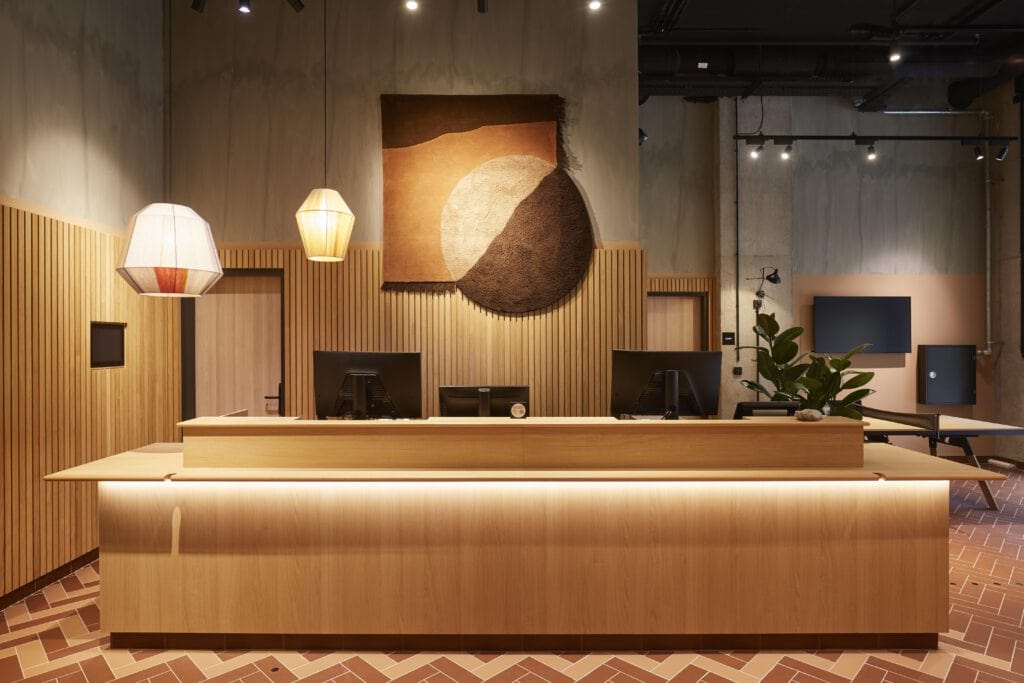 Always important, especially with regard to the corporate philosophy of Scandic Hotels: the sustainability of the fabrics, products and materials used. Thus, many vases of the Danish design brand 101 Copenhagen can be found, which interprets the Nordic living again and again in a new and always timeless way. In addition, bowls and boxes, for example, were sourced from ferm LIVING, which itself follows strict sustainability criteria. Almost all cushion covers with their graphic patterns – peppered with unusual details such as furry surfaces – also come from this young Danish designer brand. The placement of all Interior design elements was chosen with care, complemented by plants and individually selected books that harmoniously round off the overall picture.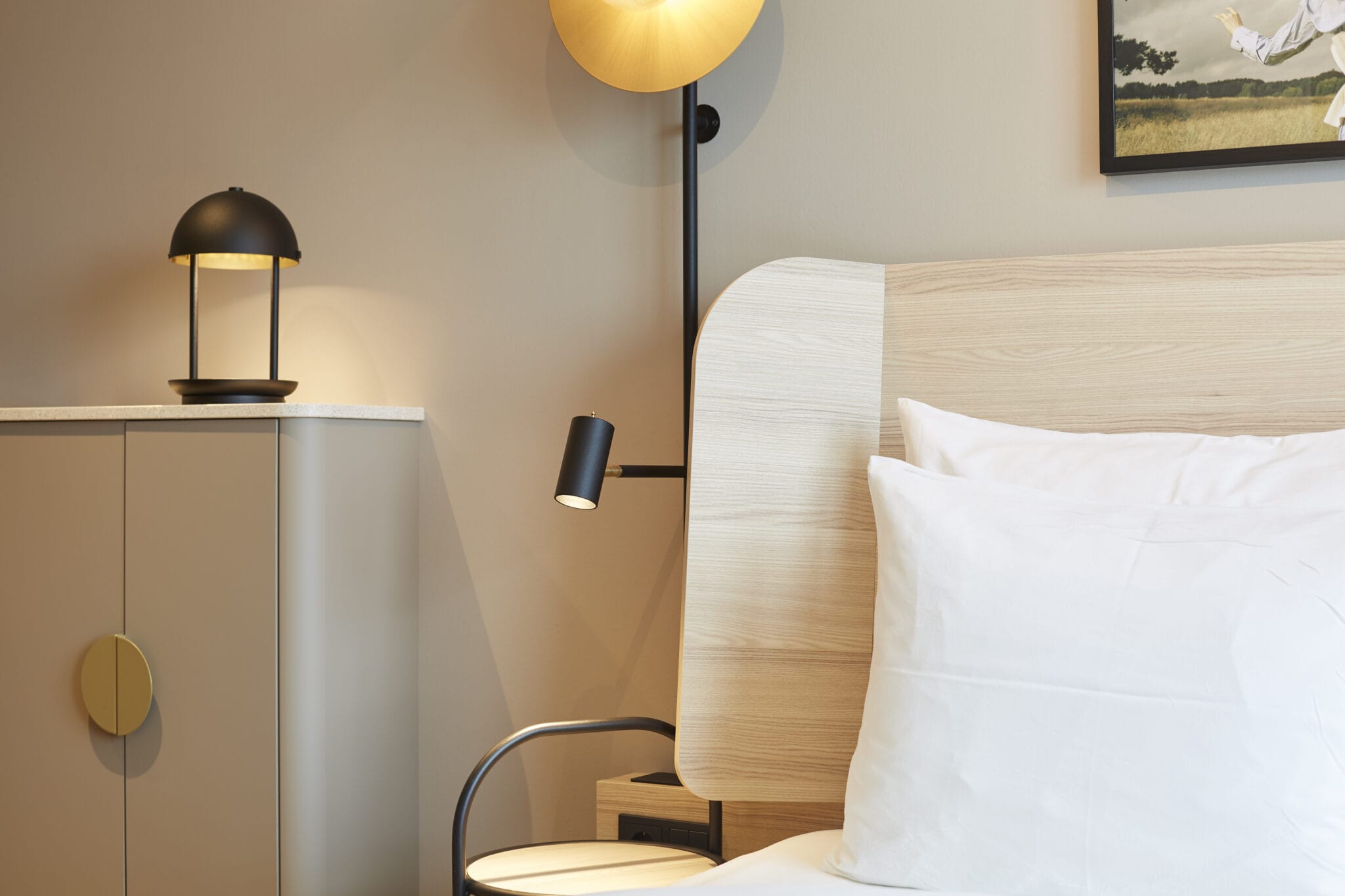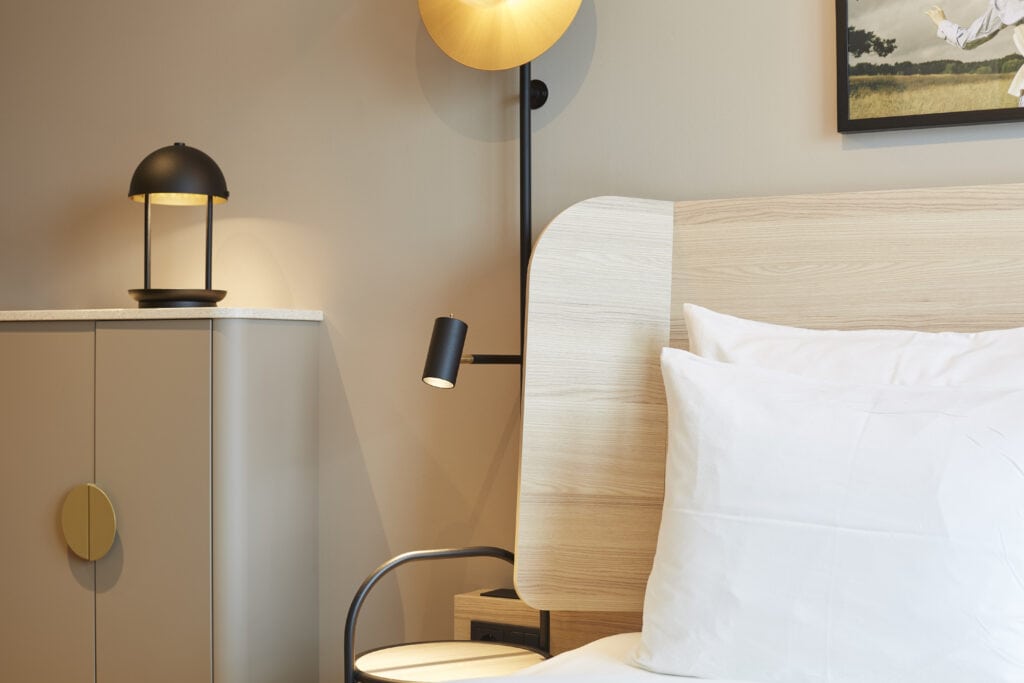 ALL AROUND COZY
Off to the wall it went in the Scandic Munich Macherei for some carpets. And so guests behind the reception desk are greeted by a tapestry from ferm LIVING, which, with its clear shapes, partially rounded corners and restrained colors, blends wonderfully into the design of this public area of the hotel. Thabo 1 in the Zieglerei restaurant also attracts all eyes. For once, this colorful rug made of 100 percent New Zealand sheep's wool from the LRNCE label comes not from Malmö but from Marrakech. From there, the favorite pieces then make their way to all European countries via express shipping.

So richtig perfekt machen den Scandi(c)-Style zuhause aber erst sorgsam platzierte Lampen. Die kleinen Kunstwerke rücken dabei jedes Interieur ins richtige Licht und erzeugen eine warme Atmosphäre. Ideal fürs Schlafzimmer oder auch das Sideboard im Wohnzimmer sind die schlichten Lampen der schwedischen Designmarke Belid, die sich im Scandic München Macherei in den Zimmern finden. Die "Mini-Pilzköpfe" in Lampenform setzen Akzente ganz nach dem Motto: Licht an, Entspannung an! ­
DESIGN ZUM LESEN UND FÜHLEN
"Inspired by Nature: Creating a personal and natural interior" by art director and stylist Hans Blomquist. An absolute must-read for all interior design fans and an integral part of the Coffee Table Book collection at Scandic Frankfurt Hafenpark. Like many other picture-perfect books and guides that guests can read at their leisure at a long table in the lobby. But none describes the inspiration behind the interior design concept of Germany's newest Scandic Hotel more aptly.

The idea: Bring the surrounding harbor park inside. The implementation: More than just green walls. For example, real moss can be found on the wall here in the Restaurant and in a meeting room. Such Florawalls with living plants create a real feel-good ambience and incidentally also improve the room climate. Ideal for your own home or office. Because also psychologically the color green has it in itself. It has a calming and harmonizing effect and stands for freshness, nature and life. So let's go to the Scandic Frankfurt Hafenpark for the next creative meeting or an inspiring city trip.
TONE IN TONE – BUT NATURALLY
Wall and furniture in exactly the same color – that's monotonously great. And because Scandinavian design is all about light colors, the rooms at the Scandic Frankfurt Hafenpark come in soothing shades of green and blue. These range from dark green on the lower floors to light blue on the upper floors. Entirely modeled on a plant stretching toward the sky. Chests of drawers or bed headboards that match the wall color make the rooms look particularly bright and spacious. The chairs from the multi-award-winning Swedish furniture manufacturer Fogia skilfully set accents.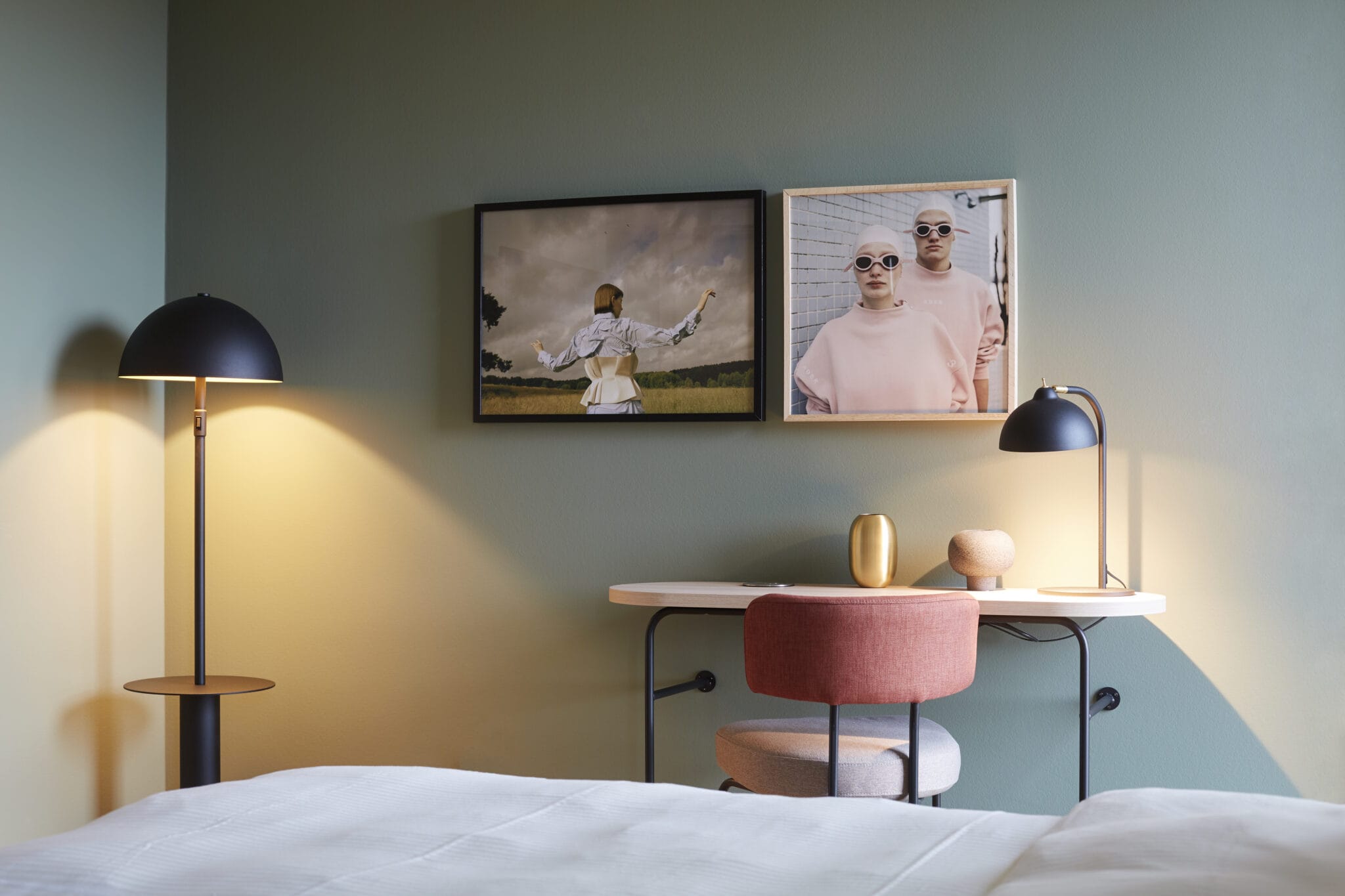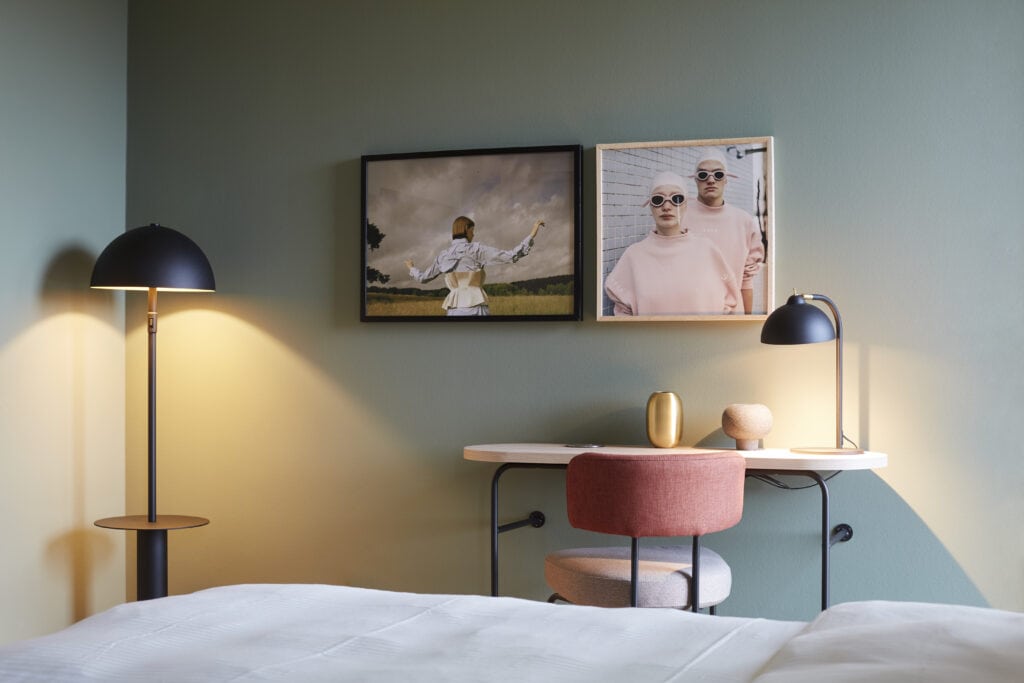 The fabrics used at Scandic are also green, or to be more precise, they have been awarded the Green Button. The textile seal is the first state seal to systematically check whether companies take responsibility for their actions in their supply chains and comply with human rights and environmental standards. Marco Flamini, Lead Architect at koncept, comments:
"Natural materials, a clear eye for detail and the use of calm color tones skillfully set the scene for Scandic's Nordic roots. Combined with unexpected shapes and clever design solutions, the result is a lively yet individual whole."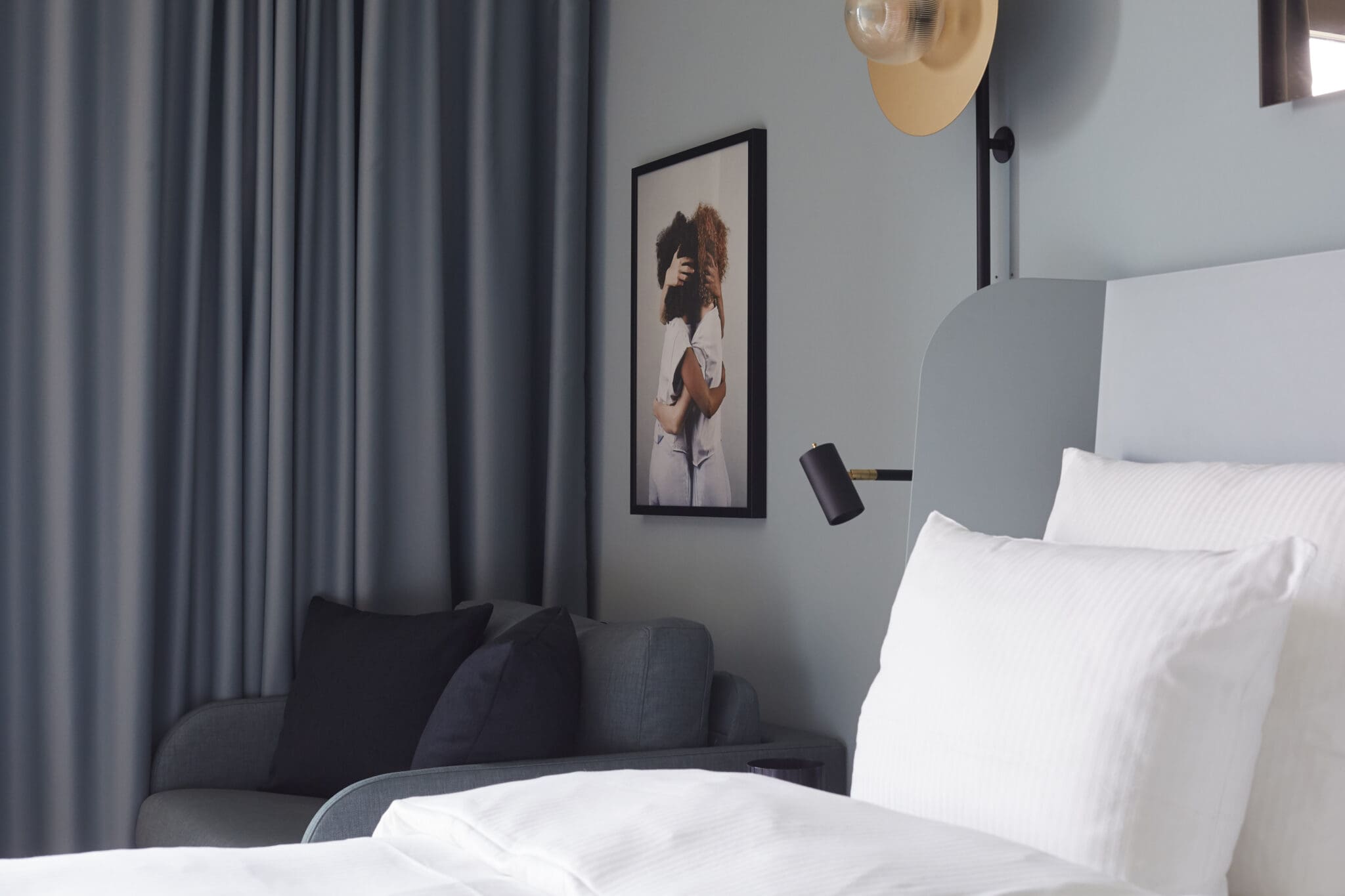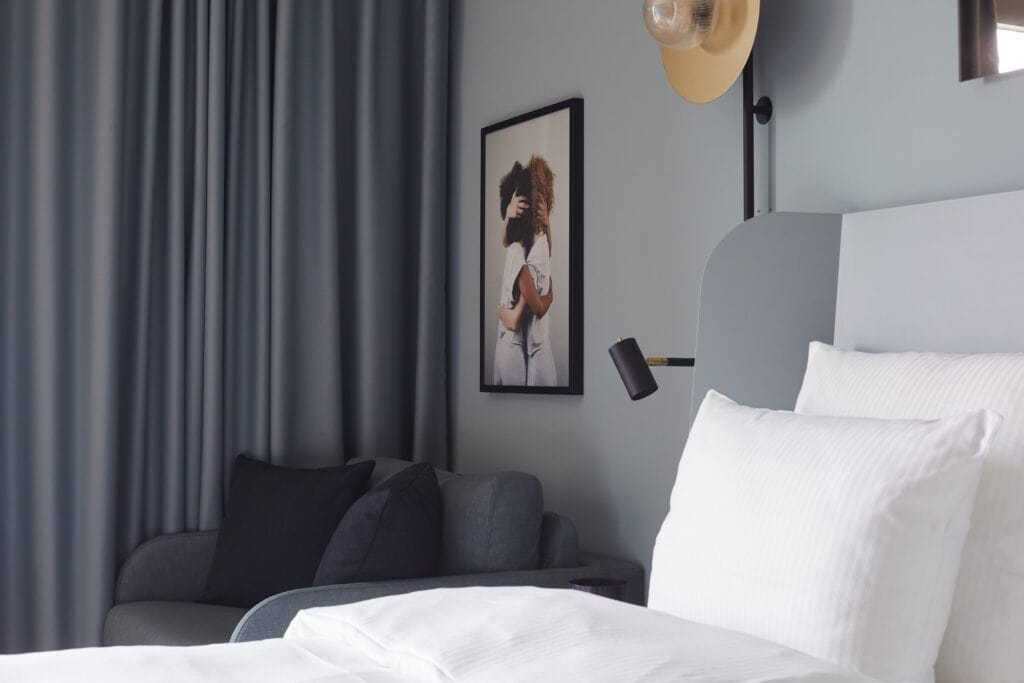 ABOUT SCANDIC HOTELS
In the middle of Munich's up-and-coming east in the Macherei district, guests at the Scandic München Macherei can look forward to an exciting overall concept. The vital Macherei area in Berg am Laim creates creative space for people and companies, combines working and lingering with art and culture. As a perfect complement to this, the southernmost Scandic house in Germany inspires with 234 rooms on nine floors, some with a view of the Alps, a spacious entrance area with smartly designed areas and a living room atmosphere, as well as the hotel's own restaurant Zieglerei.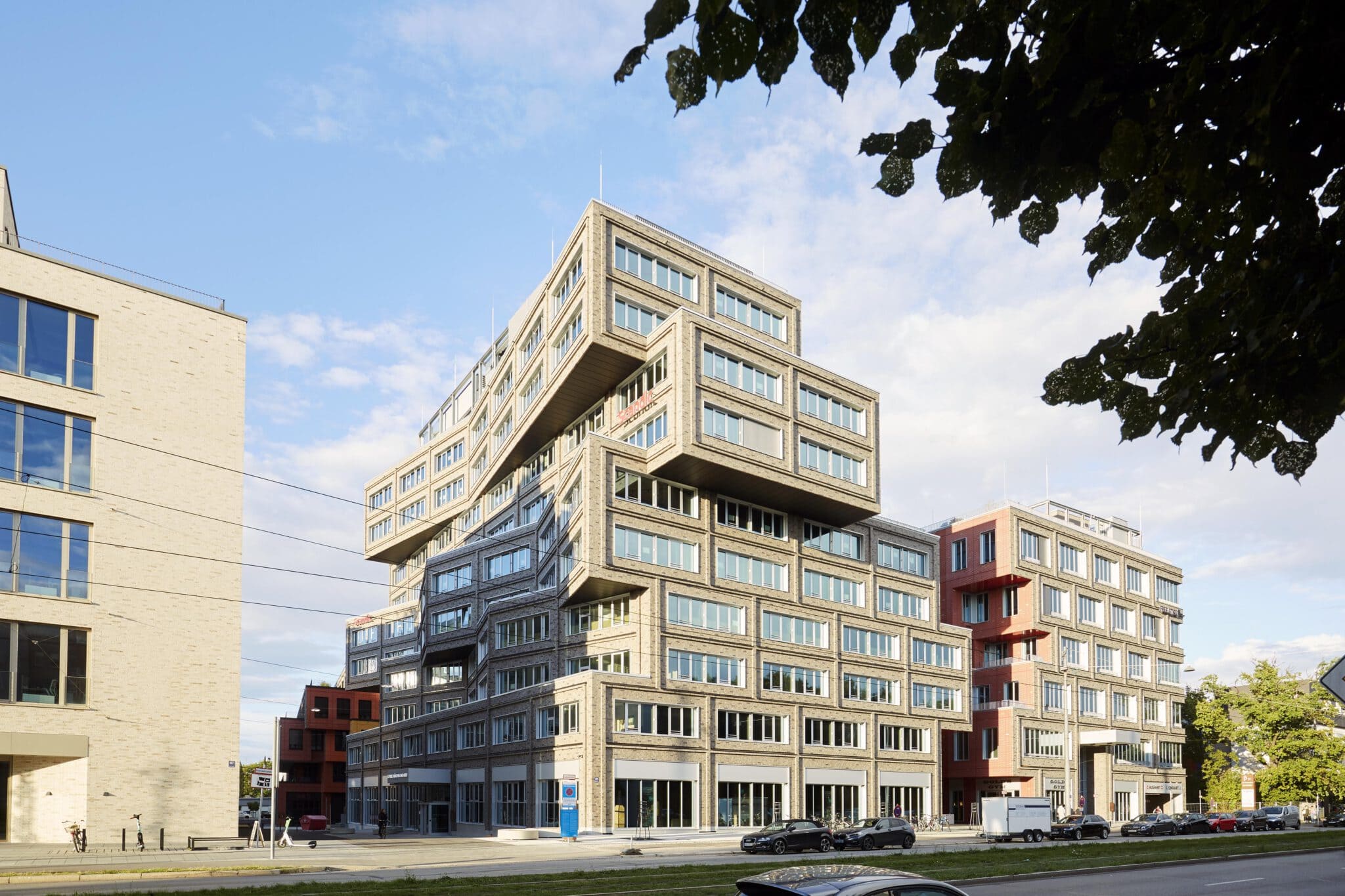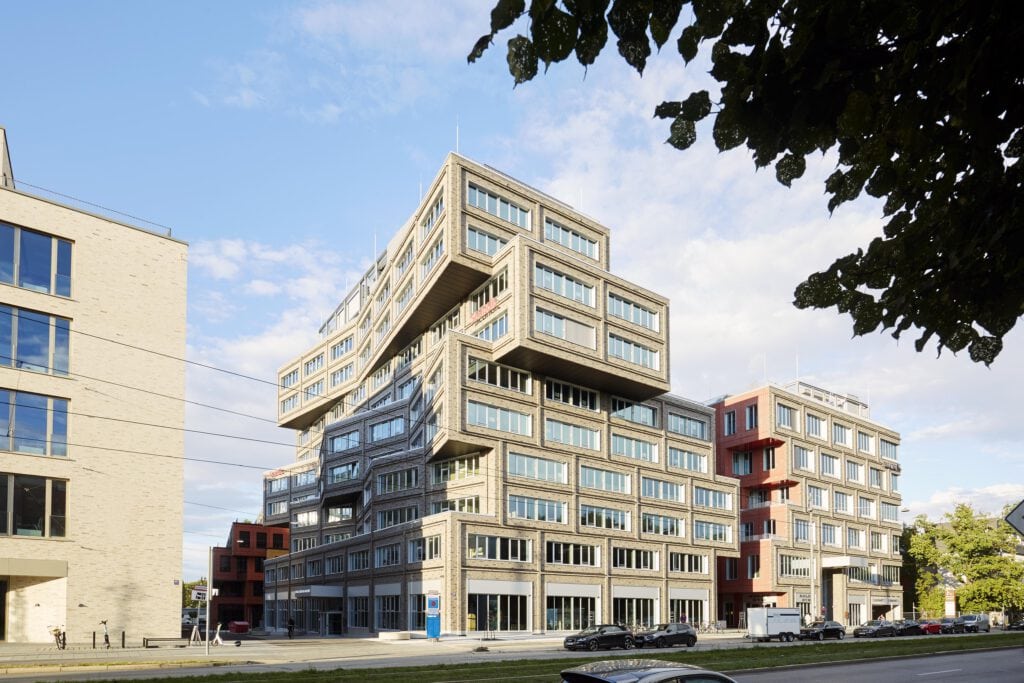 With the Scandic Frankfurt Hafenpark a trendy and future-oriented hotel has enriched the Main metropolis since March 2023. Located in the immediate vicinity of the European Central Bank and in the heart of the Hafenpark district, the hotel appeals to vacationers and business travelers alike and sets new accents with a sophisticated concept. The centerpiece is the Meeting Park with the 600-square-meter Ballroom, including Germany's largest skyfold walls. According to the motto "Meeting in the Park," the hotel scores with its nature-oriented architecture, which combines the sustainability aspect essential for Scandic with Scandinavian coziness. The Scandic Frankfurt Hafenpark has 505 rooms on ten floors, a modern fitness room with sauna, a bar and a restaurant with an open show kitchen.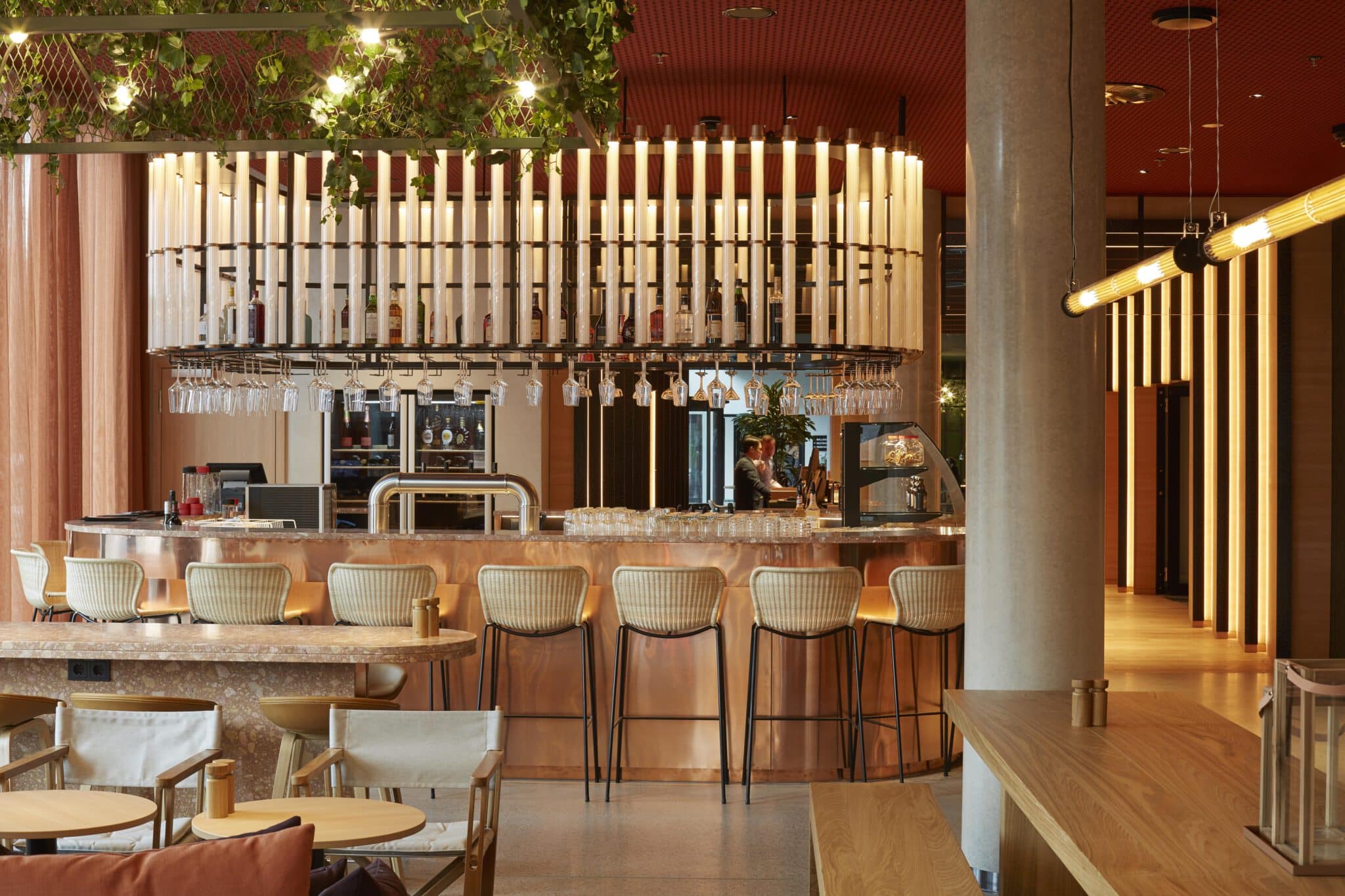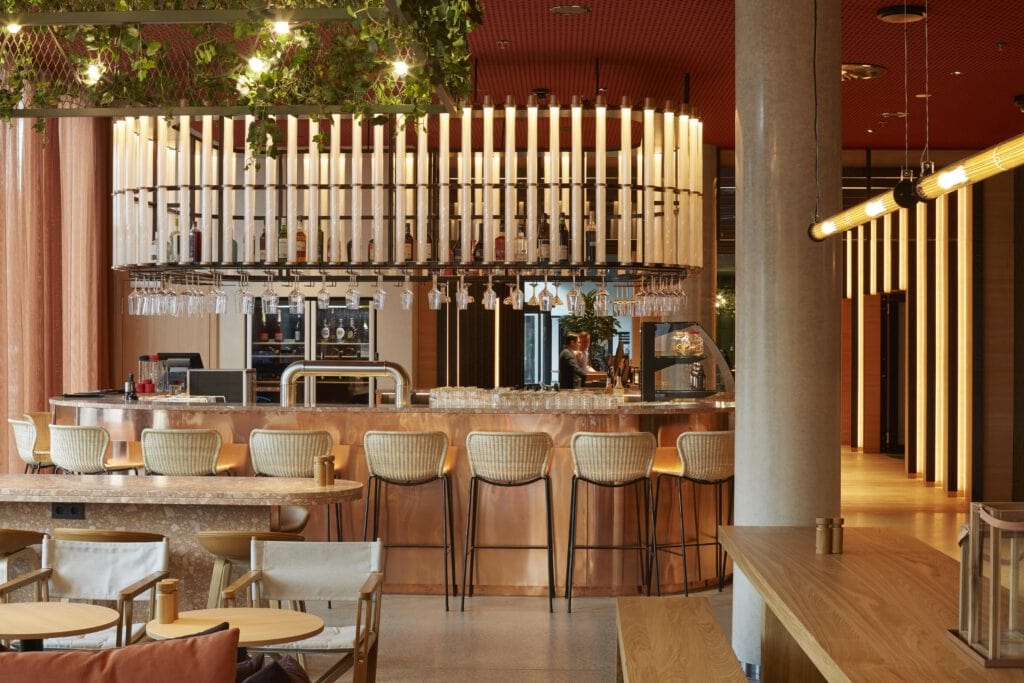 More Informations www.scandichotels.de. ­ ­