Vegetation that grows luxuriantly even when the calendar would dictate otherwise, offering the user the relaxing and regenerating power of greenery at all times: this time SCAB Design, to define its products, chooses the Green House model, which, borrowed from other latitudes, have now become a creative inspiration for local interior design of venues and restaurants, where you can pleasantly enjoy your time.
The leap is short between the jungle effect recreated with decorative materials and the real immersion in the natural elements; even in shared spaces, the focus balances the principles of functionality with the feelings of well-being typically sought within the walls of your home. The boundaries between outdoors and indoors fall and, to this new need, SCAB Design responds with the technical contents and aesthetic lightness of the new 2020 products: the SI-SI family of chairs, the TRICK barstool, both designed by Meneghello Paolelli Associati, and the TRIPÉ table system designed by RadiceOrlandini DesignStudio.
SCAB Design 2020
SI-SI
design by Meneghello Paolelli Associati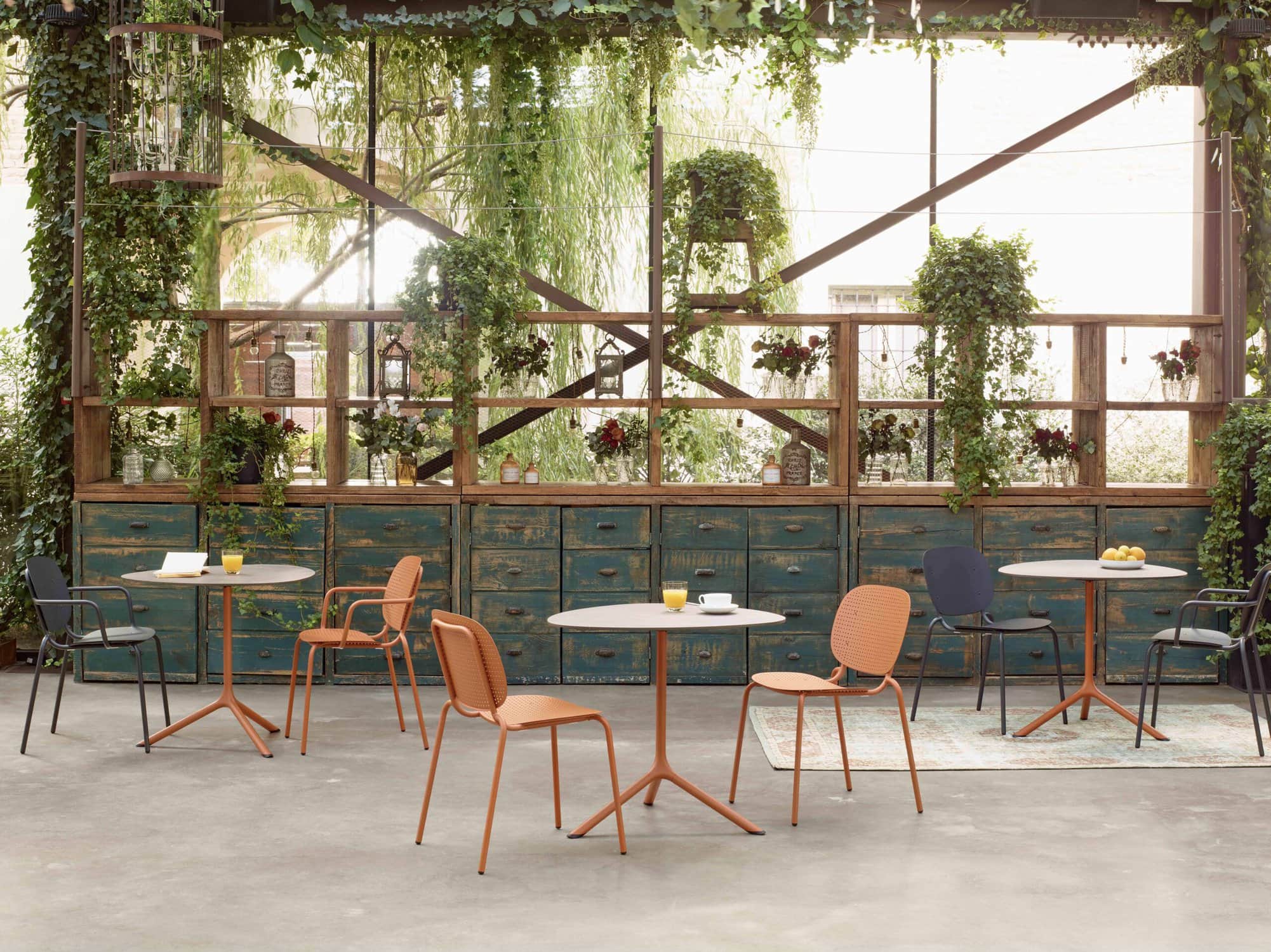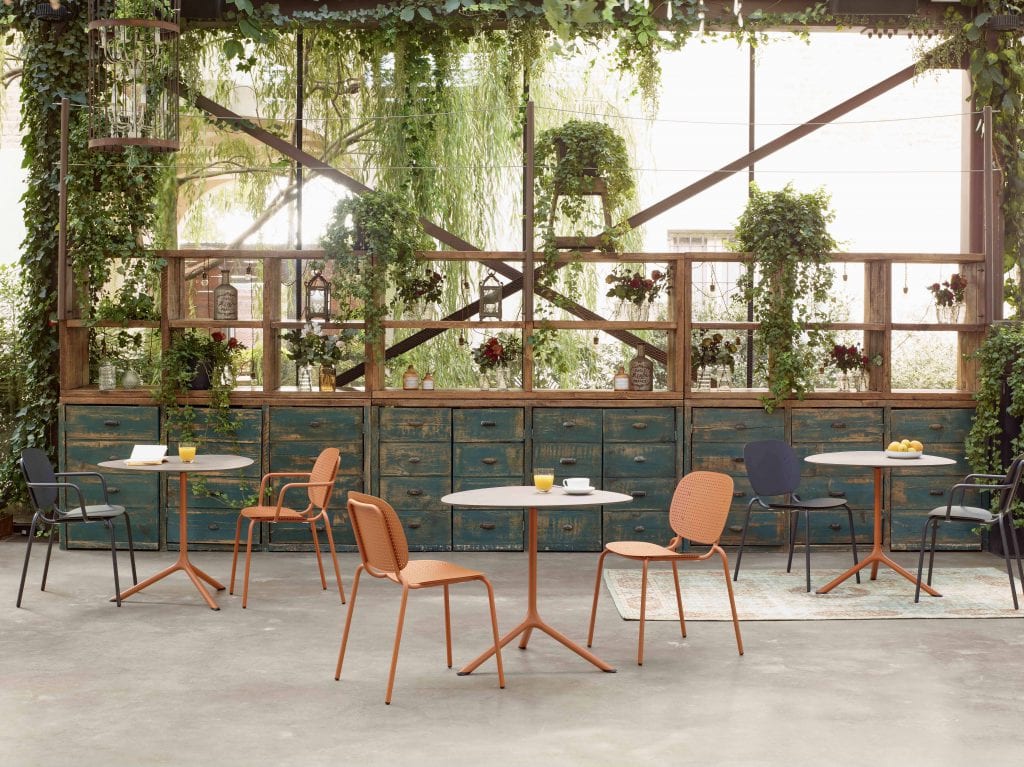 SI-SI, an eclectic, chameleon-like, multi-material seat with aesthetic strength and substance, to interpret the fragile balance between indoor and outdoor. Four basic models, with characterizing details: SI-SI (smooth texture), SI-SI DOTS (dotted texture), SI-SI BARCODE (texture with vertical cuts), and SI-SI WOOD (seat and backrest with wooden slats).
"SI-SI is a smart chair, which doesn't base its strength on the mere aesthetic aspect. Content is the king: its strength is content, its ability to interpret the subtle balance between Indoor and Outdoor Furniture and to meet the needs of the industrial production by SCAB Design. With SI-SI we focused on optimizing the industrial process of the chair from its production up to the supply of "codes" in the warehouse. Frame + seat + backrest: this is the typical construction syntax of a chair. With SI-SI we have streamlined the frame to which a single body is fixed, which can act both as a backrest and as a seat. Hence the name SI-SI, a sound repeated twice, or better yet an element repeated twice! SI-SI is a typical project that we call #SPLIT&MERGE, in which we have broken down a single product into "n" different products thanks to the multitude of bodies and finishes. This "MIX&MATCH", typical of a Design 2.0 approach, in SI-SI contrasts with a logic of "Design 1.0" in which "form follows function". The Mix & Match of finishes and materials determine that SI-SI is almost a "product system" rather than a single product." Meneghello Paolelli Associati
A frame and four "bodies" with heterogeneous textures and materials that make it suitable to very different environments, both outdoor and indoor.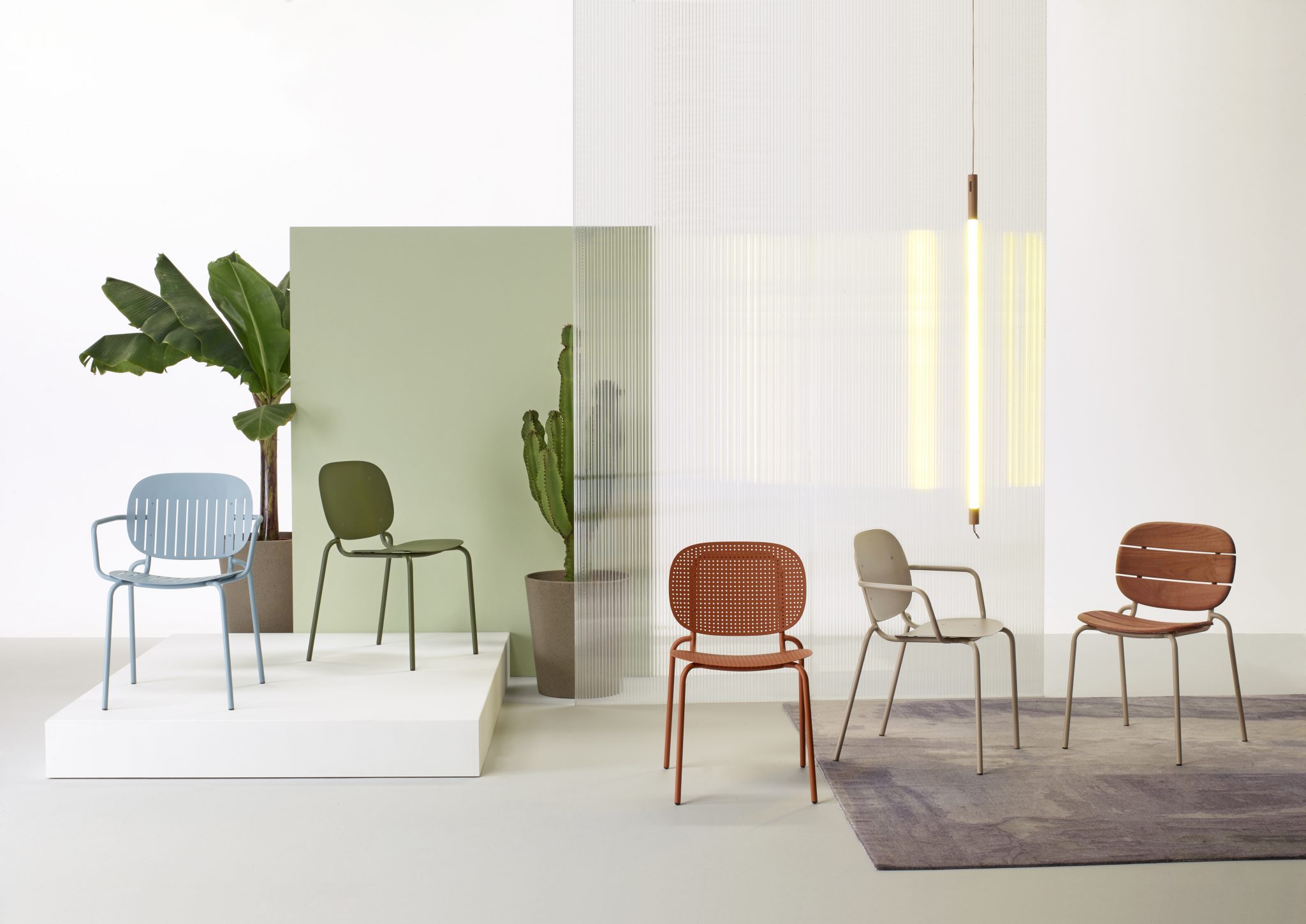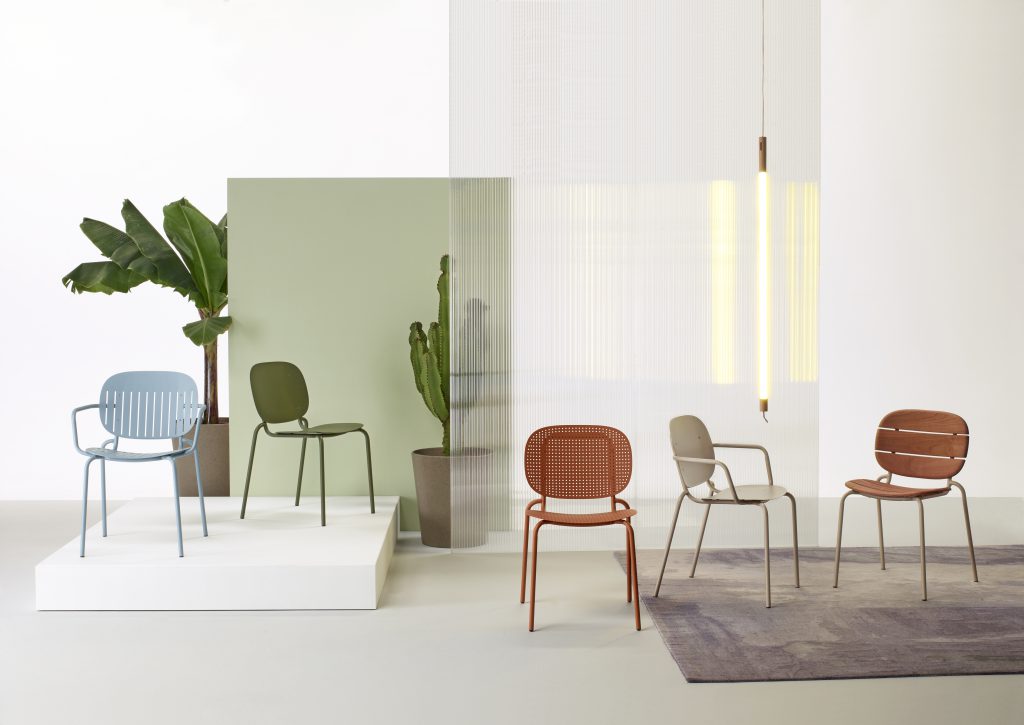 Finishes and dimensions
Chair: 50 x 55 x 80 cm
Chair with armrests: 62 x 55 x 80 cm
Finish: galvanized and painted steel structure
Colors: linen, taupe, anthracite, terracotta, air force blue and olive green
Wood version finishes: galvanized and painted steel frame (dove gray or anthracite), slats (seat and back) in sapelli mahogany treated for outdoor use
---
TRICK
design by Meneghello Paolelli Associati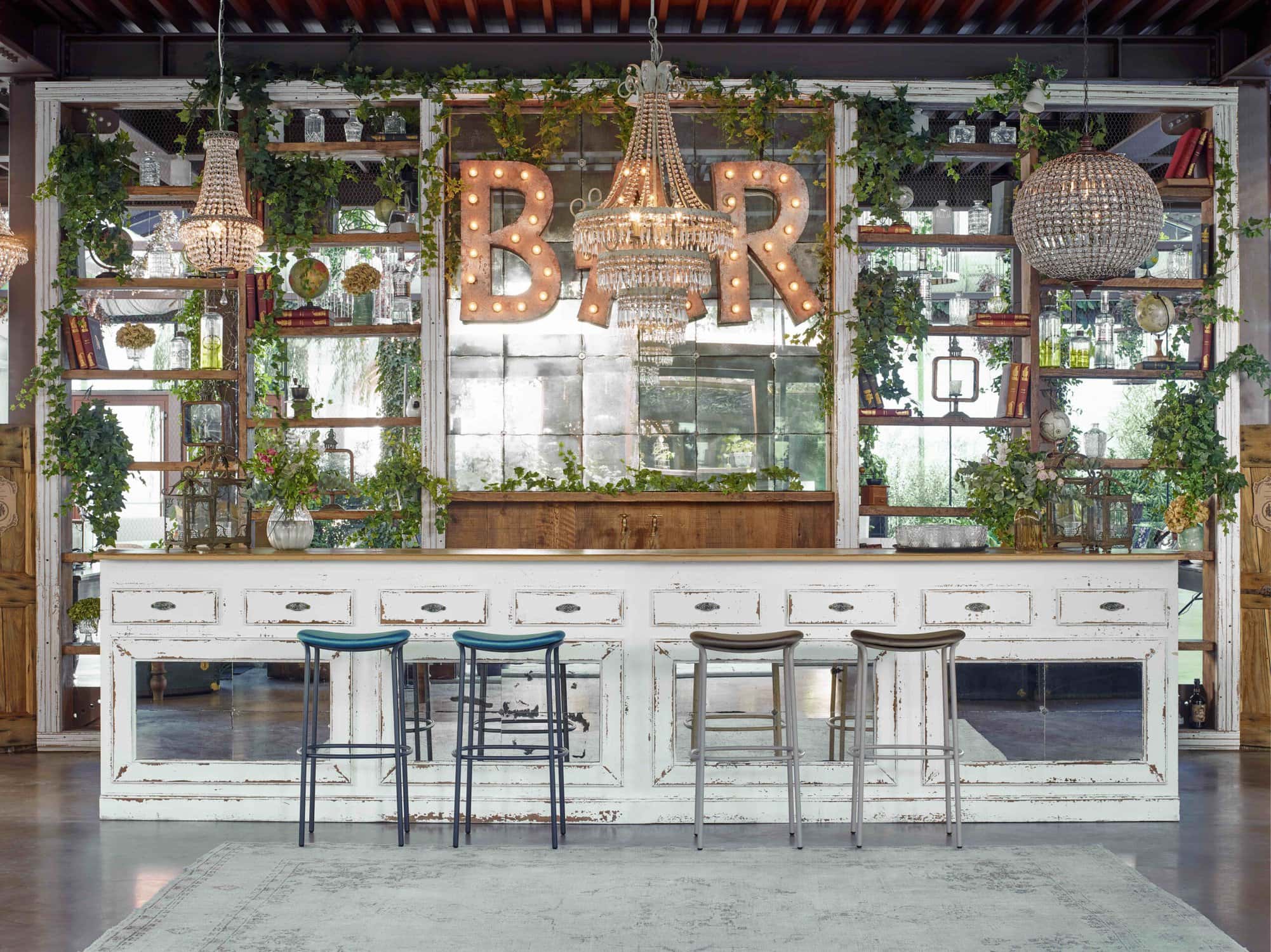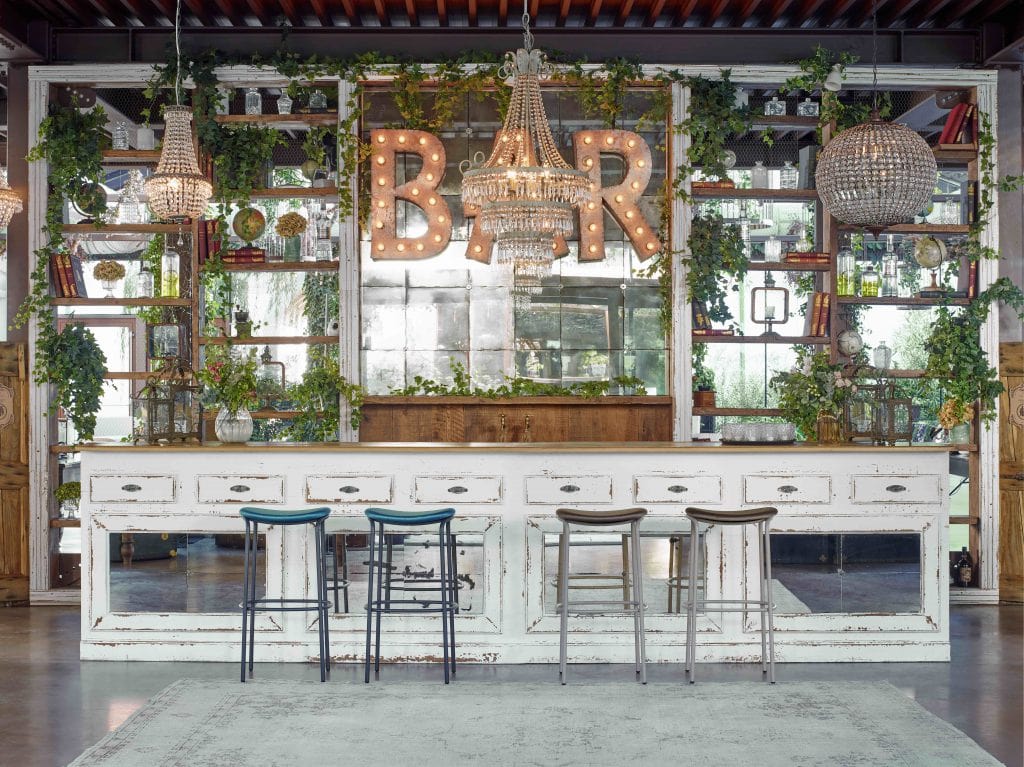 A barstool with a minimalist yet expressive and joyful design. The curves define the metal structure and are the pivotal element of the project; the padded seat is comfortable and enveloping. In harmony and continuity with SI-SI, Trick has also been designed for mass production on an industrial scale.
"In Trick, we can say that aesthetic is a derivation of functionality. This aspect – so basic – in Trick is the element that gives strength, maturity and character to the project. The seat, concave and unbalanced more in width rather than in depth, is the pivot around which the rod frame is molded and wraps it up to the ground. The logical conclusion of the project is therefore the footrest which has the dual purpose of balancing the optical weight of the chair and giving a static effect to the structure." Meneghello Paolelli Associati
The selected choice of colours and finishes (painted or in galvanic matt gold or polished black nickel finish) was made to meet multiple needs. With padded or wooden seat and painted frame or with galvanic finish, it is perfect indoors to become the ideal complement to a bar counter thanks to its great seating comfort. In the painted metal version, it can also live in those hybrid in&out spaces like the outside of venues and covered terraces.
Finishes:
TRICK: galvanized and painted steel frame
TRICK POP: padded seat, in velvet or fabric; galvanized and painted (single color) steel frame. Or in galvanic polished black nickel or matt gold finish
TRICK WOOD: seat in natural or black stained oak; frame in two galvanic finishes (black polished nickel, matt gold) or anthracite painted
Dimensions:
45 x 35 x h 65 or 75 cm
---
TRIPÈ
design by RadiceOrlandini DesignStudio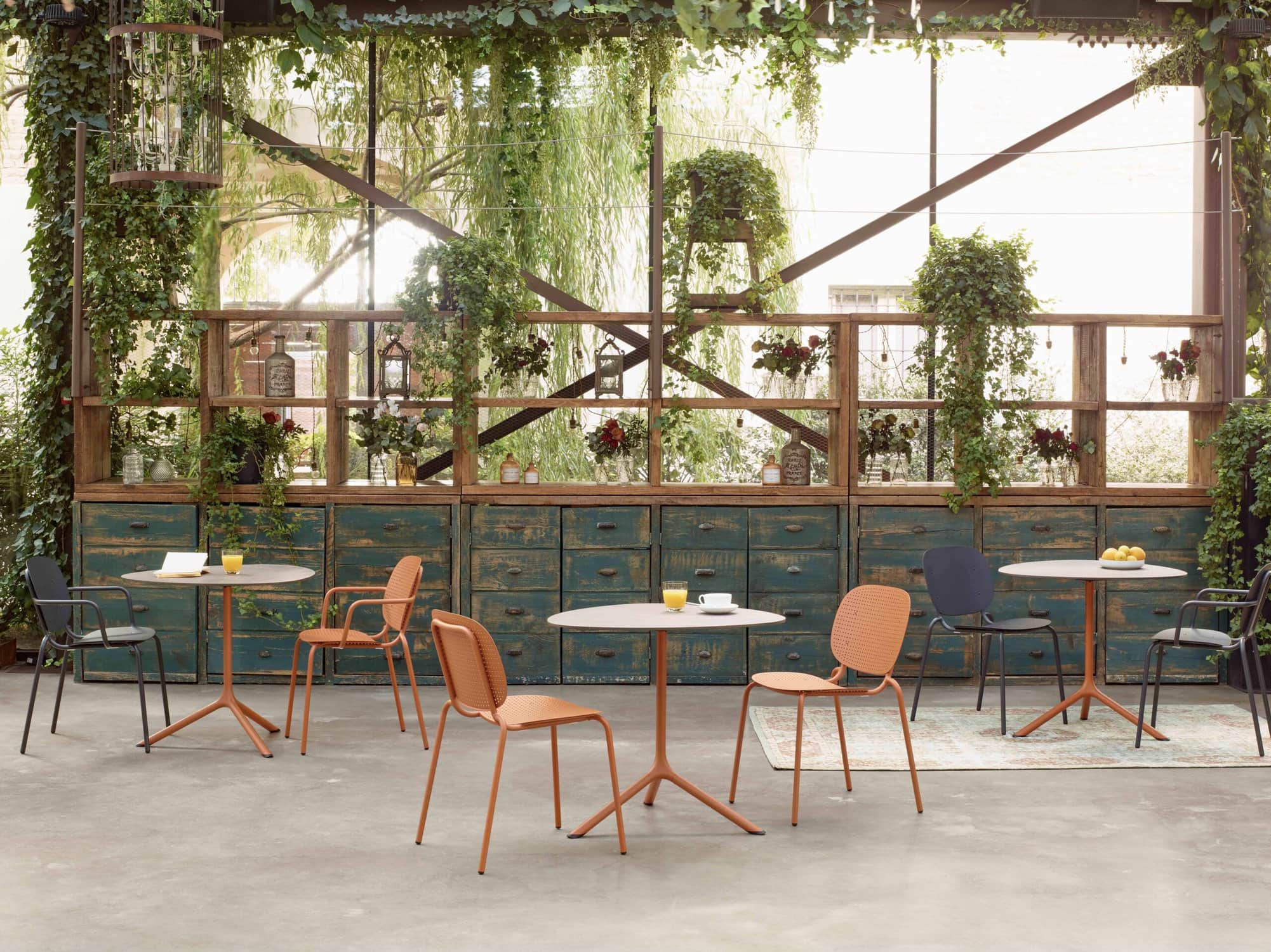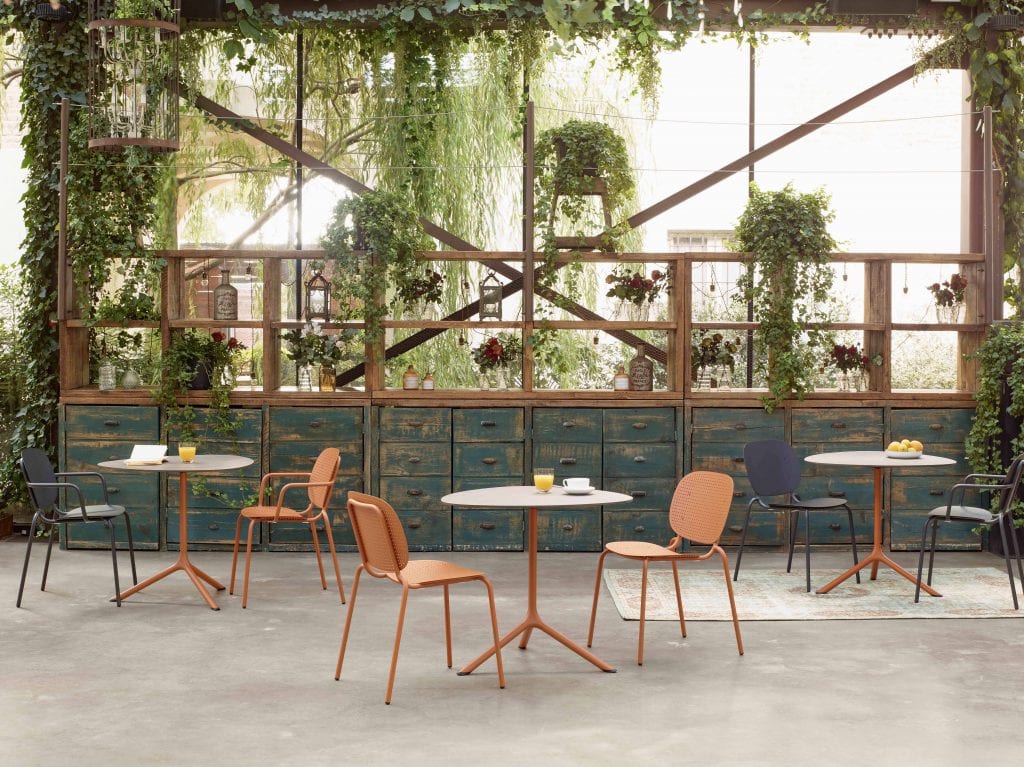 Tripè is the new extraordinary three-spoke system of tables of the SCAB Design offer, proposing an organic project.
"When we approached this theme, we had the firm conviction of turning it around and "tearing it to pieces" to find ways to make it not only beautiful, but also new and innovative (which are not the same thing). Perhaps it is this attitude that is anything but superficial that has allowed us to create an object that has something to say in a world now saturated with objects similar to one another." Folco Orlandini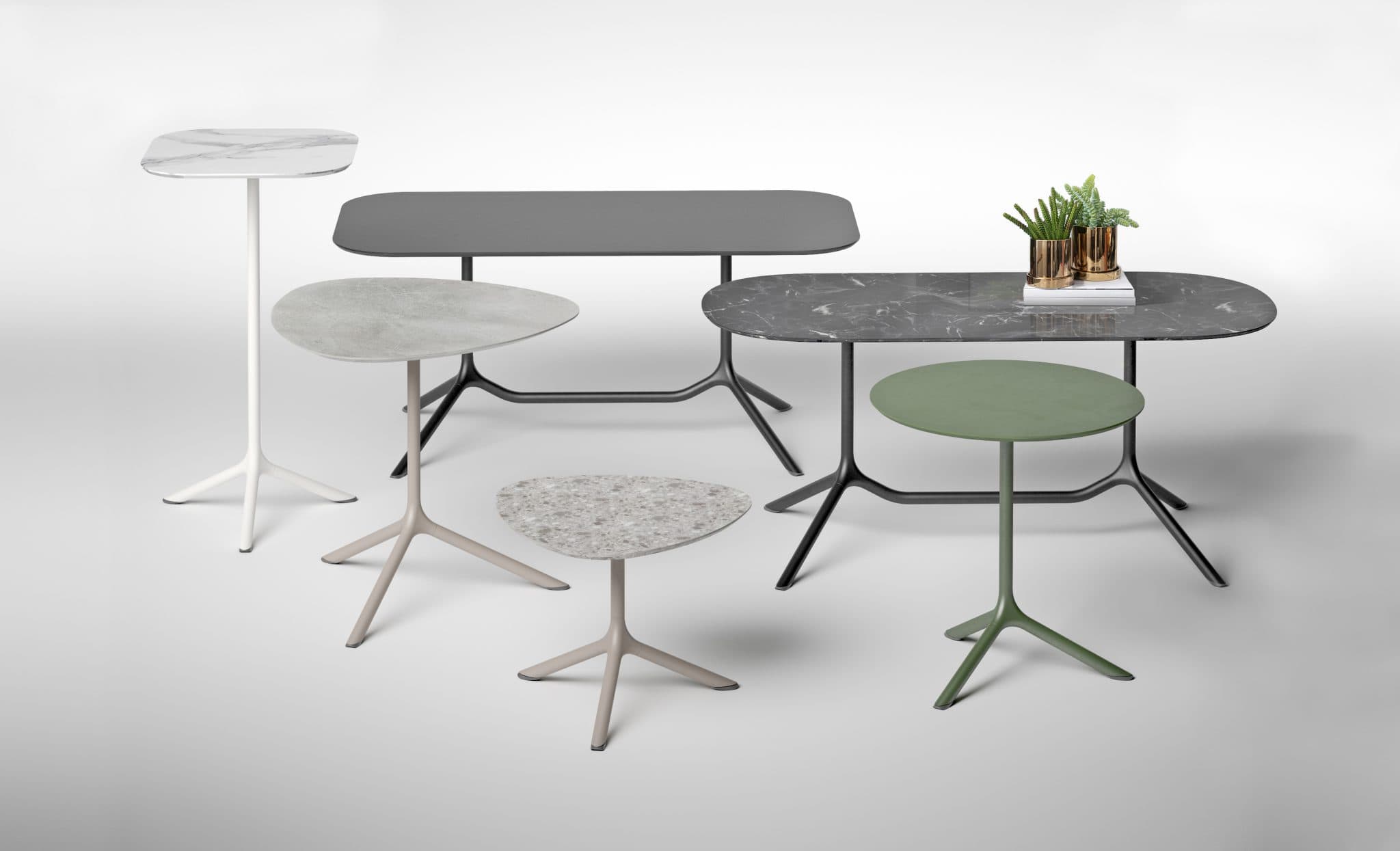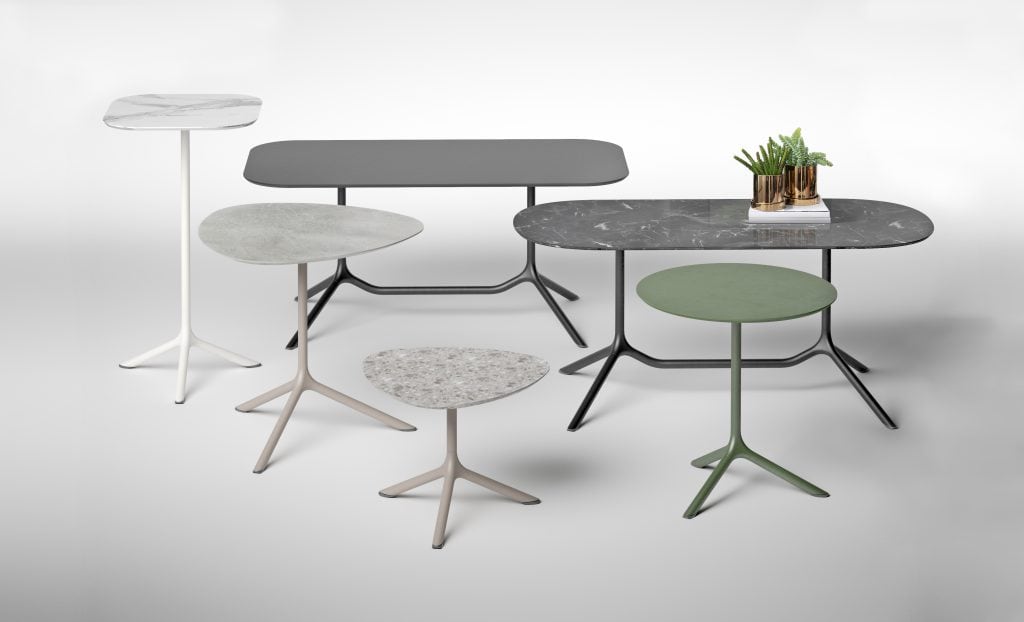 An object in which functionality, design, minimalism and recognisability find the right synthesis. The steel base is in fact not a traditional monobloc, it is made up of several elements, connected by one or more joints in die-cast aluminum, that can be diversified and replaced according to the need to compose single tables or double column tables. A true industrial project where the economic component also has the right weight.
"Tripè is a project with a friendly face and a pragmatic heart. Considering it a simple table is an oversimplification. It was conceived to become a truly flexible and multifaceted system, which can give life to a vast line of shapes and sizes of tables and complements for the home and public areas." RadiceOrlandini DesignStudio
Finishes and dimensions
Steel three-spoke bases (dia. 35 mm): coated, indoor and outdoor use.
Combined with compact laminate tops in new shapes and different finishes.
Steel finishes: powder coated white – powder coated dove grey – powder coated anthracite – powder coated terracotta – powder coated air-force blue – powder coated olive green – powder coated black.
Top compact laminate: finishes and dimensions
– drop shape (cm 85×85 or cm 65×65), stone, grit or Corten effect;
– square with rounded corners (cm 60×60, 70×70, 80×80), stone, grit, Corten, white Carrara marble or black marble effect;
– rectangular with rounded corners (cm 140×70 or 160×80), concrete, white Carrara marble or black marble effect for the basement with double column;
– oval (cm 160×70), concrete, white Carrara marble or black marble effect for the basement with double column.