ROCK Collection by 13&9 Design for Wever & Ducré, Graz // Lighting
The ROCK Collection demonstrates 13&9's mission to think independently and adapt materials for applications beyond their intended purposes – such as using natural stone to create round shale shades for lighting.
Honored for this example new interpretations for shading solutions, Rock Light was a finalist at Interior Design Magazine's Best of Year Award 2014.
ROCK is a fusion of light and furniture – in different sizes and proportions. This offers a lot of freedom in design and countless possibilities for use. The unique thing about it: the wafer-thin veneers made of natural slate stone, which are available in three different colours. The frames are milled from lacquered MDF.
ROCK Collection at HQ Volksbank South Tyrol, Italy, Photo: Paul Ott
This contemporary lighting is defined by its minimalistic design and the innovative application of a unique material used for the shades – stone. For the ROCK Collection Wever & Ducré worked together with 13&9 Design.
Sleek, modular and attractive, the ROCK Collection is well suited for hospitality settings and would be ideal for lounges, lobbies, restaurants, hotel or living rooms. The combination of the lamps – table, floor, wall, pendent, ceiling- and tables enables playful settings through the variety of sizes and proportions and allows versatile applications.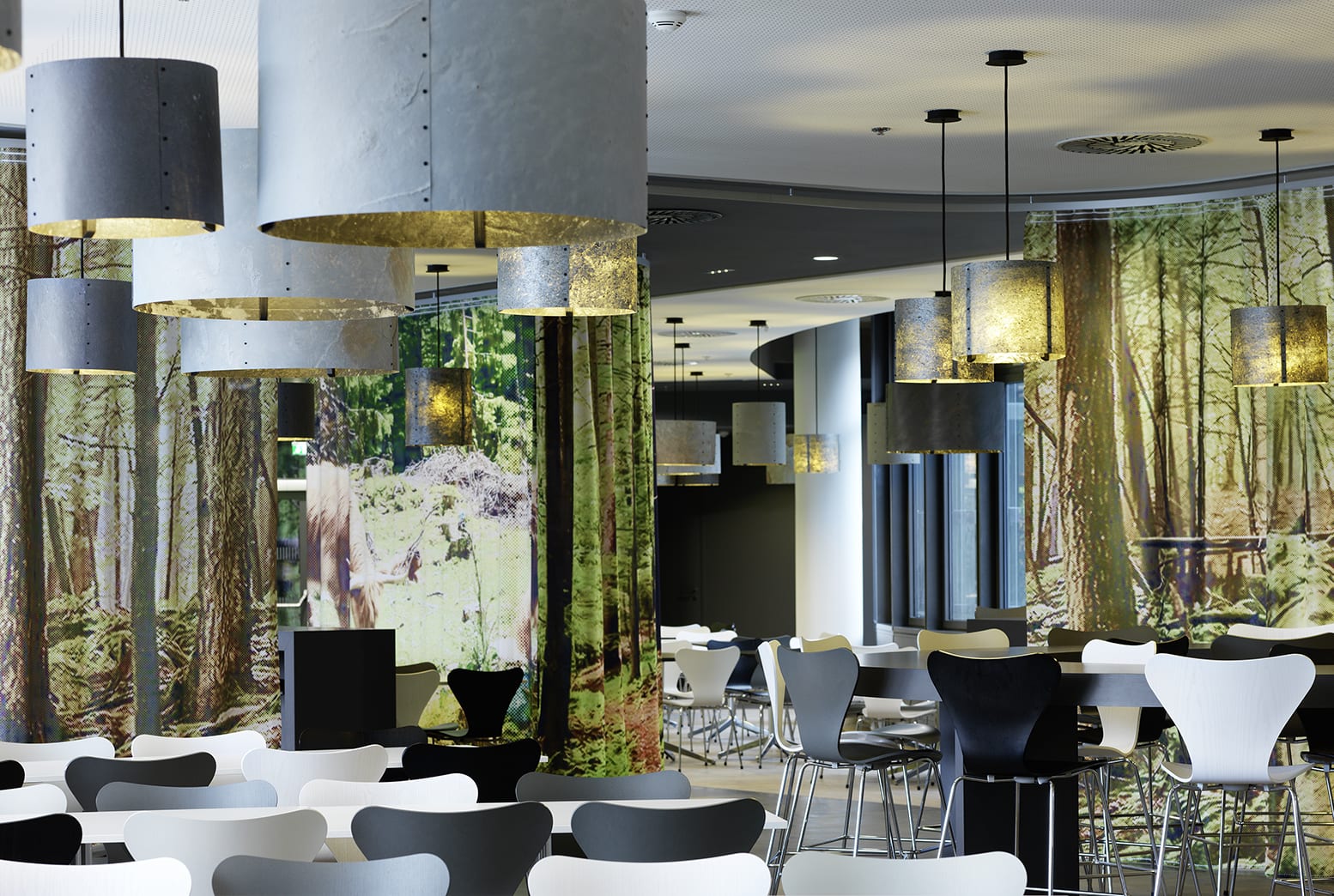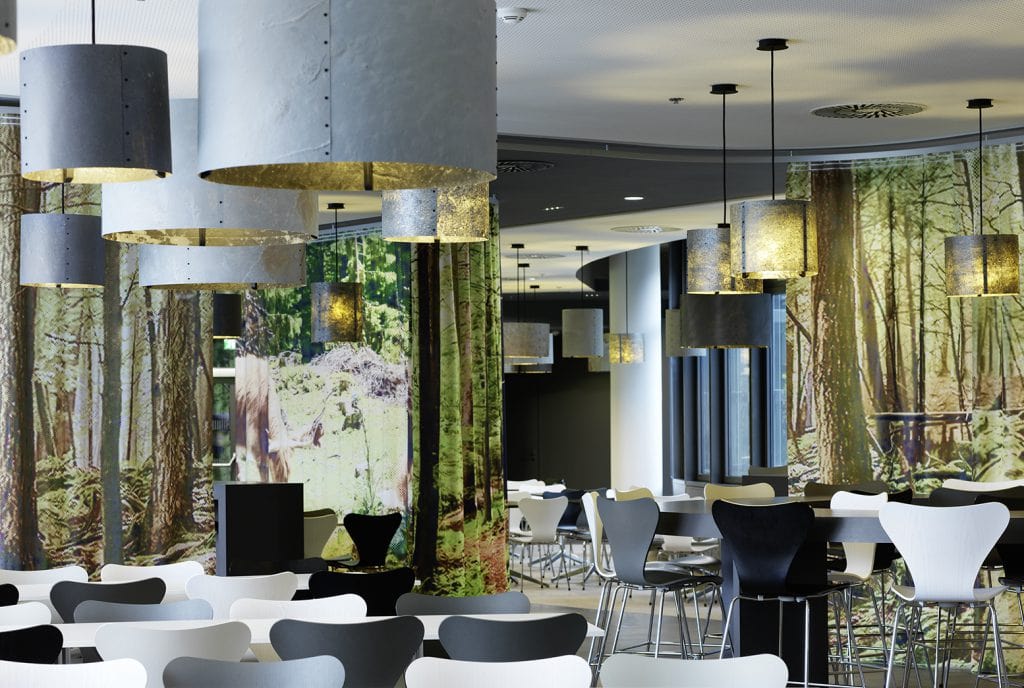 ---
In the 1980s, a handful of young Belgians founded a lighting company. The name Wever & Ducré is based on the five foundations for success in life: hard work (WErklust), trust (VERtrouwen), enthusiasm (DUrf), coupled with courage and a good portion of creativity (CREativiteit). Today Wever & Ducré is known for trendy lights with LEDs of the latest generation.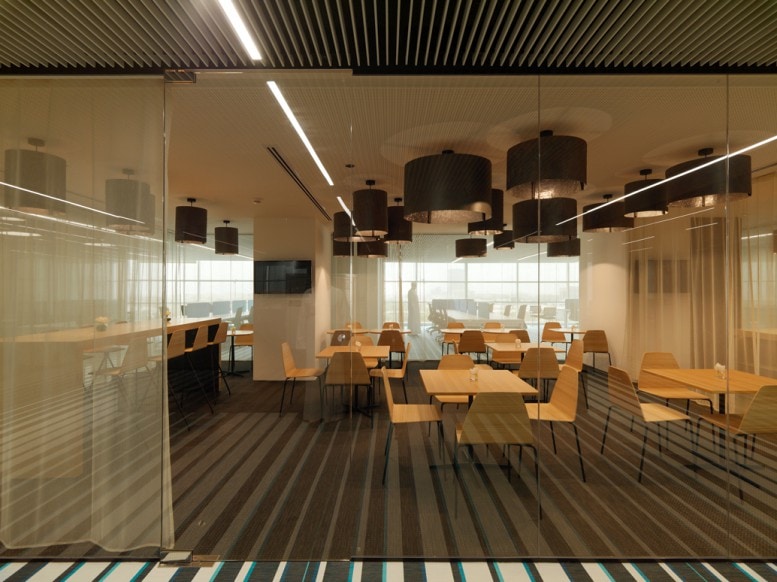 13&9 Design is a transdisciplinary design studio from Graz, which was founded by Martin Lesjak, managing director of the architectural office INNOCAD, and designer Anastasija Lesjak. The designs in their entirety combine functional requirements, innovation and conceptual aesthetics with the desire to offer an emotional level for their users as well as added value to the product – "the soul" of 13&9.
Details
Product: ROCK CEILING SUSPENDED 4.0 Autumn White
Product Line: ROCK COLLECTION
Year: 2016
Material: Slate veneer
Dimensions: height 425 mm, diameter 560 mm
Weight: 3,5 – 5,5 kg
Design: 13&9 Design GmbH, Graz
Production: Wever & Ducré GmbH, Graz
Member of Creative Industries Styria: 13&9 Design
Photos: Paul Ott
---
Styrian Products is a programme of the Creative Industries Styria (CIS) to raise awareness of good design and the associated economic added value. The selected examples are ambassadors for good design, for intelligent strategies and clever solutions in the context of design. Each Styrian Product tells a success story and thus reflects the potential of an entire region – Styria – and its creative talents. And each product is selected according to the motto "created in Styria – produced in Styria – sold worldwide".