Querkraft architects from vienna are the creative minds behind the austrian pavilion at the expo in dubai. We spoke to owner and partner Gerd Erhartt about what makes a life successful expo appearance, the climate concepts of the future and the importance of emotional connection in designing a more sustainable future.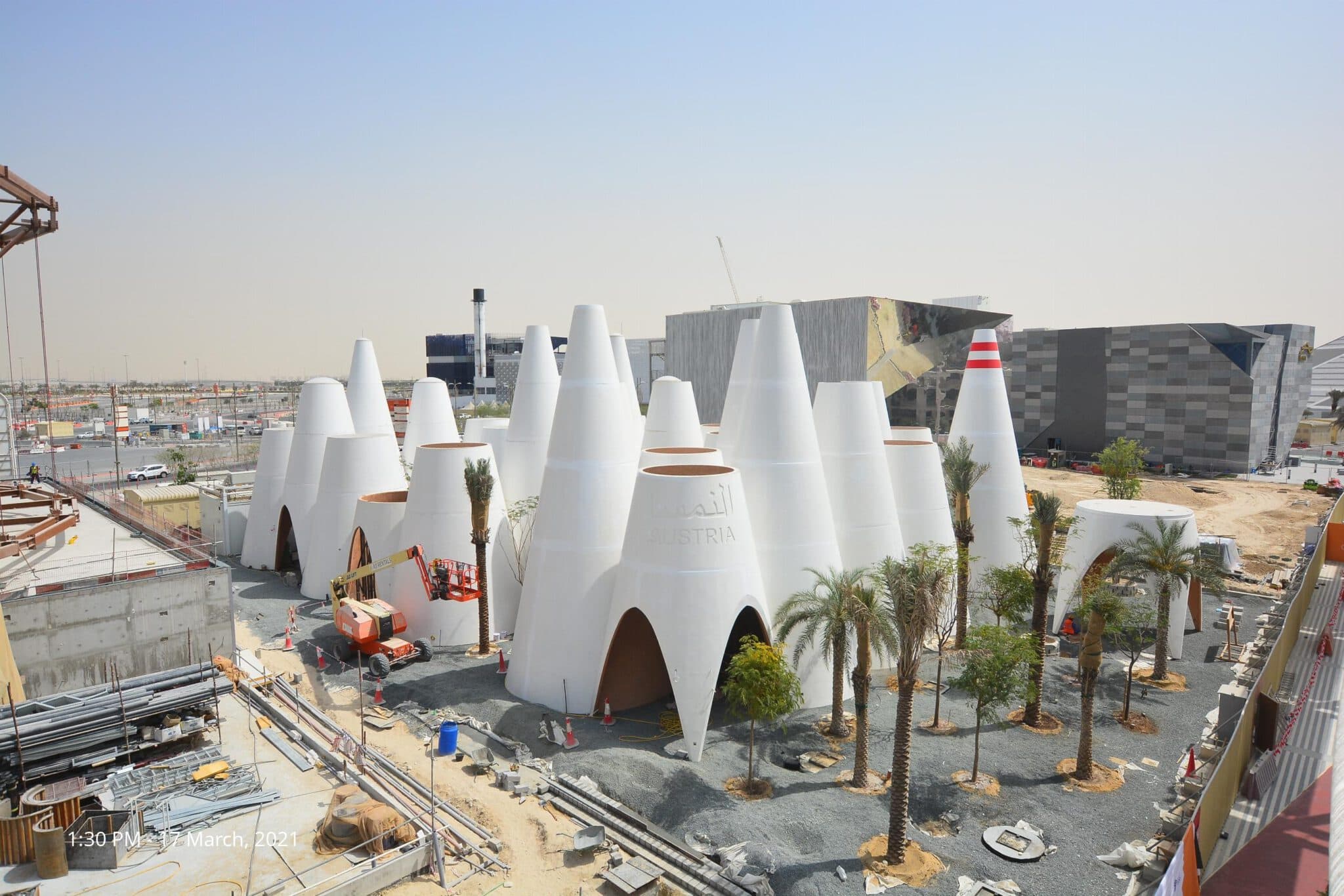 What can we expect from the Austrian Expo pavilion?
Gerd Erhartt: First and foremost, a sensory experience. That will probably make it quite different to the other pavilions. The spatial experience we've developed is further emphasised by installations by ars electronica solutions, exhibition design by Büro Wien and graphic design by Bleed.
So what does your architectural concept consist of, and why is it so different to the others?
The Expo is a scramble for attention. We believe that the only way to gain attention is through paring back, as otherwise you're just a part of what generally happens at the Expo: overstimulation and an information overload. For us as architects, it's important to take the specific location into consideration, and because this Expo is the first to take place in an Arab country, we worked with traditional Arab architecture. In doing so, we came across bādgir – windcatchers that create pressure and vacuum conditions in a building and create an effect similar to that of a fireplace in order to provide a constant flow of air. We translated this principle into a different architectural language and combined it with Austrian expertise and climate engineering. We wanted to contribute to the general debate about how it's possible to plan and build in a way that conserves energy and resources.
What approach did you take?
When building, there are two aspects you can focus on: constructing the building as a single action, and the running of the building. 50% of harmful emissions are produced during the construction of a building, so the first goal should be to create a building with as long a life span as possible. When it comes to running the building, the goal is for it to use as little energy as possible. The aspect of life span is especially important for us, as that's where we deal with emotional sustainability. We need to create buildings, and products in general, that we can form a personal and emotional connection with.
What difference does an emotional connection make?
When we form an emotional connection and grow fond of a product, we will use it for as long as possible. That applies crucially to our buildings, because a huge amount of energy is stored in them during construction. If we hadn't designed a pavilion that triggered emotions in people, we wouldn't have had the possibility to give it a subsequent use. So it's been built using prefabricated, individual components, meaning it can be disassembled and rebuilt somewhere else. Like a Lego set, it can also be put back together in a completely different way and even be customised for a new use. After all, one of the most un-environmentally friendly things we could do would be to put up a building for six months and then destroy it.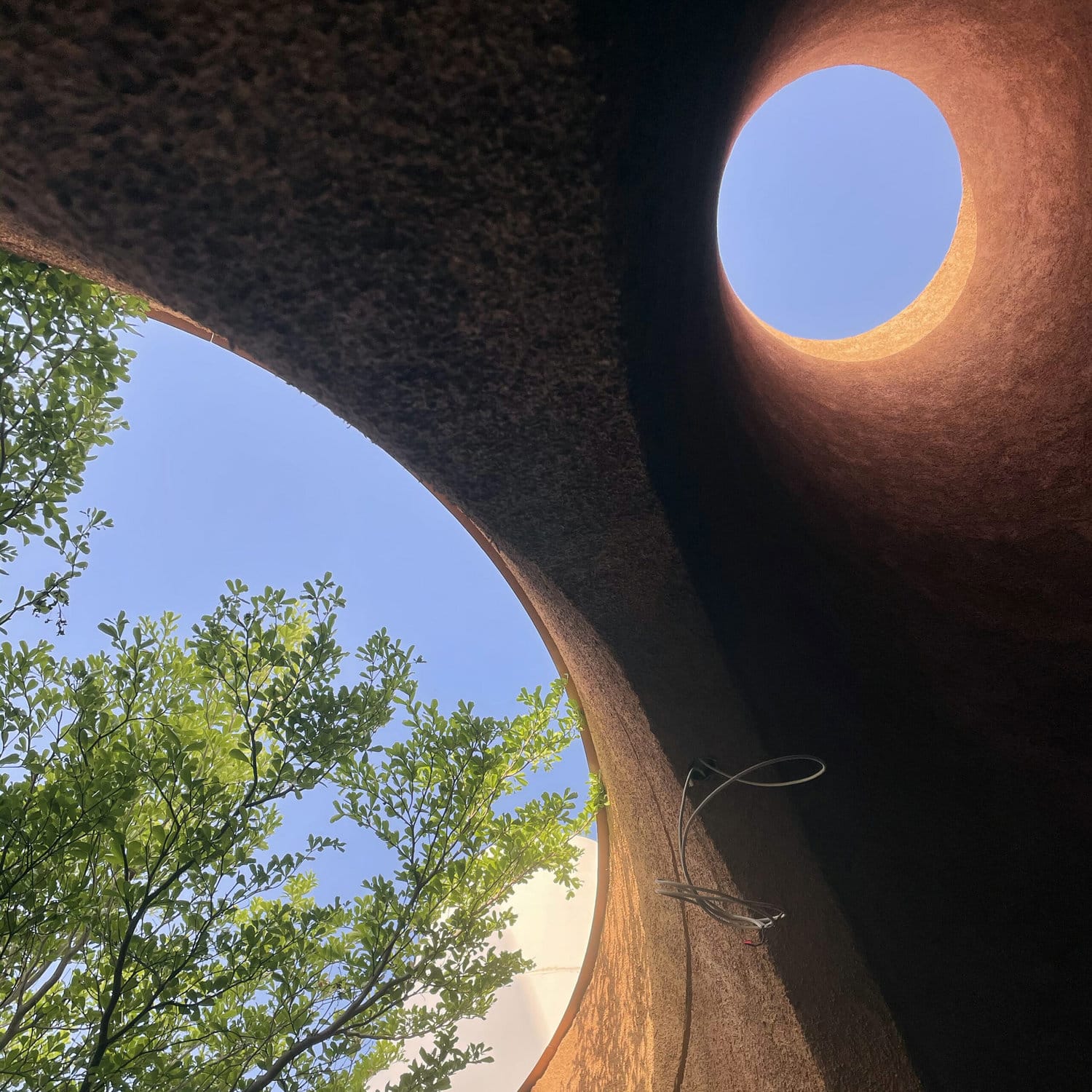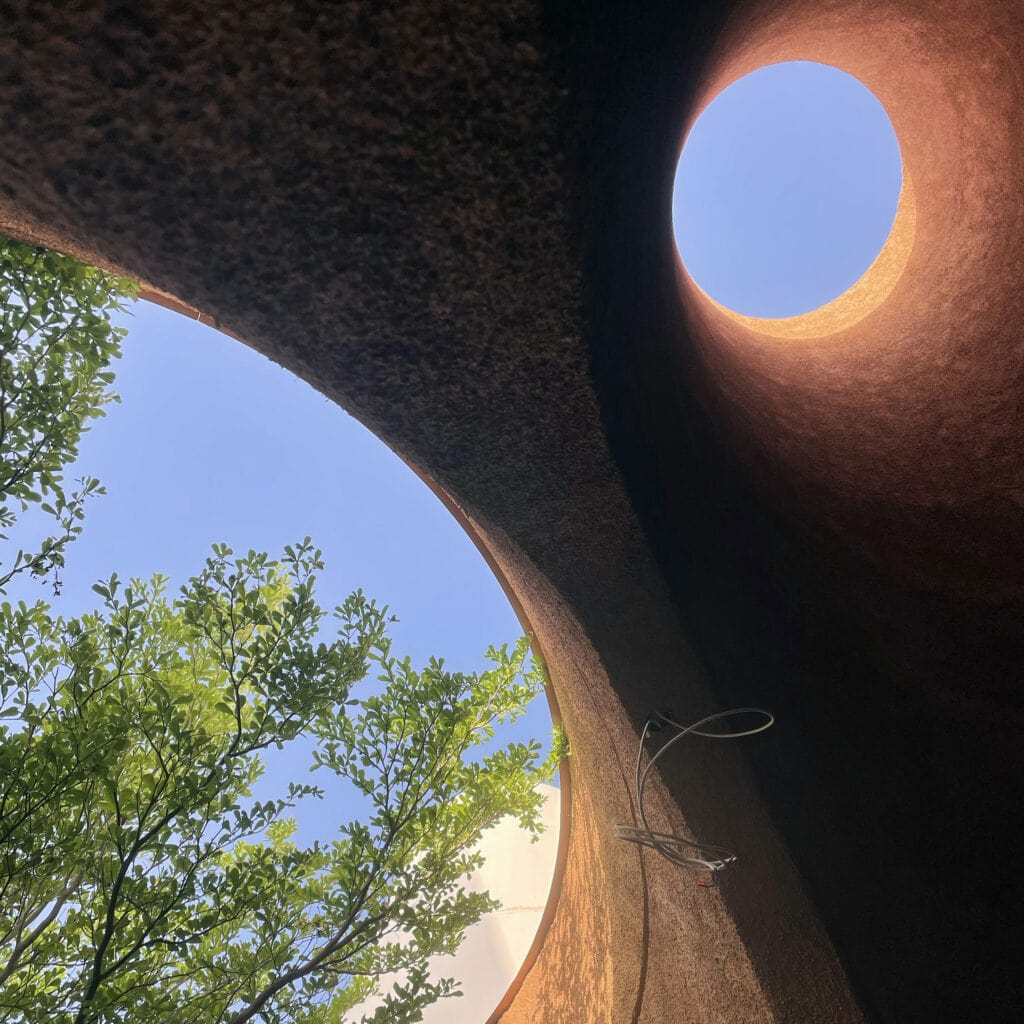 Aside from subsequent reuse, what makes the pavilion environmentally friendly?
We worked with engineering company P. Jung on climate engineering that's targeted at making the most of the natural aerodynamics. There are always varying vacuum and pressure conditions in the cones that make up the pavilion, which create natural convection. The pavilion regulates itself primarily via the difference between day and night. Cool air is stored in the storage mass during the night, and it is then fed into the cones during the day. This rhythm of day and night is at the heart of our climate concept, whereby we make the most of the swings in temperature.
The 38 cones that form the pavilion intersect one another. What was the desired effect?
It's an important design element, as through the intersections emerges a columned hall that's reminiscent of an Arabian mosque. The cones are also cut to four different heights, resulting in varying lighting moods that change constantly according to the position of the sun. The prolific planting, misting and natural convection ensure a pleasant visit.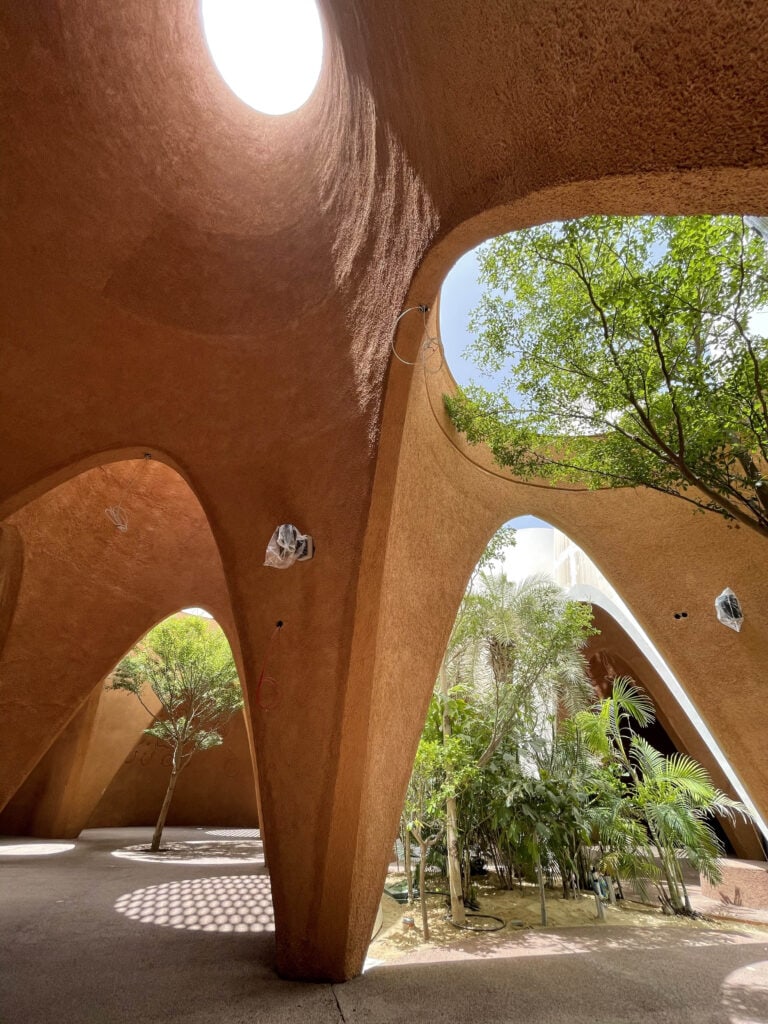 What are the prefabricated components made out of ?
The pavilion is made from prefabricated concrete shells that have been put together like a Lego set, meaning it can be taken apart and put back together again in a different place, adapted to meet different requirements. It is plastered on the inside with a layer of clay that fulfils an important climatic function.
The name of the project is "Austria makes Sense". How is this displayed?
This name should be interpreted in its double meaning, because we've created a pavilion that addresses all of the human senses. Architecture and exhibition produce an overall sensory experience – for example, there isn't a single piece of text in the main exhibition space. We work with graphic design and icons, and the installations speak for themselves. They appeal to the senses. The cones are depicted as bodies of sound or currents of air through simulations. The pavilion aims to achieve a sensory experience because we believe that ultimately, amid the total sensory overload on the Expo site, it's only a strong emotion that will be remembered.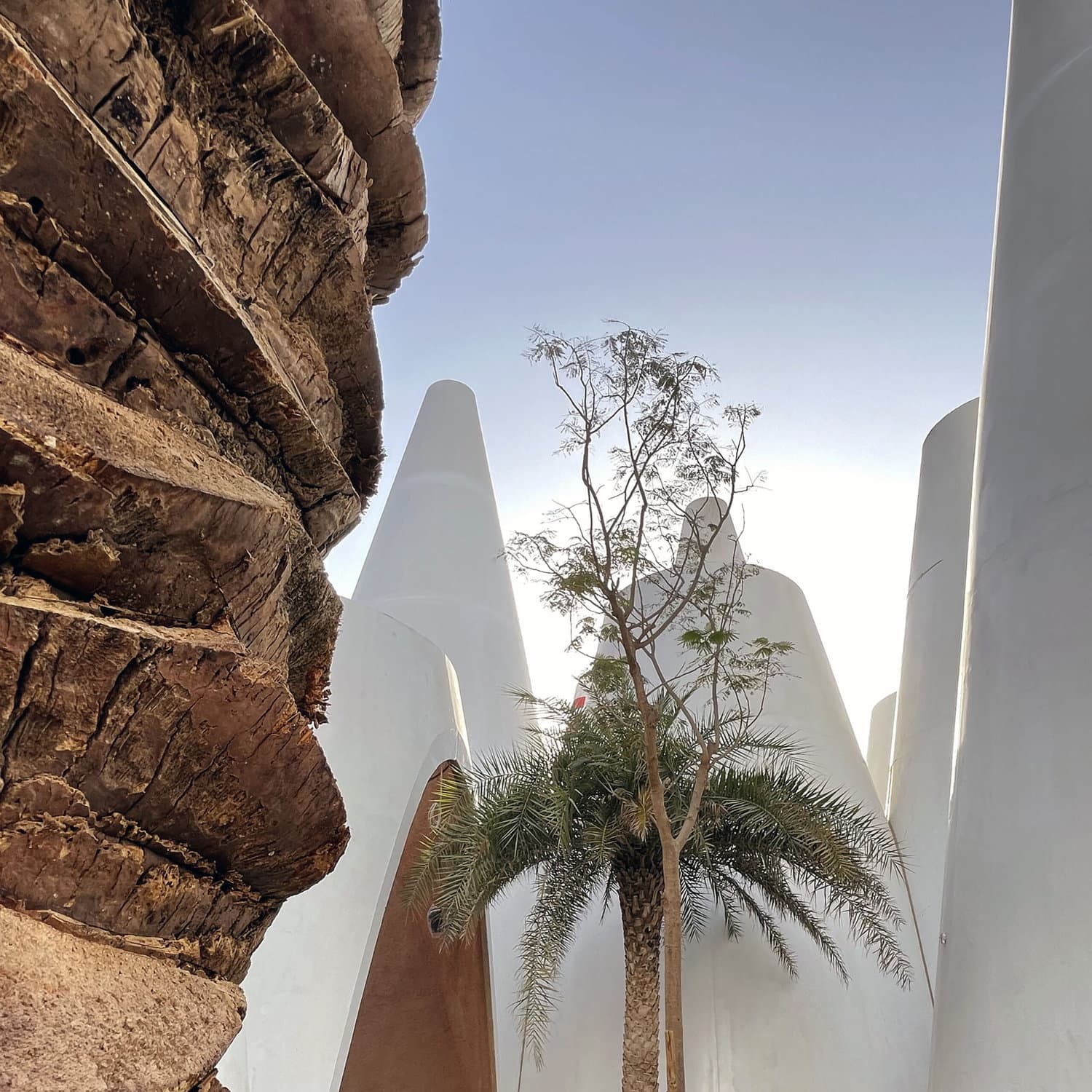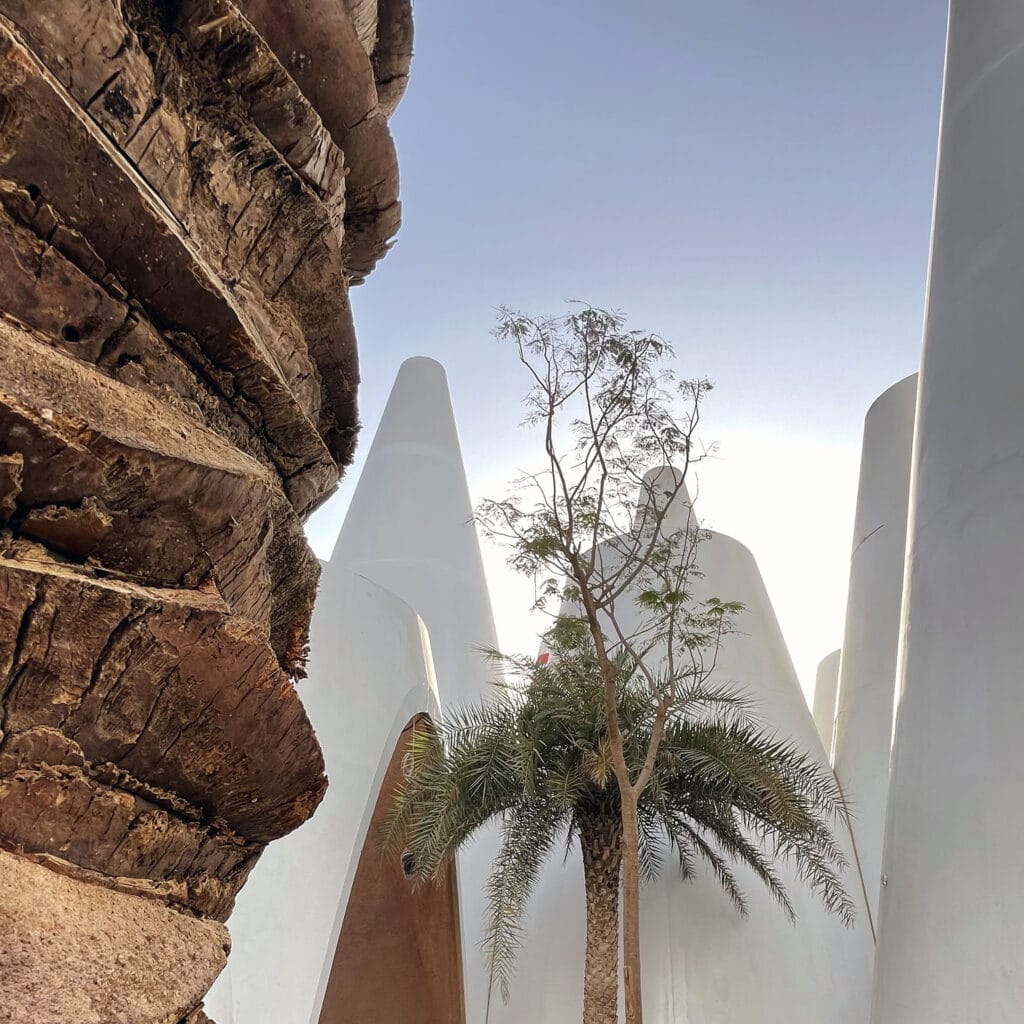 How important is the question of meaning in general for you as architects?
The question of meaning is essential to us. The construction industry as a whole is responsible for 30 to 40% of harmful CO₂ emissions, so I need to consider questions of meaning for every project. The first is: does it make sense to construct this building? There are projects like sponsored residential, cultural and educational buildings that make this question easier to clarify. Creating the highest quality residential building is a very meaningful task and satisfies basic human needs. That's a bit harder to do at an Expo.
Why did you take part anyway?
After lengthy deliberation, we decided to participate because the Expo is an opportunity to reach many people from different walks of life. That kind of opportunity doesn't come about very often. We wanted to make a contribution to the discussion around climate-friendly, resource-efficient interaction with our planet. The pavilion has been powerfully received and discussed at length across diverse fields.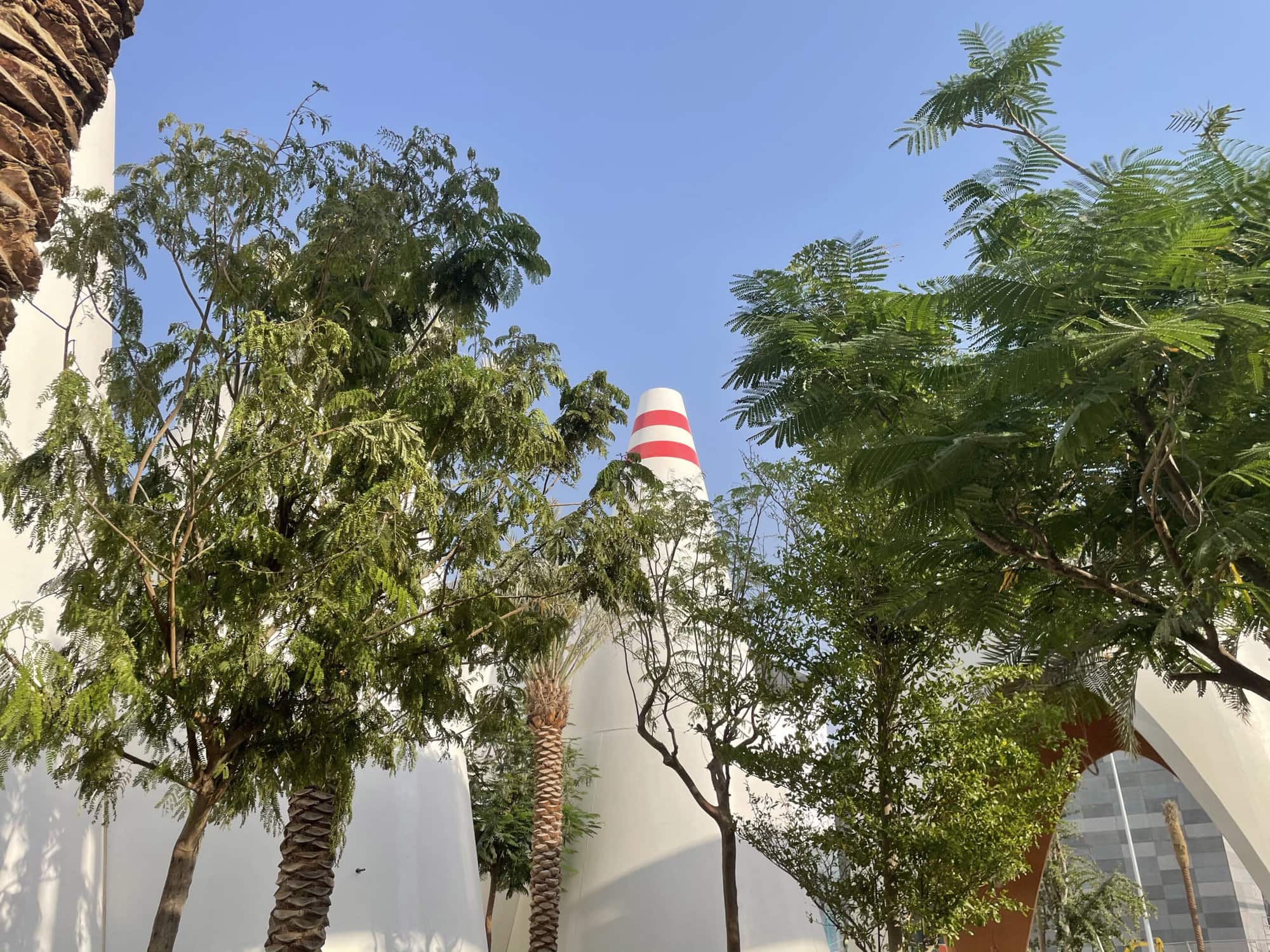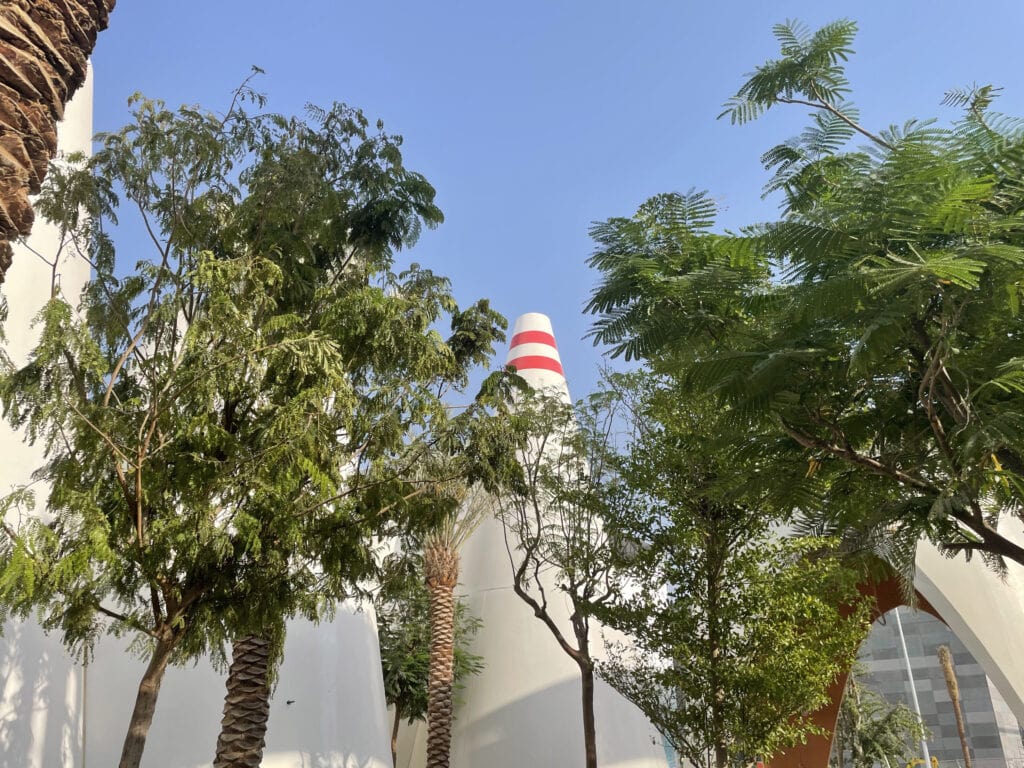 How much of a role do architects or architecture play in designing the future, and how much do you personally or as querkraft want to be involved?
When we look at our lifetime, we spend most of it in an architecturally designed exterior or interior. That means that we as architects have a huge influence on people and play a crucial role in shaping their attitude towards life. And when we take into account the financial aspects, it's clear that we spend the majority of our personal assets on our living space. Architecture therefore has an enormous impact on people's lives.
What can you deduce about people and society from architecture?
You can clearly see the balance of power in a society. Bank, insurance and telecoms buildings are usually glass palaces, in contrast with social housing, where every bit of window space requires immense commitment. This is a good example of where money is being allocated and where it's not. But I've always been positive about it and I believe that a paradigm shift is needed. Even fifty years ago, unlimited growth was questioned. We need a different kind of growth to economic growth. All we can do now is adapt our lives. But I don't think that's anything negative, quite the opposite: it's a win for quality of life.
What would you like to create in future?
I'd like for the idea that we're currently laying the foundation for future generations to be established in our society. That everyone involved in the construction process is aware of this responsibility and acts accordingly, not just for short-term profit. But it's not just about construction, it's about all areas of life. If we were to economise, a better version of the world would emerge.
Photos: www.andreas keller-fotografie.de, querkraft-alvarez, querkraft architects
---
About Querkraft architects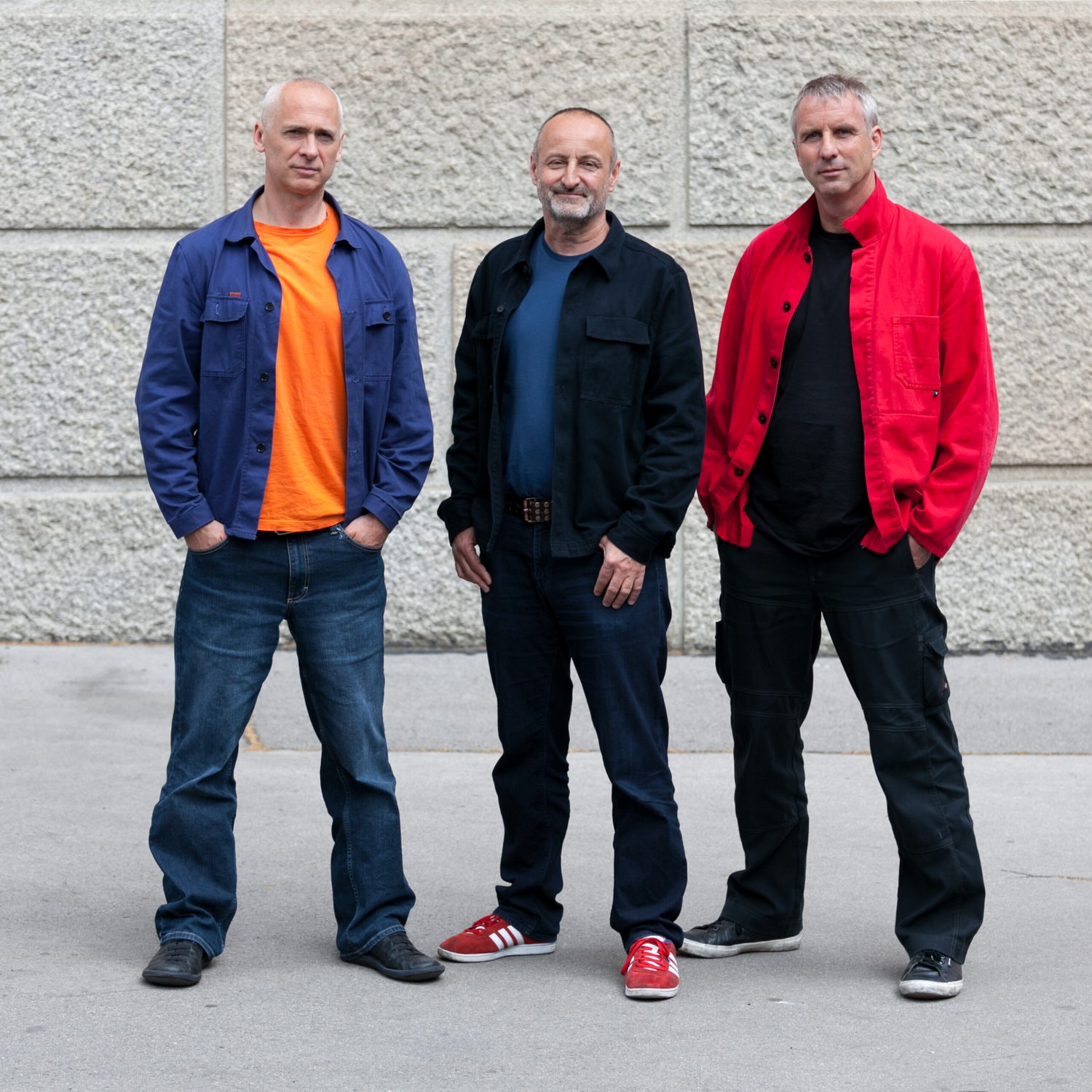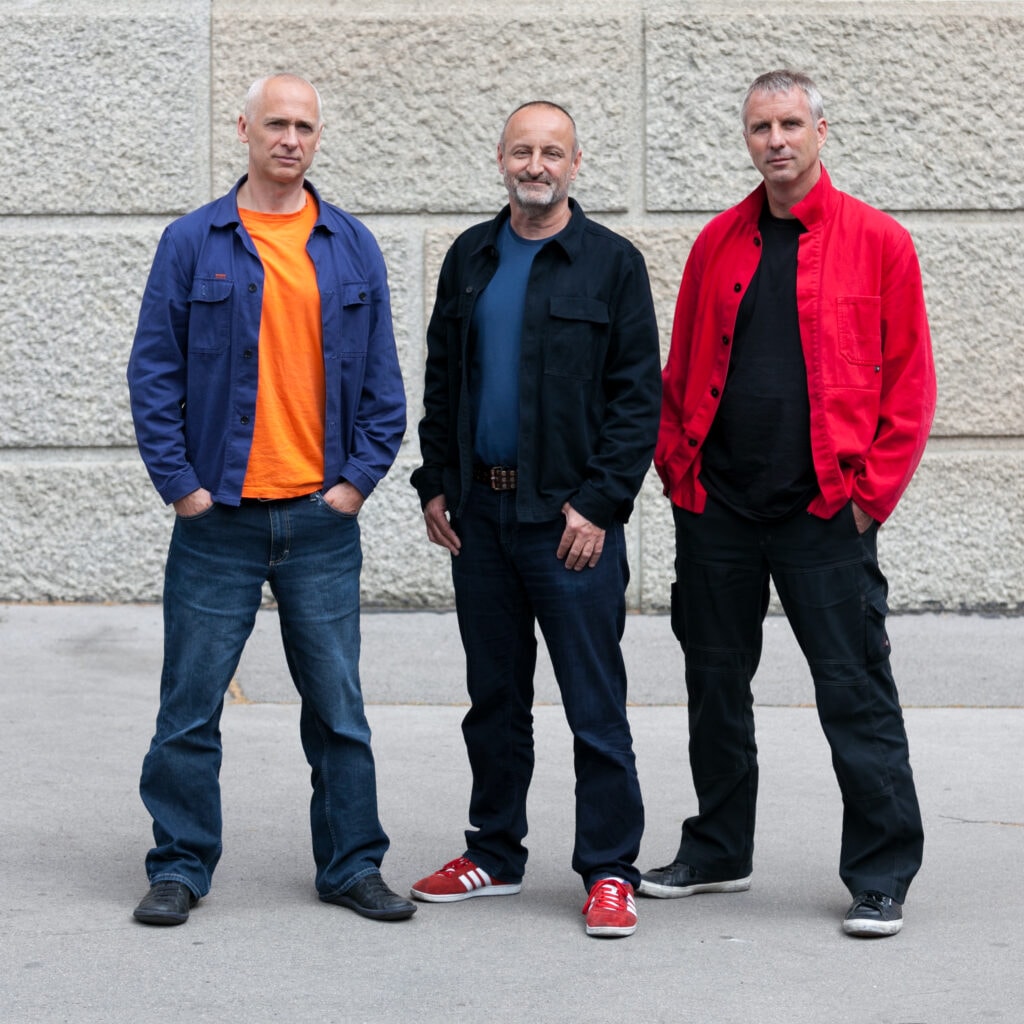 Adopting a philosophy of poetic pragmatism, the architectural company Querkraft, founded in 1998 devotes itself to projects and processes that place people front and centre. More than 100 projects, competitions and buildings – local and international – are a testament to the successful work of the team of around 45 employees. querkraft defines "Giving people space" as a leitmotif and thus formulates the permanent striving for generosity in spatial design as well as freedom to develop for the users, to create emotionally more sustainable projects.