Michael Kovacek is one of the founders of the Viennese auction house im Kinsky and, as he will tell you himself, has dedicated himself "body and soul" to art. We discuss the thrill of the auctions, the passion for collecting and why record prices are always worthy of making the headlines.
Interview: Nina Prehofer
How do you perceive the level of knowledge of art amongst Austrians?
Michael Kovacek: I would say it's very high! I think that Austria can justifiably call itself a cultural nation and that it knows considerably more than other countries about art as a whole. There has been and still is an enduring engagement with art, and with music.
Are you excluding younger generations in that assessment?
Michael Kovacek: Not at all. There was a hiatus during the First and Second World Wars and the collapse of the monarchy, but after the end of the Second World War there was an overwhelming need to make up for lost time. You could really see how art was breaking out again and presenting itself afresh. And this has grown rapidly over the last 20 years.
What is the importance of an auction house on the art market?
Michael Kovacek: I think it is very high. The auction business is very transparent – much more so than art dealing. We attach a price to a piece of art, sometimes along with a reserve or desired price, but more often than not we give it an actual price. This price is visible and transparent, and also accepted by a broad audience. When you read in the papers about record prices achieved around the world, they are always auction prices.
Why do particularly high prices always make the headlines?
Michael Kovacek: Because of human nature. If you sell a precious item for €5,000, a drawing by an artist who isn't currently a big name but is nevertheless a great artist, that isn't going to make the headlines – the aim of a headline is to announce something extraordinary. The value of an artwork is often reflected in the figures. There is of course a lot you could say about an item no matter what its monetary value, but to do that you need a deeper understanding, and that kind of information isn't headline material.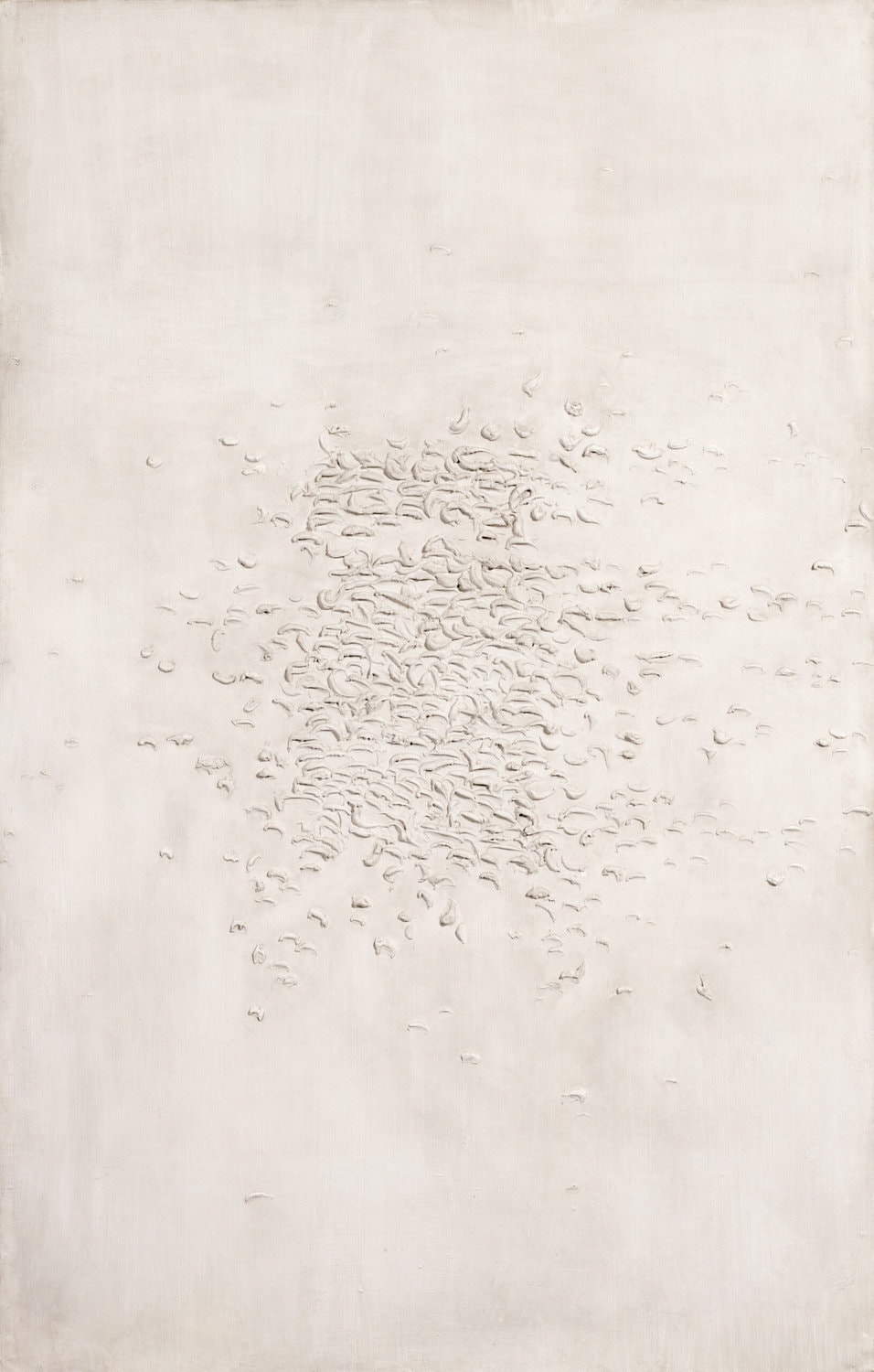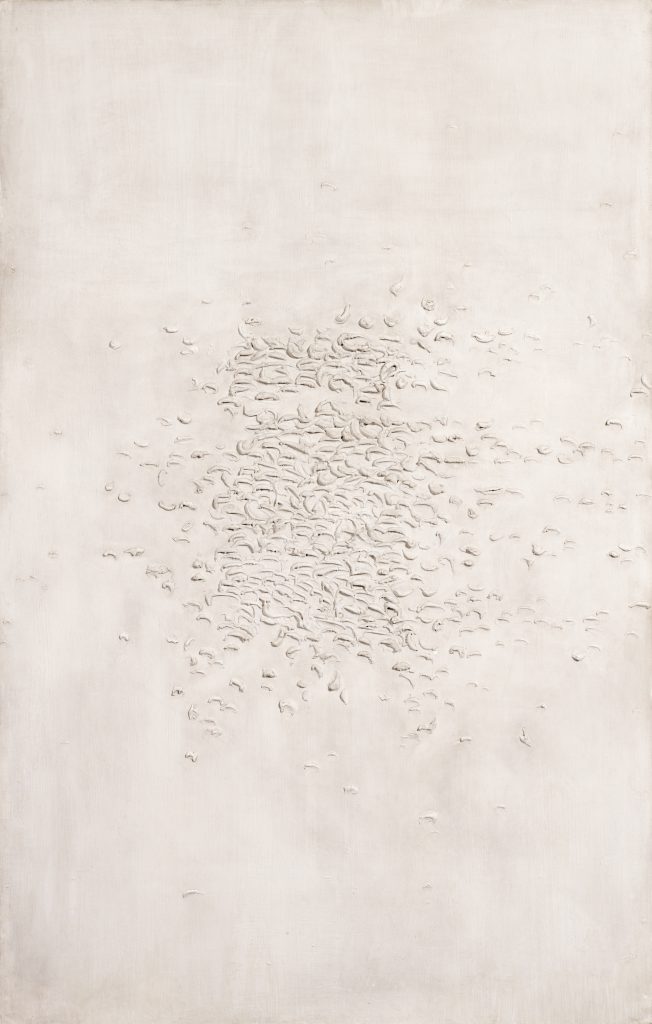 Hans Bischoffshausen* (1927–1987)
Dissolution d'un Champ D'Energie, 1960/61
Sold for 128,000 €
Wie geht es Ihnen damit, wenn Rekordpreise bei einer Auktion erzielt How do you feel when record prices are achieved at an auction? Is it just as much of a thrill as before, or are you more "cool" about it after your many years in the business?
Michael Kovacek: When we manage to get a world record price for an artist at the auction house, it is always exciting. In that moment, a new benchmark is set and a new sense of worth is established.
I am an art dealer and an auctioneer, body and soul, and I get an immense sense of fulfilment from buying and selling excellent works of art.
When you also get the positive response from the collector saying "It was worth that", or if an artwork turns out to be worth more than you valued it, it's really fantastic.
Would you say it's the task of an auction house, therefore your task, to give the artists the value they deserve?
Michael Kovacek: It is up to us, but it wouldn't be possible without the galleries. I would like to praise the galleries who work with the artists, advise them and bring them to the attention of the public, the museums and the collectors. Once an artist is established, they move onto the secondary market, and that's where the auction houses come in. The auction market could not exist without the galleries, and the galleries would not be so happy without the auction market.
You have experts in six categories, and you yourself are an expert in several fields. How much are you affected by trends on the market?
Michael Kovacek: We obviously feel the effects of the trends, but not in one particular art movement, more so in relation to contemporary art. Every generation has its artists, and the current generation will have different artists to the one before and the one that follows. This means that you always have to go with the times. Sometimes it's not that easy, as an artist will go through a period of hype only to then be far less in demand afterwards. It very much depends on the artworks and the artist, how they develop and are advised, or even on whether a new opposing trend comes into force. Even Rembrandt wasn't famous all of the time, and he has only achieved global recognition for his work in the last 150 years. What I want to say is simply that artists are in a constant cycle of attracting more or less attention.
You co-founded the auction house. What was your motivation at the time?
Michael Kovacek: At the time, I had already been an art dealer for decades, and the auction business in Austria was still very modest. The Dorotheum had long had a monopoly, but that eventually eased. My co-founder and I realised that there were a great many auction houses around the world, but in Austria there was just the one. So we joined forces, founded the auction house and it was a resounding success.
Which of im Kinsky's qualities set it apart from the rest?
We are service-oriented and strive for the opportunity to acquire exceptional artworks.
We select and take on very little of what we actually see. We are a small team and are on hand for our clients at all times, from purchase right through to sale. That is only possible when you take on a limited number of items.
How has the auction house changed over the years?
Michael Kovacek: It has changed with the demand for more and more modern and contemporary art – the future lies in the works from these periods.
The older pieces are also popular, if you're talking about a particularly good one. There have been painters in every period of art history that were very good but didn't paint ground-breaking pieces, and these artists are not sought after today. Think of the landscape artists of the Biedermeier period – they experienced demand following the Second World War, but were then quickly replaced by painters such as Rainer, Nitsch and Hundertwasser. They then ushered in their contemporaries.
Has the market changed because of COVID-19?
Michael Kovacek: That's something I don't yet dare to examine. All I know is that the demand for purchasing art is currently very high, as not six months have yet gone by. Art buyers and art fans are desperate to eventually be able to start buying art again.
It's also a secure way of investing money.
Michael Kovacek: Yes, indeed. It's only natural that during a crisis people will question how they'll be able to survive. But mankind has never before buckled under the pressure and will certainly not do so now. It simply needs to pause for a while until normal operations resume, when art will prove itself as a long-term investment.
Auctions have previously been carried out online. Will that trend strengthen as a result of the current crisis?
Michael Kovacek: Probably. You can bid with us online using our portal and the Lot-Tissimo auction site. We also take bids ourselves, as well as having an external broker to complete bids. It all works very well.
For a piece by which artist would you place a winning bid?
Michael Kovacek: As an example, I would have placed the highest bid for the Koloman Moser in our last auction. But I hardly ever join in the bidding.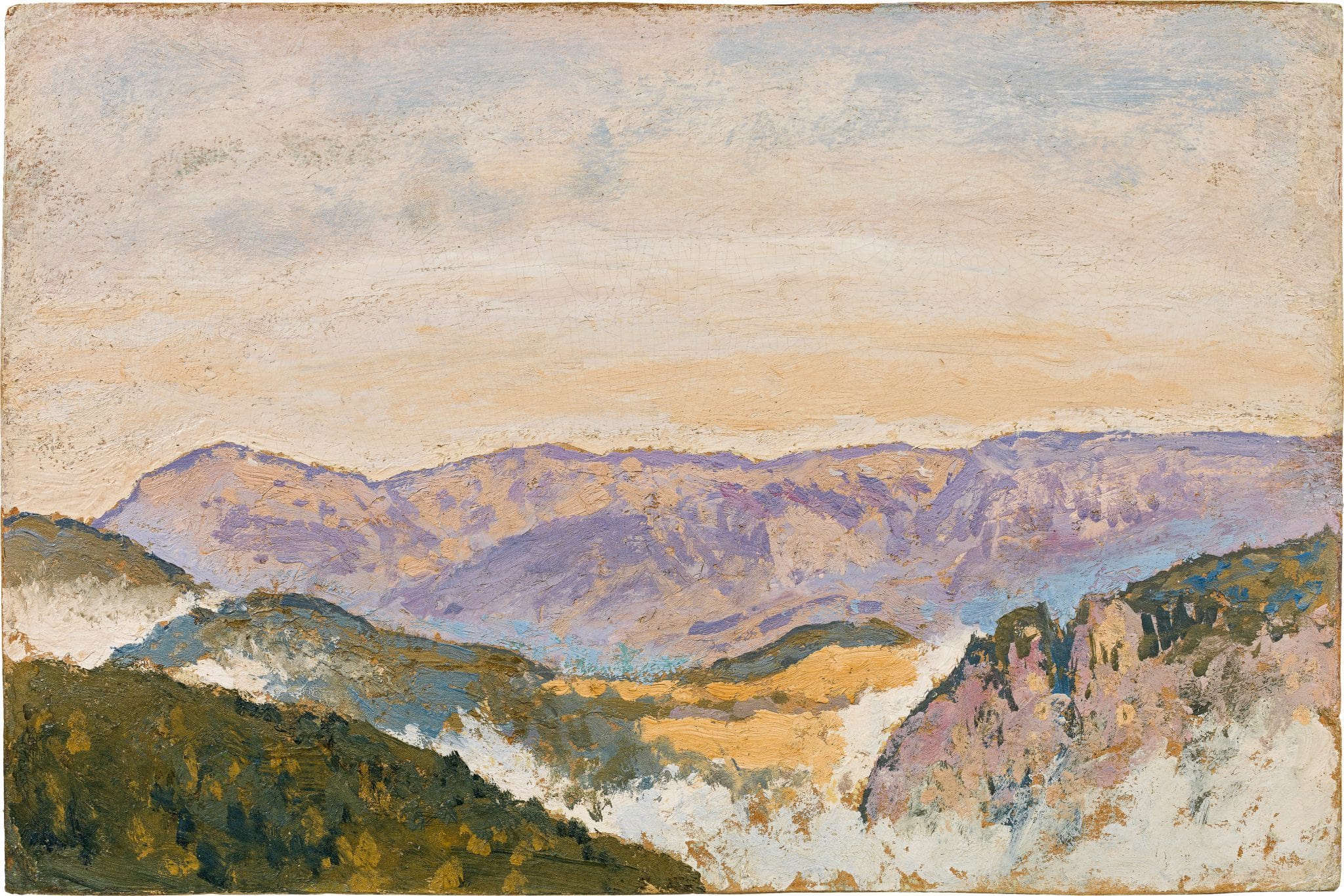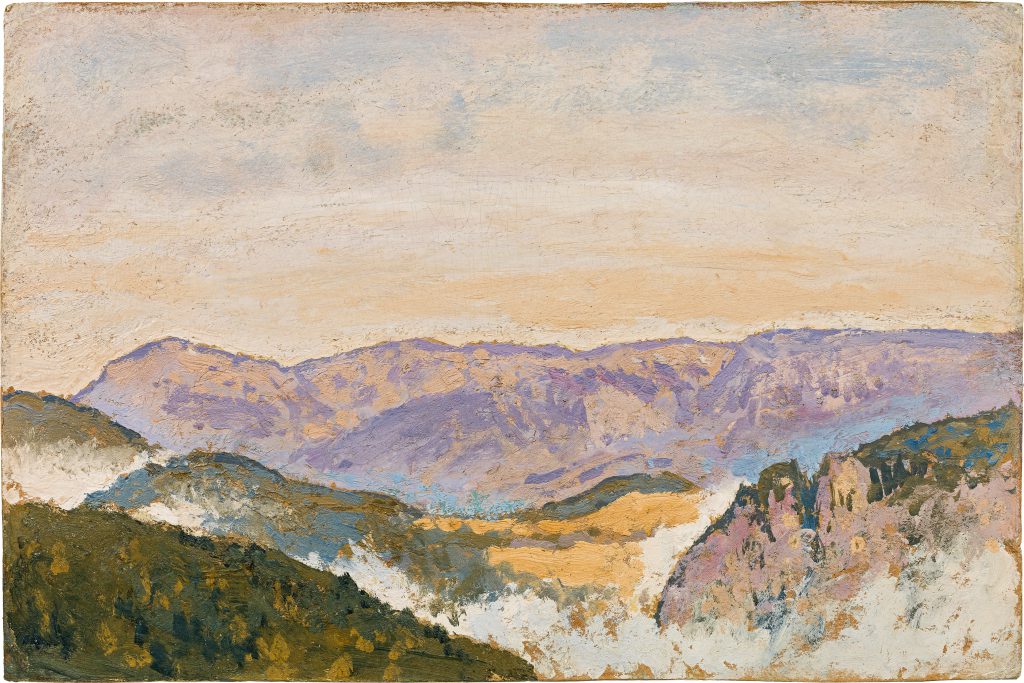 Koloman Moser (1868–1918)
View of the Rax from the Villa Mautner-Markhof, circa 1913
Oil on cardboard
Sold for € 70,400
What are your tips for an auction novice?
Michael Kovacek: You should already have dealt with art and be a collector or a buyer, therefore having previous experience of which artworks are popular and what constitutes good art. You'll learn that at museums and through appropriate employment. I can only advise a young art collector to start by observing and comparing the market and the auctions, and buying with great caution. They should also only buy something because it pleases them, and not in order to play the market. Approaching buying art in this way will mean you're more likely to enjoy financial success in the long term.
So passion comes before strategy?
Absolutely, a passion for collecting is vital!
There are few people in the world who don't collect anything at all. I'm not just talking about art – collecting things is in our nature.
What do you collect?
Michael Kovacek: I have many interests and no particular time period. For me, quality is what counts above all else. I have been dealing with historic glass, excluding drinking glasses, for many years. I have also purchased several paintings from the 19th and 20th centuries for myself, friends and family.
Do you have any other secret passions for collecting besides this more professional one? A hobby collection?
Michael Kovacek: No, I actually don't. My passion for collecting is limited to what I've described here.
---
About Michael Kovacek
Michael Kovacek is CEO and founding partner of the im Kinsky auction house based in Vienna. He is also a court-certified expert and a specialist in furniture, glass, antiques and paintings from the 19th and 20th centuries.