Good news for local fauna: The dedication of not-for-profit organization CABI to combatting climate change through inoovative agricultural solutions is reflected in the architecture of its new headquaters in England.
It stands to reason that any organization that has worked to protect nature and natural resources for over a hundred years will also design its new headquarters with a focus on sustainability and environmental compatibility. Needless to say, the insects and birds in the new, nutrition-rich habitat are delighted with the result.
School's out
For 33 years, not-for-profit organization CABI was based in a former school building that became very high-maintenance in later years. It was anything but an ideal calling card for an organization dealing with the impact of climate change on agriculture.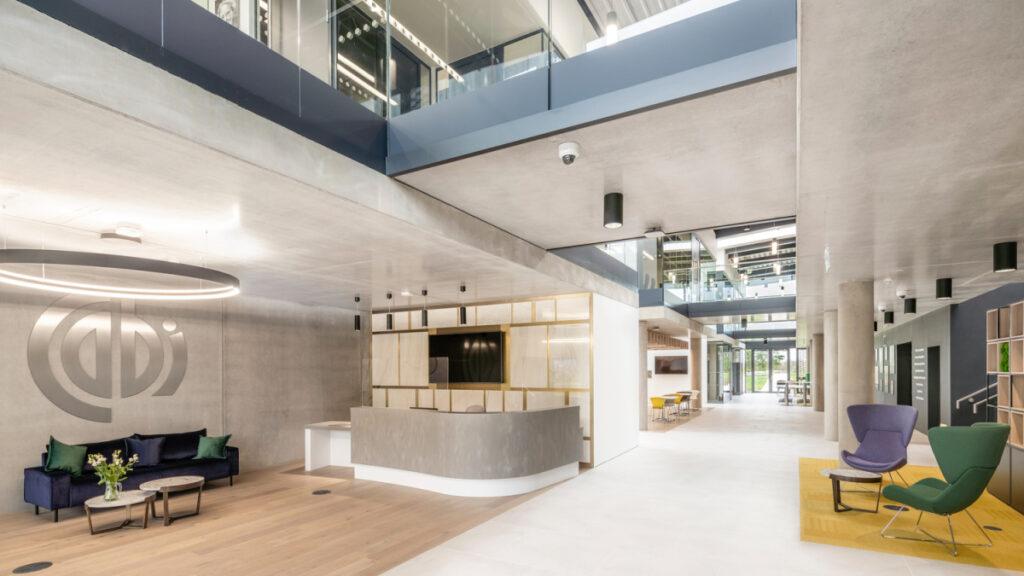 Accordingly, the new headquarters in Wallingford, in the English county of Oxfordshire, needed to be as energy-efficient as possible. It also had to integrate a flexible working environment into a beautiful landscape with extraordinary biological diversity.
Sun outside, sun inside
English architects Scott Brownrigg were responsible for this new, two-storey building with floor space of around 2,800 square metres. To keep energy consumption as low as possible, the building was positioned on the site in such a way that it is largely protected from the summer sun (while providing shade at the same time), but lets in as much sunlight as possible in the winter.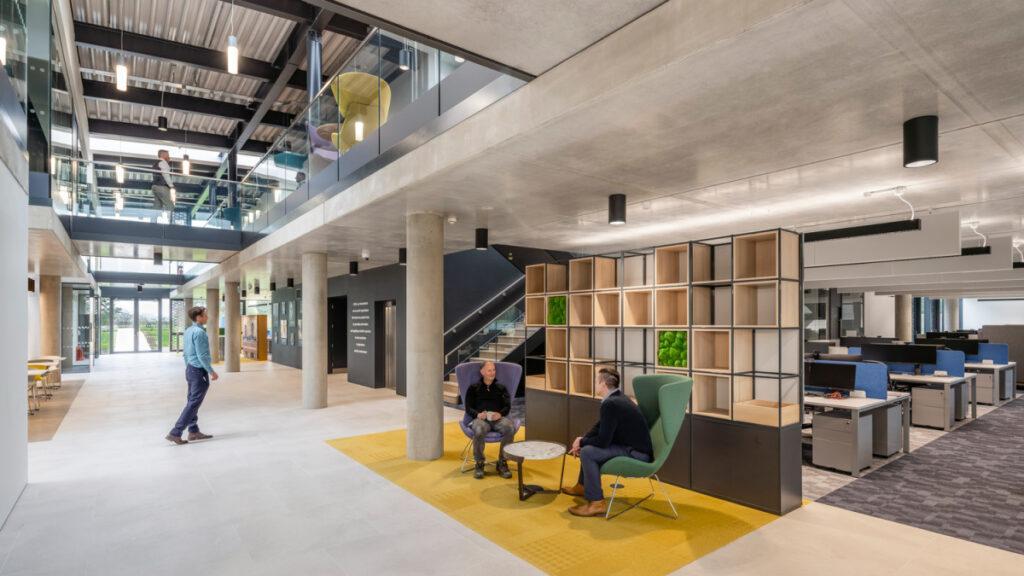 Similarly, when selecting construction materials, the aim was to keep the structure's carbon footprint to a minimum. For instance, the curtain walling and solar shading systems developed by Metal Technology permit natural ventilation thanks to their perforated façade panels.
A building that communicates
Air quality in buildings has become even more important in light of the coronavirus pandemic. As project manager Ed Hayden explains: "This ventilation system was a key design factor. The perforated façade allows clean, cool air into the building day and night. Heat recovery ventilation is used in the winter to pre-warm fresh air."
The system encourages communication between the building and its users.

Ed Hayden
There is also a traffic light system to alert employees when the offices grow too hot or require fresh air. The system encourages communication between the building and its users. For example, it tells users when it is time to open the window…
CABI – expertise creates solutions
CABI – Centre for Agriculture and Bioscience International – is a global not-for-profit organization that was founded in 1910. Its aim is to create and apply knowledge with a view to overcoming challenges faced by people all over the world.
The organization, which originally limited its activities to the British Commonwealth (its former name was Commonwealth Agricultural Bureaux), is active in 49 countries around the world. An important part of its work involves analysing sustainable cultivation methods that will help to counter potential crop losses, especially for small farmers in endangered areas. CABI uses digital and mobile technologies to convert data into practically applicable knowledge.
Out into the big wide world
Scott Brownrigg's story begins at about the same time as that of CABI. Annesley Harold Brownrigg won a series of architectural competitions from 1910 onwards. After serving in the army, he opened an office in Guildford – a town in south-east England with a population of 70,000 – in 1918, focusing mainly on designing industrial, commercial, educational and leisure projects.
Today, Scott Brownrigg ("Scott" is Duncan Scott, who was made name partner in 1958) is headquartered in London. As well as its traditional head office in Guildford, the firm has offices in Cardiff, Edinburgh, Amsterdam, New York, Singapore and Hong Kong. Its most high-profile creations include Terminal 4 at London Heathrow Airport and the BBC headquarters.
Protecting natural beauty
The aim of the CABI headquarters – even more so than in urban building projects – was to integrate the building into the landscape. This is because Wallingford (where legendary mystery writer Agatha Christie died) has been designated an "area of outstanding natural beauty". In England, Wales and Northern Ireland, these "AONBs" are afforded the same special protection as national parks.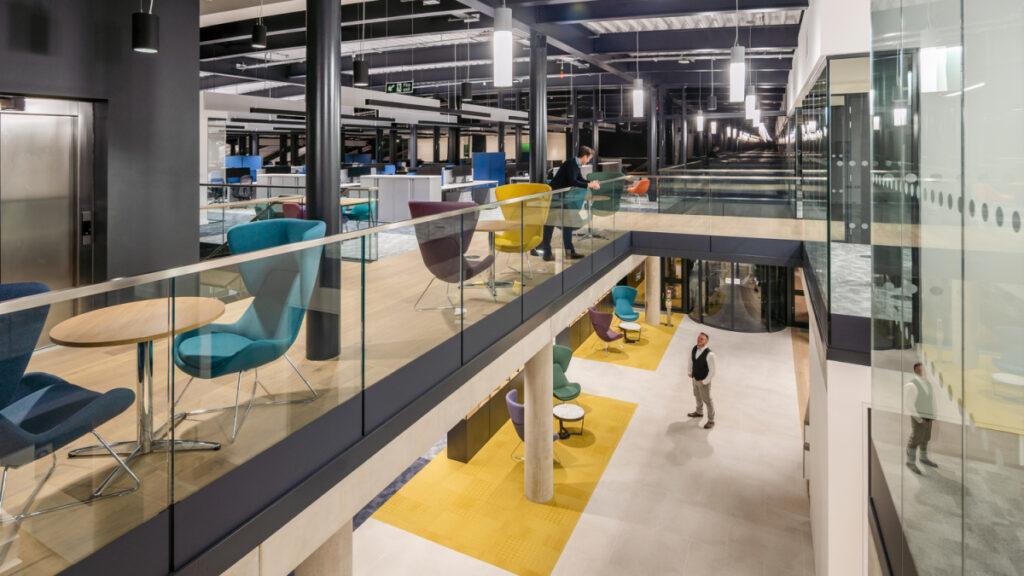 Following an extensive examination, it was certified that the 3,500 m² headquarters "would cause limited harm to the AONB [but that] in this case exceptional circumstances could be demonstrated which outweighed this harm".
Buzzing biodiversity
CABI was able to demonstrate that the building project played an "environmental, social and economic role [and thus met] the three dimensions of sustainable development". This was due in no small part to the greened roof and the green space around the building. With cypress trees, native hedges, ornamental plants and perennial flowers, it is a hive of humming, buzzing biodiversity.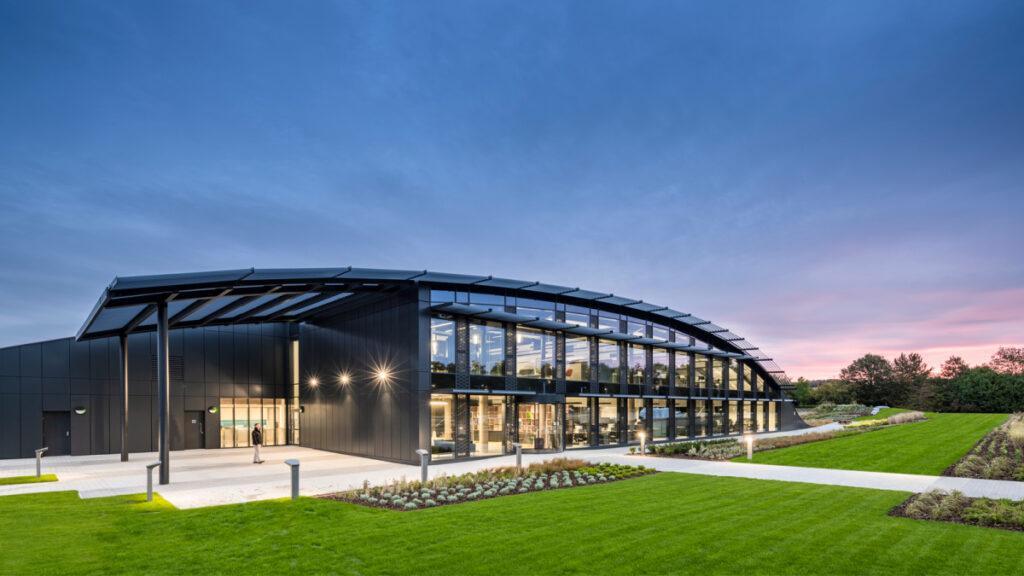 By all accounts, the mood among the 180 employees is extremely positive – and not just because of the dapper café-restaurant, stylish conference rooms and the state-of-the-art auditorium.
Impressive landmark
"We now have an office that we can truly be proud of which is fitting for an international organization, visited by guests and staff from around the world," said former CABI CEO Trevor Nicholls, when the building was opened in 2020 shortly before he took his well-earned retirement: "It is truly in keeping with our mission and values to protect the environment and biodiversity whilst also being an impressive local landmark."
---

---
Text: Hannes Kropik
Translation: Rosemary Bridger-Lippe
Photos: Hundven Clements Photography