Robert Comploj is a master of glass art. He learned the craft of glassblowing from the glass masters of Murano. Each of his glass objects, which can be purchased in the GLASHÜTTE COMPLOJ studio in Vienna, is a handmade unique piece.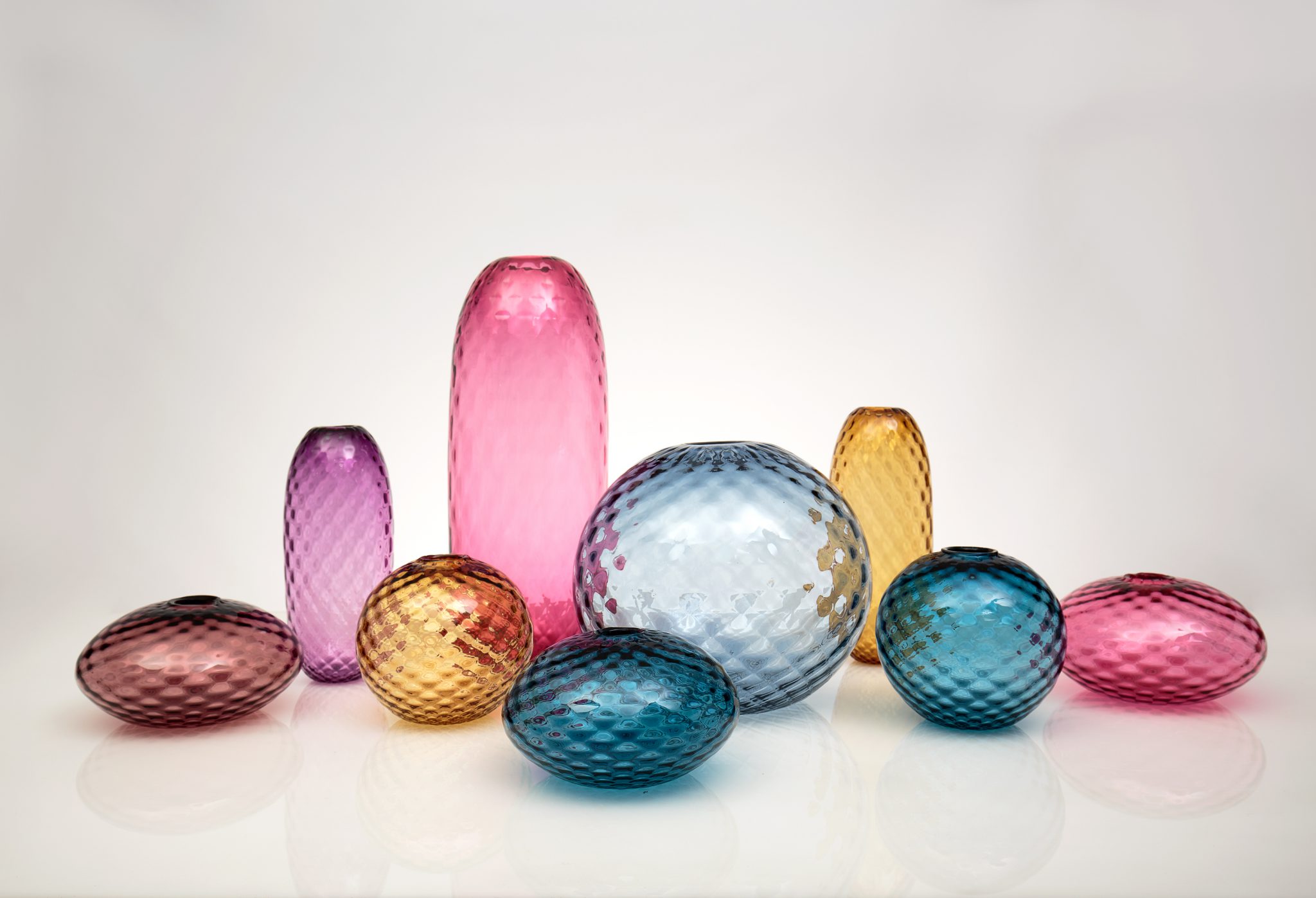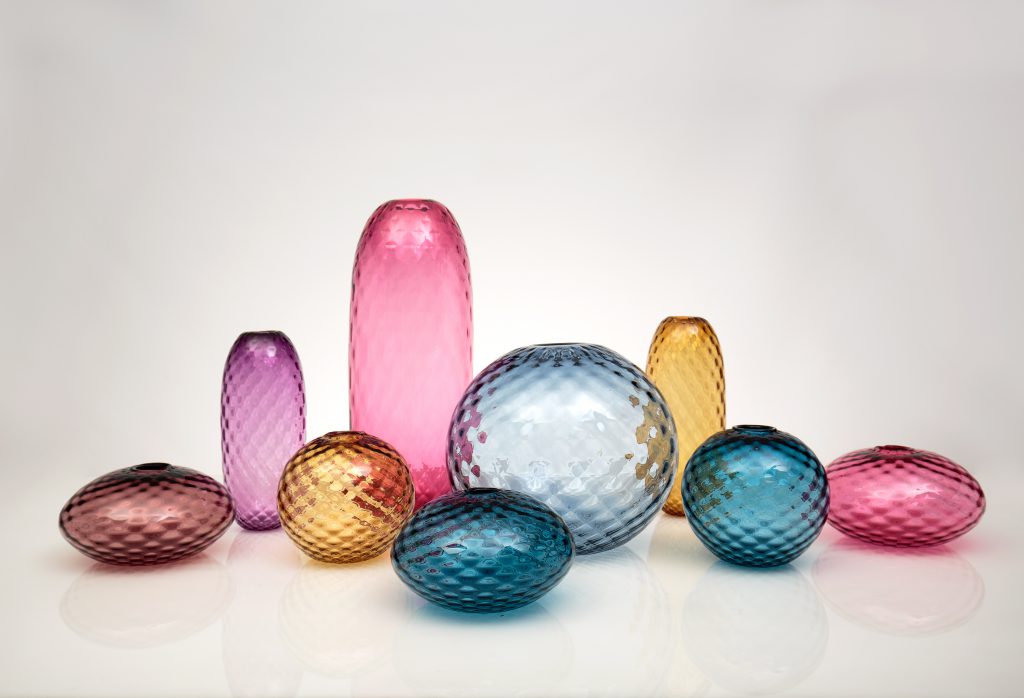 These beautiful pieces are made by glass artist Robert Comploj at the heart of the 7th district in Vienna. With his GLASHÜTTE COMPLOJ glass studio, he is one of only a few traditional glass blowers throughout the whole of Austria. But the Tyrolean native learned his trade from the world's greats: the master glass blowers of Murano.
He travelled around the world to expand his skills, and later settled back down in Austria as a master of his craft. He became famous for his innovative manufacturing technology, new colours, experiments in the shape and structure of glass and an almost "punk" approach to the craft.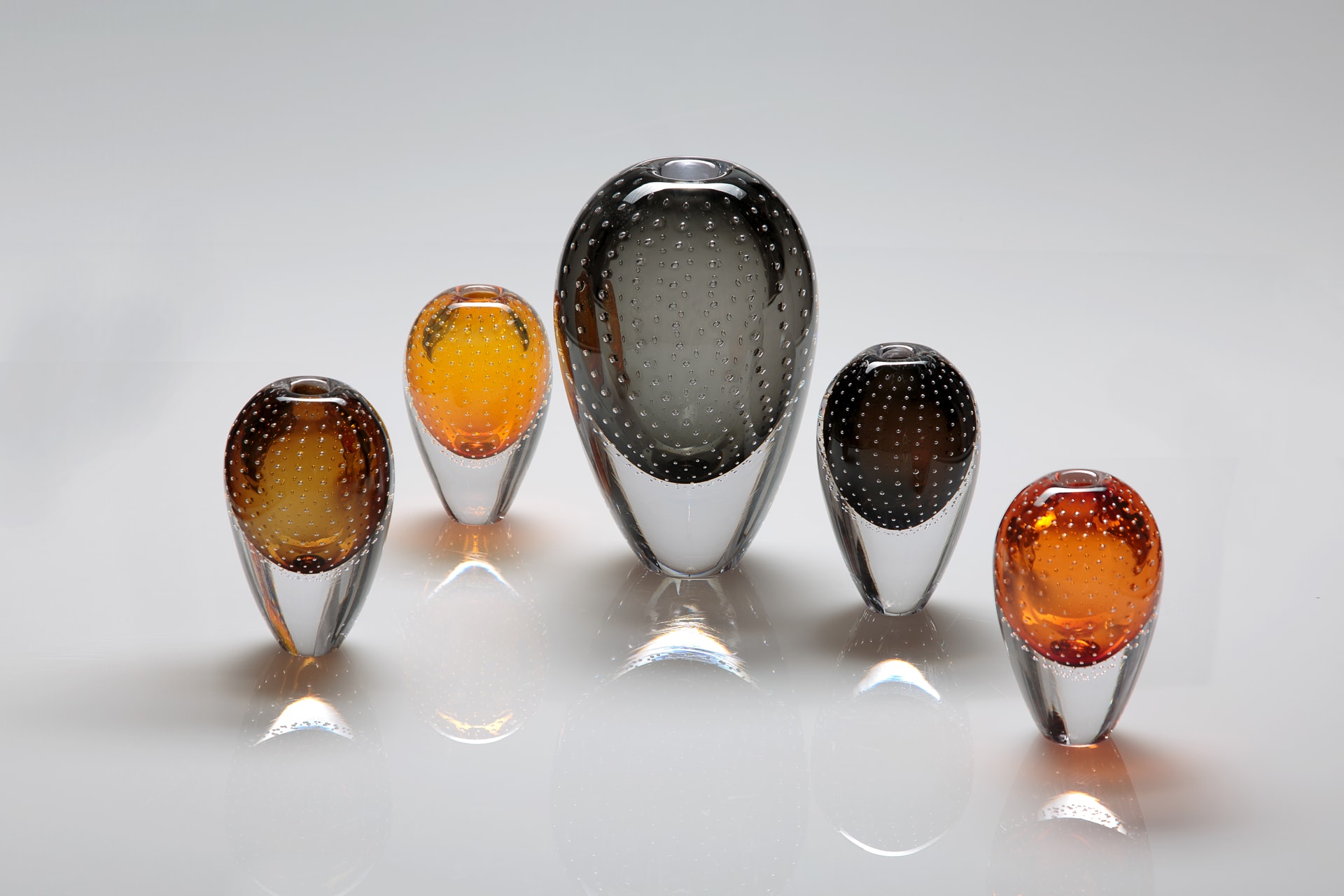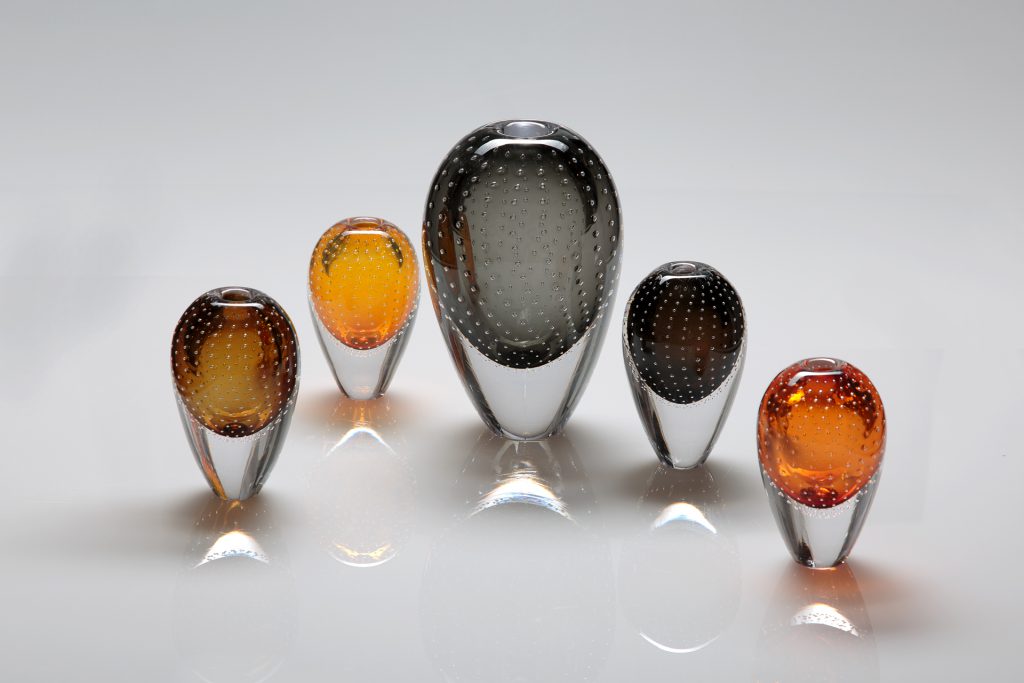 Anyone wanting to try out glass blowing for themselves can do just that at one of his glass making courses. Everyone else can see the talent of the artist for themselves in selected stores.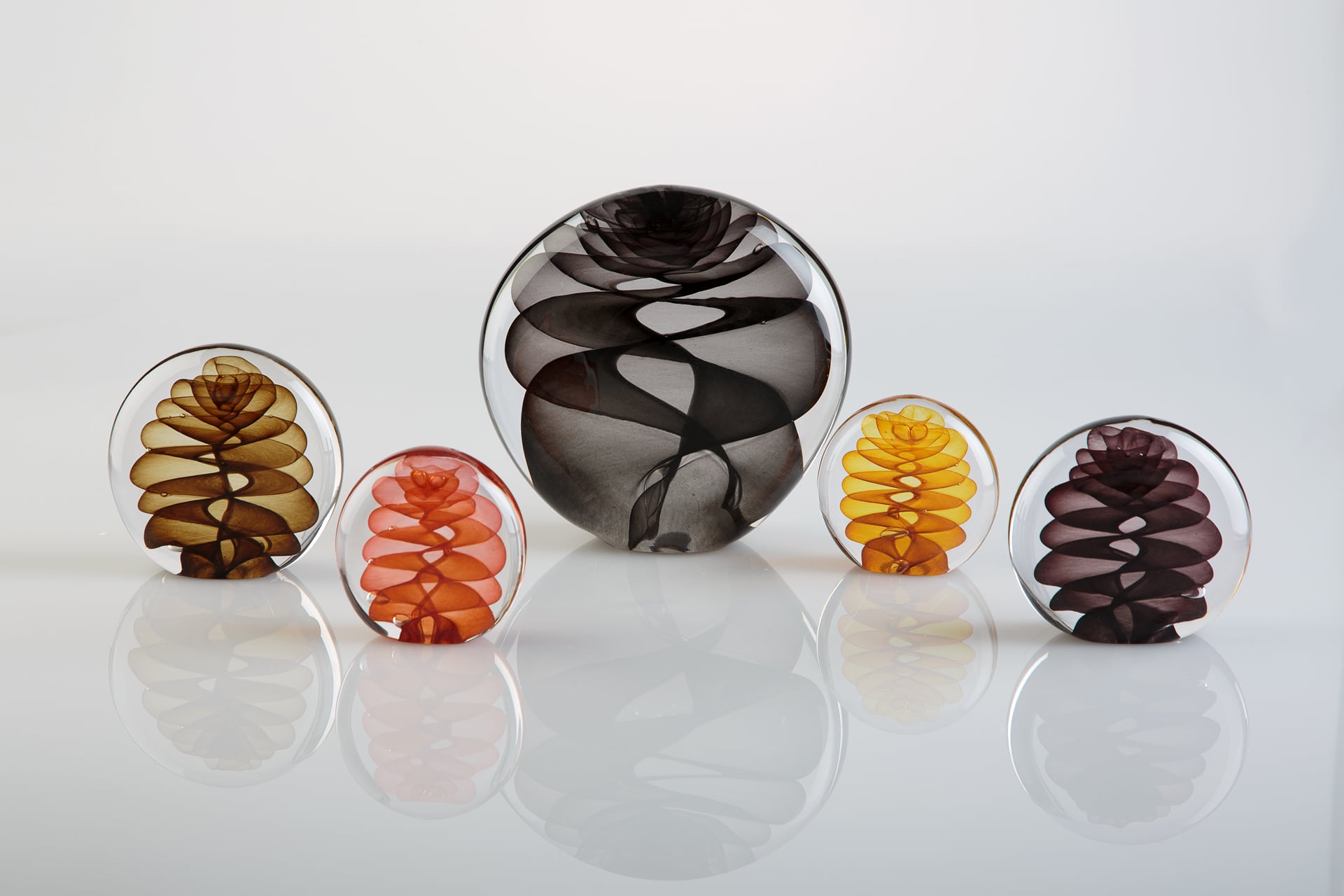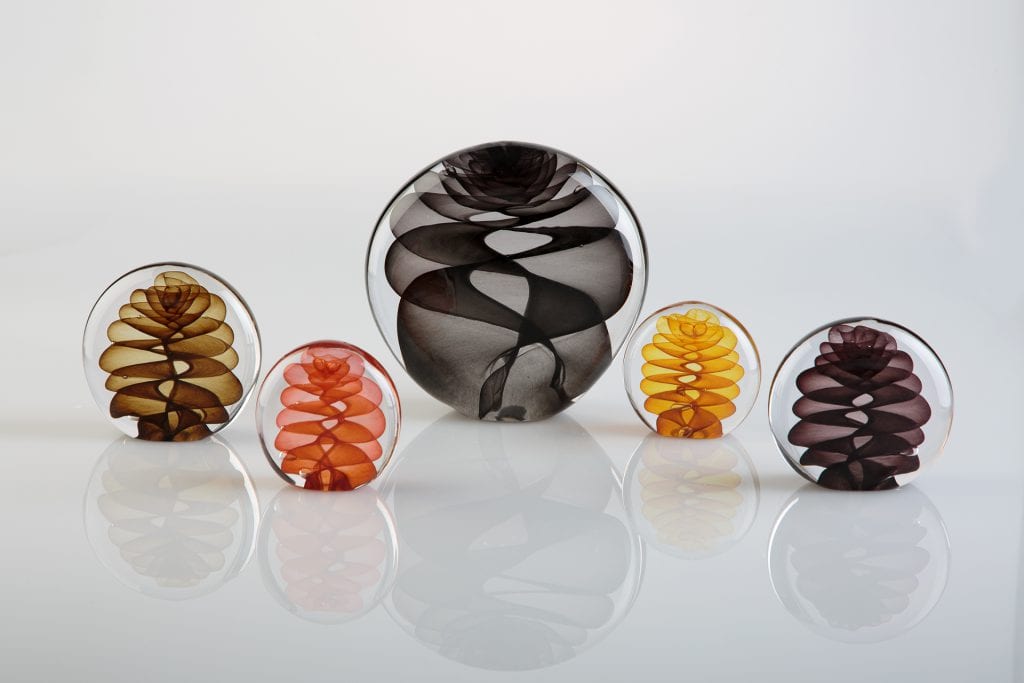 ---
Glashütte Comploj
Westbahnstraße 18
1070 Wien
About Robert Comploj
Born 1982 in Tyrol, since 2001 working in the glass craft, glass technical school, courses, master classes, assistants and glassblowing activities in Europe and North America. Lectureships and exhibitions.
Professional qualification:
2001 – 2003: Advanced training course at the Glasfachschule Kramsach, Austria
2004: Courses at the Corning Museum of Glass, Corning – USA
2005 – 2006: Assistant at the Glasfachschule Kramsach, Austria
2006: Course with Bill Gudenrath at the Corning Museum of Glass, Corning – USA
2007: Master class with Elio Quarisa at the Corning Museum of Glass, Corning – USA
Employment:
2004: Assistant at Lost Angel Glass, Corning – USA
2004: Assistant glassblower Michael Ruh – Sandfish Ltd, London – UK
2005: Glassblower in the Glas Hagen Hut – Germany
2006 – 2012: Glassblower in the Kuchlerhaus, Weigelsdorf – Austria
2008 – 2010: Glassblower in the Glaspusteri Saeby – Denmark
2009 – 2014: Instructor at the HTL for Glass and Chemistry Kramsach – Austria
2010 – 2014: Instructor for the company Swarovski – Austria
2015: Lectureship at the University of Art Linz – Austria
2013 – 2017: own glassworks in Traun near Linz – Austria
since 2017: new studio and gallery in Vienna – Austria
Exhibitions and projects from 2012 – 2018:
AWS Impulse XS – Innovation Promotion – Austria
Glass Museum Ebeltoft 2012-2015 – Denmark
Gilmore Glass 2012/2013 – USA
Blickfang Design Fair 2013 – Austria
Glass Art Glass Art Gallery Innsbruck 2013/2014 – Austria
Glass Gallery Linz 2013/2014 – Austria
GRASSI Fair Leipzig 2014 – Germany
Nominated for Art Austria Award – "Jung Aufstrebend" – Austria
Cooperation University of Vienna "Die Angewandte" 2014 – Austria
Landesmuseum Linz Exhibition Kunstsalon 2014 – Austria
Manufacturer of the INTEGRI sculpture of the Austrian Award for Integrated Care 2014 – Austria
EUNIQUE International Fair for Applied Arts & Design 2014 – Austria
Gallery Sikabonyi Vernissage "Foam" 2014 – Austria
Das Glashaus glass art exhibition 2014/2015 – Germany
Neuhauser Kunstmühle GLAS 2014 – Germany
Living & Interior Vienna 2014 – Austria
UNIKAT B Applied Art & Design Exhibition 2015 – Austria
AUSTRIAN DESIGN PIONEERS representation with "Shadow" Milan 2015 – Italy
Gallery of the City of Traun Exhibition "Glass4life" 2015 – Austria
Museum of Glass & Costume Jewellery Nad Nisou 2015 – Czech Republic
Hot & Cold Exhibition Baku 2015 – Azerbaijan
Installation "The Bull" at the Formula 1 circuit Spielberg 2015 – Austria
Maison & Objet January 2016 Paris – France
"Glass weekend in Sarasota" with the Gallery Sikabonyi in Miami – USA
Maison & Objet January 2017 Paris – France
"Art Palm Beach" 2017 – HABATAT Gallery – Miami – USA
45th International Glass Invitational Award Exhibition 2017 – HABATAT Gallery – Detroit- USA
"Austrian Glass Core" 2017 Venice – Italy
Vienna Design Week 2017 – Vienna
"SOFA Chicago" 2017 with the HABATAT Gallery – Chicago – USA
"Sarasota Glass Vacation January 2018″ – HABATAT Gallery – Miami – USA
46th International Glass Invitational Award Exhibition 2018 – HABATAT Gallery – Detroit- USA
"Second light" September 2018 – Gallery Forum – Wels
Vienna Design Week 2018 – Vienna "Glanzstücke" October 2018 – Exhibition Galerie der Stadt Traun – Traun
"Glass Coast Weekend 2019 – HABATAT Pop Up" – HABATAT Gallery – St Petersburg, Florida – USA