Designer Antony Gibbon has a taste for the unconventional. After creating cliff houses and capsule dwellings in trees, he has now come up with a vision for a "wave house": the "Twine" made of hempcrete is designed as an artistic frame to accentuate the masterpiece of mother nature.
The name brings to mind images of tying things together with twisted fibres, but that doesn't quite reflect the intention here. Indeed, the "Twine" by British architectural designer Antony Gibbon draws a deliberate line that separates architecture from nature. Although his vision of a "house in a wave" mimics natural structures, it doesn't strive to "connect" itself at all. Instead, the design of this sculptural building made of hempcrete aims to showcase the landscape like an admirable work of art.
An intriguing interplay of form and materials
The images that the designer presents for his latest project are monumental and extraordinary. The "Twine" house extends like a twisted ribbon against a hilly backdrop. It remains nothing more than a blueprint – for now. But Gibbon hopes to realize it soon.
In any event, his architectural interplay of form, structure and materials is impressive.
And that's not all.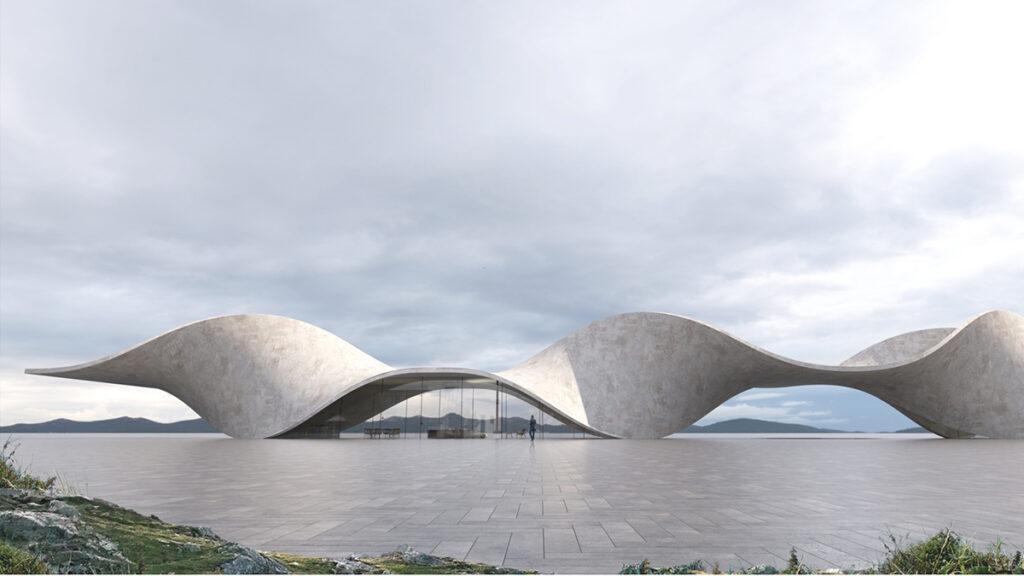 At first glance, the elongated waves seem quite hard and unforgiving, despite their playful twists and turns. They look like a concrete ribbon, grey and massive, looming over the landscape. The shape is elegant, but made of a material that doesn't seem to suggest the notion of sustainability.
Environmentally friendly: hempcrete
However, it pays to take a closer look and read the description. It turns out that Gibbon has by no means abandoned his environmentally friendly approach, but it is hard to spot when glancing at the design. The project looks as if it were simply made of concrete – even though a completely different, far more sustainable material is used here.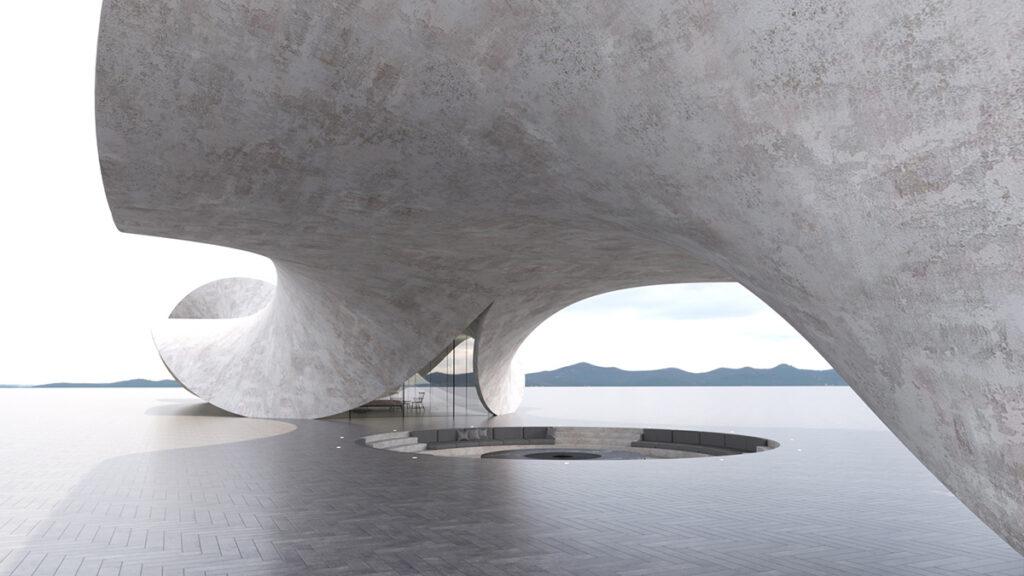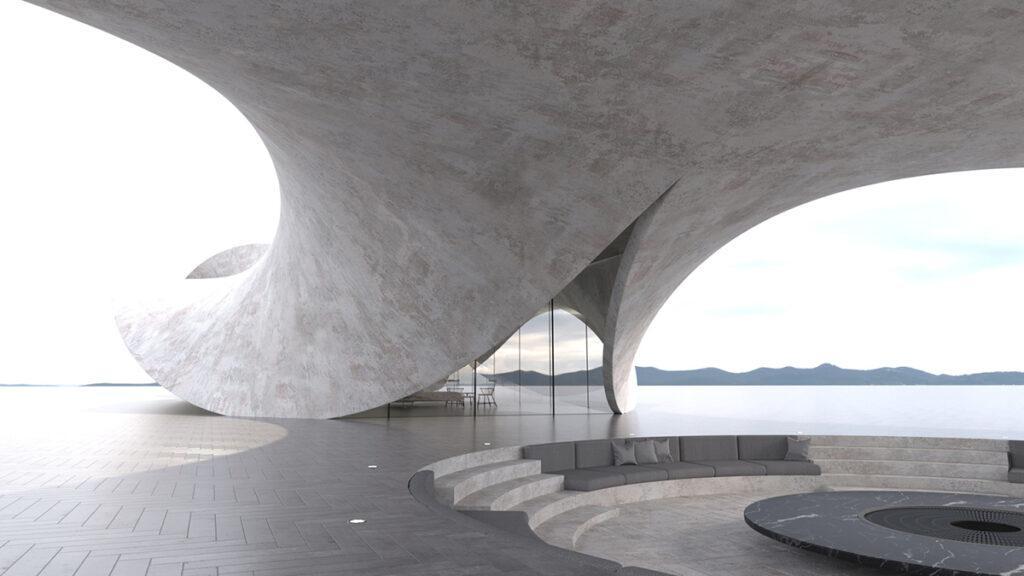 As mentioned, the architect intends to build the walls of the "Twine" house out of hempcrete, which has little in common with its namesake, concrete. This natural biocomposite consists primarily of hemp hurds (also known as shives) from the plant Cannabis sativa and a lime-based binder. Because the shives and lime have an open-pored structure, this building material exhibits low thermal conductivity. It can also absorb moisture from the air, helping to ensure a healthy indoor climate. As a modular structural component, hempcrete has low compressive strength, but is dimensionally stable.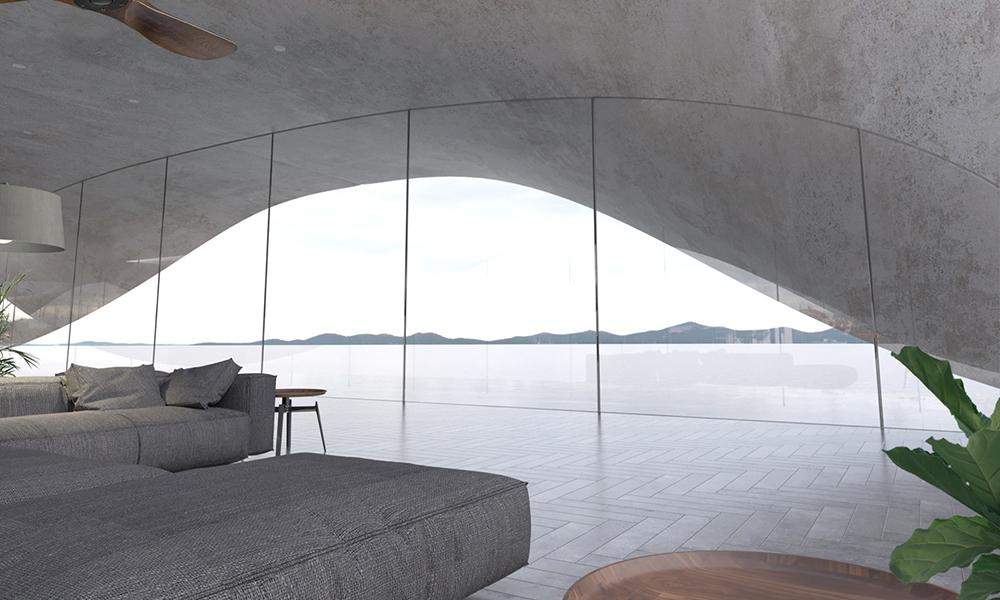 One of the ecological advantages of hempcrete is its ability to bind the greenhouse gas carbon dioxide (CO2). Depending on its composition, studies indicate values for hempcrete that range from 70 kg CO2/m³ to 307.26 kg CO2/m³. These are higher than the CO2 produced during production and transport (around 50 kg CO2/m³), which means that hempcrete has a negative carbon footprint.
No cement, loads of solar power
Visionary Gibbon intends to dispense with cement and eliminate around 80% of CO2 emissions. Energy generation from sustainable sources is also part of the plan: space for solar panels is envisaged on top of the ends of the wave house.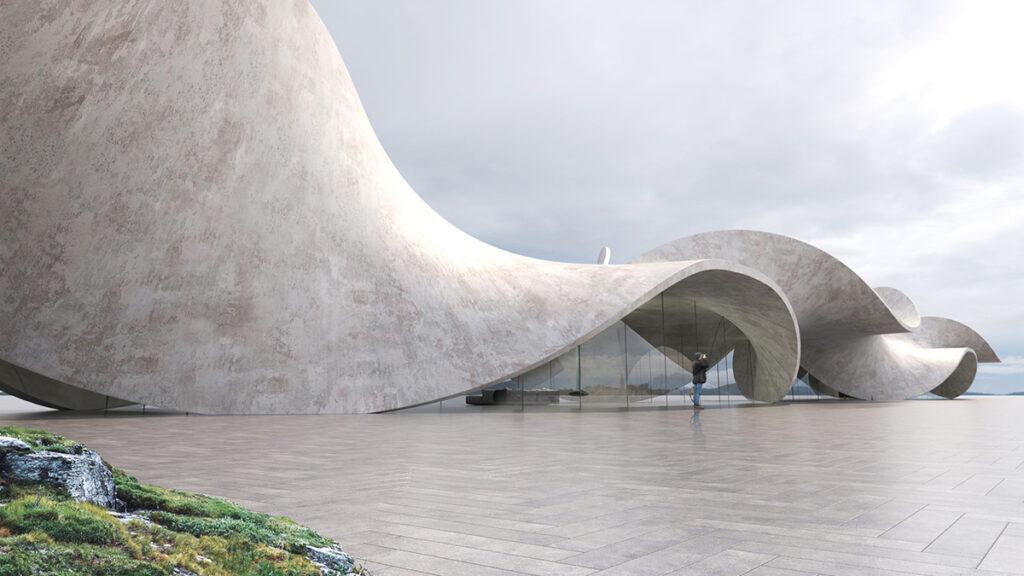 The undulating dwelling regularly rises and falls over its stone platform, creating spaces that contain two residential units. Between these inner areas, the shape engenders partially covered terraces that are perfect for outdoor relaxation and recreation. High glass windows open the living areas to the exterior, where large open-air hearths provide a space for shared outdoor enjoyment.
A relaxation zone on the roof
Inside, a spiral staircase leads up to the roof, where a central spa area and hot tub will offer residents an oasis of peace and serenity. Daylight streams into the living rooms through floor-to-ceiling glass windows and glass doors between the arches.
Unconventional approaches
From hempcrete to wood: Antony Gibbon Designs is known for its sensational ideas. Unlike his much-talked-about tree house on the outskirts of the legendary American town of Woodstock, many of these projects are still waiting to be realized. But even if they only exist on paper, the architectural designer's unconventional designs are always inspiring.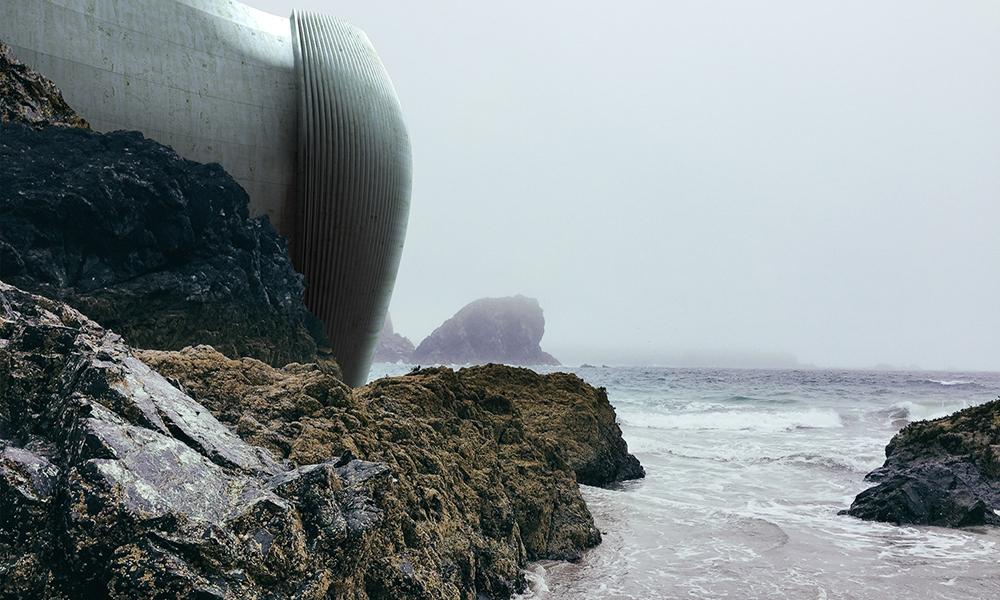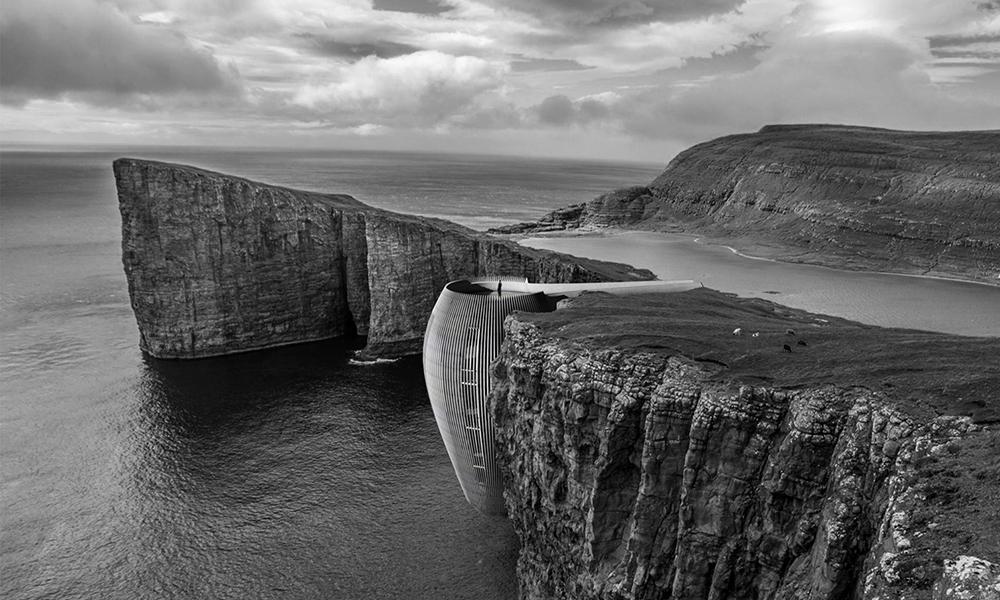 "The Verge", for instance, can be built on steep cliffs by the sea or in the mountains. Constructed of wood or concrete, the design creates four-storey residential buildings that look as if they have grown naturally on site.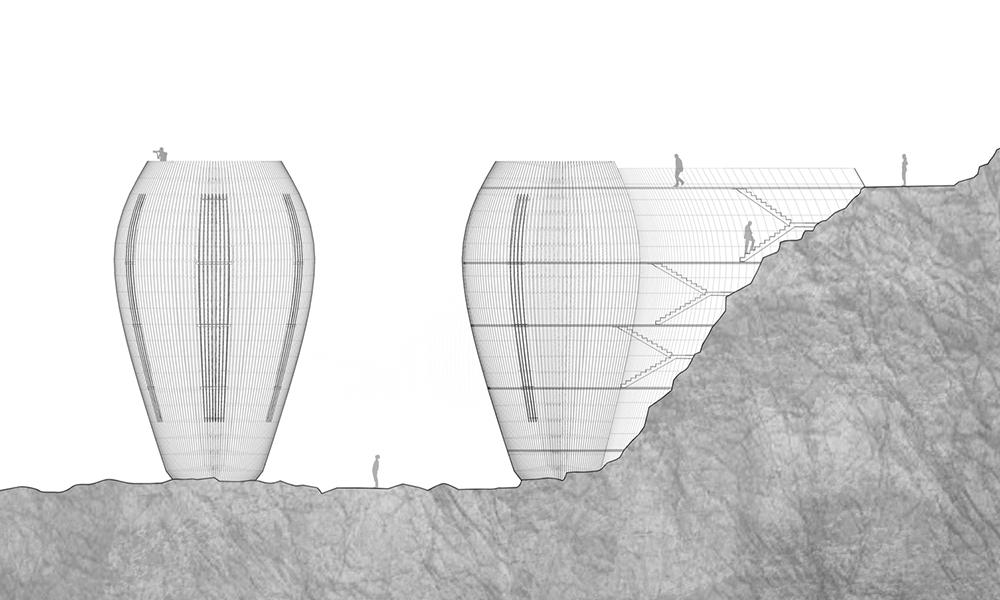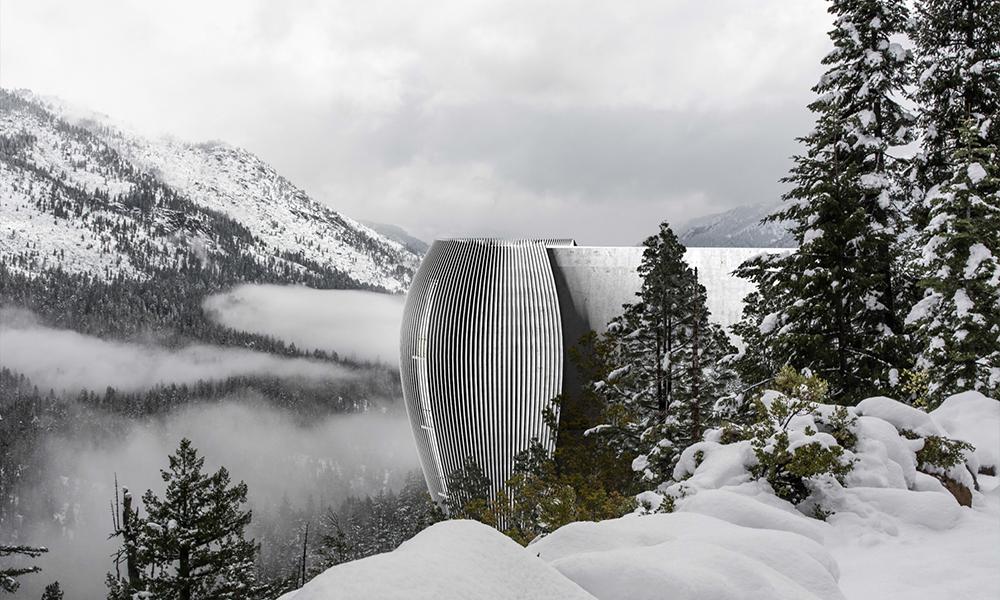 The same holds true for Gibbon's capsule dwelling "Embryo", which is designed to nestle in trees without impeding their growth. With shingles on the outer skin, a hatch door and a narrow stairway access, this tree house is reminiscent of a wasp's nest. Inside the two-storey building, there's room for four residents.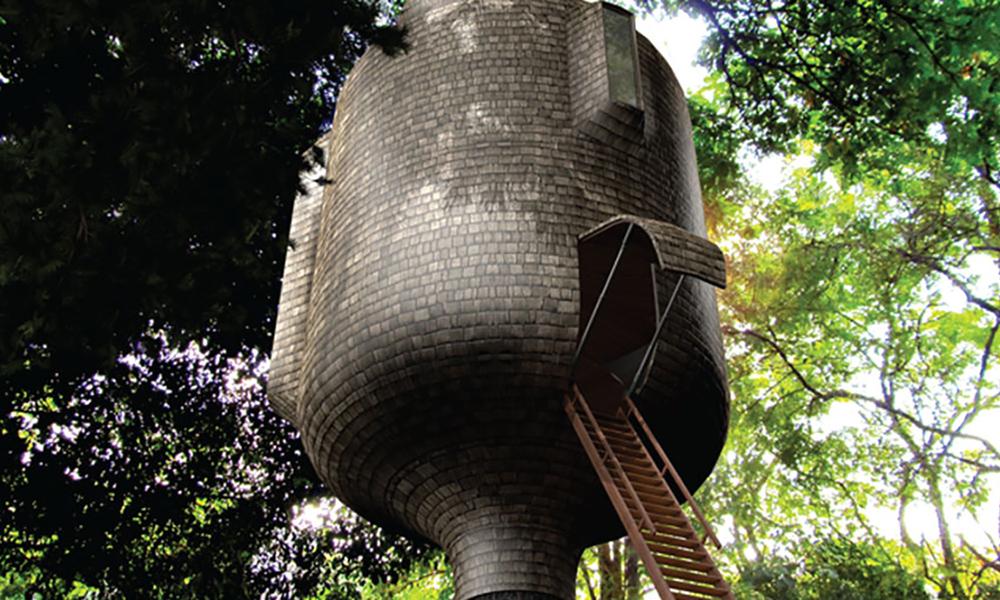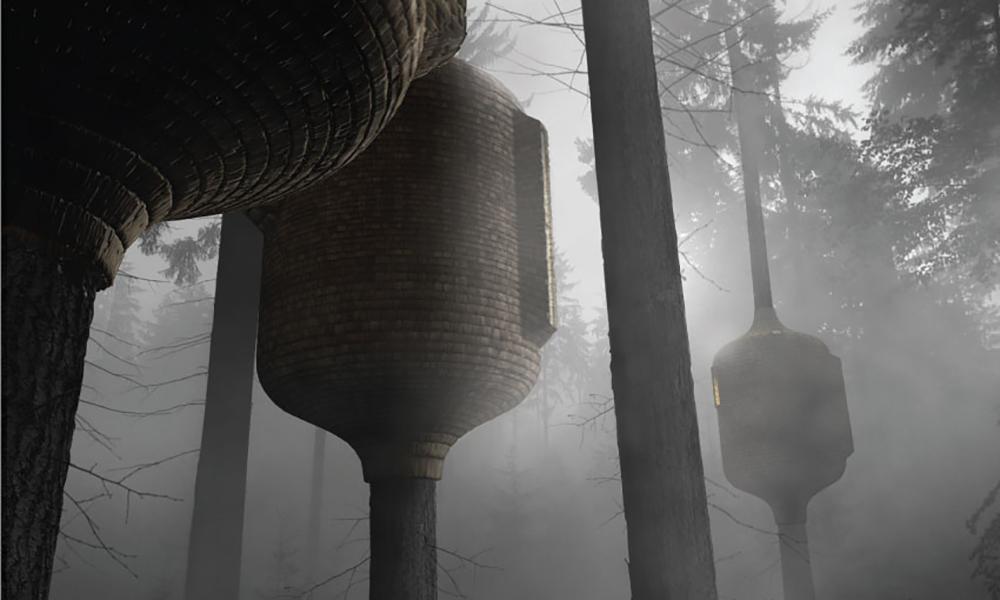 Antony Gibbon's description of the "Embryo" illustrates the underlying concept behind many of his creations:
The idea was to re-address the way we live in today's society. The goal is a more ecological and simpler way of living than consuming our earth's resources.

Antony Gibbon
Ideas for a more harmonious way of life
This is an approach that many other leading architects are also embracing. Major renowned firms like Henning Larsen and MVRDV are making a concerted effort to reunite people with nature using climate-neutral new buildings and renewable resources.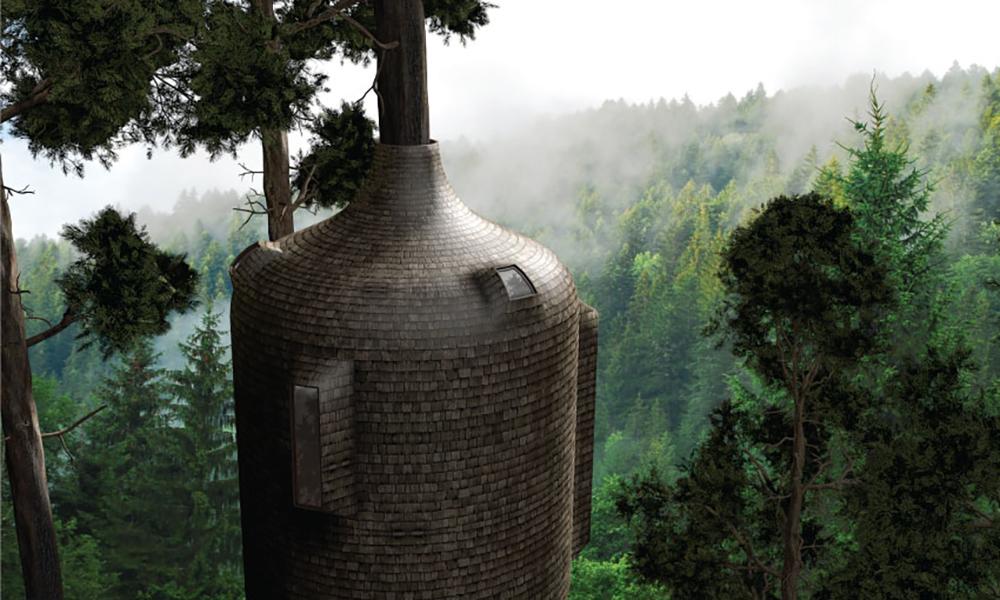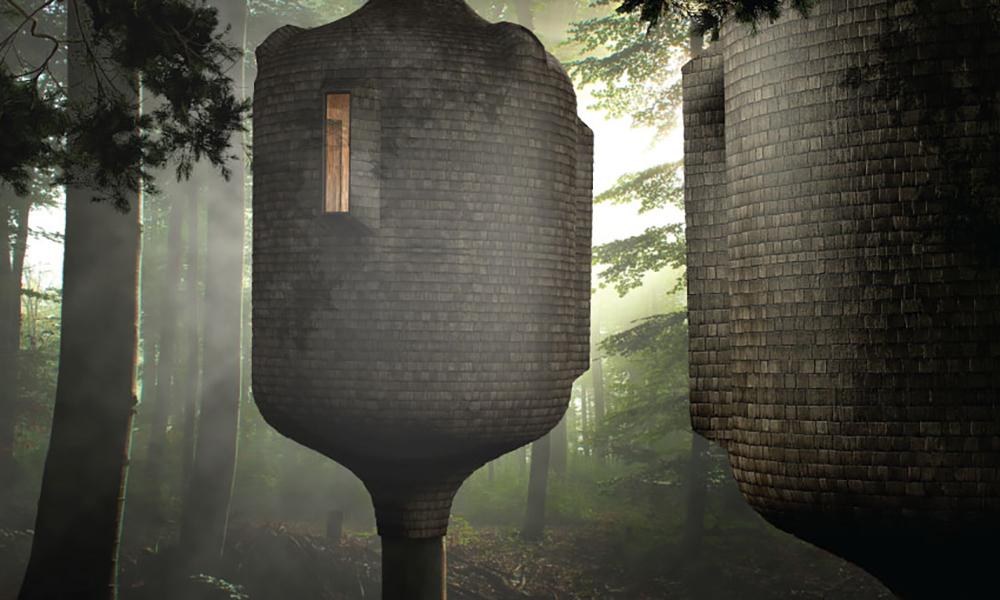 We are more and more being disconnected from our natural surroundings and the Embryo is part of a series of designs to try and reunite and reconnect us back to the elements and how we interact with nature, whilst using materials resourcefully,

says Gibbon.
A "string" of hempcrete
From this perspective, the name of this hempcrete wave house, the "Twine", hits the nail on the head: individual elements can be strung together and interwoven, even if at first glance they may seem to be complete opposites.
---
---
Text: Elisabeth Schneyder
Translation: Rosemary Bridger-Lippe
Images: Antony Gibbon Designs