Giant hotels are currently being built in London and Dubai, both of which claim to have the "world's most spectacular pool" on their roofs. We took a deep dive to find out more.
If you stop to think about it, the idea of building such a pool in London and Dubai is rather disquieting: in the heart of a city in which residential space is as scarce as water in the desert, there are plans to build one of the highest and largest pools in the world. And in the heart of a desert where water is as scarce as residential space in London… well, you get the picture.
A po(o)larising effect
Nonetheless, both London and Dubai will soon have skyscraping hotels with something special on top: the roofs of both buildings will house spectacular infinity pools that are, so to speak, sure to make waves. And it is only logical that both buildings should, even at this early stage, lay claim to having the "world's most spectacular pool".
The two pool projects head-to-head
LONDON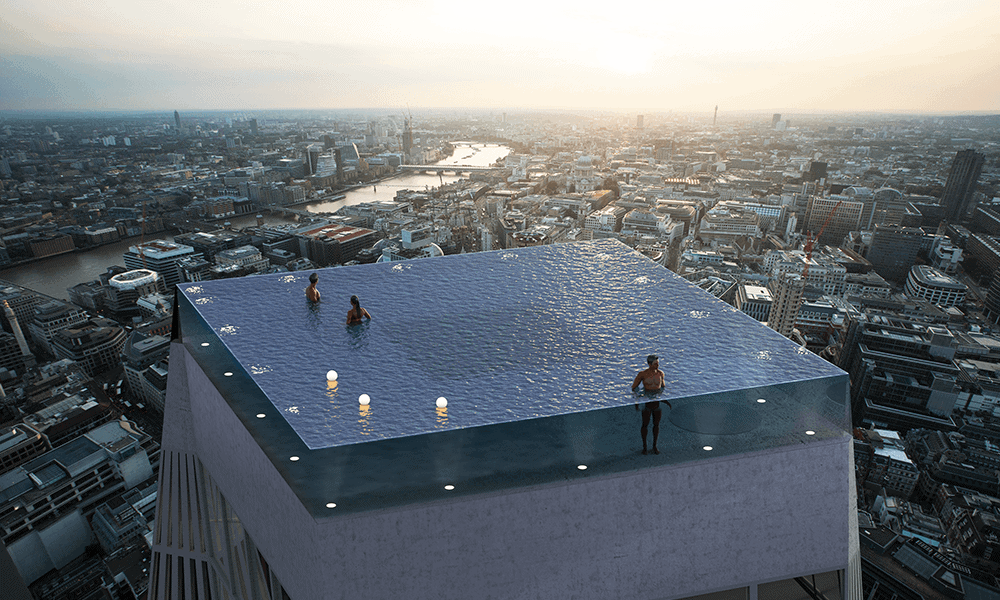 Infinity London
The details at a glance:
Height:
55th floor/220 metres
Quantity of water:
600,000 litres
Swimming area:
Not known
Costs:
€11.2 million
View:
360 degrees
Start of construction work:
Mid-2020
DUBAI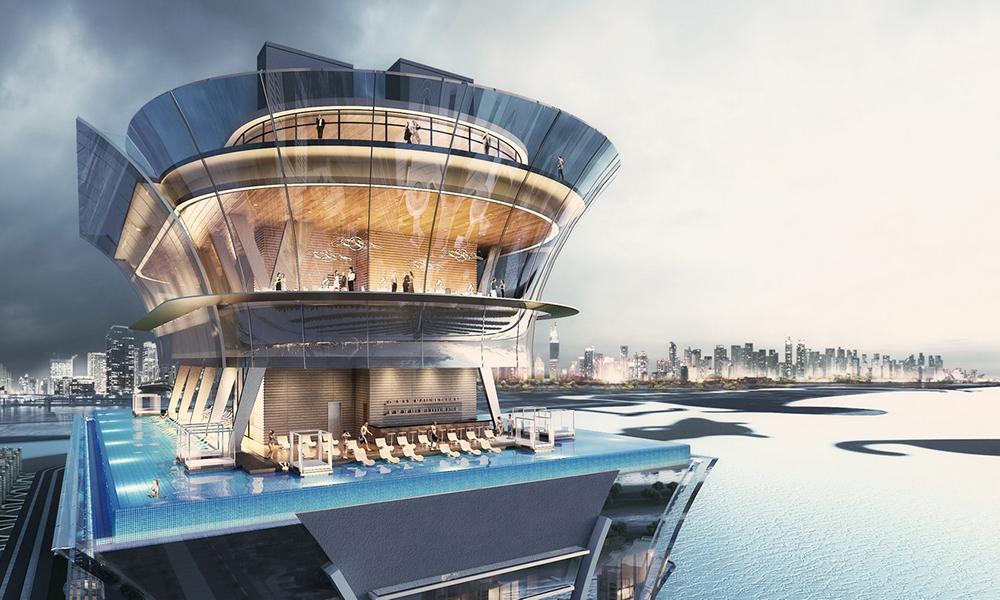 Palm Tower
The details at a glance:
Height:
52nd floor/210 metres
Quantity of water:
930,000 litres
Swimming area:
775 square metres
Costs:
Not known
View:
180 degrees per front
End of construction work:
End of 2020
The pool project in the heart of London is vying with its Dubai counterpart for the international pool crown.
But what exactly is planned?
Let us start with the London project, which is in a less advanced stage of completion: a luxury hotel plans to put a spectacular swimming pool more than 200 metres above the roofs of the English capital and fill it with 600,000 litres of water. Construction work is scheduled to get underway in mid-2020.
British company Compass Pools has, by its own account, developed the fully integrated 360-degree Infinity Pool out of acrylic. In the official press release, visitors are invited to the 55-floor building to swim above the rooftops and enjoy the view of the sky above them.

Construction work on Infinity London is to begin in the middle of the year, once a number of tricky problems have been ironed out.
But anyone looking at designs for this transparent pool would be forgiven for wondering how people actually get into it. Are there any stairs on the outside? No – at a height of 200 metres, that would be likely to scare off even the most enthusiastic swimmers.
According to designer Alex Kemsley this was easily the greatest challenge they faced in planning the pool.
Normally a simple ladder would suffice, but we didn't want stairs on the outside of the building or in the pool as it would spoil the view.

And obviously you don't want 600,000 litres of water draining through the building either,

the Technical Director explains.
Where is the entrance to the pool?
Drawing inspiration from a submarine design, the team solved the problem by actually planning a kind of submarine door. This is coupled with a rotating spiral staircase that rises from the pool floor when someone wants to get in or out. Any questions?
Yes, definitely – so Alex Kemsley explains:
Essentially the system is a tube in a tube.
The first tube "cuts" its way through the water, creating an airlock. The second tube carries the ladder up to the surface.
When all is said and done, it's safe to presume that anyone who wants to get wet will be able to do so.
Very soon, this tower will be part of London's skyline inviting hotel guests to enjoy a unique swimming experience.
However, there were other problems to contend with – such as how to heat the pool and avoid it sloshing over the sides during storms, drenching passers-by on the street below.
The answer?
The pool will be heated using waste heat from the hotel's air conditioning.
And in the case of stormy weather, a wind gauge is to be connected to the computer-controlled building management system to prevent water from sloshing down the façade onto the street below. This means that the pool will be covered automatically when winds blow too strongly.
What does a pool like that cost?
Around £10 million (roughly €11.2 million).
And how about Dubai?
Such a figure would probably elicit a weary smile from their competitors 7,112 kilometres away. The Palm Tower mega-hotel on the Palm Jumeirah artificial archipelago in Dubai is nearing completion.
With multiple awards to its credit, this building project has a budget of roughly €300 million. It is not clear how much of this will ultimately go towards building the Infinity Pool above the 52nd floor, but it will contain far more water than its opposite number in London, namely 930,000 litres.
The Infinity Pool in Dubai doesn't have a 360-degree view, but the view is spectacular nonetheless.
At a height of 210 metres, the potentially record-breaking Infinity Pool extends across all four sides of the building, making it one of the highest pools in the world. Measuring 775 square metres, the swimming pool is to be bordered by a roof terrace, complete with palm trees, sun loungers, cabanas and a pool bar. However, the pool does not provide a direct 360-degree view. Rather, visitors need to take an elevator a little higher – to a height of 240 metres.
At the time of writing, it is safe to say that both projects are hugely impressive. And that you are guaranteed to get equally wet in both pools.
---


---
Text: Johannes Stühlinger
Translation: Rosemary Bridger-Lippe
Images: Compass Pools; Palm Tower / Dubai (c) Nakheel