The secret is exposed: RUMTOPF* is the flavour of Winter in the Red Bull Special Edition.
You do not have to burn your tongue to enjoy a real winter drink. This year's Red Bull Winter Edition not only gives you the familiar wings, but also a winter wonderland feeling on the palate: It is called "RUMTOPF" – but is of course *alcohol-free. In this winter edition, the sweetness of cherries is combined with the spiciness of cinnamon, mmmh… And those who would like something particularly "spirited" can try out the version by the Cocktail World Champion Mario Hofferer, with vanilla-vodka and apple pie syrup. After fast ski-runs, winter hikes, or a few lengths in the hotel pool, nobody will have to mix their own drink any more: At Das Kronthaler, the Puradies, the Alpin Juwel, and the Gradonna Mountain Resort, the Red Bull Winter Edition is always in stock and can be turned into tasty mixed drinks by a master craftsman.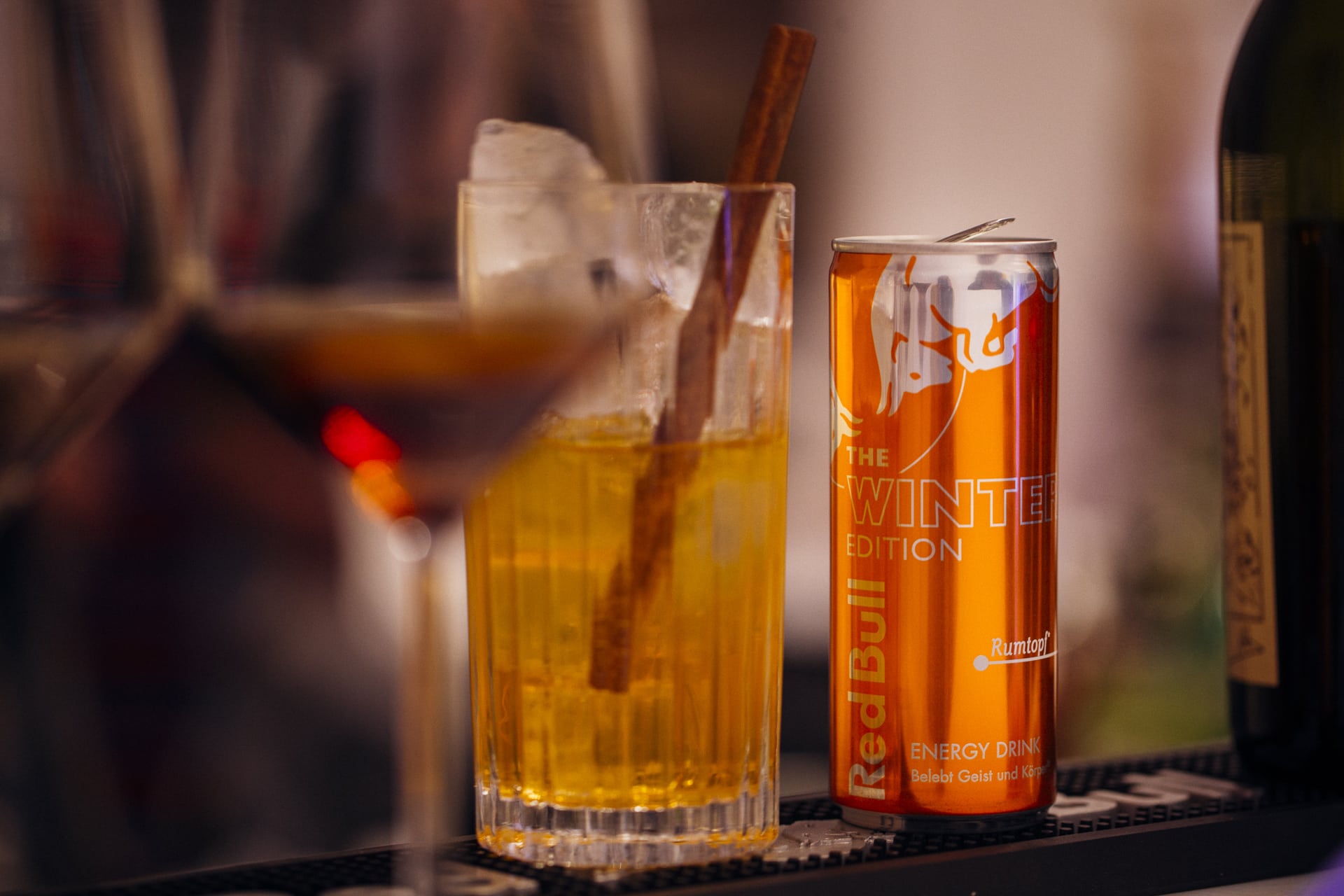 MAIN THING DELIGHT
High above the Nature Reserve Community Achenkirch lies the Tirolean design and spa hotel Das Kronthaler. Whether it be after skiing, cross-country, yoga, or a trip around the Achensee – anyone who comes home thirsty will be delighted by Red Bull Winter Edition. The bar "Freiraum" in Puradies in Leogang has the orange shiny cans in stock for the guests of their rooms, suites and chalets. Anyone stepping out of the Badhaus Innere Mitte can either have a roll in the snow or let the Red Bull Rum Pot do the cooling down. The Alpine Jewel in Hinterglemm offers no fewer than three restaurants to choose from – at each one the Red Bull Rum Pot served accompanies a different panorama. Or you can have it brought straight to the Penthouse or Almsuite. The Gradonna Mountain Resort in Kals am Großglockner lies directly on the slope. Here, the new Red Bull is served with a view on Austria's highest mountain – at 1,350 metres above sea-level. Perhaps after a visit to the tepidarium…
However unique and unmistakable these hotels are – this winter they are united in the enjoyment of Red Bull RUMTOPF.
THE COCKTAIL WORLD CHAMPION 2017/18
MARIO HOFFERER RECOMMENDS:
3 cl Vanilla-Poppy-Infused Belvedere Vodka 1,5 cl Apple Pie Monin Top up with Red Bull Winter Edition RUMTOPF, enhance with roast apples or flambéed fir cones…