Yvonne Farrell and Shelley McNamara, co-founders of Grafton Architects, have been named the 2020 laureates of the Pritzker Architecture Prize.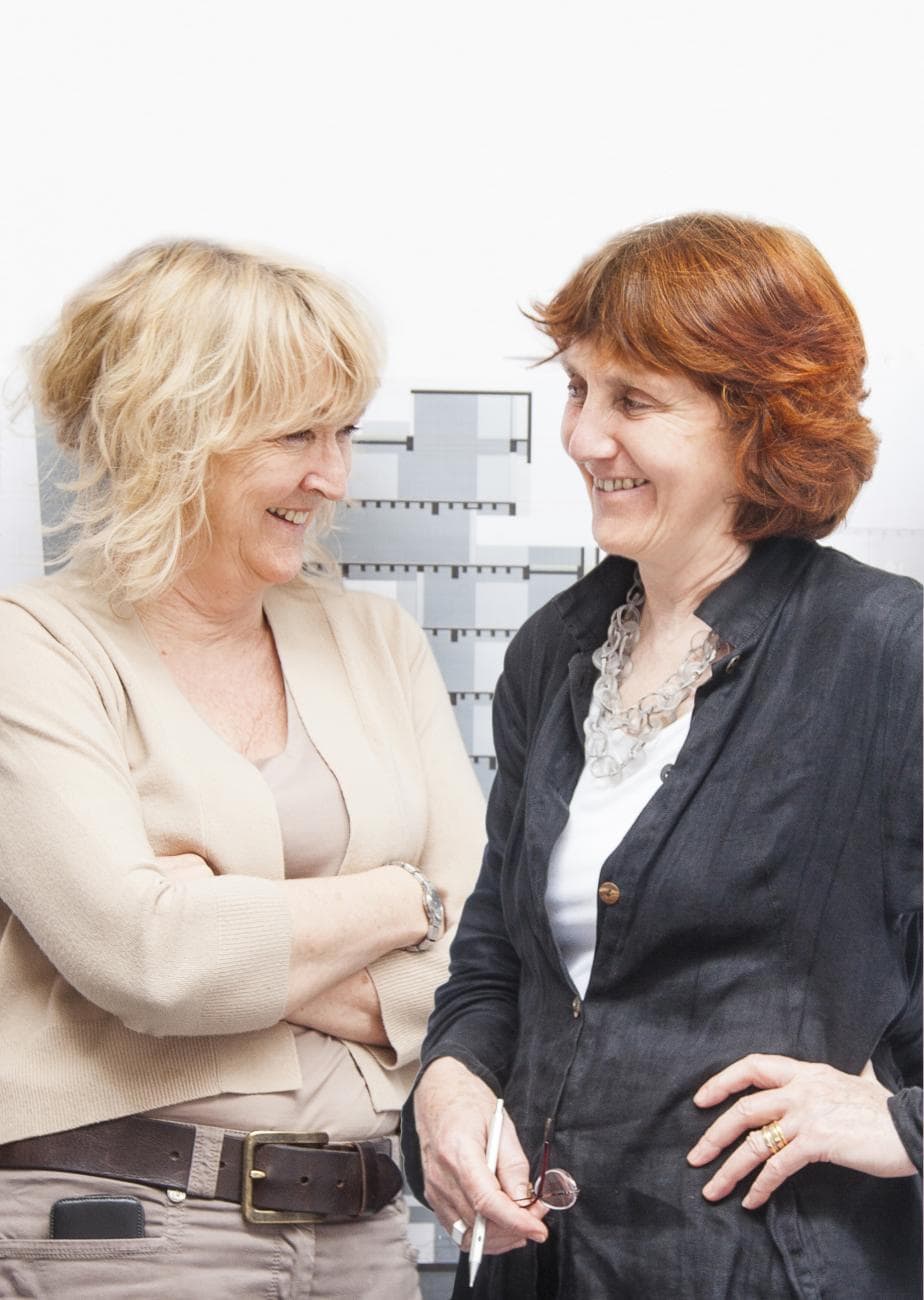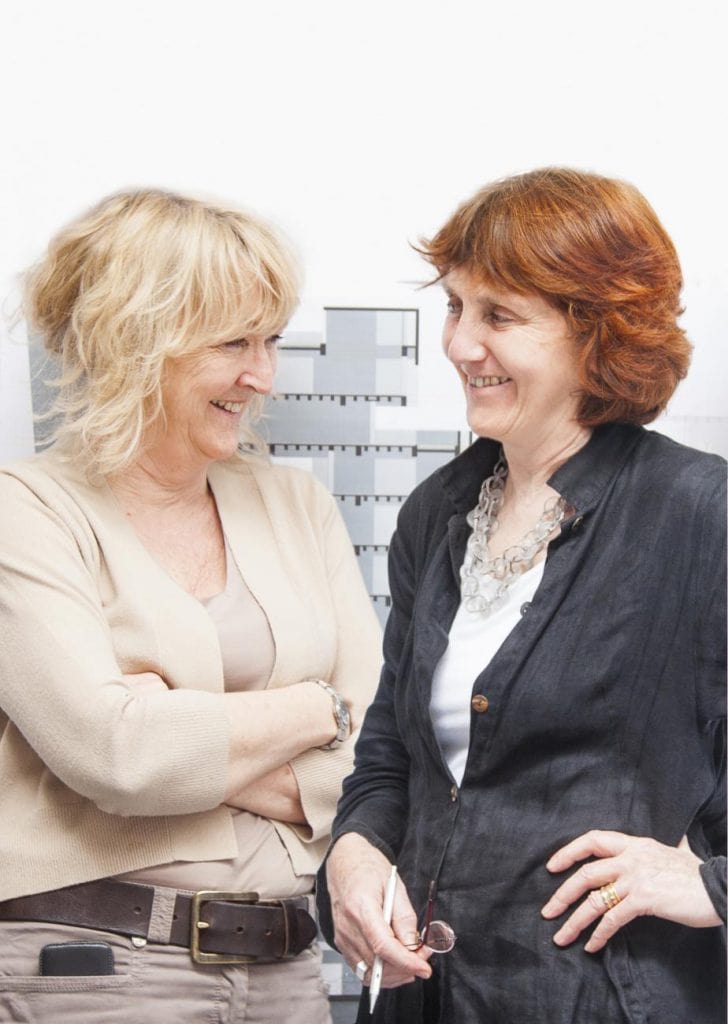 Yvonne Farrell and Shelley McNamara, Photo: Alice Clanc
The two Irish architects Shelley McNamara and Yvonne Farrell, co-founders of Grafton Architects, have been awarded the prestigious Pritzker Architecture Prize 2020. The jury of the "Nobel Prize for Architecture", which is awarded in Chicago, highlighted their responsible approach to the environment and described Farrell and McNamara "pioneers in a field that has traditionally been and still is a male-dominated profession" and "beacons to others as they forge their exemplary professional path".
Farrell and McNamara were awarded the prize "for their integrity in their approach to both their buildings, as well as the way they conduct their practice,

said the Pritzker Architecture Prize jury.
The architects are the first recipients from Ireland, although the fourth winner – Kevin Roche – was born in the country. They are the fourth and fifth women to be named winners of the prestigious award.
They follow Zaha Hadid, who was the sole winner in 2004, Kazuyo Sejima, who won alongside Ryue Nishizawa in 2010, and Carme Pigem, who won alongside Rafael Aranda and Ramón Vilalta in 2017.
About the laureates
Yvonne Farrell (1951) and Shelley McNamara (1952) met during their collegiate studies at the School of Architecture at University College Dublin (UCD). They studied under rationalist architects who had newly arrived to challenge the preexisting thought and culture of the institution. Upon graduating in 1976, they were each offered the unique opportunity to teach at UCD, where they continued to educate until 2006, and were appointed as adjunct professors in 2015.
Teaching for us has always been a parallel reality. And it's a way of trying to distill our experience and gift it to other generations coming along so that they actually play a role in the growing of that culture. So it's a two way thing, we learn from students and hopefully students learn from us,

comments Farrell.
Significant projects
In 1978, Farrell and McNamara, along with three others, established Grafton Architects, named after the street of their original office to prioritize the existence of place, rather than individuals. Significant projects have included North King Street Housing (Dublin, Ireland 2000); Urban Institute of Ireland, University College Dublin (Dublin, Ireland 2002); Solstice Arts Centre (Navan, Ireland 2007); Loreto Community School (Milford, Ireland 2006); Offices for the Department of Finance (Dublin, Ireland 2009); and Medical School, University of Limerick (Limerick, Ireland 2012).
Urban Institute of Ireland, Photo: Ros Kavanagh
The first international commission
Of the five original partners, only Farrell and McNamara stayed. Their first international commission away from their native Ireland transpired 25 years later, with Universita Luigi Bocconi in Milan (Milan, Italy 2008), which was awarded World Building of the Year at the 2008 inaugural World Architectural Festival in Barcelona.
Universita Luigi Bocconi, Photo: Federico Brunetti
Other international projects
Other international projects have since followed, with tantamount acclamation from the architectural community. University Campus UTEC Lima (Lima, Peru 2015) was awarded the inaugural RIBA International Prize 2016 by the Royal Institute of British Architects (RIBA). Institut Mines Télécom (Paris, France 2019) and Université Toulouse 1 Capitole, School of Economics (Toulouse, France 2019) were recently completed.
University Campus UTEC Lima, Photo: Iwan Baan
They are Fellows of The Royal Institute of the Architects of Ireland and International Honorary Fellows of RIBA. They have previously held the Kenzo Tange chair at the Harvard Graduate School of Design (2010) and the Louis Kahn chair at Yale University (2011) and have taught at institutions including École Polytechnique Fédérale de Lausanne and Accademia di Architettura di Mendrisio, and lectured internationally.
La Biennale die Venezia
Grafton Architects was the recipient of the 2012 Biennale di Venezia Silver Lion Award for the exhibition, Architecture as New Geography. Farrell and McNamara were appointed as 2018 co-curators for the 16th International Architecture Exhibition, la Biennale di Venezia, with the theme FREESPACE. They were awarded the RIAI James Gandon Medal for Lifetime Achievement in Architecture by the RIAI in 2019 and the RIBA Royal Gold Medal in 2020.
About the Pritzker Architecture Prize
The Pritzker Architecture Prize was founded in 1979 by the late Jay A. Pritzker and his wife, Cindy . Its purpose is to honor annually a living architect or architects whose built work demonstrates a combination of those qualities of talent, vision and commitment, which has produced consistent and significant contributions to humanity and the built environment through the art of architecture.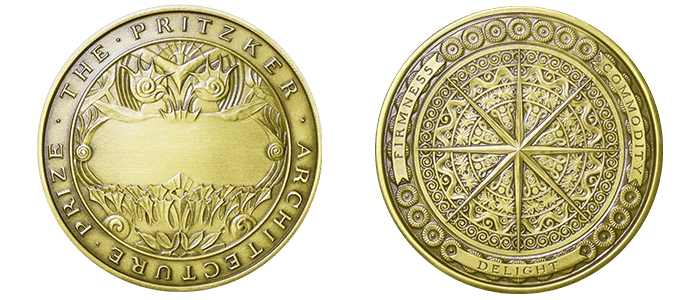 The laureate receives $100,000 and also a bronze medallion. The bronze medallion awarded to each Laureate of the Pritzker Architecture Prize is based on designs of Louis Sullivan, famed Chicago architect generally acknowledged as the father of the skyscraper. On one side is the name of the prize. On the reverse, three words are inscribed, "firmness, commodity and delight," recalling Roman architect Vitruvius' fundamental principles of architecture of firmitas, utilitas, venustas.
---