Monte-Carlo glitters as ever and the Michelin stars also sparkle above the restaurants thanks to world-class cuisine. With new, modern and sustainable gourmet concepts, as well as a total of seven stars in the Guide Michelin, the Monegasque houses can boast. 
Restaurant Elsa with wild fishing on Monte-Carlo-Beach
Elsa at the Hotel Monte-Carlo Beach is a pioneer in "locavore" gastronomy and focuses on local products. Here, 36-year-old chef Mélanie Serre conjures up generous and flavorful dishes using local ingredients. The chef, who hails from the Ardèche region, stands for regional cuisine rooted in French tradition. The Elsa restaurant was already recognized as an organic restaurant by Ecocert in 2013 and is now a so-called "locavore" restaurant with wild-caught fish. Mélanie Serre focuses on the product, the harmony of flavors and colors, with generosity and without ostentation. A resolutely modern vision of gastronomy that finds its meaning in simplicity and a confident strength of taste.
https://www.montecarlosbm.com/fr/restaurant-monaco/elsa
Le Blue Bay – Marcel Ravins 2-star cuisine
Marcel Ravin's creativity and craftsmanship were rewarded with a second Michelin star last year. The stars of the Caribbean-inspired dishes are seasonal fruits and vegetables; meat and fish become almost side dishes. The chef works with startup Terre de Monaco, which manages urban and organic fruit and vegetable gardens, as well as produce from "Le Jardin des Antipodes" in Menton. Guests enjoy dishes on the panoramic terrace, redesigned by interior designer Alexandra Saguet, overlooking the sea.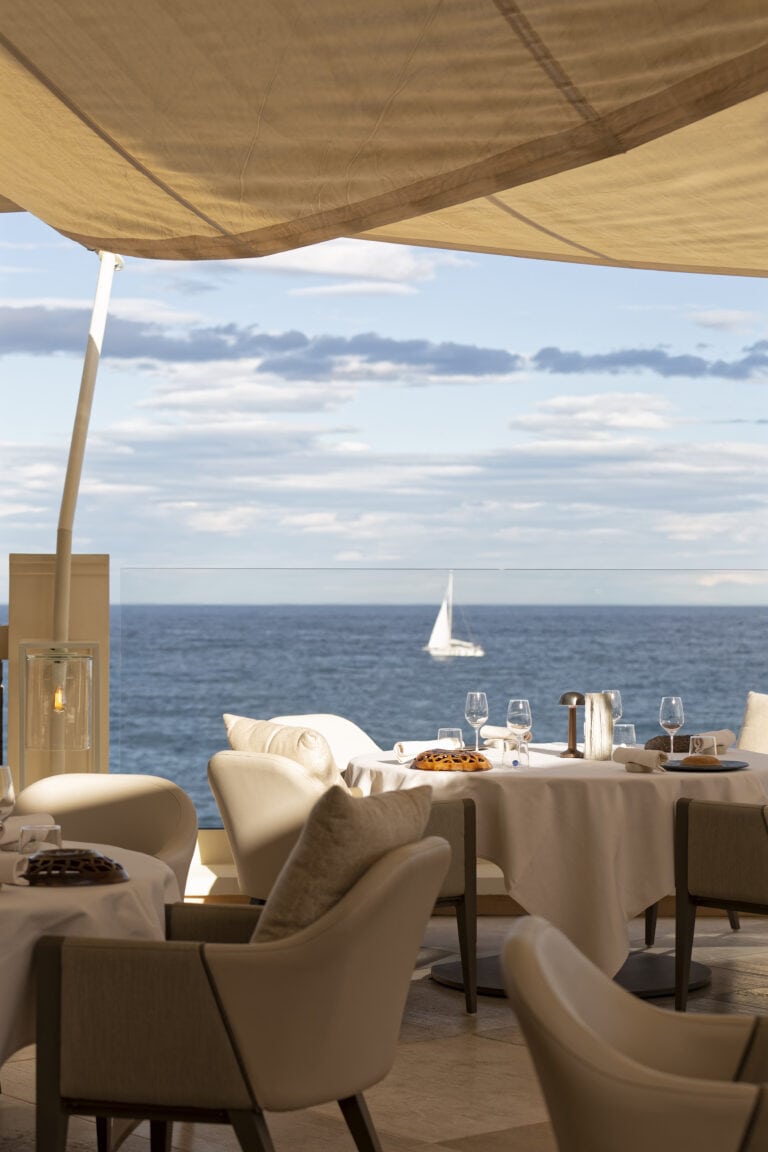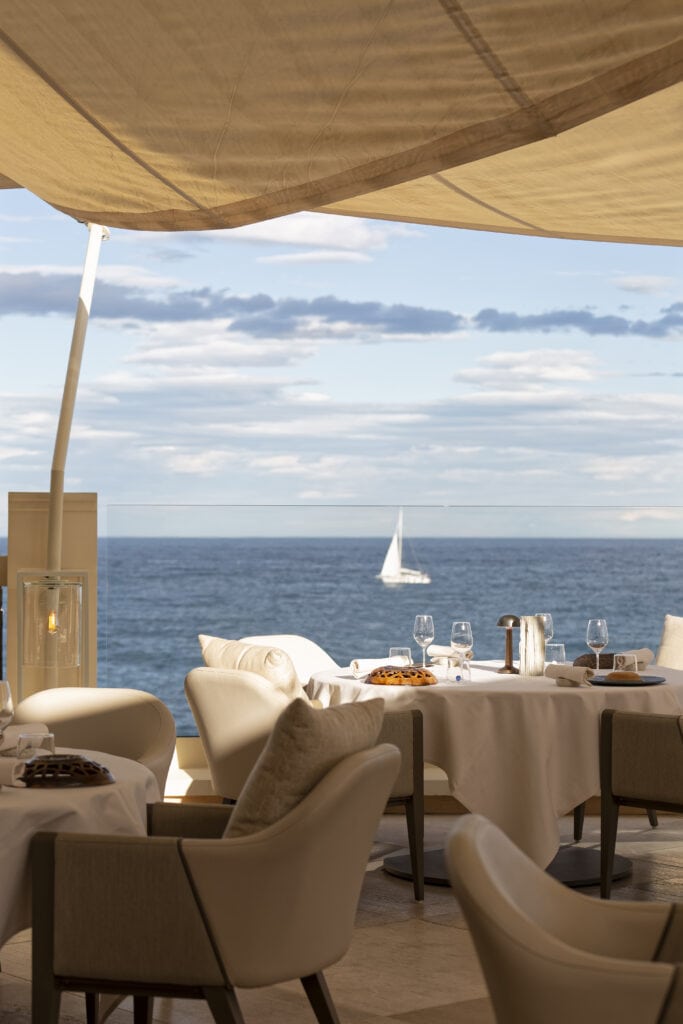 Marcel Ravin's signature dish and desert: organic chicken egg, truffled cassava and passion fruit // Chocolate/passion fruit score with cocoa bean & passion fruit texture.
https://www.montecarlosbm.com/fr/restaurant-monaco/le-blue-bay
Le Grill – one star address in the Principality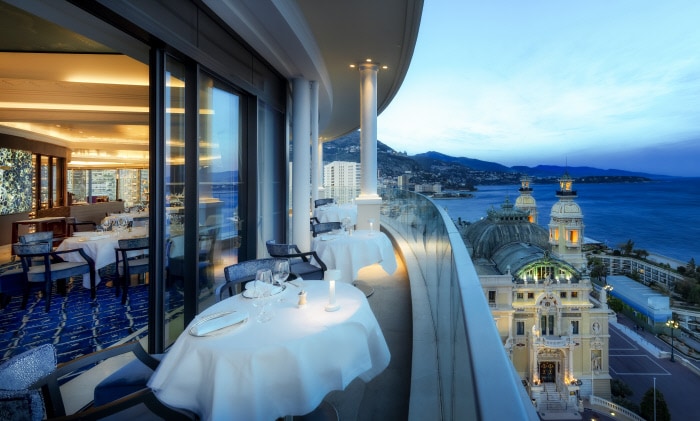 Le Grill is located on the eighth floor of the Hôtel de Paris Monte-Carlo. The view over the Mediterranean Sea and the Principality, upscale cuisine and dining under the stars make a visit to this restaurant an unforgettable experience. Dominique Lory, executive chef at the Hôtel de Paris Monte-Carlo and responsible for all of the hotel's restaurants, has taken over from Franck Cerutti. The 43-year-old chef spent most of his career working for Alain Ducasse and remains loyal to his cuisine using Riviera products. The modern-design Le Grill treats guests to culinary delights in the new Winston Churchill private salon and an outdoor terrace with views across the Mediterranean to Corsica. Winston Churchill is then also memorialized with the "Cigar" dessert.
https://www.montecarlosbm.com/fr/restaurant-monaco/le-grill
Pavyllon –the restaurant of Yannick Alléno in Monte-Carlo
Following the success of the Yannick Alléno restaurant at the Hotel Hermitage Monte-Carlo, Monte-Carlo Société des Bains de Mer now welcomes Pavyllon to Monegasque soil. Here, Yannick Alléno creates refined, mainly plant-based cuisine, rich in Mediterranean flavors. Guests enjoy dishes from the planted terrace, overlooking the sea and cliffs. Inside, gourmets take a seat in the Chahan Minassian-designed room with large glass windows and can watch food being prepared at a long counter in front of the open kitchen. 
https://www.montecarlosbm.com/fr/restaurant-monaco/pavyllon-monte-carlo-un-restaurantyannick-alleno-hotel-hermitage-monte-carlo
Em Sherif Monte-Carlo – a best of Lebanese cuisine
Always striving for excellence in gastronomic experiences, Monte-Carlo Société des Bains de Mer has joined forces with the Beirut-based Em Sherif restaurant group to open Em Sherif Monte-Carlo in April 2022. The concept brings together Em Sherif Restaurant, Em Sherif Café and Em Sherif Sea Café, serving refined Lebanese cuisine and seafood. Em Sherif Monte-Carlo also runs the Chicha Lounge Bar, which is open in the afternoon and evening. Yasmina Hayek, the daughter of Mireille Hayek, founder of Em Sherif and graduate of the Paul Bocuse Institute, manages the restaurant in Monaco. 
https://www.montecarlosbm.com/fr/restaurant-monaco/em-sherif-monte-carlo
Louis XV –Alain Ducasse à l'Hôtel de Paris, the table of excellence
With Alain Ducasse, Monte-Carlo Société des Bains deMer has opted for excellence, which is why the Hôtel de Paris Monte-Carlo was the first palace hotel in the world to be awarded three stars in the Guide Michelin in 1990, which have been constantly glittering above the restaurant ever since. Located directly in the Hôtel de Paris Monte-Carlo, Le Louis XV – Alain Ducasse à l'Hôtel de Paris enchants with its Mediterranean cuisine. Here, Alain Ducasse and his Executive Chef Chef Dominique Lory develop a "cuisine of the essential", where full flavors and aromas take center stage. The wine list includes the best drops from the famous wine cellar of the Hôtel de Paris Monte-Carlo, where 350,000 noble bottles are stored. The restaurant opens its elegant ground-level terrace overlooking the Place du Casino on fine days.
https://www.montecarlosbm.com/fr/restaurant-monaco/le-louis-xv-alain-ducasse-hotel-de-paris