A series of unique rings by Iker Ortiz
This jewelry series by designer Iker Ortiz is based on a rectangular prism, which is the starting point for the different pieces and which provides transparency.
In all pieces it does cross from top to bottom of the geometry and causes the inner cavities to intersect and prolong, in order to create effects of depth contrast between light and shade.
In this unprecedented edition, this contrast and performance of light is emphasized by introducing metal into the cavities of the rings, which – in terms of jewelry – also makes each piece more valuable.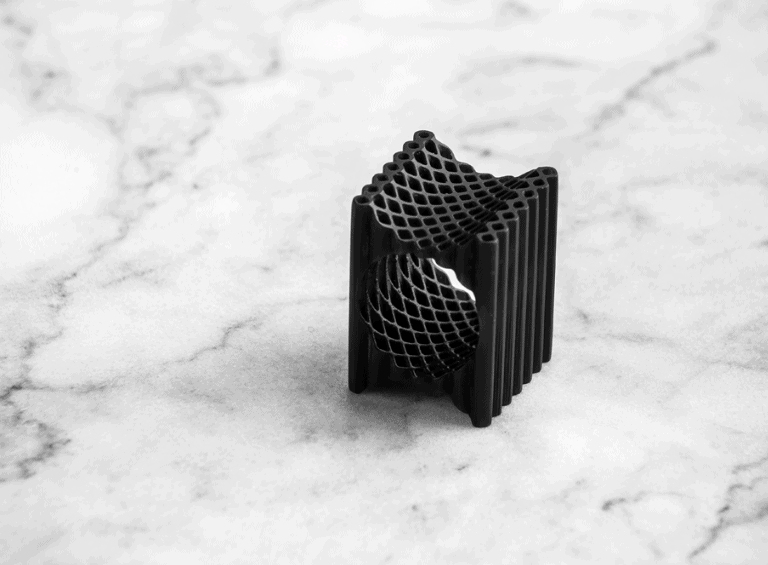 The designer
Iker Ortiz is a singular character. With a calling for architecture and bohemian soul, he is always dressed in black, keeping with the essence -less is more- that lives and breathes at his workshop. He scrutinizes every single piece a thousand times as an artist who cannot settle for anything less than perfection. Taking off his black framed eyeglasses, he focuses his gaze and mind upon every ring, finding the way of turning it into a unique conceptual piece. He believes each one of them has a story to tell and every jewel that passes through his hands speaks for itself. A Mexican designer devoted to the creation of timeless rings, bracelets, necklaces, cufflinks and more by successfully combining industrial technology with the sophistication of the handmade craft.
Iker Ortiz online >>
About
Year: 2016
Material: Resin, stainless steel
Measurements: 2 x 2 x 2 cm
Weight:
_resin: 4 g
_resin and stainless steel: 15 g
Category: Accessoires and Fashion
Designer: Ricardo Casas and Iker Ortiz – contact per email
Producer: RCDESIGN – contact per email
Joined WWTC: 2018
Purchase
Buy online at shelf.mx here
Price for resin ring in € (incl. Tax): 45,- (Status Spring 2018)
Price for resin and stainless steel ring in € (incl. Tax): 145,- (Status Spring 2018)