---
Text by Nina Prehofer
Nestled on the banks of the Reuss in the heart of Lucerne's old town lies the Hotel des Balances. Equilibrium and harmony are the hotel's watchwords.
Coming "home" has never been so easy.
Clear directions, a warm and hearty reception and your first view of the sunny bedroom and balcony will make your heart skip a beat – but your soul will instantly find the perfect equilibrium.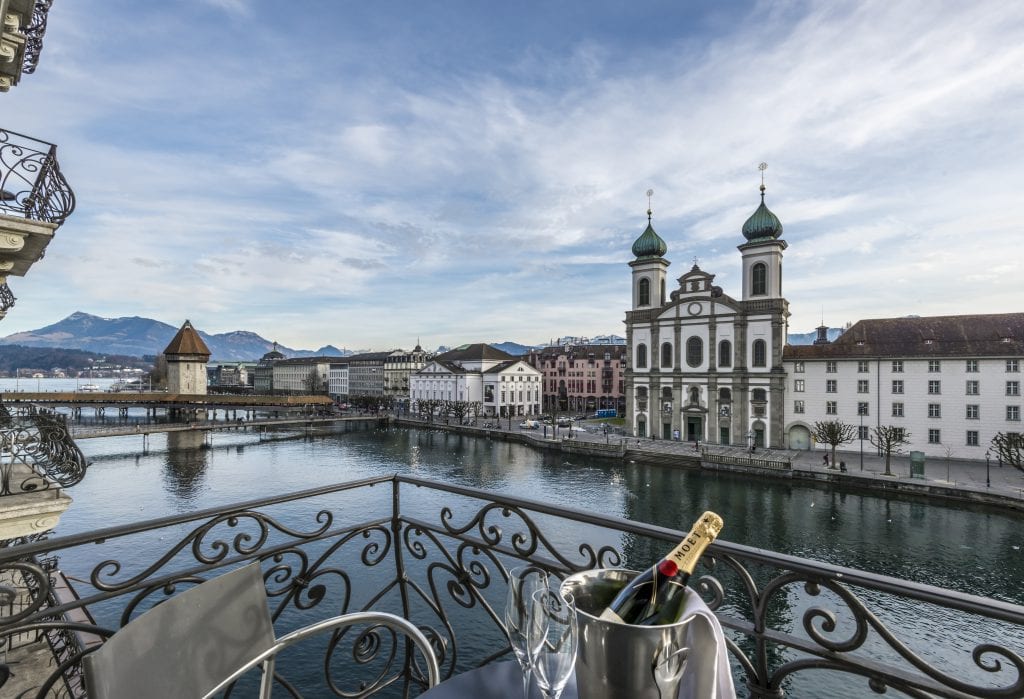 Drink in the views of the river, the mountains and the opposite bank with its historic buildings such as the Jesuit Church and world-famous Chapel Bridge and Wate Tower. The rooms have the perfect balance of colours – and historical flair is in sync with modern design.
The most beautiful terrace in Switzerland
From the river, you might think you are looking at a Venetian palazzo. In fact, what you see is the terrace of Restaurant Balances, described by Gault Millau as one of the most beautiful terraces in Switzerland.
Hotel des Balances

Hotel des Balances
Gault Millau also speaks highly of the creations of head chef Andreas Fluri, finding that "for years, he has successfully maintained the perfect balance between traditional European cuisine and creative trends from around the world." After a visit to the restaurant, the bar is the best place to unwind. The drinks are so good that you will need to be careful to keep your own balance.
Shopping trips and fascinating sightseeing
The Hotel des Balances is the perfect base camp for extended shopping trips and fascinating sightseeing. The historical façade from the 12th century is a treat for the eyes. Perhaps it is all down to Peter E. Büsser, who has managed the hotel for over 30 years. Perhaps he is the source of the inner peace and equilibrium. And perhaps you simply become such a source when you spend so much time in this wonderful corner of the earth.
---
Hotel des Balances is a MEMBER OF LIFESTYLEHOTELS