It's time to drink through rose-coloured glasses. Lyre's, the world's most awarded non-alcoholic spirits company, has created Pink London Spirit, a non-alcoholic homage to pink gin that puts fun and style into any occasion.
From bottomless brunches to afternoon tea with a glamourous twist, Pink London Spirit will delight non-drinkers and moderate drinkers alike with its complex yet playful taste.
As the newest member of the Lyre's portfolio of 14 exquisite non-alcoholic spirits, this meticulously crafted new flavour with its gorgeous pink liquid and stunning bottle will impress gin enthusiasts whether entertaining at home, out partying with friends or as a perfect gift. It's also gluten free, vegan, contains no artificial ingredients and has just 11 calories per serve. Libations!
Tasting notes
Bouquet: Rich scents of red fruits such as raspberry & red currant on the nose with alluring musk and rosehip characters to add complexity. The presence of juniper completes the Pink Gin experience.
Taste
The immediate presence of musk, red berry and blackberry characters a generous front palate and offers a fragrant mouthfeel with good viscosity. Palate length continues with a floral rose petal like aroma whilst the presence of juniper delivers a generous gin themed experience.
I mean, sure I like to powder my nose, but I'd rather powder yours in my dust. It's like I always say, a girl should be two things: fast and first.



A straight up classic G&T with the addition of sliced fresh strawberries and a sprig of mint or switch it up with the signature serve Lyre's Pink London Spritz (see below), all enjoyed without compromising on flavour or aroma, thanks to Pink London Spirit's bouquet redolent of rosehip, raspberries, and redcurrant. Impossibly crafted, the palate is savoury and seductive, with notes of cherry, rose and a pleasingly bitter gin-like finish.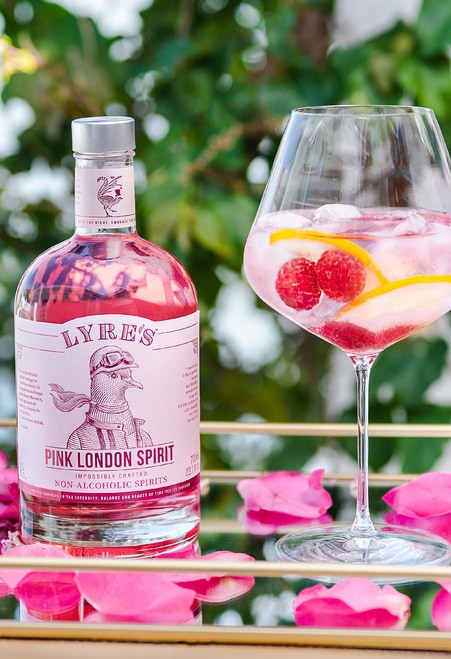 Lyre's Pink London Spritz
Pour 60ml of Lyre's Pink London Spirit
Add 60ml of Lyre's Classico
Add 30ml of premium tonic water, soda water or lemonade
Add 4 to 5 Raspberries or your favourite berry with two lemon slices
Stir and serve over ice
Lyre's portfolio of impossibly-crafted non-alcoholic spirits and liqueurs is fast becoming a back-bar staple of celebrated drinking dens around the world including The Goring London and The Ivy across the UK. The brand has picked up an incredible array of medals, wowing industry thoughtleaders and judging panels at the most rigorous blind tasting awards – regularly outscoring their alcoholic equivalents – including the International Spirits Challenge, Global Masters Spring Blind Tasting Awards and the London Spirits Competition.
About Lyre's
Launched in Australia in July 2019, Lyre's Non-Alcoholic Spirits is an exquisite range of 15 (and growing!) alcohol-free classic spirits and five ready-to-drink options. Since foundation, Lyre's has become the most awarded non-alcoholic premium spirits brand globally with prestigious accolades from London Spirits Competition, Spirits Business and IWSC among others. Lyre's is already recognised as the global category's second best-selling non-alcoholic brand (Drinks International Annual Brands Report 2021).
The brand was created and founded by EY Entrepreneur of the Year Finalist, Mark Livings, who believed that people wanted to make better choices around their alcohol consumption but still enjoy their much-loved drink of choice. After a rigorous three-year development process that sent him around the world to work with the most innovative and advanced beverage technology companies, Lyre's was born.
Lyre's online >>