A look in the gold-framed mirror tells you: This is where you belong. This hotel will meet your demands.
Luxury in winter is a winter holiday.
Or: treat yourself to the luxury of dreaming of the next holiday. For both of these it is recommended to take the Hotel Glòria Sant Jaume into consideration.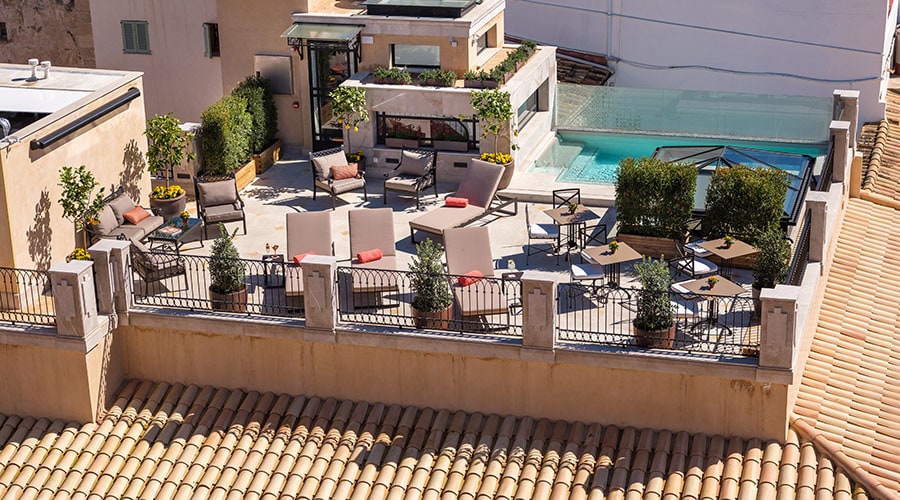 Located in the middle of Palma de Mallorca, but hidden in a peaceful little side street, there lies a hotel with medieval roots and the latest five-star hotel comfort. A Majorcan dream in sandstone, with high arches, finely patterned marble floors and a roof terrace for far-sighted people. As the former residence of a Cata lonian aristocrat, carefully modernised, the building radiates an atmosphere of tastefully subtle luxury. In its present form, the Hotel Glòria was not opened until summer 2017. The hotel is the fulfilment of a lifelong dream for the Cabau Family, a Catalonian hotelier dynasty.
We want our guests to feel as if they were at home with us, as if they would be at a house of a good friend.

A dream that guests can also experience.
A WINTER IDYLL
Majorca has a lot to offer those seeking the melancholy of a winter journey – as the French writer George Sand once did: Finally, more space, in the "Es Baluard", the museum for modern and contemporary art, in Europe's deepest shark tank "Deep Blue" in the Palma Aquarium, while shopping, or simply sauntering and gourmandizing. But those who want to set their pulses racing can try "coastering": For this, you need to get into a wetsuit, and then it's time for climbing, swimming, diving and abseiling, and all of this is right along the coast. In the steam bath of the Glòria Sant Jaume, at the latest, a cosy warmth returns – to the muscles and to the soul.
HOTEL GLÒRIA DE SANT JAUME, SPAIN, PALMA DE MALLORCA
---
Book online at LIFESTYLEHOTELS