Michael Bloomberg has launched a bid to dislodge Donald Trump from the White House. But that's not all. Ever since the construction of his European headquarters, Bloomberg has taken to calling himself the "world's most ecological developer".
His name has a pleasant ring to it, especially for those who speak German: Bloomberg. A blossoming mountain ("Blume" = "flower"; "Berg" = "mountain"). The image that comes to mind is a peak strewn with flowers and easy to climb.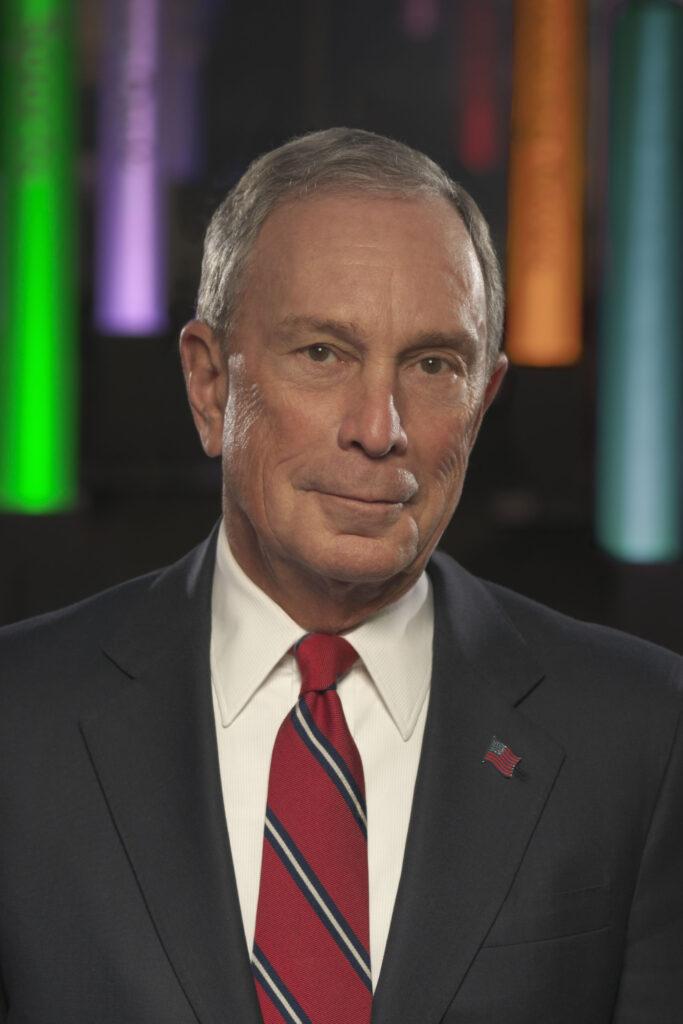 When you consider the life story of Michael Bloomberg, it appears that the 78-year-old American entrepreneur has scaled every rocky and jagged peak in his path with ease, as if they were flowery hillsides. He has had a long list of careers: engineer, asset manager, financial data broker, investor, publisher, philanthropist and, last but not least, mayor of New York. Everything the man touches turns to gold. And now this enthusiastic multi-talent has launched a bid to become the next president of the United States of America. Because, in his view, he is the only one who has what it takes to take on Trump.
But Bloomberg has by no means limited his enterprising interests to the US. World domination? Now, that's more his style. It is only logical then that his company, Bloomberg LP, should also have a European headquarters. In London, of course.
Accolades for star architects
The eighth richest man on the planet (64 billion US dollars of private wealth) has now made his mark on the British capital. And it is a spectacular accomplishment in many respects. One aspect in particular is likely to offend his political nemesis, Donald Trump, who is a notorious environmental sceptic: the building is highly sustainable and ecologically designed! But let's start at the beginning.
A team from Foster + Partners under the direction of Baron Norman Foster himself was given an opportunity to take a crack at the project, which was eyed with suspicion by the architectural profession from the very beginning. Spoiler alert: the seasoned architects rose to the occasion! Already now, shortly after its completion, the building is in the running for countless architectural awards. And there are several reasons for this.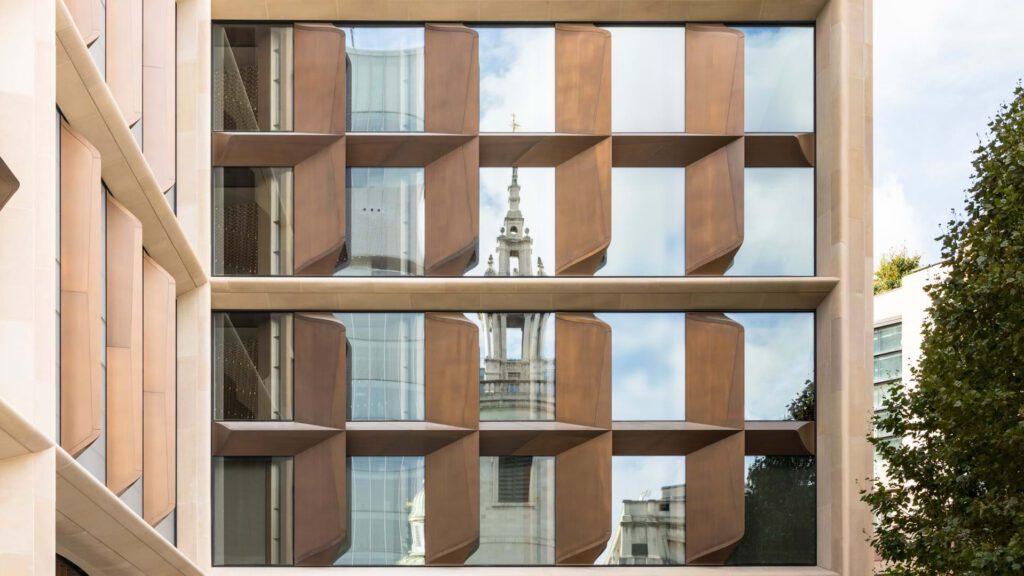 Let's start with the most astonishing one. As a rule, especially in the high-priced urban areas of the world's major cities, developers do everything they can to maximize the use of the available space, both above and below ground. This is essentially the only way an exorbitantly expensive piece of property can be utilized profitably.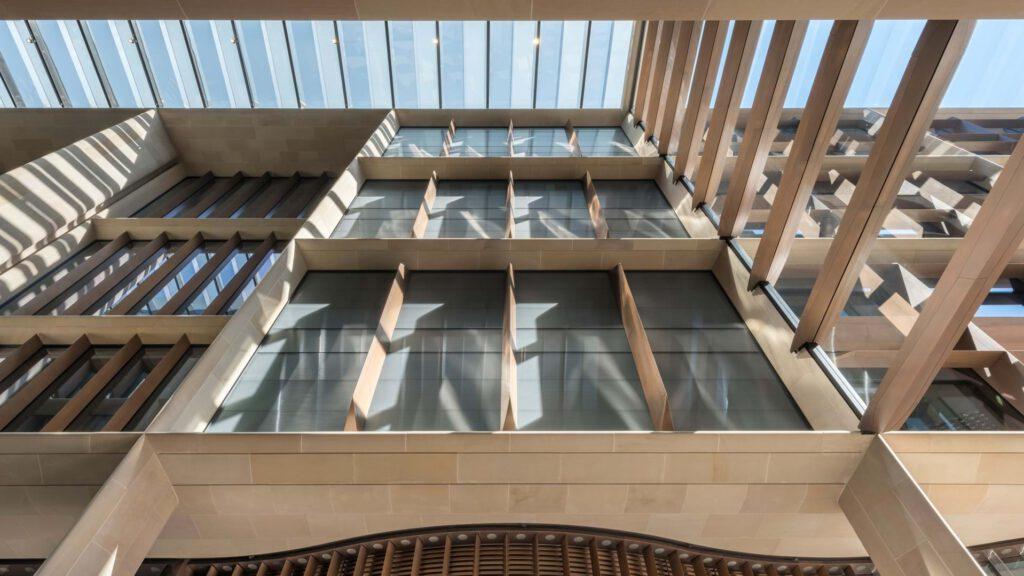 But Bloomberg defied this approach and instead instructed his architects not to squeeze the maximum legally allowable amount of space out of the 1.3 hectares in the heart of the City of London, located near the Thames between the Bank of England and St. Paul's Cathedral.
Bloomberg's vote of confidence
On the contrary, it was important to him to create space for three new public plazas, including a pedestrian zone. Furthermore, the designers were careful not to obstruct the views of the surrounding buildings any more than necessary, and instead opted to build lower rather than go too high.
Likewise, relatively plain-looking sandstone was chosen as the predominant building material. The stated intention was to pay homage to the surrounding buildings and not obsessively seek the spotlight.
Incidentally, this approach was such a welcome surprise for Mayor Sadiq Khan that he formally recognized it as a "huge vote of confidence in London".
The daring architecture is inside!
Inside the ten-storey building, though, the architects could let their imaginations run wild. As soon as you enter the company's headquarters, you find yourself optically caught up in a kind of whirlwind. The "vortex" is a double-height space that creates a remarkably dramatic effect from the interplay of three inclined, curving timber shells.
This symbolizes the company's energy,

as it says in an official press release.
These shells twist to form an oculus at their apex. Hence, the viewer's gaze is deliberately directed upwards to a shimmering object that is anchored there: the artwork "No future is possible without a past", by Olafur Eliasson.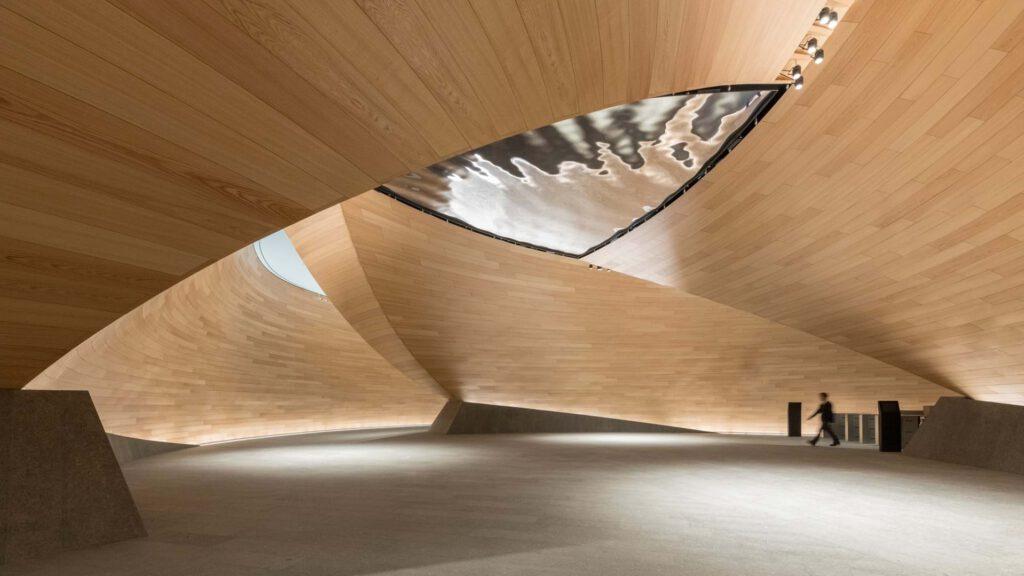 The individual curved and twisting wooden shells culminate in an eye-like opening that houses the shimmering artwork by Olafur Eliasson.
Equally impressive is a ramp-like construction that is based on a mathematical curve called a hypotrochoid and joins the floors above.
What is a hypotrochoid?
The official definition: A hypotrochoid is a roulette traced by a point attached to a circle of radius r rolling around the inside of a fixed circle of radius R, where the point is a distance d from the centre of the interior circle.
But since even this explanation tends to lead to confusion, here is a visual representation of this obscure shape: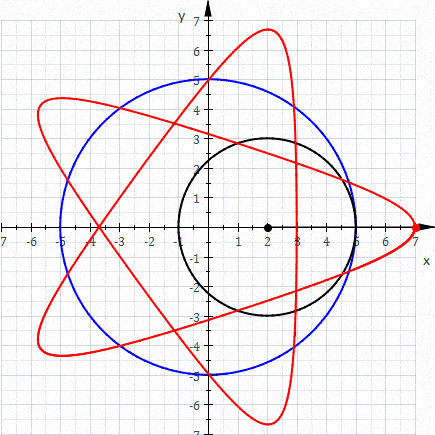 In this case – and as applied to this structure – this translates into roughly the following: the occupancy levels are connected by three elliptical loops rotating through 120 degrees on each floor.
In addition, the ramps are bronze-clad and designed to encourage brief impromptu conversations with colleagues. This meeting place fosters exchanges and provides spectacular views of the building.
We want to show that this is not just about financial data, but also about community and collaboration in an environment where art plays a central role,

the star architects explain.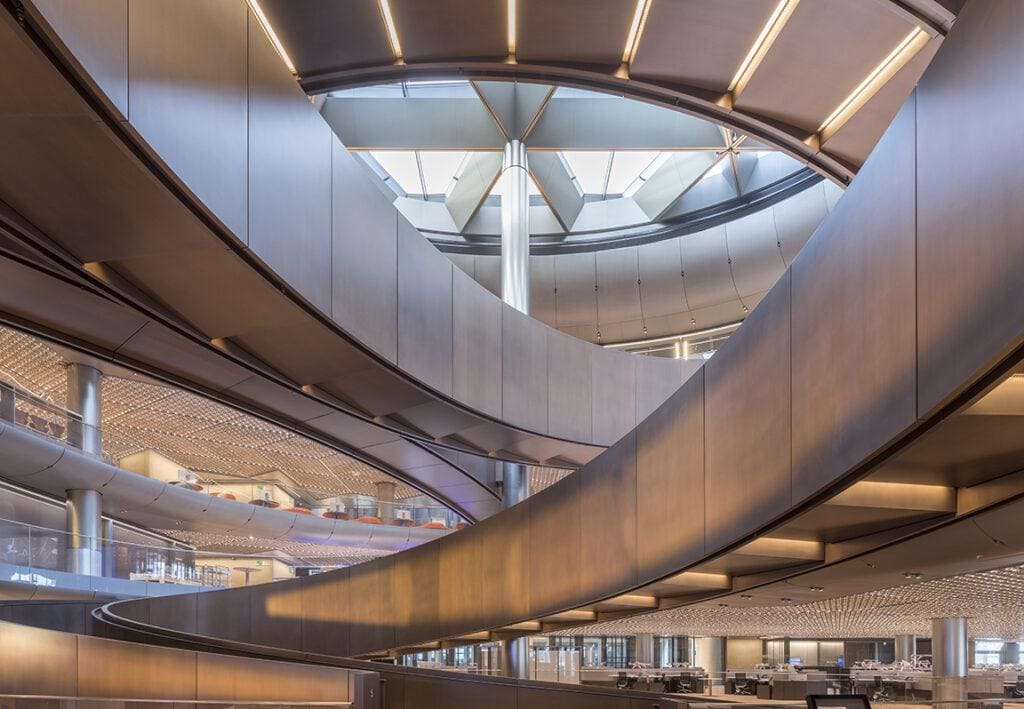 Back to the seventies
But if you walk directly to the specially designed work areas for 4,000 financial service providers, it feels like you are back in the seventies: open-plan offices with densely packed desks separated by orange partitions.
Yet above these rather non-communicative work booths hangs a multifunctional ceiling that is said to be the most advanced in Europe. The aluminium construction incorporates everything that an office space requires – heating, cooling, lighting and acoustic functions.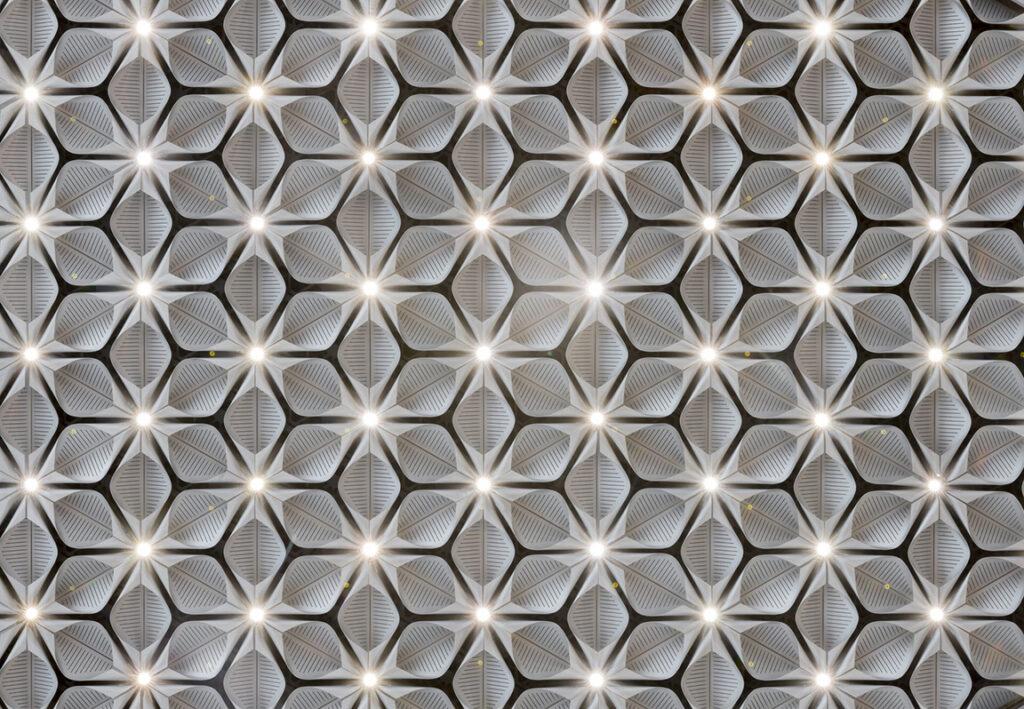 The aluminium ceiling integrates all the necessary high-tech gadgetry.
It still remains to be seen whether workplace experts will rate this situation as good, bad or bizarre, but Bloomberg clearly knows how to earn the money that was required to build this elaborate building: reportedly at a price tag of well over 1 billion pounds!
Before our heads start to spin at the thought of this astronomical sum, let's turn our attention to the next spectacular detail: the wood used in the construction. This plays a particularly important role inside and outside, and in a wide range of applications.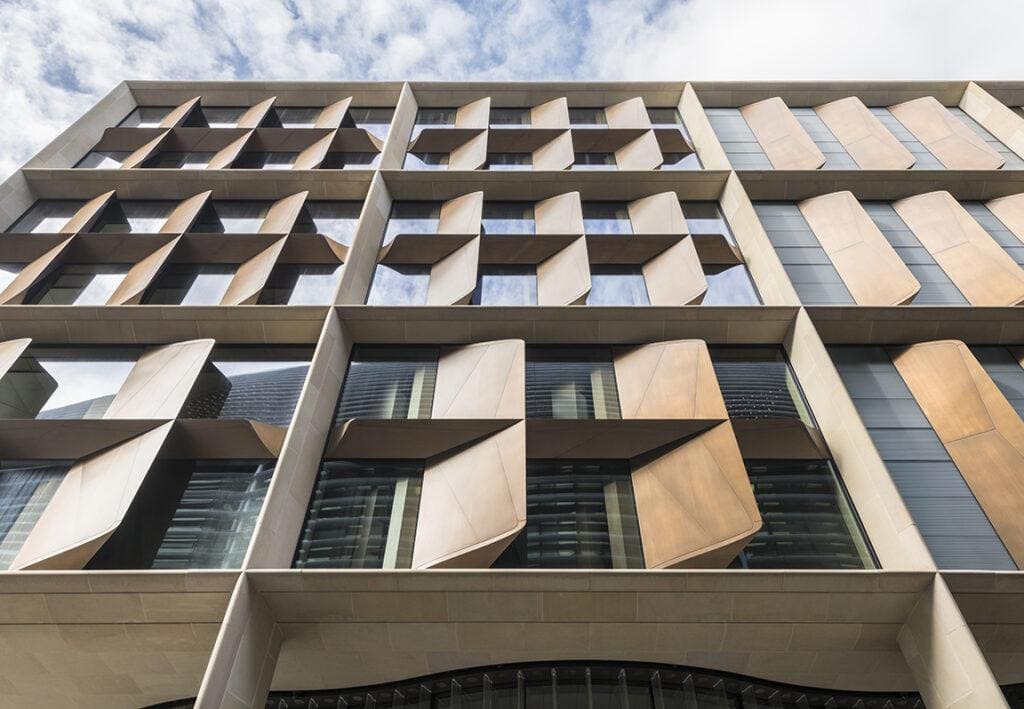 In fact, countless cubic metres of American red oak were used. This is a type of wood that has hardly been used in Europe to date, but is very popular in the US. Red oak is not only highly sustainable, but also a very important raw material for the US timber industry.
But it would rash to conclude that Bloomberg intended to aid his American homeland by using this building material. It is probably pure coincidence that the American wood lobby is rejoicing over the "definitive breakthrough of red oak in Europe". Indeed, 37,160 square metres of this type of wood were necessary for the flooring alone of this Bloomberg landmark building…
(No) hidden agenda
Naturally, the architects have a justification for their choice of wood, with no mention of "a hidden agenda to promote the US timber industry". Instead, they are aiming to achieve sustainability!
Not only is wood is a renewable raw material that is energy efficient and an excellent means of capturing CO2 along with many other advantages, but it is also sustainable in the broadest possible sense. A building's sustainability also has a lot to do with the sense of well-being – and people feel more comfortable in an environment surrounded by natural materials.

Project architect Michael Jones.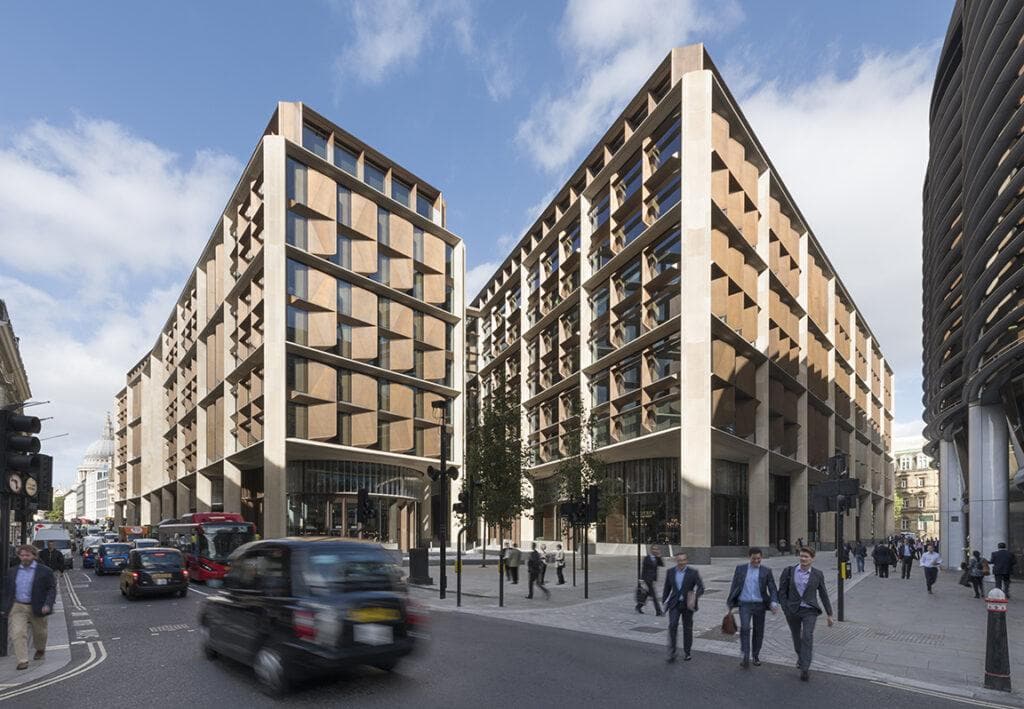 Furthermore, he says that the technical specifications speak for themselves, as does the reddish tinge:
We wanted a type of wood with a warm glow that would mature over the years and become even softer.

Michael Jones
This excluded cherry wood, which has a tendency to darken with age.
White oak was too light for Bloomberg
It was decided that European and American white oak would have been too light in colour, and it often takes on a yellow tinge. The abundance of red oak available from America was simply ideal. The long transport routes by sea occasionally made people nervous about whether "we would always receive timely and sufficient deliveries of wood that had the requisite uniform colour and grain," as Jones wryly comments.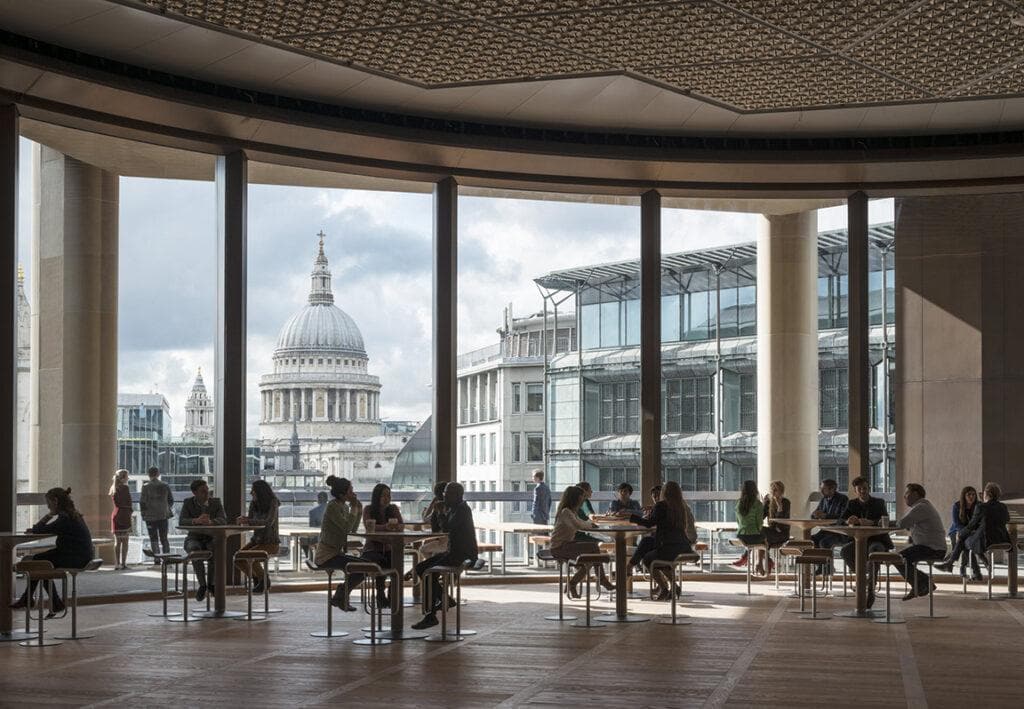 The meeting zones provide a magnificent view of London.
At any rate, Michael Bloomberg and Foster + Partner have been given an official environmental stamp of approval: the spectacular new building received the highest BREEAM rating (Building Research Establishment Environmental Assessment Method) ever awarded to a large office building. The architecture of the Bloomberg European headquarters was also awarded the highest BREEAM certification possible.
---


---
Text: Johannes Stühlinger
Translation: Rosemary Bridger-Lippe
Photos: Foster + Partners; Bloomberg; Wikipedia; Nigel Young