Distinguished by its soft shapes and classical elegance, the new furniture collection reflects the brand's classic themes, with precious woods, iconic fabrics and symbolic elements like Paisley and the ETRO logo, combined with traditional outdoor furniture materials that guarantee maximum weather resistance.
Envisage the deep blue sea, magical nature and timeless beauty of Capri. Overlooking the Marina Piccola bay and Scoglio delle Sirene is the luxury 5-star Punta Tragara Hotel, perched atop the Faraglioni, an awe inspiring location to introduce the new ETRO Home Interiors outdoor collection. Bathed in the atmospheric light of this seductive place, a chaise longue, sofa, chair, tables and poufs decorate the splendid sea view terrace of the hotel's most prestigious suite, creating an oasis of relaxation with a chic, comfortable allure.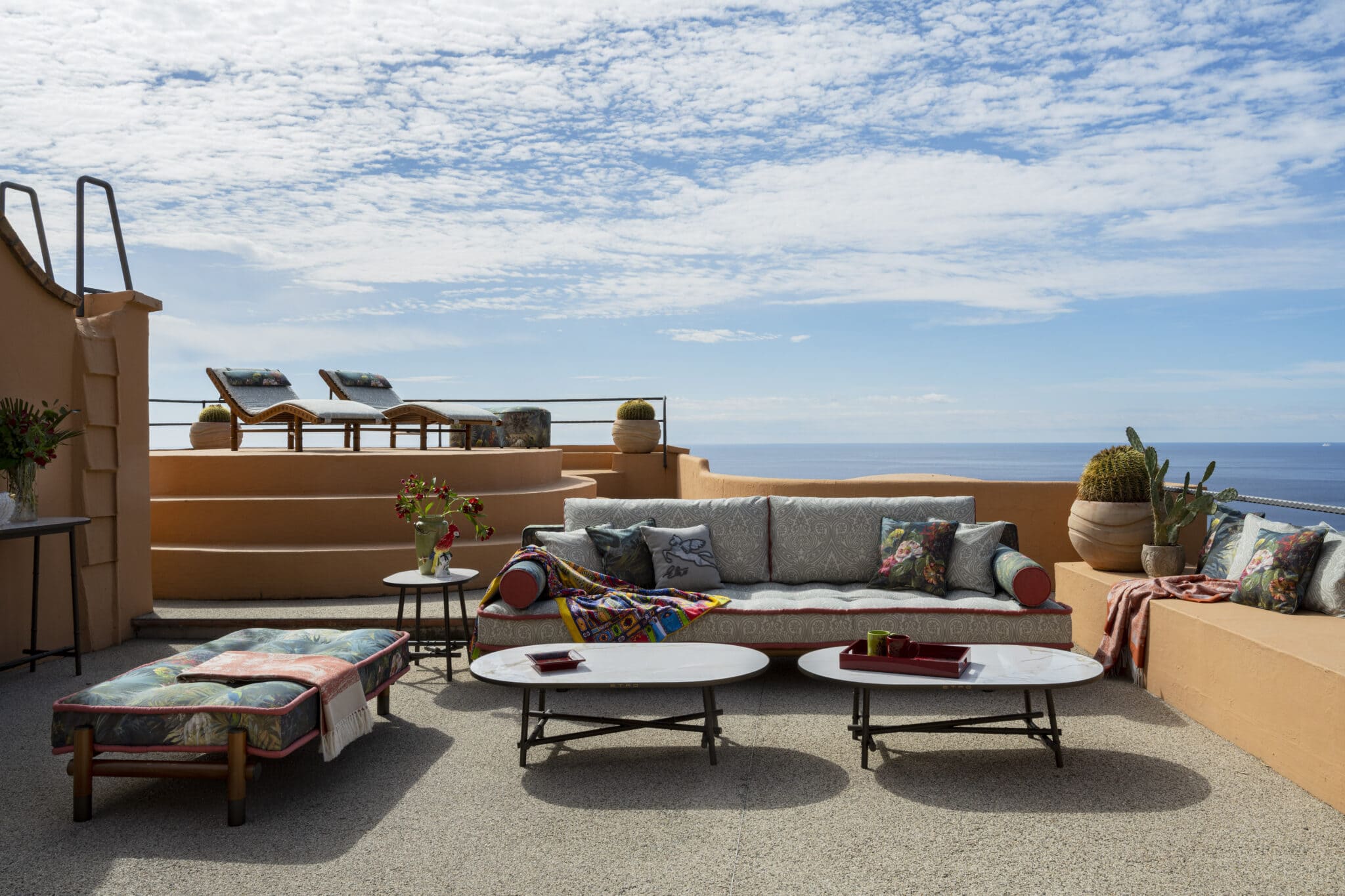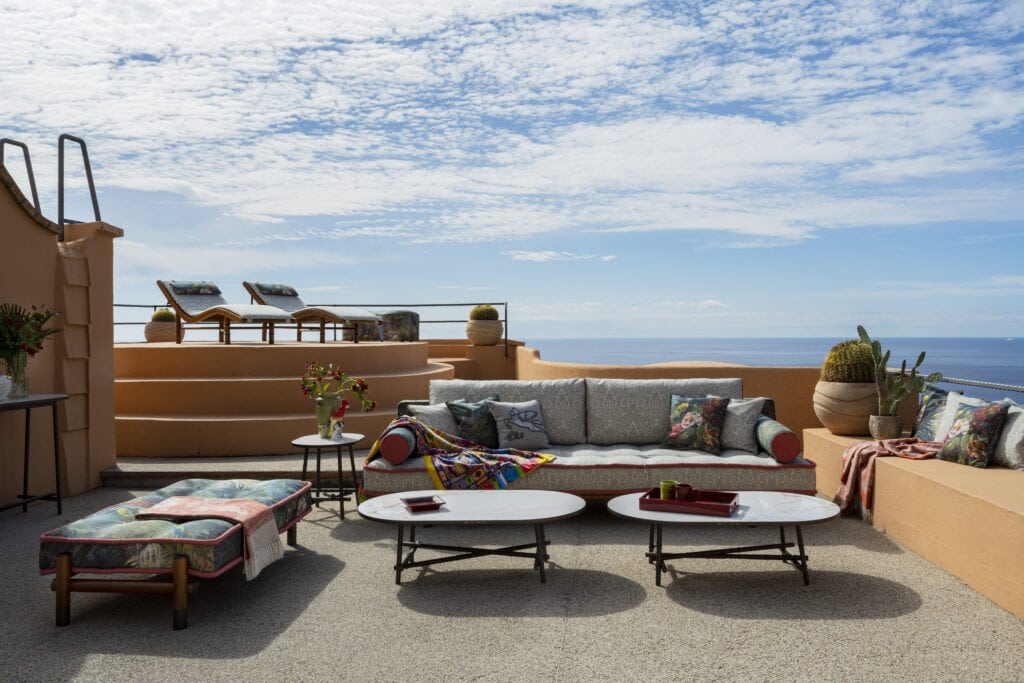 Symbolic of the idleness and carefree spirit of the typical holiday, the Menfi chaise longue stands out as the iconic element in the collection. With distinctive wooden feet shaped like bamboo canes, it has an invitingly curved seat that gives it a welcoming appearance, emphasised by a combination of two different outdoor fabrics in a delicate shade of green and a pattern inspired by the rainforest.
Exotic Bohemian Design
With its exotic influences and nature-inspired details, the iconic Woodstock collection has been expanded to include an outdoor sofa and pouf. The sofa recalls the traditional Arabian majlis interiors, as can be seen in the typical mattress structure. Materials and fabrics have been renewed, with the base of the sofa made from solid iroko wood with a transparent finish and brass tips in a dark bronze finish. The combination of the delicate neutral shade of the upholstery fabric with the liveliness of the tropical fabric creates a sophisticated ensemble, further enhanced by the coral linen piping. Comfortable and versatile, the new version of the Woodstock pouf adds a Bohemian touch to terrace and garden furnishings. The solid iroko wood base replicates that of the sofa and the new tropical-inspired outdoor fabric is again enhanced by the piping.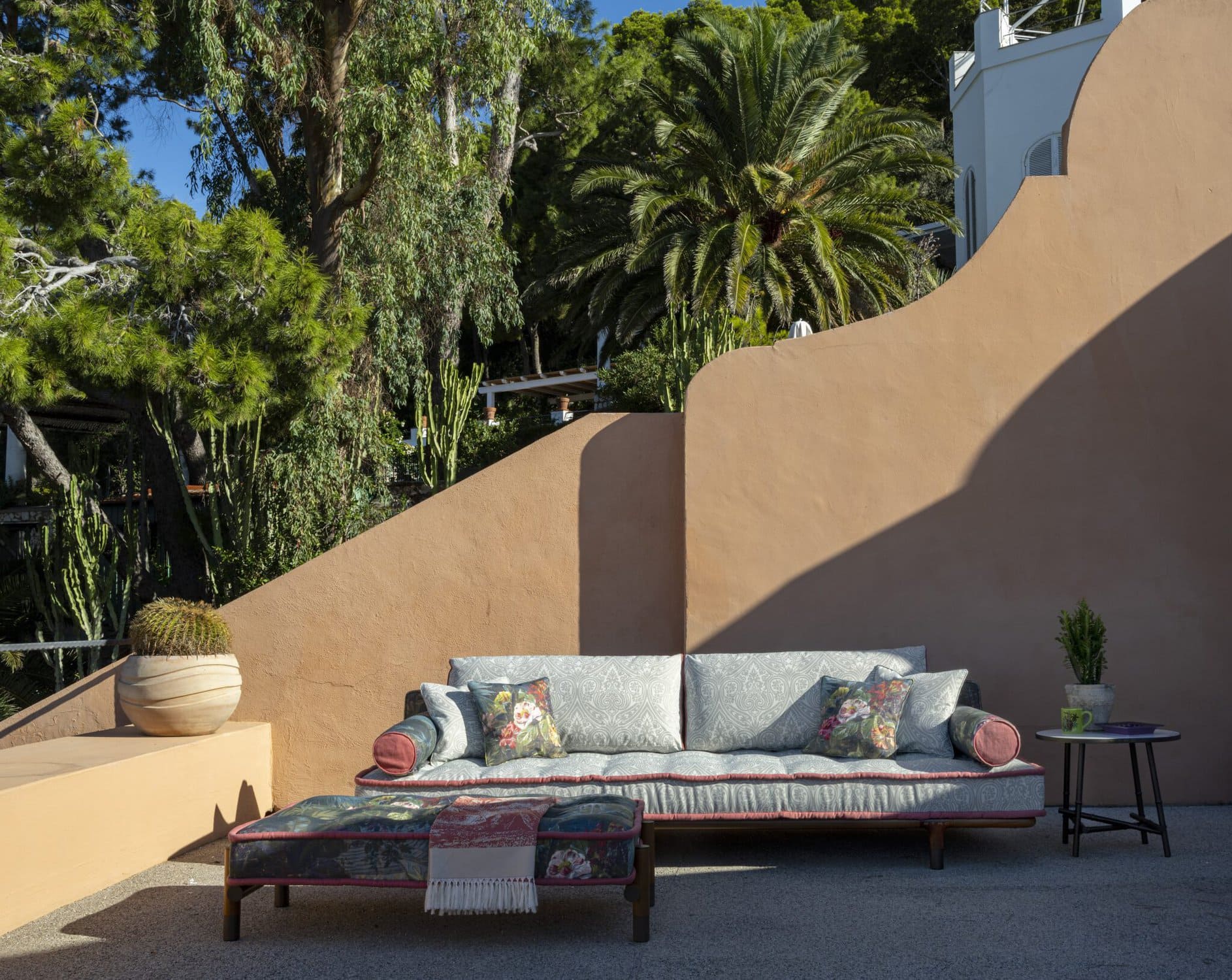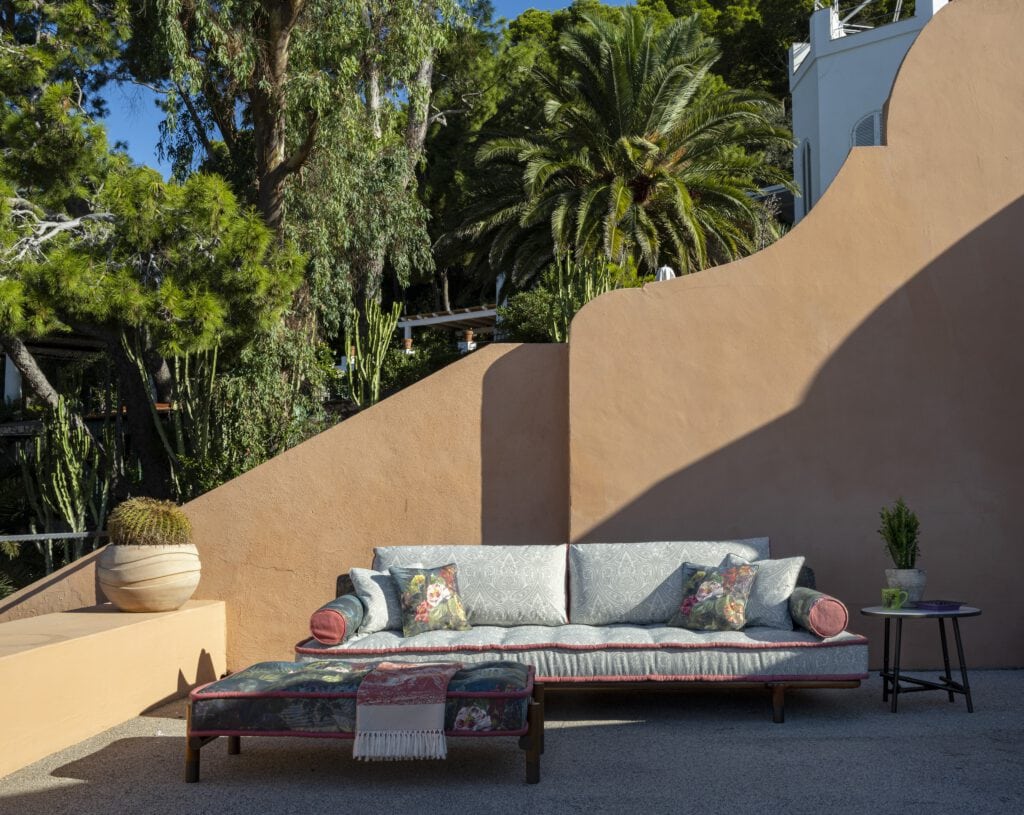 Exotic vegetation also gives an exuberant look to the Tebe chair, light and elegant, with the bamboo cane theme embellishing the sculpted brass structure. Nature inspires the design of the Dalì table, with its strikingly intertwined canes and bronze finish that contrast with the bright yet delicate tone of the ceramic surface and its Calacatta Macchia Vecchia finish. The set is completed by the Goa pouf in an enveloping embrace consisting of a teardrop-shaped element – reminiscent of the iconic Paisley motif – covered with the new tropical-inspired fabric and an oval-shaped module in a delicate shade of green.

The Outdoor collection will be on sale from March 2022.
ETRO >>