The unspoiled beauty of centuries-old houses combined with lush nature really enhance the appeal of Hotel Lemongarden Braĉ.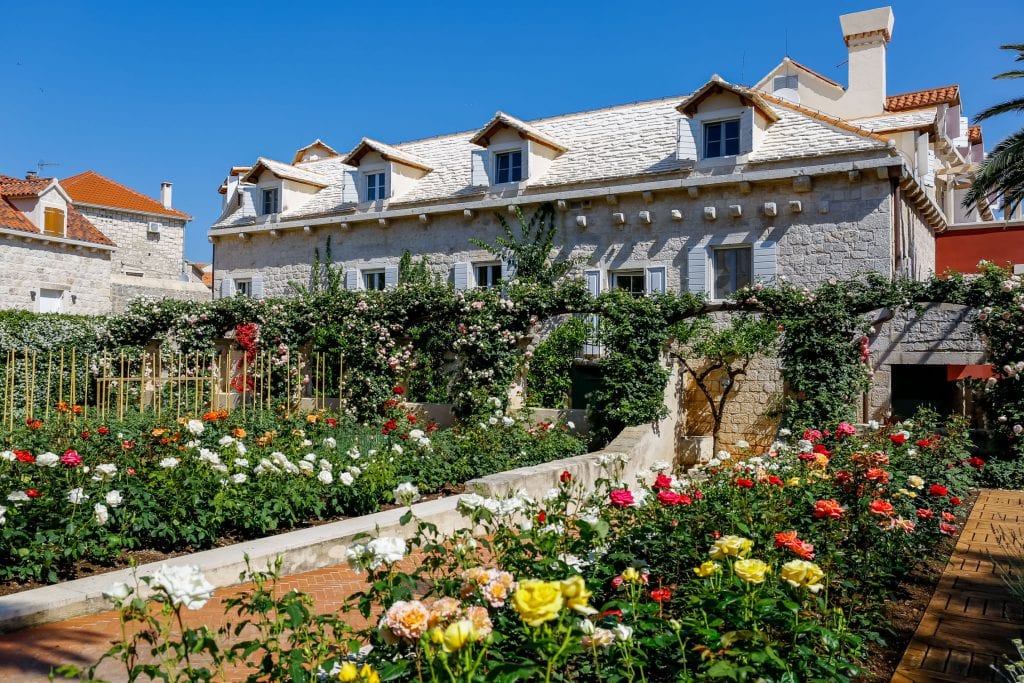 Colourful bougainvilleas, roses, hibiscuses and lemon trees play the melody – while the over 300-year-old stone houses of the adults-only hotel Lemongarden Braĉ in the fishing village of Sutivan play the discreetly noble bass. In the houses Ilić Dvor, Vesna and Definis Dvor, 23 suites, each with a terrace, and 12 rooms provide relaxation in an absolutely Mediterranean style: Furniture made of local wood and marble, timeless design and a charming colour concept create a Mediterranean flair in lemon, lime and key lime, the tones of Mediterranean herbs and the pastel blue of the sky. At night, the interplay of light and shadow flits across the noble historic walls in this oasis of serenity.
Culinary art
Head chef Ante Udovicic also creates culinary art from the natural wealth of the biggest Dalmatian island. Whether meat, fish or seafood – the head chef knows many producers personally. Tomatoes, courgettes, artichokes, melons, peaches etc. come from the hotel's own organic farm, while herbs are harvested in the idyllic garden. Bread, pasta and patisserie are home- made. This brings high-quality and authentic food to the table, with which Ante interprets traditional Mediterranean dishes in his modern eclectic style.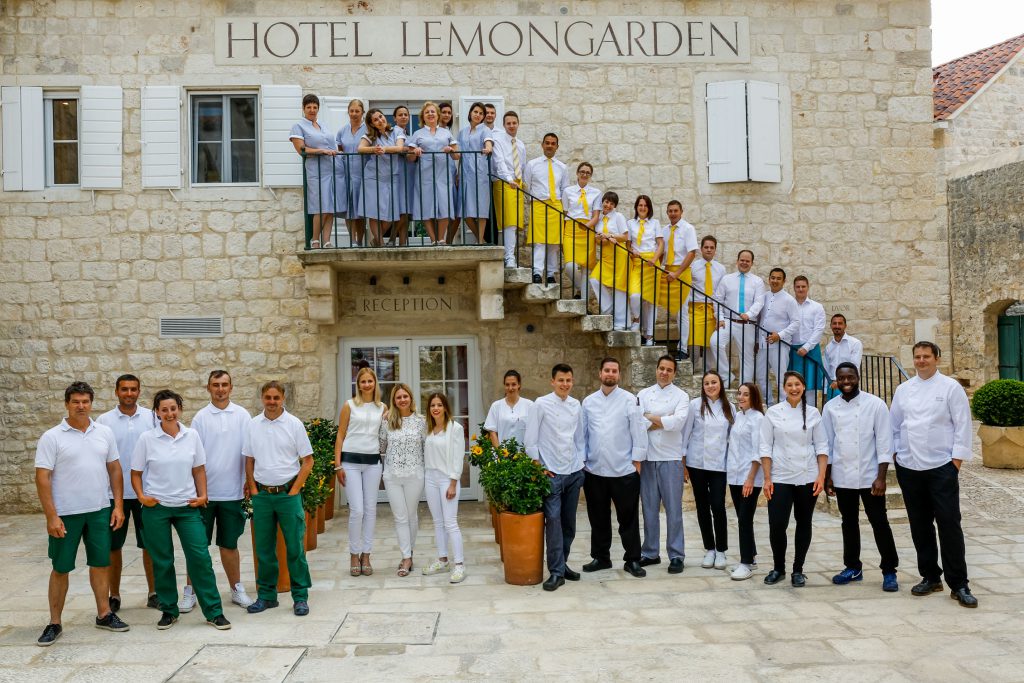 Relaxation
Those who want to indulge their senses even more can do so in the Alphasphere: On bright blue, ergonomic Alpha loungers, micro-vibrations massage bodies in need of rest into a gentle trance in a multi-sensory setting, with exquisite fragrances and soothing electric sounds. The large outdoor pool is the centrepiece of the garden of senses. With 30 metres in length, you can both go for a good swim or indulge luxuriously – in heated or cooled waves depending on the season. Surrounded by splendid flowers, the attentive pool service fulfils your every need, and the aromatic fragrance of the open flowers blows over from the lemon garden; the charm of the south can't get any more beautiful. At most at sunset when facing the sea.
20 minutes on foot and 10 minutes away by bike, 3,000 m2 of enticing natural beach is exclusively reserved for the guests of the Lemongarden – in the natural bay with an idyllic pinewood. The charming beach bar provides you with any refreshments you may need: Alongside snacks and finger-food, there is also a barbecue grill; home-made lemonade, chilled beer or soft drinks to quench your thirst. The picturesque harbour of Sutivan hardly has any traffic, so you can truly unwind in the quaint cafés.
Ultimate beach experience
A detour to the south coast of Braĉ takes you to the ultimate beach experience: In the small town of Bol, the world-famous dream beach "Golden Horn" protrudes for half a kilometre into the Adriatic. Like in the Lemongarden, the view is never-ending, and the azure blue of the open sea turns into a deep lapis lazuli on the horizon.
---
Hotel Lemongarden is a MEMBER OF LIFESTYLEHOTELS